Rated

3

out of

5
 by
nickname2
Wall mounted organizer
It is a beautiful piece, looks modern to match my home. But it was smaller than I thought. So I am just re adjusting on where I am going to use it in my home now.
October 20, 2014
Rated

5

out of

5
 by
SKB80
Cute and Useful!
I bought this to keep the clutter off our counter and tabletops and make sure outgoing and incoming mail had its own proper place in the house. The fact that it also holds our keys and pool membership cards is such an added bonus and we are no longer looking for them last minute when leaving the house. I've gotten tons of compliments on this, as well, so not only does it keep us more organized, but also adds a cute touch to our decor.
April 28, 2014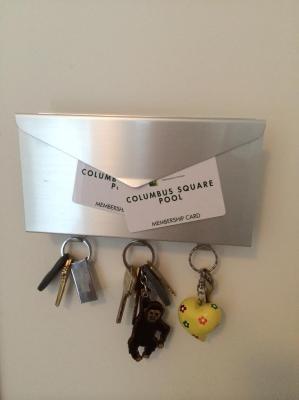 Rated

5

out of

5
 by
Itsalexisleigh
Awesome mail holder!!
I was looking for something that could hold both me keys AND my mail and I found this wonderful organizer! It's efficient and fashionable for the home!!!
October 8, 2013
Rated

5

out of

5
 by
slecnokim
Cute and functional
This is such a functional and pleasing item for our house. It reminds me to put the outgoing mail in the box before I leave the house, plus it organizes all our sets of keys nicely. I have it right by the door so we never miss our keys!
April 15, 2013
Rated

5

out of

5
 by
Kissthecook
Love this organizer! Very sleek and easy to mount. The key hooks are large enought that I can even hang my wristlets.
March 26, 2013
Rated

5

out of

5
 by
onenightquest
Simple, Sleek, Ideal
This little organizer does wonders! It helped us create a "landing strip" in our apartment and has eliminated the chaos of losing keys, bills, etc. What a lifesaver! Plus, it's adorable. We get a lot of compliments on it all the time.
March 18, 2013
Rated

5

out of

5
 by
organizedchaosinnati
Great Mail holder
I love this organizer. I hung it on my fridge with 3M velcro mounting strips. It looks good and keeps my mail in one place! I hung a jar from the key rack portion for pens and scissors and it works so perfectly! (we have a key rack closer to our door so I didn't really need that part, but I love it!)
March 18, 2013
Rated

5

out of

5
 by
ATF55
me like-E
i think this is a great idea to have right by the main entrance to our house. I've only had it for a week so I still have to train my husband to put the mail there and not on our kitchen table!! Also, it's really easy to hang.
July 13, 2012
Rated

5

out of

5
 by
Karlyb
Great Mail Organizer, Always Find Keys
Was able to hang it myself. It works great for mail and keys, but also has a place on the front for outgoing mail or little reminder notes. No more mail on the coffee table. Now my husband can't forget where he put his keys.
April 30, 2012
Rated

4

out of

5
 by
LexiLex
Looks great, may be difficult to hang.
B/c of mounting set-up it can be difficult to hang correctly. Make sure you measure carefully and take your time. Hold a lot of material and looks sheek. Keep it at the front door to hold keys and out going mail.
March 19, 2012
Rated

4

out of

5
 by
knaidel
Nice looking, practical, and economical
The only problem is that it sometimes lifts off the screws if you bump into it. It did not mount so securely. I couldn't figure out any way to get it hung tighter except maybe to try strong double-sided tape.
March 19, 2012
Rated

5

out of

5
 by
Shelby75
Excellent Catch-All product
We have this hanging in our entryway to the kitchen. No more mail all over the table! Everything goes into this mail holder (we sometimes have 2 or 3 magazines as well as mail) and it is very easy to clean. Wish I would have bought it sooner!
March 19, 2012
Rated

5

out of

5
 by
Pebbles59
Love it! have wanted this for a while!
Looks great and will hang on my home office door to collect coupons and other items I need to take with me on my way out.
January 25, 2012
Rated

5

out of

5
 by
Hello
Organizer
My daughter and son-in-law absolutely love the mail organizer for its classy, sleek look and functionality.
November 12, 2011
Rated

4

out of

5
 by
luv2shoppe
always know where the keys are
It's an attractive and convenient way to keep track of the keys and the bills.
February 14, 2011
Rated

5

out of

5
 by
flymiester
Grab the mail as you head out the door
Put it near the front door and take the mail you need to drop off when you head out. Very sharp looking and holds keys nicely.
September 12, 2010
Rated

5

out of

5
 by
Jenmalin
Love it!
Not only is this piece functional, it's stylish as well. It's very well made, thick metal that can hold a good amount of weight from the keys. We attached it with 3m strips and it's worked like a charm. Would make a great housewarming gift!
May 18, 2010
Rated

5

out of

5
 by
Verified Reviewer
Great Organizer!
This is a great letter organizer. I already had a hook for my keys but needed some place to put my mail instead of laying it on the bar and letting it pile up. I did my research online and found this organizer. It holds all of my mail perfectly. I even drove 2 hours to buy it. A definite must buy for anyone that needs a great mail organizer!
May 17, 2010
Rated

4

out of

5
 by
MNJen
Good value for the money
I needed something to hold all our keys and mail but didn't want to spend a ton of money. I really like how easy this is to use and it's convenient to keep the mail and my keys in the same place. Hold all my mail too, some of the others I thought didn't look like they would hold as much mail...
May 17, 2010
Rated

5

out of

5
 by
KCorganizer
SO Chic and Functional!
This item is adorable! I keep it right in my entryway - where it houses all of my mail and hold my keys and sunglasses. It is so chic - I always get compliments on it. It was a tad smaller than I originally thought it would be, but becuase it is 2" (or so) wide - it holds a TON! I looked all over for something I considered cute and would also be fun and functional before I found this piece. The price is also amazing. In addition, ordering from the Container Store couldn't have been an easier process. The merchandise came very quick - within a week! I would definetly recommend to anyone who is looking!
May 17, 2010