Rated

1

out of

5
 by
OSUmom
Very flimsy
Bought these risers for the bed in my daughters dorm. A couple of days after she moved in, she sent me a pick of one of the risers⿦the bed post had completely broke through the top of the riser. She said two of her friends were sitting on her bed and it just fell. Will be returning!
August 23, 2015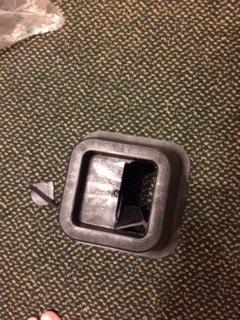 Rated

1

out of

5
 by
cdSF
Not for long term use
I bought these less than a year ago. The bed metal bed posts slipped around in these, but I made it work. That was not the worst of it. After 4 months of a person less than 150lbs sleeping on these, the metal frame broke through these post in the middle of the night. I can only imagine someone heavier or two people these posts will wear through sooner dropping the person(s) on to the floor. Ended up being complete junk that went in the trash and a waste of my money.
September 3, 2014
Rated

3

out of

5
 by
chamelian
I had these bed risers on my full-sized bed for a month and I loved them. They gave me so much more space for my tiny room. However, my boyfriend (who is an average sized guy) sat on my bed one day and within five seconds, one of the legs busted through a riser. I guess putting the weight on one side was too much for it, but it still seemed a little scary that they weren't built for that kind of thing. I would suggest getting them for a smaller bed and being careful about how much weight you put on them! Probably best for a twin bed.
February 26, 2014
Rated

5

out of

5
 by
adk1985
a king's throne
I am 5feet tall and most of my furniture reflects such height. The problem is that my fiancé is 6 foot 2 inches. We purchased the bed risers for under his chair in the living room and now he can sit comfortably and it is not so hard on his knee's when he gets up. He now calls his chair a throne and wants to decorate it like the iron throne from game of thrones.
February 18, 2014
Rated

2

out of

5
 by
KatsMeow
better for small beds
I tried these risers first because they cost less money. Unfortunately, after a few weeks one of the bed frame corners broke through the riser. I have a queen sized bed. One employee said the risers are more for twin sized beds. Then another said she also had a queen sized bed and she'd had no problems. Go figure! Now I use their wood risers, which cost twice as much : ( but they work Make sure you keep the bed legs in the middle of the riser, as that is the strongest point.
January 13, 2014
Rated

5

out of

5
 by
Rach70
Very durable. My daughter is so excited to have a bed high off the floor!
April 24, 2013
Rated

5

out of

5
 by
nancysch
Storage solution!
I used four of these on a double bed, and then bought the Container Store under-bed-drawers. This added a ton of storage space to my bedroom. I did not have trouble with them breaking. Sometimes my daughter jumps up onto the bed, and they still do not break.
March 25, 2013
Rated

5

out of

5
 by
Bluecrab
Extremely Practical
These risers are made out of very sturdy plastic and make it so much easier to envision how alot of stuff will fit in a small dorm room. These risers allow the many toys that accompany a college student to be easily tuked away.
August 17, 2012
Rated

1

out of

5
 by
Dormkid
THEY BREAK LIKE CRAZY!!
As other reviewers have stated, it doesn't matter how light you or your bed is, these things will break, I've broken three. For what they are, even a quality product is kind of over priced at twelve bucks. However I do have a solution to keep them from breaking. If you fold up un-corrugated cardboard (like a cereal box) to a 2.5" x 2.5" square at about a half inch thickness the weight will disperse over the whole area of the square insert. you can also cut half inch squares from a 2x4 for the same effect. With my DIY cushions my girlfriend and I can share a queen size bed without the risers breaking.
May 15, 2012
Rated

4

out of

5
 by
woo222
Okay for a twin
These are great for raising my twin bed so I have storage space underneath it. They can't hold a ton of weight, though..I flopped down hard on my bed and they made a loud cracking noise that made me think I'd broken one..and I'm about 100 lbs. They're great for my purposes or for storage under a guest bed, but I'd be nervous about using them for a bed bigger than a twin.
April 30, 2012
Rated

5

out of

5
 by
Melanie84
Great bed risers
These are easy to use and lift my bed up to the perfect height. Easily storable if you aren't using them as they stack on top of each other very conveniently.
April 4, 2012
Rated

5

out of

5
 by
KDRose
Not only do u get height but adds storage space! Need bed skirt to cover up risers.
March 1, 2012
Rated

1

out of

5
 by
nysg0509
Cheap and Flimsy
My roommates also bought these and have had no problem, so I realize it might just be the pack I bought that was defective. However, all 4 of mine have busted through from just sitting on my bed. I'm a 5'5" average size girl and shouldn't be heavy enough for these to break. Cheap- yes, but not worth having them break while you're sitting on your bed. I'm now having to replace them with something that is going to cost me a lot more and I have to take my bed apart to fix it. SO NOT WORTH IT!
April 4, 2011
Rated

4

out of

5
 by
ARBS
Bed Risers
This item was just as expected. Good price, fast delivery.
February 22, 2011
Rated

1

out of

5
 by
Kaspen
Only a net height of 5-1/4"
I bought these bed risers because the product description says 'They add a net height of 5-3/4" between the floor and the bed frame'. However, the bed risers are 6" tall and I measured a 3/4" depression, therefore the net height is only 5-1/4" instead of 5-3/4 as advertised. The missing half inch is important to me because I bought these for Inclined Bed Therapy which calls for 6". 5-3/4" is probably close enough but since it is really 5-1/4", now I have to make a special trip to The Container Store to return them... In addition, the ones I got look used even though I paid full price...
October 31, 2010
Rated

5

out of

5
 by
tates
essential for the dorm
These worked perfectly in my daughter's dorm, giving the space needed to use the under-bed area for storage. I noticed pretty much everyone had them.
September 6, 2010
Rated

5

out of

5
 by
LindaJacksonville
Good Quality
The risers are very sturdy, well made, and add about 5" of storage space underneath the bed. As you might expect, the bed does look higher and I'm going to have to purchase a longer bed skirt to cover the extra 5". Interestingly, the risers are partially made from recycled materials -- good for our environment. The Container Store has the best price on the risers that I could find on line.
August 9, 2010
Rated

5

out of

5
 by
ella845
I used these in my dorm room during college. They doubled the amount of storage space I had. It was definitely a good buy.
May 17, 2010