Rated

5

out of

5
 by
NPalmer
Great item and cute decor
I use this for all the different sands I collect from beaches I visit all over the U.S. Great for displaying my treasures. I simply write on the bottom of them with sharpie so I can have a reminder of where the sand is from. Keeps everything fresh and safe from my cats and dogs!
August 16, 2015
Rated

5

out of

5
 by
2organizeme
these are great
Good looking, high quality, and reasonably priced!
December 18, 2014
Rated

5

out of

5
 by
QuidNunc
Excellent for Limoncello
Bought these to bottle my limoncello and they work beautifully. I was really impressed with the shipping- each bottle individually wrapped and protected.
February 3, 2014
Rated

5

out of

5
 by
DebBee
Quality and Value
These bottles are outstanding! They are simply beautiful in design and function. Never seen anything like them. So pleased with my entire order, service, quality, value, and superior packing and shipping service. Thank you very much!!!
November 25, 2013
Rated

5

out of

5
 by
Zella
Great bottles
These bottles are great in every way - nice looking, great size, excellent seal, long lasting, sterilize well for home made items like maple syrup
March 18, 2013
Rated

5

out of

5
 by
stella07
great bottles
These bottles are perfect for so many liquid brews--from aged manhattans to leftover wine (waiting to be vinegar) to mint tea.
March 18, 2013
Rated

5

out of

5
 by
Verified Reviewer
So useful!
I love these flasks and they're great for parties!
March 18, 2013
Rated

4

out of

5
 by
CherylA
Exactly what I wanted
The 8.5 oz flasks are exactly what I wanted to show off the infusions I made.
February 14, 2013
Rated

5

out of

5
 by
Nanner
Very Cool~
I bought these to fill with homemade Apple Pie Shots for Christmas. They are very good looking and well made. I should have bought more just to keep on hand.
November 29, 2012
Rated

5

out of

5
 by
Vinny
Glass Flask
Great for making infused oils and liqours. Nice heavy glass. Great price.
April 28, 2012
Rated

5

out of

5
 by
GuyfromCleveland
Sweet
Perfect size for traveling with a nip of bourbon on a chilly evening.
April 2, 2012
Rated

5

out of

5
 by
AllieInCA
Perfect for my homemade limoncello!
I make a batch or two of limoncello each year and these bottles are perfect containers to store the liquid. Small ones fit upright on my freezer's door shelves. I add a few twists of lemon rind for a beautiful effect.
March 19, 2012
Rated

5

out of

5
 by
TxContainerStoreLover
great bottle!
I got this to put maple syrup in it since I didn't have room in my main (kitchen) fridge for a gallon of maple syrup. It is perfect and fits on the door of my fridge! Looks cute on the table, too!
March 19, 2012
Rated

5

out of

5
 by
moonbeam0824
Hermetic Glass Flasks
These flasks were perfect for showcasing our Skittles infused Vodka we made for St. Patty's Day.
March 17, 2012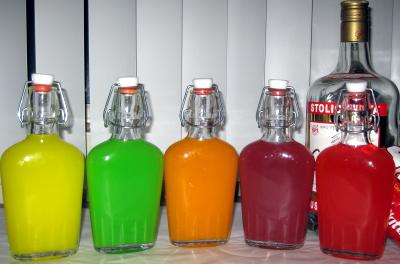 Rated

4

out of

5
 by
ShellyD
Christmas Bottles
Every year I make cranberry vodka & blueberry gin for my Christmas party. These bottles are great for guest gifts. The neck is easy to decorate, and the seal won't leak if the bottle tips over. Just would like it if TCS sold them in bulk sets.
February 28, 2012
Rated

5

out of

5
 by
TooTallTom
Great for infused Vodkas
I originally bought these for an article I found on StumbleUpon (also a great application). The article involved making jolly rancher infused vodkas with these flasks, a funnel, 1.75 liters of Vodka, and a big bag of Jolly Rancher candies. It worked beautifully and now all I can think of is how can use these guys in other types of infusions. Great product...
February 20, 2012
Rated

5

out of

5
 by
tytoalba
so many uses
These bottles are so handy to have around! I first bought these to use for making vanilla extract, but I find myself doing other things with them, too. A friend of mine was leaving my house and mentioned needed to buy olive oil. I had plenty and offered to loan him some, so I decanted him a good amount into one of these and sent him on his way. I also use them to store home-made syrups or flavored vodka. The flask design keeps them from taking up a lot of space on the shelf like a round bottle of the same volume would.
January 9, 2012
Rated

5

out of

5
 by
ORBrj
Perfect for infused vodka gifts!
I ordered online for in-store pick up, the process couldn't have been easier! Thank you for making this purcahse hassle-free, especially during the crazy holiday shopping season!
December 31, 2011
Rated

5

out of

5
 by
aimes87
High quality
Very nice decorative glass flasks. These can be used to store things and are nice enough to set out on a baker's rack.
December 30, 2011
Rated

5

out of

5
 by
Heidro
Perfect!
I purchased a bunch of these 17oz glass flasks to fill with coffee liqueur as Christmas gifts for friends/family. They are simple and beautiful and hold the perfect amount. Love them! Will definitely buy more in the future!
December 22, 2011
Rated

5

out of

5
 by
35cerd
Perfect sample size
Best part about the transaction was the in-car delivery service. I was not feeling well and loved the fact that I could drive up and have the package hand delivered to me. And the price for the product was reasonable.
December 22, 2011
Rated

4

out of

5
 by
Cairo
Spontaneous Explosion
I bought five bottles to make Jolly Rancher Vodka, and while they were chilling, one mysteriously broke. My advice: don't fill these bottles to the tippy top, because I'm pretty sure the pressure caused it to explode
December 14, 2011
Rated

5

out of

5
 by
GingerKid
Jolly Rancher Vodka
Used these flask to make Jolly Rancher Vodka. They worked great and were exactly as described. The seals work very well and the glass is durable. Overall great flask.
June 2, 2011
Rated

5

out of

5
 by
fsmith
Just what I needed
I purchased this flasks to store flavored vodka in. They look great and fit perfectly in my freezer.
May 7, 2011
Rated

5

out of

5
 by
misslarose
A favorite!
I LOVE these bottles. A friend and I bought them to bottle our homemade kombucha (fermented tea). They are large and hold a lot of liquid, but are a little pricey and I wish they came in 12 oz. Overall, I am very satisfied. They are of great quality and are simply beautiful.
April 29, 2011
Rated

5

out of

5
 by
MamaLou
Great for our home brew!
For the last 4 years, I have purchased these flasks to put our homebrew "Recipe" in (Goldschlager & aged bourbon plus other stuff mixed together - warms you to your toes). We don't worry about leakage with these and people love the novelty of seeing the beautiful ember color and the cinnamon sticks & spices in it. We encourage people to also recycle the bottles back to us for refills. :)
January 21, 2011
Rated

5

out of

5
 by
geg86
Awesome flask for Christmas gifts!
We used them to present our homemade pineapple infused vodka! People loved them and thought they were super cute. They are sturdy and hold a good amount of liquid. Would definitely purchase again!
January 10, 2011
Rated

5

out of

5
 by
Heatherduck13
Perfect Christmas Present
These bottles are beautiful and perfect for giving out my homemade kahlua and brandy to co-workers and friends. They are so beautiful that even after the present has been consumed, my recipients will have a beautiful bottle to hold olive oils, vinegars, ports, or anything else they may want to save in a bottle! This was a GREAT buy!!!
December 16, 2010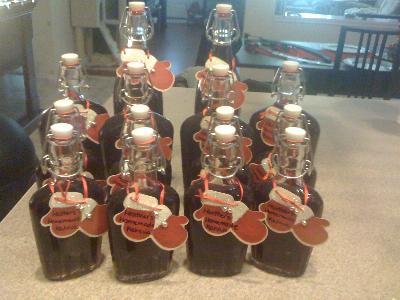 Rated

5

out of

5
 by
RWalk
I am so glad I purchased these flasks...they are great. For the price, they truly are great quality. They have a great appeal, function and are durable. I will difinitely buy these or similar items again.
December 13, 2010
Rated

5

out of

5
 by
momtoross85
BEAUTIFUL
Not only do these jars have tight and easy to use seals, they are made in Italy and very attractive looking. Glass is heavy weight but the shape makes them decorative.
December 2, 2010