Rated

5

out of

5
 by
cantusemyname
My New & Fun Purchase
I adore these now that I've learned not to wash them in the d/w. I use them for storing my new addiction, K-cup (compatible) coffee pods. Enjoying a variety of different pod coffees, I also make my own, I buy K-pods on sale in multiple flavors (or non), store those that will fit in the tray which supports the machine and use the canisters to store the remaining pods. They are well made and the clear vs. ceramic provides the ability to see what's inside for restock; It's also pleasing to see the decorative aspect as many of the more exotic brands are quite unique. I use these to store bags of ground & whole bean coffee as well. Why empty a bag of coffee into the airtight canister when it's just as easy to pop the whole bag inside ? It's better for the coffee to remain in its bag as it prolongs both the life of the coffee and the canister by saving it from multiple washing's. It saves *me* cleaning time... why didn't I think of this sooner [she ponders aloud, alone in her office]. Anyway, these canisters, I have many sizes, are clean & crisp, looking nice (nicely ?) wherever they are kept.
June 24, 2016
Rated

5

out of

5
 by
CHIgirl
Perfect Bathroom organizers
I use three of these to contain my bath salts, body powder and coconut oil. The seal is tight and the latch is easy to flip and glides smoothly - not like some others I have. The best thing is I don't have to worry if I knock them off the tub edge. The acrylic is strong - no cracks and no lid flying off!
October 26, 2014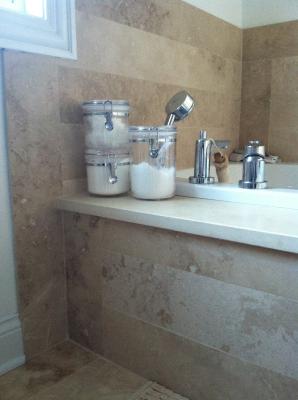 Rated

5

out of

5
 by
sonneaa
Great Product
I love these canisters. They come in pretty much every size and they keep food fresh. I used chalk labels to write on them, but there is not need for that since they are clear.
April 26, 2013
Rated

5

out of

5
 by
thefullplateblog
sturdy, easy to open and lots of sizes
I purchased several of these canisters for the "art area" I was making for my children. I wanted the art supplies to be easily viewed, and for them to be able to open/close/keep the supplies organized on their own. My next project will be to outfit our pantry in these fabulous canisters!!
April 2, 2013
Rated

5

out of

5
 by
TriggerCF
Clear as glass but without the weight!
These canisters are clear like glass but without the extra heavy weight. They seal very well and help maintain the freshness of our dried fruit and nuts. They're also stylish enough that I don't hesistate to take them out for parties - no need to transfer contents to serving dishes!
March 18, 2013
Rated

5

out of

5
 by
LlyD
Beautiful Display
Been looking for this type of container to fit under my open shelves and this one is great! Air tight with a strong seal, it beautifully houses what I use regularly. Visually good looking and great function. I love it when the little things in life mesh.
July 28, 2012
Rated

5

out of

5
 by
CLASJohnson
Good jars
Good jars made of quality materials. I use them to keep jerky type treats for my dog in.
March 20, 2012
Rated

5

out of

5
 by
TechTeacher
Used every day
We use our canisters every single day since it houses our precious sugar and creamer for coffee.
March 20, 2012
Rated

5

out of

5
 by
Yogamom
great all around
I use these for storing rice and lentils. The seals are excellent, they keep out moisture and anything else that might try to creep in. They look nice on the counter too. Seem quite durable, though I've managed not to actually drop any of them yet :) See-thru sides let me know when it's time to refill. I like being able to shop for grains and such in bulk and save money and reduce the packaging we bring home.
March 19, 2012
Rated

5

out of

5
 by
orderly1
Highly recommended
I love the "retro" /old fashioned styling of these. They are plastic so are good for use near tile floors incase of dropping. The seals work great. Perfect for all my grains storage needs.
March 17, 2012
Rated

5

out of

5
 by
Rossy
Great!!!
This containers are so great, good sizes, they close hermetic and prevent from ants going inside. Perfect to fit in cabinet or open shelves. I use them a lot and are easy to clean.
March 4, 2012
Rated

5

out of

5
 by
Verified Reviewer
Handy to have.
I have purchased several of these containers for pasta and they match the other canisters I bought. These are really great, they look good in the cabinets or on the counter top, give you a clear view of what and how much you have on hand and keep out any bugs, dust or what-have-you. Also they are good for keeping your spaghetti or linguine from getting broken. You'll need several of these. One for whole wheat, regular, maybe even a few for the bathroom to hold taller items that are always getting lost or in the way. Lots of uses.
November 4, 2011
Rated

5

out of

5
 by
FLjess
Beautiful AND utilitarian!
I ordered the 60 oz Acrylic Pasta Canister and was thrilled with how beautiful it was straight out of the shipping box. However, after I filled it with 3 boxes of thin spaghetti, I decided this charming container would not be relegated to the pantry! I've already been contemplating what shape and volume canister will be my next purchase. I've decided to fill it with tri-color pasta in order to add color to my "counter art." Product accolades aside, I was impressed with the speed of delivery, as well. I had it in my hands within 5 days of placing my order. I highly recommend this merchant and their merchandise. This would make a GREAT gift, for yourself and any one else!
September 10, 2010
Rated

5

out of

5
 by
Spcycwgrl
Love these canisters
I love these canisters. I really wanted something that was airtight and you'd think that most canisters would be. Not so! These are great, easy to use, easy to open and close! One thing I don't see mentioned anywhere is DO NOT SUBMERSE the LIDS. When I first got them I put them in the sink to soak and ended up with water in the lids. The Container Store was terrific about it, but easier to just not submerse.
August 14, 2010
Rated

5

out of

5
 by
MysticMermaid
Cool Canisters
I found the perfect storage option for my sandwich thins! The 5" diameter fits the sandwich thins perfectly and the hermetic seal keeps them fresh. After this hot and humid summer in the city, my sandwich thins stayed fresh in my unair-conditioned kitchen. I also store my bagel thins in one of these canisters.
August 9, 2010
Rated

5

out of

5
 by
GramawJ
Best Canisters
I have had a set of these canisters for many years, so when a couple started cracking, I naturally came back to buy more. These are so nice to handle, and being clear, you know exactly what's in each one. They keep everything that is put in them fresh because of the tight seal. As long as they are available I will stick with them as my choice for canisters. Oh, I forgot to mention, they also come in handy for a sewing room to store small items in, like buttons, zippers, scissors, tape measures, etc. My Hubby uses the small ones for nuts, bolts & nails. The uses are endless and the advantages are all yours when you choose these.
June 19, 2010
Rated

5

out of

5
 by
Joan
Hermetic Acrylic Cannister
This is a perfect container for the bathtub or shower. It is unbreakable and doesn't leak. I make my own salt scrub and give it as gifts to friends and family.
May 25, 2010
Rated

5

out of

5
 by
AZKit
Great look!
I recently started buying my grains (rice, barley, flour) out of bulk bins. (Healthier and cheaper! Score!) I had all these ugly plastic bags in my pantry and couldn't really tell how much I had of anything. These canisters are great for that! I also got a pasta container. I hated having an open box in my pantry and now I don't have to worry about it.
March 17, 2010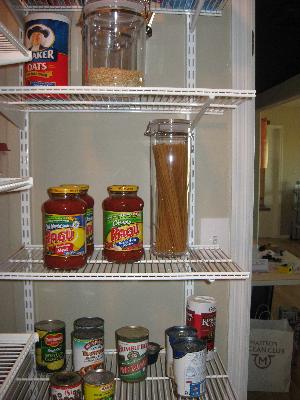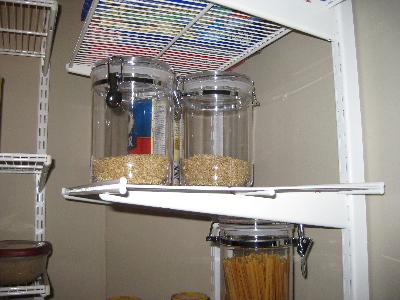 Rated

5

out of

5
 by
Allie
Great Storage!
I bought these containers to store grains, beans, etc and they are awesome! And look really cute on my counter top as well! I love the latch to open and close!
March 15, 2010
Rated

5

out of

5
 by
Verified Reviewer
Great food storage
I bought a few of these in all sizes. I particularly like the 5" diameter canisters because you can generally fit a measuring cup inside if you need to. I store flour, sugar, and other baking ingredients. I also have the pasta container, which I store spaghetti and angel hair.
March 3, 2010
Rated

4

out of

5
 by
pregnut
Good alternative to glass
I had glass canisters like this when I was growing up, and when we remodeled our kitchen there was space for open shelving so I thought a set of glass canisters would be a great idea. When I saw these, I had to try them, and I'm glad I did. I can't tell you how many of the glass ones would have broken by now! We're constantly dropping them on the floor, and maybe we'd be more careful with glass, but it's nice to know that you can drop these and not end up with coffee grounds all over the floor. They do crack, though, which is why I am only giving four stars. Granted, it happens when you give them a pretty serious drop and we've only had one (out of about 30) crack on the lid. It still works, but you do notice it when you pick up the canister. Overall, I'm very happy and keep thinking I need more, but don't have the shelf space to store them :)
March 3, 2010
Rated

4

out of

5
 by
straightenup
convienient canisters
I ordered several sizes of these canisters, from the tiny spice jars to the largest here. I immediately put them to work in my baking supplies pantry. I found them so helpful that I just ordered an bunch more in various sizes. They will be very helpful keeping the ingredients fresh, and unwanted critters out. I'm glad I found these. I wish they came in a few even larger sizes for 5lb. flour and such.
January 26, 2010