Rated

5

out of

5
 by
JanM24
Simply the Best Fit and Function
My new/old condo had very...challenging space options for a trashcan. I was giving up on a 32 gal can. Much searching was done before I found this item, which I've now used for 5 months. It's what we expect products to be- well made, true to size, function/use taken into account. I fully expect this unit to last many years, and recommend it for those unusual spaces.
September 18, 2016
Rated

5

out of

5
 by
ckdesign
Excellent Value Trash Cans
I used these in an office remodel and the clients loved them. I had some vinyl decals made to differentiate trash/recycling for under $5. Trash cans work and look just as well as the pricier models. Great value!
January 11, 2017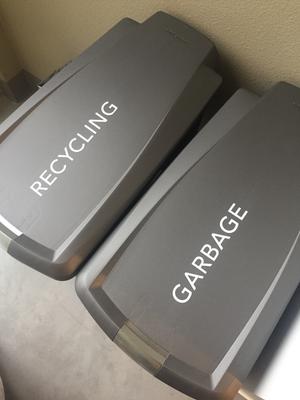 Rated

5

out of

5
 by
Tonner
Last trash can you will ever buy
I have had this trash can for 5 years. It is the only can I will ever own again. Finally talked my mother into buying one, she loves it as well. We both also Love the simple human bags. There isn't a comparable bag.
March 19, 2016
Rated

5

out of

5
 by
Fixitross
Perfect Size!
I needed a narrow Trashbin to use in a tight place. And this Slim Plastic Step Can is perfect. I also Love that the plastic liner is the perfect size too!! Great product!! I'm a Happy Customer!!
May 4, 2014
Rated

4

out of

5
 by
Bombardos11
Great Cans!
We love these garbage cans. We use two side-by-side, one for trash and one for recycling. They are perfect. There is a spot for the bags to lock in to the back of the can so the bags don't fall down as you add garbage. There is also a very helpful lock in case you have young children.
April 25, 2014
Rated

5

out of

5
 by
MommaMoose
Best EVER!
This is great for people with dogs--no more dumpster digging while you're out of the room or away at work. ALSO works great for keeping young children out. All three of my children want mine--2 for their dogs and one for my Grandson.
April 25, 2014
Rated

5

out of

5
 by
salsaladym
really like it
I bought this to use for recyclables in my kitchen. It looks good with my stainless steel appliances, but was a lot less costly than one of stainless steel. I like the slow closing lid.
April 25, 2014
Rated

5

out of

5
 by
Moe2157
Great product!
This product is very durable. The lid stays locked and shut which is perfect for the dog in my house. It also helps keep the trash stink to a minimum. I highly recommend this product.
April 5, 2014
Rated

5

out of

5
 by
majoad
Best Purchase Ever - No joke!
With three dogs, I would often come home with my hands full of grocery bags to find that my dogs knocked over the trash can and went to town on last night's dinner scrapings. My husband and I have bought many trash cans all with the hopes that our problem would somehow magically end, but to no avail - we would still come home to find trash all over the kitchen floor. Then, we found the simplehuman Slim Plastic Step Can at the Container Store and it was a match made in heaven. We love this trash can. I never thought I could love a trash can, but I am just so happy to come home to a kitchen just the way I left it (not to mention, the trash can also helps keep odors at bay).
March 18, 2014
Rated

5

out of

5
 by
LeahJean
Very convenient
This can fits nicely between the clothes dryer and wall, and is easy to get to. So far the dog hasn't got into it!
February 19, 2014
Rated

4

out of

5
 by
debeH
Good Product
Very Good product. Easy to move and doesn't take up much space.
January 7, 2014
Rated

5

out of

5
 by
KA5505
Great Value!
I previously purchased a more expensive Simple Human metal can, and decided to pay less and get this item. I am very happy with my decision. This product is of great quality, and works perfectly in my kitchen. My favorite features are (a) the lid slowly closes on its own each time you open it, and (b) the wheels allow me to easily move it over to the counter when I want to dispose of food.
July 25, 2013
Rated

1

out of

5
 by
Annoyed
Don't purchase for the pet lock
I bought this item specifically for the pet lock since I have a Beagle that LOVES to get into the garbage. I thought this product would be great so we would not longer have to keep our trash can in our food pantry under lock and key. Unfortunately the pet lock wasn't strong enought to keep my 25 lbs dog out of. :( I didn't have the product for more than 12 hours before she got into it. Wish I could get a refund.
July 11, 2013
Rated

5

out of

5
 by
Mama1
I have bought many garbage cans and this one is perfect. It fits perfectly in kitchen w/out being bulky. It also looks good in my kitchen :)
May 3, 2013
Rated

4

out of

5
 by
OrganizedIntentions
well-made product
works well, sturdy and good size and shape to tuck into a corner. the hidden bag feature on nicer models would be a plus, but otherwise very happy with this item.
April 28, 2013
Rated

5

out of

5
 by
SweetToothDino
Great Purchase
Purchased this trash can almost a year ago and we love it. I did not think I would get excited about a trash can but I did. The pedal to open the trash can is convenient so my hands (and my family's hands) never have to come in contact with the lid or the trash bag. I also like the fact that is closes quietly on its own. And, the lid lock to hold open the can is useful in certain disposal situations. The ability to lock the trash can is an added bonus but we have not needed that much, Our kids have been quite responsible with the trash can. Before we had this trash can, our trash container was in a locked cabinet so the kids had to ask to throw away their trash. Now they are being responsible and cleaning up after themselves. Overall very pleased with this trash can.
April 2, 2013
Rated

5

out of

5
 by
SohoGal
Just What We Needed
Our small kitchen only left a little space for a garbage can. We needed a trash can with a lid that can be accessed easily. This can is perfect. The foot pedal works every time and the wheels make it easy to move around. A regular garbage bag fits perfectly within.
March 31, 2013
Rated

3

out of

5
 by
designer85
Functional
We got this bin to use for our recycling. It looks nice compared to other product out there and costs less than the stainless steel models. One con is that the back wheels allow the unit to slide back into the wall when you step on the lever so eventually the lid marks up the paint otn the wall behind the bin. We fixed it by placing small felt sticky pads on the back of the lid. Overall a good product.
March 25, 2013
Rated

5

out of

5
 by
HappyOrganizedChick
Very happy!
We are very happy with our trashcan! We love that it rolls easily, locks, is easy to clean, looks nice and fits in our small space. It holds the perfect amount for 2 of us, so we don't have to take it out everyday, but it gets full before it starts to stink! It is also nice to have the foot pedal, so we don't get nasty egg, meat juices, etc... on the lid.
March 18, 2013
Rated

5

out of

5
 by
cleangirl
works well
I use this step can in my kitchen for my bottles and cans etc to be recycled. It fits neatly in my space and it looks different from my regular kitchen garbage can so the family can remember to put the recyclable items in the proper receptacle.
March 18, 2013
Rated

5

out of

5
 by
Maceacme
Terrific Trash/Recycle Can
The slim profile of the simplehuman 10 gal. Slim Plastic Step Can has been a lifesaver for us. It fits into a smaller space, but I dont' feel we've compromised on volume capacity. The wheels allow you to easily shift it into another space, adding time when cooking and discarding items on the go. The bag change is simple, and cleaning is a breeze. I was very unsatisfied with my tall kitchen trash cans until I came across this little beauty. We have one for trash, and one for recycle (i created a recycle symbol to put on the top to delineate between the two) and I am so very happy with my purchase!
March 18, 2013
Rated

5

out of

5
 by
AMCDelRey
Best trash can EVER.
This is another example of why I love the container store. I've been looking all over for a smaller trash can for my kitchen, without compromising how much it will hold. This is the perfect solution! Looks great & fits exactly where it needs to go. Thanks container store!
March 4, 2013
Rated

5

out of

5
 by
snoringdormouse
Good for families
I got this because my baby reached an age where she wanted to pull open drawers and open containers. The lock on here was enough to keep her out. Now she's a toddler and can open it herself but she has also learned what a trash can is and uses it properly. the trash can is light weight and easy to wipe down. We use it in our kitchen and after a year of use, it hasn't retained any odors. It slides around a bit on hardwood floors but that doesn't bother me.
March 4, 2013
Rated

5

out of

5
 by
sleejmu
Perfect fit, compact
This trashcan fits rather compactly but holds a full 13 gallons so there is no need to empty every day. The locking mechanism is what really sold meâ¿¿good for keeping a curious toddler out of the garbage!
February 22, 2013
Rated

1

out of

5
 by
Susieblue
Returned it
At first, I was SO excited to get a kitchen garbage can with a foot pedal and lock that didn't cost $150. That excitement slowly waned as the plastic tabs from the lid that snap onto the can wore out. The central metal hook doesn't work if the tabs aren't locked, and over time any pressure on the foot pedal would make the lid disengage. The lock was nice for awhile, too, until my toddler grandson figured it out after a few visits. Kudos to the great people at your stores in Arlington and Fort Worth, TX, who gave us a credit towards a nicer, new can with no receipt and no questions asked!!
July 9, 2012
Rated

5

out of

5
 by
Jens
hiding the dog food
Nice little lock on the can so my sneaky Shepard can't get his dog food out.
April 24, 2012
Rated

4

out of

5
 by
Sophia
Great quality but a little small
I used to use this as a trashcan, but it was a little small for my purposes. However, this trashcan is great quality and Simplehuman has great customer service. The trash can has lasted 6 years of constant use. The pedal on my trashcan broke after maybe 2 or 3 years of use and I emailed their customer service department and they mailed me a new one with installation instructions at no cost. I now use it for bottle recycling and its great for this purpose.
April 20, 2012
Rated

5

out of

5
 by
K80NYC
Beats out ALL of the more expensive Stainless Cans
I over-analyzed all of the options before finally settling on this smart Simplehuman bin for our Island-style kitchen, and I'm so glad I did! It outperforms our former expensive stainless steel step can, which I actually ended up giving away. I'm surprised I ended up going for the cheapest option of my choices, as I usually go for the most expensive model of everything, but this truly was the smartest design in a kitchen can that I've ever seen. The way our kitchen is designed there is no room for even one bin, as the dishwasher and cabinets both need to open out into the small space. With the wheels and the lightness of these cans, however, we can easily roll them out of the way when we need to open either door. We were able to fit three of these slim cans into the space this way, each labeled for our city-required recycling needs. I love that the lid opens easily with the step pedal, and it closes slowly instead of crashing down. You can also adjust the lid so it stays up if you need it to, and you can lock it down to keep out pets. These are extremely easy to clean and don't get ugly with dirt, unlike stainless steel which picks up every finger print. It is a truly smart, simple, very well thought out design!
April 7, 2012
Rated

5

out of

5
 by
TXHusker
I love it!
This trash can was a great purchase for me. It is easy to lock the lid on the trash can when I leave my house. No longer can my dog tear up the trash. It also looks great in my kitchen. It's not big and bulky like other trash cans.
March 6, 2012
Rated

3

out of

5
 by
Vivpep
Awesome
I live in NYC so space is limited. This fits great, works well and I have enjoyed it.
February 29, 2012