Rated

5

out of

5
 by
Normer
Goodbye clutter
This landscape drawer has given me back the surface area of my desk like no other product! It is sturdy enough to hold up my magazine file and other desk accessories. Also, the frosted look blends in with almost any decor.
June 18, 2016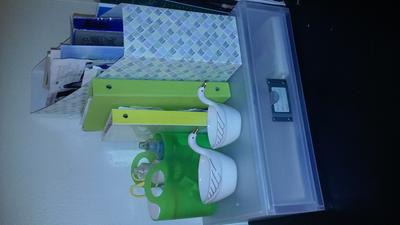 Rated

5

out of

5
 by
hoya94
Adore these for stacking & organization
These work quite well for stacking in places that you need some extra drawer space. I use mine to sort mail and desk items.
July 23, 2015
Rated

5

out of

5
 by
ReOrgster
LOVE the Like-It Drawers for Jewelry & Make-Up!!!
I have 2 towers of 5-7 each for a quick grab & go!
July 9, 2015
Rated

5

out of

5
 by
1881j
storage setup
Used the Like-it Landscape paper storage drawers (stacked 3) and the Portrait paper storage drawers (stacked 3) with the Small and Large Vario Stacking Shelf systemto set up a craft area in our home.
December 13, 2014
Rated

4

out of

5
 by
Edel
Versatile, sturdy, stackable
I love that this is stackable and multi-purposeful. I use organization inserts to separate my watches (1 for healthcare, 1 for sports), and other inserts for office supplies. It does NOT pull all the way out, thereby causing a mass spillage of chaos, and that is great. However, it tends to tilt forward. So, any heavier items in the front could tip it over if it were on top of a hutch or shelf. I resolved that by ordering the tray and sorter and placing heavier items in the back of the drawer. Otherwise, I love that this saves me counter space by going vertical, and I could see the contents inside without opening it.
September 1, 2014
Rated

5

out of

5
 by
lastephens
Great for Office Supplies
Love these for miscellaneous office supplies. I have about 20 in my office supply closet and they are great! A little pricey, but well worth it for the sleek organization.
May 1, 2014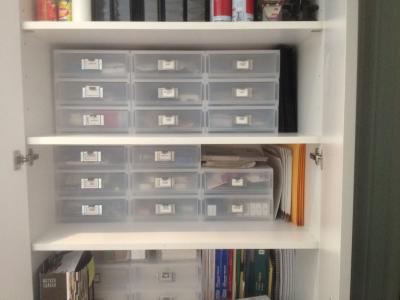 Rated

5

out of

5
 by
2joyful
Useful
I bought two of these for my desk so that I could extra storage for paper and craft things. They aren't too big or small they are perfect for the size of my desk. I love that it's like a smokey black but I can kind of see thru it too which is great.made well too.
April 26, 2014
Rated

5

out of

5
 by
TechEd
Perfect fit for the space
I have an old filing cabinet that had a "catch all" void. I measured the space and found the solution at the Container Store
April 11, 2014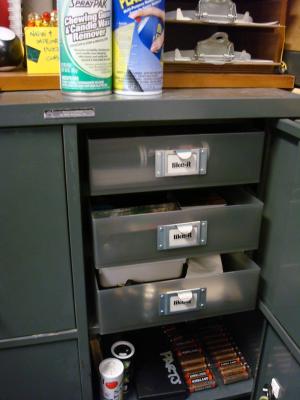 Rated

5

out of

5
 by
shui
Love these...
and more than one! They've tidied up corner of kitchen where I open mail/pay bills. The drawer dividers help too to organize stamps, labels, letter opener, paper clips, rubber bands, etc. I'm looking for more locations in the house to use more!
April 2, 2014
Rated

5

out of

5
 by
willyqwert
handy storage!
I have about a dozen of these to store papers, art / sewing supplies and other misc office supplies. The landscape version is the perfect size to fit on bookshelves to store/sort loose papers. Drawers can be easily taken out to carry contents to the crafting table, and easily put back to keep everything tidy afterwards.
March 26, 2014
Rated

5

out of

5
 by
gleff49
A BIG SURPRISE
I was looking for a stand or pod I could use to elevate my kitchen counter laptop with. Found this (single level) drawer and it is perfect! The slide out draw now houses all the gadgets and clutter that previously surrounded my laptop. It even matches the smoked gray case I have on my MacBook Pro. This is one of those how did I ever live without this thing !
March 6, 2014
Rated

5

out of

5
 by
Mlfquilter
Almost perfect
The one thing that would make this product perfect is if the drawers had a stop so they would not fly off the box when you try to open them.
March 4, 2014
Rated

5

out of

5
 by
Swedishdolphin
Very versatile
This drawer is very well made. It can hold quite some weight without difficulty. Also, it is very versatile. I bought 3 of them for my craft room. They are perfect for my scrapbook and card making supplies.
March 3, 2014
Rated

5

out of

5
 by
Officeorganizernow
Awesome purchase
Great product!! Very sturdy and looks good out in the open. Love the fact that they stack and slightly see through. Well worth the money paid. I am getting 4 more for daily school work for 7 year old
February 26, 2014
Rated

5

out of

5
 by
mplsgal
Perfect storage solution!
This is the perfect cubby storage for a unique space in our kitchen. Holds napkins, toothpicks, coasters, etc. Easy access with the drawer, which slides nicely. Strong construction yet sleek, modern design. Able to place laptop on top of it and keep the counter space clear and organized. Only wish is that the drawer pull was more modern-looking / neutral and less office-like to fit flexible storage environments.
February 11, 2014
Rated

4

out of

5
 by
SouthOfBoston
Landscape Paper Drawer - Good quality
Good quality! I bought 5 and they stack nicely. I would have rated it a 5 star but the price at $17.99ea is a little high.
April 26, 2013
Rated

5

out of

5
 by
amaa
Love these for craft supplies
I bought several of these drawers to store my scrapbooking and craft supplies - my husband was sick of my messy desk space. Between the drawers and holders, I configured a whole desk top set up to keep the clutter under control!
April 26, 2013
Rated

5

out of

5
 by
Cathy333
Love This Drawer!
I just purchased a new office table/desk without drawers and have been trying various organizational items to see what works best. After reading several other reviews for the Landscape Paper Drawer, I realized I could use it for two purposes - a handy place to keep office supplies as well as a stand where I could place my computer monitor. I wish I'd found it long before now!
April 18, 2013
Rated

4

out of

5
 by
NaturalNick
Simple Multiuse Mini-Drawer
I bought this for use other than paper and it works quite well. No problems whatsoever...
April 3, 2013
Rated

5

out of

5
 by
auberella
Great Kitchen TV Stand
I was looking for something to elevate my small TV slightly in the kitchen but compact enough that the TV would still fit under the cabinets and not take up too much counter space. This was the perfect solution! As an added bonus, the drawer can hide little things that would otherwise clutter the countertop. I purchased the "smoke" color and love how it's sort of translucent but you can't really tell what's inside. Also the plastic is sturdy enough to hold the weight of the flat screen TV without bowing into the drawer. I have had it for about a year now and it still works great!
March 28, 2013
Rated

5

out of

5
 by
Mary13
Double Duty
The paper drawer has a great secondary use as a computer monitor stand! I was struggling to find a box or something to raise the height of the monitor on my desk...my search ended when I found the landscape paper drawer. It raised the monitor to the exact height I needed and now I have an extra desk drawer!
March 20, 2013
Rated

5

out of

5
 by
Sherrill
Awesome desk organizer
I bought a paper drawer and letter tray to go with my file organizer. These products are great. They can be stacked on top of each other providing access to each. The clear ones allow you to see what's in them. Great tools to help keep you organized.
March 19, 2013
Rated

5

out of

5
 by
Joledy
Very practical and neat
I bought these for my kids to sort their school papers. It looks nice and is easy to use.
March 16, 2013
Rated

5

out of

5
 by
Basia
like-it landscape drawer
smooth and easy drawer action; landscape size fits my favorite bookcase; really beautiful gray translucence; blends perfectly with older gray cardboard storage.
March 13, 2013
Rated

5

out of

5
 by
cheryls
great
Great product. Looks neat and easily accessable for different color papers that I use daily. Very sturdy. The small containers are great for holding highlighters, pens, etc. Very friendly personnel.
January 10, 2013
Rated

5

out of

5
 by
Athene
I'm buying more of these!
This paper drawer was better than I'd hoped for. Stable, attractive, easily moved when I change my mind, and stackable. I like the translucence because I'm one of those people who needs to SEE where my stuff is, but I still want it neatly stored. I'll also buy smoke drawers so I can separately store supplies for an organization I'm involved with, and keep them apart from mine.
December 3, 2012
Rated

4

out of

5
 by
XAFernandez
Document Drawer
I was looking for a drawer to put my important documents that I had floating around the apt. This draw is perfect. I bought it in black and when I got it, it was more transparent than it seemed on the website but it serves it's purpose.
April 16, 2012
Rated

5

out of

5
 by
Verified Reviewer
Love the lanscape view of organizing!
Perfect addition to keep inbox/outbox neat and organized.
April 4, 2012
Rated

4

out of

5
 by
OrganizedOne
Great wat to organize watches
I used to have a similar product (lower price) but was never happy with the build and finish quality. Then found these. Great minimal design, multi-functional, and made in Japan. Great build quality. I got several of these and using one as my watch organizer station. I placed 4 dividers and each slot takes a watch. I now don't have to worry about looking for a watch in the morning in hurry.
March 24, 2012
Rated

5

out of

5
 by
ckmpa
It looks great (camouflages what you are storing), drawers slide well, they stack nicely, and it stores a lot (I do not use it just for paper).
March 23, 2012