Rated

5

out of

5
 by
sorted
not just for recycling
Instead of recycling, we use the large-sized bin to store dog food. It holds even the XL warehouse store-sized bags just perfectly. The snap on lid fits securely on the sturdy base, and the flip-lid is just intimidating enough that we never worry about the dog sneaking food.
April 26, 2014
Rated

5

out of

5
 by
CajunMom
Recycle Bin Refresh
I bought the 8 gal. Grey Recycle Bin to replace an old bin I'd been using for years, that had a broken lid and was in bad shape. I hadn't found any bins similar to my old one locally, so it was great to find this replacement when placing a Container Store order. This new bin looks great and is very sturdy. It holds a similar amount as my old one - which for a household of two soda drinkers, isn't enough to hold a week's worth of plastic and aluminum, but I also have another recycling container under the sink. To hold a whole week's worth in one bin, you should consider the larger size. The flat recessed area on top, designed for stacking multiple bins, is also the perfect size for a stack of newspaper set aside for recycling.
April 14, 2014
Rated

5

out of

5
 by
WineGirlRach
Shop, Click and Go_recycle bins
Ever so tired of lugging bottles, paper, plastics and jars in not-so-sturdy grocery bags, into and out of the car, I have been searching for suitable recycle bins. My most recent Container Store purchase included 2x8 gal and 1x13 gal recycle bins. I love that these stack, come in great colors, have the best lids which allow stacking, access to the bin and hides the mess. And they were just the right width to fit between the wall and my washing machine. SCORE! I could not be happier. Is it sad that recycle bins make me this happy? naaahhh Organization is happiness.
September 29, 2011
Rated

1

out of

5
 by
NYCreviewer
Worst purchase ever
I bought the 13 gallons bin two weeks ago: I liked the color and size. After one week of regular use, the front cover already came out of its place. Also, it's advertised as a bin with handles but there are no handles and you can't carry it around with one hand! I don't know if I had bad luck with this very bin but my recommendation is to stay away from this product. I'm very disappointed with the quality.
January 29, 2017
Rated

1

out of

5
 by
Discouraged
Worst things I have bought in years
I am glad that others have found these recycle bins excellent but my experience is quite different. It has been a while since I purchased 4 of these. I initially liked the footprint and the option of two sizes that stacked. Almost immediately the hinged lids popped off. One broke when the unstable bin fell to the ground. Out of 4 units I now have two without doors and one that the bottom is breaking out of. I bought these to replace 4 others that I bought at CS that had become very dirty and difficult to clean. What a mistake; my old bins were 6 or 7 years old and in perfect working order. These are less than 2 years old and I am reminded each time that I take my recyclables to the center (today) that I need to write a review about this poor product. Over all our experiences at the Container Store have been excellent
August 19, 2015
Rated

5

out of

5
 by
Jodi5
Love These Bins
I purchased one 13 gal. bin and two 8 gal. bins. They stack beautifully, and are very durable. High quality. I love the fact that the colors are subtle, rather than the garish colors of most recycle bins.
July 7, 2014
Rated

5

out of

5
 by
zellasmom
Perfection in a box!
We bought this container to store our cat food in because our cats kept getting into the cat food bag. It has worked perfectly for this!!!!
April 16, 2014
Rated

5

out of

5
 by
Clululu
Works perfectly!
This bin is useful in ways other than recycling...I'm using it as dog food storage in my pantry and it fits perfectly under my lower shelf. The hinged lid is great for easy access to their food. Perfect storage solution.
March 4, 2014
Rated

5

out of

5
 by
Kayleigh
Great recycle bin
Lid keeps cats out. Lid also makes very satisfying sound when closing. Top comes off easily to empty. Price is reasonable.
February 25, 2014
Rated

5

out of

5
 by
DiamondDogSphinx
Searched far and wide for the perfect recycle bin
After much reviewing of other similar products web and my world wide ,I finally found this treasure here in the container store. I was very specific in what I wanted in a recycle bin. It must be stackable, easy to carry up and down 3rd story stairs (even for a 13 year old) must be large enough to contain a couple of weeks worth of recyclables and must be white, which believe it or not was the hardest request to fulfill. This bin is perfect and even looks nice and blends well in my small apartment. Thanks Container Store for having EXACTLY what I needed. My search is over. I would definitely recommend this product. Very clean looking and very well organized! It even came with labels to help make organizing much more presentable and easier. I am a very pleased customer!
February 22, 2014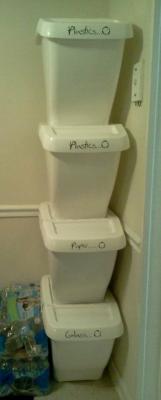 Rated

5

out of

5
 by
StarzAnchor
Flip top
We purchased this item for the center of our van to have as a "center console" for better organization and storage. With the flip top on it, we are able to have the cell, wallet and shades on the top while still being able to access the stuff inside the bin. We are very happy with our purchase and will be back to purchase more products!!
February 13, 2014
Rated

3

out of

5
 by
jodiann
one at a time
One at a time. these are great but don't stack them. The weight of the one on top compromises the hinge of the one beneath and makes a snapping sound like it's going to break. If the top one is empty or holds little weight it's probably fine.
February 5, 2014
Rated

5

out of

5
 by
Kimber9
LOVE LOVE LOVE
Our recyclables took up WAY too much space before we purchased these bins. Not only are they nice to look at, they are very functional!
November 7, 2013
Rated

5

out of

5
 by
j4xiao33
Great container!
Once cans fill to the top, I can carry the whole container to my car. Love it!
September 30, 2013
Rated

5

out of

5
 by
KSOceans
Perfect Solution
I'd been searching for a solution to my hodge-podge of open milk crates for home recycling. These bins are perfect. I bought 3 of the smaller ones and I love that they are stackable, have a hinged lid and have a subtle design to blend in with my kitchen decor. I've read other reviews of how these could be good for other uses as well. I may try those also.
August 14, 2013
Rated

5

out of

5
 by
lecats
Sturdy
Using this for potting soil. The flap is perfect for scooping out. It fits on the bottom shelf of the potting bench and pulls out easily. It keeps moisture and creatures out.
August 10, 2013
Rated

5

out of

5
 by
Jaime20
Love it
It is the perfect size for recycling. Good quality and very nice to look at if you have it in a conspicuous area of your home.
July 18, 2013
Rated

1

out of

5
 by
ScottSatellite
Actual Appearance does not match Photos
I purchased the 8 gallon container in white as part of my first Click & Pickup order. The Click & Pickup process works great but the end result was failure as the merchandise shown on the website does not match the store stock. Although overall size, color, and dimensions are the same, the decorative aspects have been altered drastically. Instead of the discreet molded in logo shown on the front the bin lids, the stock in the stores has the word "WHAM" die cut out of the front of the lid. The font is sort of Indian or Arabic in style and is very fussy in comparison the design of the bin itself. Additionally I feel like this large, complex cut out will compromise the integrity of the plastic and would probably crack or break within very little time. It would also undoubtedly be a big dirt collector. I went to the store to check stock and this "WHAM" decorative element is on stock, all 3 colors and both sizes so there is no alternative item to replace this with unfortunately. The Click & Pickup concept is a great idea but for it to succeed the website is going to have to depict the exact item carried in the store to avoid wasted trips and disappointing shopping experiences.
July 7, 2013
Rated

5

out of

5
 by
LBmurse
Great Storage Bin
Great universal storage bins that we use to store a variety of things such as dog food, dog treats, rice, recyclables...etc. The only drawback would be the cutout logo on the lid. The cutout allows ants and insect to crawl in. SOLUTION!!!! cut out a piece of duct tape and cover up the logo.
May 17, 2013
Rated

5

out of

5
 by
Micha
Awesome Recycling Bins
I purchased 3 of these for my cans, plastics and glass. They are wonderful because they are stackable and durable!
May 5, 2013
Rated

5

out of

5
 by
LouiseRita
Pretty Bin Low Price
This bin has a nice cover. It's far better than any bin we have used before. I plan to buy another to stack them for different materials. Would be even better if it were taller and deeper but the 13 gal one is a very nice and deep size.
May 1, 2013
Rated

5

out of

5
 by
LJBMom
Great for Toy Storage!
I use these containers to store my two year old son's building blocks and all his little cars and trucks. It is great because you can stack them and he can still just lift the lid and get out what he needs to play. And for clean up he loves opening and closing the lid each time he throws something in there. They are very stable to stack also, so I don't feel like he is in any danger while using them.
April 29, 2013
Rated

5

out of

5
 by
ks134409
Recycling Made Easier
These bins are perfect for our recycling neesd--we bought 3 for metal/glass/plastic. They are easily stacked for convenient space-saving. They're light and portable and the closing lid is essential for keeping recyclables in (and cluttery-look away) and containing any odors they might have. I love these bins and am glad we made the purchase!
April 23, 2013
Rated

5

out of

5
 by
kenmontana
Great product
These bins, small and large, are really, really great! I had an old recycle bin from the Container Store circa 1997, and replaced that with 3 of these last month. They are easy to stack, use and most of all, easy to clean. A nice, clean look and such a useful product. The price is right and the look is too.
April 23, 2013
Rated

5

out of

5
 by
asheskay
Hides the clutter!
Love my recycle bins! They make it easy to sort the recycling, and since it has a lid, all the trash is out of sight! They stack so nicely and look much nicer than the blue box from the garbage company. I'd buy again, for sure. Only downside is they're not very big so we have to empty the recycling often and large items don't fit in as well.
April 17, 2013
Rated

5

out of

5
 by
Ifoundit
1000s of uses!
A recent closet swap of a coat closet under the stairs to the cleaning closet in the mud/laundry room got the creative storage juices flowing! Turning the closet under the stairs into a pantry/cleaning closet was a great move since it is closet to the kitchen. To make use of all space, including the floors, I used the recycle bins for the boys snack size bags of chips. Now they don't have to fumble with the cardboard box the chips are packaged in (50 to a box!) and can easily open, retrieve and move on quickly when packing their lunches daily. The larger size is great and holds 50+ snack sized bags of chips while the smaller one is great for nurtri grain bars, crackers, etc. Another use I have planned for the linen closet is to put extra soaps, shampoos, toilet paper, etc. in the bins again making use of that empty floor space. I can easily remove the bins from the closets to vacuum also! Like I said, 1000s of uses! Just get creative now!
April 16, 2013
Rated

5

out of

5
 by
leefie
hack attack
well, not really, but the small bin makes a great pet food storage bin. it can sit on the top of my cats litter box and with the front opening door I can then store more stuff on top of it. a real space saver and organizer :-) i'm sure it would be a good recycle bin too ;-)
April 16, 2013
Rated

4

out of

5
 by
Bklynorganized
Pretty good
I bought the big one but even it is a little small for all the paper that we recycle. Still, it's pretty compact and fits in nicely and is unobtrusive.
April 15, 2013
Rated

5

out of

5
 by
jduncan
Love these recycling containers !!
I ordered 2 of the small containers and one of the large for recycling. They work wonderfully and look so neat and colorful !! Handy to just take off the lids and put containers in my car to go to the recycling sites. Before, my recycling area was very sloppy looking and now everything is so neat and colorful !!!
April 14, 2013
Rated

5

out of

5
 by
15mint
Just what we needed
We bought two of these bins - one each for holding recyclables and returnables. The deep containers hold quite a bit and yet the width allowed us to put these in a narrow space. The hinged covers are designed to allow you to place items even in stacked bins. 1-gallon plastic water/milk jugs have to be crushed slightly to fit but most everything else we use fits easily through the cover.
April 4, 2013