Rated

5

out of

5
 by
LittleMissMessy
Repeat Purchase
This is actually my second time purchasing this product. Don't worryâ¿¿it didn't break or wear out or anything. I lost it and decided I didn't want to live without it. It's convenient, useful, cute, and safer to have lying around than an exacto knife when you just need to cut paper. The cap is great and stays on better than my exacto knife's cap, too, for added safety. I use it for craft projects, but it's also perfect for saving recipes or workouts from magazines before you recycle them, or for "clipping" coupons. Try it, I think you'll be pleased.
June 27, 2014
Rated

5

out of

5
 by
JaynieJane
Best Scratchboard Tool in My Arsenal
I am an avid scratchboard artist, and this has quickly become my favorite tool. Cuts clean and thin, extra sharp, and the ball tip means I can have all my needed supplies safely in my purse or pockets! I bought it as an experiment, and it paid off big time. I've never used it to cut paper, but for precision lines and ease of motion, it's fantastic! Here's a scratchboard of Matthew McCounaghey I did with just this tool and a prepared scratchboard.
March 5, 2014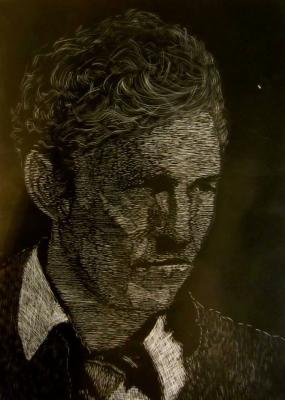 Rated

4

out of

5
 by
EricaV
Some people have complained it doesn't cut well, but I don't know if they are using it correctly? If you zoom in on the photo, you will see the cutting tip is VERY small. You have to be holding it at the correct angle (not too much straight up and down, more tilted back) Also, you still need to use a solid pressure. If you don't do any pushing, it won't cut. I found it cuts great, even curves and small details. I bought several for my elementary classroom, because now my students (3rd/4th graders) can use them without the danger of an exacto blade cutting a finger off. True, it's no exacto or box cutter, but I think the key draw for this is the safe for skin tip, and the ceramic blade that won't get dull.
February 18, 2013
Rated

2

out of

5
 by
SunnyBunnies
Not as sharp as I thought
I thought the tip was a blade but it's actually sharp plastic. It cuts only if I use it in certain angle. Because of that I can't really cut curves and shapes easily. Also, because it's a plastic, it can't really cut unless the paper is really thin.
December 5, 2012
Rated

4

out of

5
 by
queenorganizer73
Good Cutter
I use this little cutter to help cut out things for my scrapbooking. I found that it works quite good for the letters and shapes that I am cutting. I haven't tried anything really intricate but I like it for my projects. Feels good in my hand but maybe the blade could be a little bit sharper.
February 16, 2012
Rated

1

out of

5
 by
GDPitt
Scores and tears paper, but does not cut
I bought this for intricate paper cutting (snowflakes, etc.) and was very dissappointed in the performance. It does not cut through my paper. At best, it scores the design into the paper, and at worst, it tears it.
November 16, 2011
Rated

4

out of

5
 by
gretel
Handy Dandy LTool
This little tool works like a charm on all kinds of craft projects. I hope it wears for a long time since it doesn't have a typical knife blade. I would highly recommend it.
February 15, 2011
Rated

2

out of

5
 by
Asturia
Great design, poor function
I got excited seeing this cutter blade thinking it could help me with my card making this year. However, the blade is quite dull and does not cut as straight, or as smoothly as a regular razor blade. It cannot cut "intricate shapes" as the description claims. The edges come out fuzzy and not smooth, so it looks like I tore it by hand rather than cut. I also used it to cut out a star and a small Christmas tree, but ended up using conventional scissors at the end because the edges were not straight. It's hard to hold because it's so thin and rolls around on my fingers. DO NOT RECOMMEND for true arts and crafts enthusiasts.
December 17, 2010
Rated

5

out of

5
 by
PMW148
precision cutter
My granddaughter makes cards and this item was on her Christmas list. She lives in the Chicago area and Loves the Container Store. I am sure she will be happy to receive this cutter.
December 10, 2010
Rated

3

out of

5
 by
AmyB
Not as awesome as I was hoping
It's hard to cut straight (maybe that's just me) with this thing. Also, it doesn't cut card stock very well. Still, if it remains sharp, it's better than an X-acto.
December 3, 2010
Rated

5

out of

5
 by
Taaron
Best cutter!
I picked this open to cut down shipping boxes. It doesn't work too well on them (too thick), but I followed it up by testing it on toy packaging. Normally if I want to open a carded figure, you either have to rip off, or struggle with a pair of scissors or knife to get the blister removed. This usually causes the packaging to be damaged. I tried the Precision Cutter on the blister, it was very smooth opening, no damage to the card back. Highly recommend. :D
November 17, 2010