Rated

5

out of

5
 by
Epiphenita
Best Gift Wrap Station
I love this gift wrap container. The canvas material is sturdy--unlike plastic it doesn't age and tear. It holds 6 big rolls of wrapping paper with plenty of pockets for all the gift wrapping bits
January 26, 2017
Rated

5

out of

5
 by
RCBTarheel
Great space saver
I love that you can hang the work station in the closet, or pull it out and load it up for gift wrapping. It is very sturdy and so far has been a great addition to our organization family!
January 12, 2016
Rated

5

out of

5
 by
CaraJW
Great help at wrapping time!
Purchased this to solve a wrapping storage problem and am not sorry I got this. I love how easy it is to move around and how much wrapping paper it holds. Plus the handle pen and tape holders near the top make it super easy to just reach over and grab what I need. Seems sturdily built. I might purchase another for non-Christmas wrapping supplies as well.
December 22, 2015
Rated

4

out of

5
 by
poseypeddler
Holds a lot of stuff
I was able to clear out an under bed box full of supplies with plenty of space for more! Wrapping is close at hand and easy to access in a closet. Looking forward to using this wrapping station.
June 29, 2015
Rated

5

out of

5
 by
luv2beEfficient
All in ONE PLACE!
Although I have only had for a few weeks, I already love the Gift Wrap Station. I virtually fit EVERYTHING in it. I even have extra Gift Bags hanging from the inside (similar to the bag w/ribbon; exception I looped it on the top Hanger and inserted it in between the 'sandwich boards'. Only con is that it is now quite heavy. However, it takes up much less space than my old way of storage, with out the hassle of the rolls of wrapping paper falling sideways. Love it and can not wait until I get to use it to wrap presents!
June 18, 2014
Rated

5

out of

5
 by
LpoolNY
Love, love, love this!
We moved into a small home with no basement and, therefore, no extra storage. Gift wrap is one of the hardest things to store without damaging it. This organizer saves the day! It is lightweight but very sturdy and there is room enough for everything you need. We love the fact that it could be hung in the guest room closet with no problem. It is accessible without being in the way, and we love the "helping hands" feature that holds the gift wrap while you unroll it. I would recommend this to anyone. Thanks Container Store!
February 19, 2014
Rated

5

out of

5
 by
Floridabeachgirl
Gift wrap organizer
Love it, very versatile and lots of storage, handy. Have it hanging in the closet and there is space for all of my girt wrap and supplies.
February 17, 2014
Rated

5

out of

5
 by
carolmex
Makes me look like a pro
I have always prided myself on my wrapping ability. Now, with the gift wrap work station I can keep my supplies close at hand. Now not only my presents look professional, so do I.
February 13, 2014
Rated

5

out of

5
 by
CateJuly
Great Idea
I balked at the cost, but ended up purchasing this item after looking at the cheaper options and deciding they didn't fit my needs. After I took it home and set everything up, I was SO IMPRESSED. I told my husband that I was sorry, but I had found a new best friend in this organizer. =)
August 20, 2013
Rated

5

out of

5
 by
kelsieru
Great Quality!
I absolutely love the gift wrap work station! It holds everything that I need in one, easy to store, space! I can't believe I didn't buy this sooner!
July 24, 2013
Rated

5

out of

5
 by
Verified Reviewer
Love it!
Gift wrapping has never been so easy or neat! Everything you need all in one convenient place. Hangs in the closet when not in use.
July 5, 2013
Rated

5

out of

5
 by
jbr6
wrapping paper workstation
I am so glad that I purchased this workstation. Great organizer and it hangs in the closet. Easy to use, so convenient. I love it and would highly reccomment this!!
April 17, 2013
Rated

5

out of

5
 by
number1grandma
gift wrap work station
terrific tool for any household because all of the basics are at hand--no need to waste time or energy locating what is needed to wrap packages for any occasion
March 19, 2013
Rated

5

out of

5
 by
Labmomlisa
Great product!
I love this organizer. I don't do enough gift wrapping to warrant a wrapping station in my home office/workroom, but I had enough stuff in different places to be just annoying to keep it organized and know where things were when I needed them. This organizer easily holds everything I need and then stows away on its hanger in the closet when I don't need it. It's constructed sturdily enough and for the price, I think it's great. I am looking forward to the next time I need to wrap something!
January 22, 2013
Rated

5

out of

5
 by
Kara
Most Amazing Gift Wrap Organizer EVER
I bought this because I can never seem to find the right organizer for my gift wrap, but this organizer is PERFECT! It holds all of my gift wrap and accessories perfectly and stores neatly away in my closet for when I need it! Love it, I can't wait for Christmas now!
June 19, 2012
Rated

5

out of

5
 by
lindsay242
Makes Wrapping Fun Again
I used to hate wrapping because I'd have to go all over the house trying to find all the items necessary to get the job done. This works station is great! Tucks away and hangs in your closet when you aren't using it. And when you need it, take it out and unfold it, set it on the floor beside your table and get wrapping! Lots of places to store everything from bows to bags (which I have a lot). Awesome!
May 5, 2012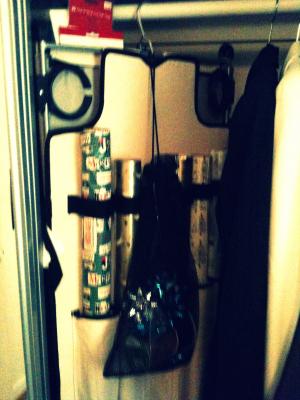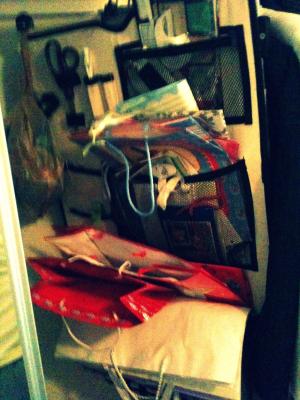 Rated

5

out of

5
 by
Soozie514
Very practical
I loved the gift wrap station so much that I ordered one for my mother. It is a time saver as everything is at your fingertips for wrapping gifts!
April 28, 2012
Rated

5

out of

5
 by
GodsChild
I love this!
No more throwing all of my gift wrapping items into one big bag that I later have to dig through to see what's in there. It's so much more organized now and is easy to quickly eyeball what I have to choose from and grab what I need. I also love that it can be hung up to save floor space. This is the best gift wrap organizer I've ever seen... and the only one I've ever purchased because nothing else has ever been what I was looking for. I plan to buy one for my mother for Christmas because I know she'll love and get a lot of use from it. Buy this, you won't regret it!
April 27, 2012
Rated

4

out of

5
 by
eurieka
Very worthwhile
If you are a master wrapper and have rolls for every holiday and occasion, this may not be the best option for you. Since I typically only have a few Christmas rolls and some more generic plain rolls, this is the perfect size for me, and allows me to keep all the extras all in one place. Although it says it holds 12 rolls, it really only holds about 6, depending on how fat your rolls are. There are only 6 pockets and you may be able to fit two per pocket, but I was not really able to.
March 9, 2012
Rated

2

out of

5
 by
LibrarianMarie
Doesn't offer much protection, though
I'll admit, this is a VERY STURDY organizer--and if I had an empty closet to store it in, I would probably think it perfect. However, all my closets are quite full, and I fear that my wrapping paper will be crushed if I actually used this. I purchased one, loaded it up (all went well so far), and then tried to figure out how to close it. Surely the paper couldn't just sit out like this in a unit that was designed to go into a storage closet (in my case, to be stored with heavy winter coats). Even if this came with some sort of canvas cover, I would have kept it. As it is, I fear it would just line up all of my wrapping paper so that I could destroy it in one fell swoop!
February 20, 2012
Rated

5

out of

5
 by
RobinATexas
Love this!
Best wrap station ever! I finally corralled my Christmas paper etc and now can put away in a closet until needed. I plan on getting another one for bday wrap etc. thanks TCS!
February 16, 2012
Rated

5

out of

5
 by
FLUFFYONE
EXCELLENT ORGANIZER
I absolutety luv this wrapping papaer workstation. No more huge box to deal with lugging to the basement and the convenienve of all in one location is great! I can';t wait to use it next year when I have to wrap Christmas presents. It is going to make it soooooo easy!
January 21, 2012
Rated

4

out of

5
 by
bellemorte
Worth the money
I purchased this to replace an old, falling-apart, cardboard box that I've been using for 10 years. I wanted something that I could hang up & not leave on the floor. The only issue I have is - this states that it fits up to 12 rolls of paper. IMO, this only applies if you have very small rolls; I was only able to fit 6 of the larger rolls (ie Hallmark). All in all, a good value.
January 8, 2012
Rated

5

out of

5
 by
HuskerinVA
Useful product
My old stand by wrapping paper organzer broke and after searching around I found the Gift Wrap Work Station, it's fantastic. Yes, it's more expensive but the materials are superior to the mostly plastic alternatives that I found. I'd highly recommend this item.
December 13, 2011
Rated

5

out of

5
 by
megsalot
love it
To me this seemed a bit pricing for something that just collects all of your wrapping supplier. However, this is totally worth it. I toyed with purchasing this last year around Christmas, I'm very glad that I'm prepared for the mass wrapping this Christmas.
November 25, 2011
Rated

5

out of

5
 by
karean
Amazing Gift wrap work station
This work station is sturdy and it is a great way to organize all of your gift wrap supplies. It even has a slot for the tape/scissors that always are so hard to find around the house. It's a great way to keep organized and keep it all in one place.
November 25, 2011
Rated

5

out of

5
 by
Homecook
A Handy Holiday Helper
Every Christmas I load up a kitchen counter with wrapping supplies. The wrap invariably rolls off the counter or the ribbons get tangled. Then I have to move everything if I need the counter to cook. This wrap organizer is great. It holds everything and I can move it to wherever I want to wrap gifts. When the holidays are over, I will fill it with other types of wrapping paper and hang it in the hall closet. Easy and convenient.
November 17, 2011
Rated

5

out of

5
 by
wordsmithgirl
Great Design
I buy more and more gift wrapping stuff because I can never find it when I need it. This is an amazing solution. Hanging in the hall closet, stands on its own and holds the wrapping paper so you can easily roll it out to wrap, and stores all kinds of items. A dream! Pricey, but worth every penny.
September 12, 2011
Rated

5

out of

5
 by
lg2006
Worth EVERY penny!
I have had many organizers for gift wrap and none have ever filled the bill like this one. I love that it keeps the rolls of paper stable and keeps them from unraveling. Has a place for gift bags, tape, ribbon, scissors and its very STURDY! stands alone or hangs. Its awesome!
August 13, 2011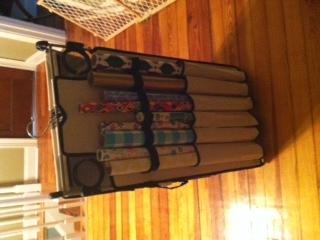 Rated

5

out of

5
 by
NOPORGANIZER
WELL-MADE, fits everything, easy to use!
I bought this after returning another product from The Container Store and I AM THRILLED with it: Well-constructed and sturdy Great for storing and for using when your'e wrapping Everything is easily accessible and visible Stored items are also protected from being squished, etc. Fits various widths of wrapping paper, including wide/long ones Folds up to hang in a closet and takes up no space. TOTALLY WORTH THE EXTRA MONEY, especially if you're short on storage space, like we are.
July 31, 2011