Rated

5

out of

5
 by
RobinLou
Fabulous gift wrap cart
I have 2 of these carts..One I use just for Christmas and the other for birthdays, showers, etc. I also purchased the plastic divided insert where I keep scissors, tape, gift tags and pens. The other mesh bins, I keep tissue paper, bows, ribbon. I find I don't use the ribbon holder on the outside at all. I purchased the first at the store and they put most of it together for me. The second I purchased online and I had to do it..(not a good idea, but not the fault of the cart) Definitely use a rubber mallet when securing the legs rather than a hammer as it will bend the frame!! I have also purchased this item as a gift. I just roll them out of the closet when needed and back in when finished. Very convenient and so much better than the gift wrap boxes. If I can change or add something to this, I would put another gift wrap holder on the other side so it would hold twice as much paper. (although, it does hold quite a bit!)
December 6, 2016
Rated

5

out of

5
 by
momof2inatl
Amazing product!
This is the best thing that's ever happened to my life! Before this, I had tags, ribbons, wrapping paper, gift bags, bows, scissors, tape all in different containers, and wrapping a gift was a pain. Now, I love it! A couple of tips: You can have the store do some of the assembly for you. They won't finish it because the drawers can roll around in transit to your home, but they can get it started for you. Second tip - this is holding 18 wrapping papers for me (completely full), and I was wondering if it would tip in that direction when full. It does not do so. It's very sturdy. Third tip - the ribbon holder holds about 4-5 ribbons. This will fit three total ribbon holders, so I bought the two extra ribbon holders. My only tip for ELFA and TCS is this: The top provides a platform large enough to wrap small to medium size gifts, but, it's not big enough to wrap a large gift. If the top had a piece that could be lifted off and extended out to double the surface area, this would be even more awesome.
December 2, 2016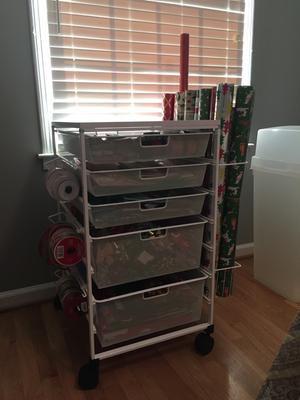 Rated

5

out of

5
 by
OrganizeMeIL
Best way to organize gift wrap!
I've owned the White elfa Mesh Gift Wrap Cart for over 8 years now, and it's one of the best purchases I've ever made! The quality is superb - still like the day I bought it. It stores easily in our guestroom closet, easy to reach in and grab tape, scissors, etc. or to pull the cart out and wrap an entire gift! And when guests come to stay, the cart rolls out easily for quick storage in another room!
April 5, 2013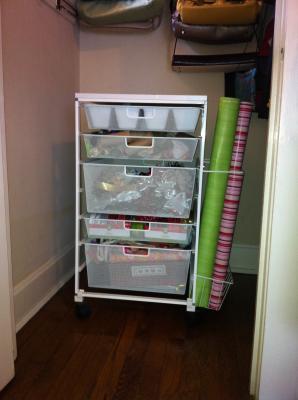 Rated

5

out of

5
 by
Happyrock57
Perfect Organizer
I have been looking for a way to organize my wrapping paper, bags, cards, ribbon, etc. without having to dig through a box to find what I was looking for. This cart fit the bill perfectly. I had been storing things in three different containers and this cart was able to hold everything in one place.
January 30, 2017
Rated

5

out of

5
 by
Stacey1
Gift Wrapping Cart
I am so happy to have this. It has helped me get all of my gift wrapping items organized all in one place. I managed to put it together with one of the sides upside down. Donna at the Portland store was very helpful in telling me how to take it apart or that I could bring it to the store and they could help me. I opted to take it to the store and let a professional put their talents into action. The quality of this product is very nice, I would recommend that you get one, it is so convenient and better than anything else I've seen for this purpose.
January 11, 2017
Rated

5

out of

5
 by
OCDD
Fantastic cart, holds everything I need!
I've been eyeing this cart for a while and finally decided to go for it. If you can't splurge (or don't have the space) for the built in wall system, I highly recommend this cart. I have a lot of gift wrapping supplies and aside from some large gift bags, this cart is able to handle the load. It fits many rolls of wrapping paper on the side, with enough drawer space to hold all of your other essentials (tissue, tools & tags, bags, bows). I am pretty obsessed with organization and quite particular about storage systems (hence my initial indecision on the purchase). But I'm so glad I got it and think you will love it too.
January 9, 2017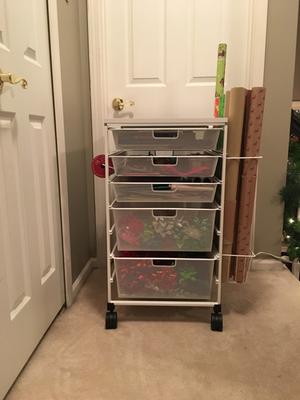 Rated

5

out of

5
 by
AnneYvette
My favorite item
This is my favorite item! This keeps me so organized. I even have a drawer just for Christmas bags! No more over-buying. I just go "shopping" in my own home 1st!
January 9, 2017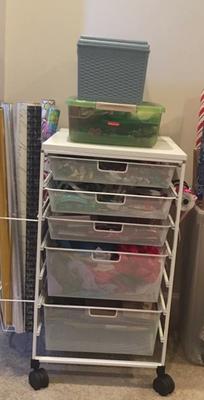 Rated

5

out of

5
 by
Twinkletoes57
Perfect!!!
I had an out of control closet full of gift wrap bags, tissue, bows, and rolls of paper....I would actually have preferred to go buy new bags and tissue just so I didn't have to wrestle with the mess in the closet! When this went on sale I thought it might be the solution to the problem...I have other Elfa closet organizers, and they are a lifesaver...so, I pulled everything out of the closet and it's now beautifully organized and rolls right into the closet!❤️❤️❤️
January 8, 2017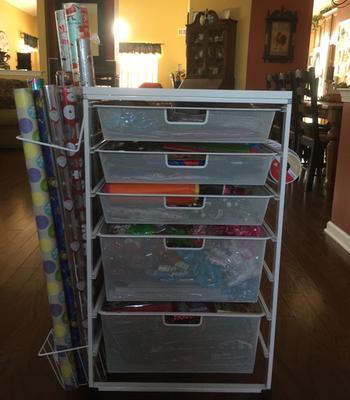 Rated

4

out of

5
 by
Momwon
Gift cart
A wonderful addition to all my other purchases. Love it!
January 8, 2017
Rated

5

out of

5
 by
JenBK
Gift-wrapping...solved ;)
Recently moved and this has solved all of my gift-wrapping problems. Had to assemble, but it made me feel like I'd really accomplished something! Love it and recommend it!
October 29, 2016
Rated

4

out of

5
 by
LeMonstre
Great product, assembly hard
Now that I have it together I am very happy, however it required great physical strength to assemble it. I don't know if my bars weren't a good fit, or if that is the way it is for everyone.
February 15, 2016
Rated

5

out of

5
 by
1nky
Love this item!
I have had this cart for two years now and I can't say enough good things about it. I looked forever to find a way to store my gift wrap and all the supplies that you need when wrapping for Christmas, Birthdays, etc. This cart allows you to organize it all in one place and move it around your house wherever you need it. Recommend this cart to everyone!
December 15, 2015
Rated

5

out of

5
 by
MamoPatti
Gift wrap cart
Everyone should have this!!! It is so convenient to have everything in one place. When I was putting my stuff in there I found things I didn't know I had but now I know where everything is!!
December 14, 2015
Rated

5

out of

5
 by
4kids3dogs2jobs
Great organizer!
Love this wrapping station. It has helped me organize all my wrapping essentials. I wish the ribbon holder was longer, but I have gotten around that by using a drawer for my other ribbons... I'm not sure they could make a holder long enough for all my ribbons! I'm thinking about getting a second one to organize my scrapbooking materials.
December 14, 2015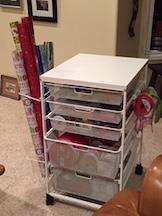 Rated

5

out of

5
 by
Loraine
amazing organizer!
I've been looking for a way to organize my wrapping supplies. I love this product! Best organizer out there.
December 5, 2015
Rated

4

out of

5
 by
AuctionGirl
Just shy of what was needed
Things were fine... Liked the shelves, clean lines, wrapping paper holder that allowed for diverse dimensions... The miss...the ribbon roll. The attachment was enough for one large roll or two small multi-colored. Suggestions-draw organization, labels that come with it or as add on like wine bags and a slot for wine bags. Also add a to do or shopping list, amount spent tracker would have been cool. I understand I could add more but this was for a charity to start so I could not add all the bells and whistles this deserved but I did spend a long time researching products and the best one from a box was this one. Pick up from online order was ok. Thanks.
April 12, 2015
Rated

5

out of

5
 by
Forensicschick
Love it!
I stayed up late to put up my cart as soon as it arrived. I woke my family with the banging but it was well worth it. The cart feels sturdy and I love all the items it can hold. I am using mine to stow my crafting projects so I can move them from room to room and store away when I am done. The top is perfect for when I need a work surface on the fly. I am very happy with my cart!
March 22, 2015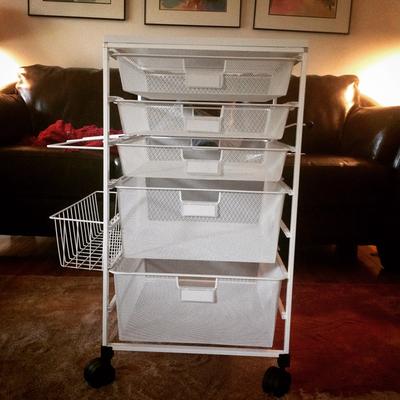 Rated

5

out of

5
 by
Laylo
Gift Wrap Cart
Excellent product, very easy to put together, does a great job of organizing all of our giftwrap, ribbons, paper, cards, tape, scissors, etc...30% Elfa discount was a nice bonus too!
February 25, 2015
Rated

5

out of

5
 by
Target
Sturdy and lots of room.
Easy to put together by one person. The cart is extremely well made. I will be using it to store office supplies and gift wrap. I am very happy with this purchase.
February 15, 2015
Rated

5

out of

5
 by
CatherineOrtiz
A Must Have
I put the cart together as soon as I received it. Which, BTW, the box is big and a bit heavy; just in case you have to pick it up at a UPS spot. I absolutely LOVE IT! I should have bought this sooner. I had 2 big recycling bags from a department store, full of gift wrapping stuff. I was able to fit all of it in the cart, and still have space left over. It is actually bigger than I thought, and I was able to make space for it in a closet. It is easy to put together, but definitely make sure you have a plastic mallet and read both sides of instruction sheet. The 2-Runner Mesh Drawers fit so much. I was able to fit 21 rolls of wrapping paper on the side; a couple of smaller rolls were placed inside other rolls. I was able to fit 6 rolls of ribbon on the other side. This is a must have. Buy it already!
January 25, 2015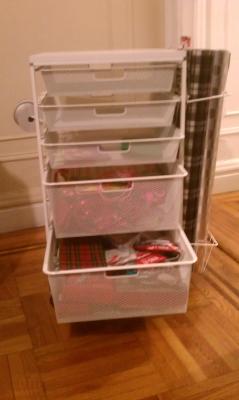 Rated

5

out of

5
 by
Labs
Love it
Very easy to set up, with exception of wrapping paper holder (no instructions included)
January 9, 2015
Rated

4

out of

5
 by
Yvetta
Great cart but...
I cannot add any more praises to this cart than those of all the other reviews. I ordered it online, and it was ready and waiting at the Click and Go pickup station. What convenience! The cart was easy to put together (be sure to use a rubber mallet and not a hammer). It is big and holds much more than I thought it would. However, I gave it four stars because of the directions. I have never had directions that backtracked so this is fair warning before putting it together. Step 1 tells how to put the frame together including the T-crossbars. I did that. Then Step 2 backtracks and tell you to put the stop pins in BEFORE putting on the crossbars...too late. This needs to be changed in the directions. I made my own stop pins for the top drawer using stiff wires. Other than that, the directions are easy to follow and it is easy to put together. I love the cart and am considering buying a second one.
December 26, 2014
Rated

5

out of

5
 by
katess
just what i have been searching for!
i LOVE this! i never write reviews but feel compelled to share my joy at finally finding the perfect system for gift wrap! for years and years my bags and ribbons have been crushed and my wrapping paper was a pain to get at... this cart is attractive, easy to assemble, and everything is accessible and organized! i am so excited to have this cart in time for the holidays! let the wrapping begin!
November 6, 2014
Rated

5

out of

5
 by
MrsS
Love These
I have been looking for something to handle my wrapping paper for a long time. I was thrilled when I found these. I bought two. One for my holiday wrap, and one for all occasion wrap and gift bags. These are very sturdy and are perfect for my needs.
September 1, 2014
Rated

5

out of

5
 by
maremare
Functional Cart
You have several options of drawer sizes and you can adjust height. You have extra side wrapping holders for holding large rolls of wrapping paper. It's on casters so you can easily roll it to where it's needed. There is plenty of storage space for all your wrapping needs.
May 4, 2014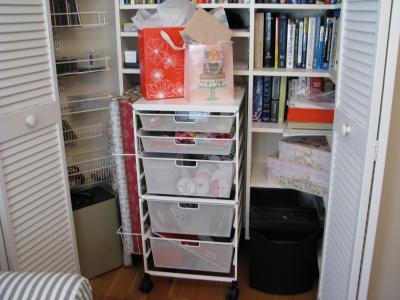 Rated

5

out of

5
 by
Hinsdalemom
Simplifies life - stores in guest closet - love it
I love the elfa system in general but this gift wrap cart is ingenious. It is durable and rollable and holds LOTS of gift wrap, gift bags, cards and accessories. Having all our wrapping items in one place makes wrapping a 5 minute job and the kids can wrap gifts too without asking me where everything is. I can see all the rolls of wrapping paper at a glance and know when I need to replace any. The bins hold much more than you would think, wrapping tissue, gift bags, bows, etc. Love it!
April 27, 2014
Rated

5

out of

5
 by
OrganizationJunkieToo
Can't Live Without It
This wrapping station saves you frustration, time & money. Your wrapping needs are all at your fingertips. Well designed & organized, quality construction, & mobile too. A "must have" for every household. I purchased one for everyday use & would like a second for my Christmas wrapping needs. Thank you Container Store, you scored a gold medal on this product!
April 11, 2014
Rated

5

out of

5
 by
GigiLaFashionista
Not just for gift wrap!
I went into the store looking for a working storage solution for my stamping tools/supplies and stumbled upon this magnificent cart. The drawers were plenty wide and deep to hold all the tools that I need to keep accessible, but off of my work surface. Also, the height of the cart (with the casters) is ideal for situating beside my 36-inch-tall work table -- now all my tools are just an arms reach away.
March 12, 2014
Rated

5

out of

5
 by
Case13
Made this w/platinum cart w/the white paper rack
I am not a white fan. And I am not a craft person, but got sick of the long plastic bin for wrapping paper. So, I made a platinum cart and added the white gift wrap attachments. Works great and blends with my other carts! I love this cart--I put all my wrapping paper, to include holiday in it. I also found a drawer for all my gift bags.
March 9, 2014
Rated

5

out of

5
 by
Kmolinary
The Perfect Wrapping Cart
I have always wanted one of these and when they went on sale- I bought two! I use one for Christmas wrapping supplies and the other for everything else. There is ample storage for all your wrapping supplies, a flat top to set things down on and wheels to move it all. I have looked at other ways to store wrapping supplies and this is hands down the best!
March 8, 2014