Rated

5

out of

5
 by
KindredKai
Perfect!
I purchased a number of these bins in both sizes for a chrome shelving unit in the garage. I'm a personal shopper, so returns are a part of life for me. I used a label holder to denote a store for each one, so when I'm going to that part of town, I pop it in my car & have everything all neatly together! Fabulous price, stack nicely; I couldn't ask for more. : D
July 7, 2016
Rated

5

out of

5
 by
CiaCia
I really like the clear recycle bins! Just what we were wanting.
April 23, 2016
Rated

5

out of

5
 by
Curlysue
Great for hangers in our store
We use these bins for hanger storage in our retail store. They stack well (we have them 3 high), clean easily, and allow enough room for hangers to be deposited without needing to remove the cover. They are also neat in appearance for contents that can be all over the place otherwise.
August 21, 2014
Rated

5

out of

5
 by
MaterialsforMakers
This product made our Materials Depot a success!
We used the clear recycling bins in the renovation of our "Materials Depot" at a public school in Brooklyn New York. In this depot we sort re-used materials brought to the school by families for teachers and kids to use in projects. The bins are perfect on our shelving to make the materials accessible to the kids and the clear color allows everyone to see the great variety of materials we have. This effort has taught our whole community the importance of reuse and by having a clean organized space for materials everyone enjoys finding what they need!
April 25, 2014
Rated

5

out of

5
 by
WesnJena
Very Handy!
I really like these stack-able bins because I can keep them close to the trash can and they're easy to access with the opening. The different sizes make them great for all different areas.
April 25, 2014
Rated

5

out of

5
 by
kg123
Great Bins!
I'm using these at work. I keep some items we have our logo printed on and people are free to take them to give to clients. They make what I'm storing look nice and tidy, but also very accessible.
April 24, 2014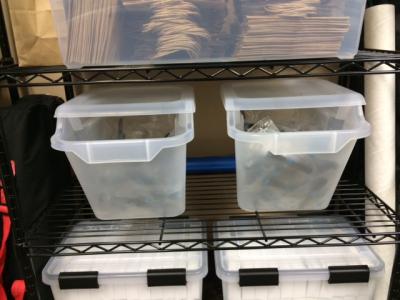 Rated

5

out of

5
 by
Rosyrose
Cool Recycle Bins
My neat freak husband loves these. They are great.
September 26, 2013
Rated

5

out of

5
 by
grannyel
great bins for storag
I use this bin for pet food. it fits well in my pantry, and keeps the spillage down. with the food bag, there is always some food that falls out, and soon there is food on the pantry floor. then everything has to be taken out to clean the floor. very little gets spilld from these bins, because of the large opening. plus, the lid keeps the odor on the food inside.
September 25, 2013
Rated

3

out of

5
 by
rabrewer
Nice but different than expected
Although I am overall happy with my purchase, i was surprised that the bins were quite a bit smaller in the back than in the front. Also, the lid doesn't snap on it just rests on top of the bin. It isn't quite what I expected, but it works well. I am using it to store diapers on a shelf in the nursery and it does a great job. I am even able to rest something on top of the lid while still being able to access the diapers inside without moving the lid.
June 24, 2013
Rated

5

out of

5
 by
Lauren729107
Great stacking bins
These are put out when we have people over. One for cans and the other for bottles. The see through allows us to see how full they are getting. They are great!
April 27, 2013
Rated

5

out of

5
 by
tornado
GREAT Product
These are a GREAT product and convenient and space saving since they are stackable. I would defintely recommend them to anybody who is into recycling. Thanks!!
April 26, 2013
Rated

5

out of

5
 by
mjones
This Product is a Must Have!!
I bought the large bins and i am extremely happy with them. They really fit my needs. I stacked them in my kitchen hallway. They hold a lot and are light weight. My mother saw them and now wants me to order bins for her house.
April 26, 2013
Rated

5

out of

5
 by
jlp918
These bins were a good investment--great price, sturdy, compact, stackable and easy to clean. It keeps everything organized. I purchased several of the smaller size and the containers work well in my tight laundry room area.
April 23, 2013
Rated

5

out of

5
 by
Care
Stacking Recycling Bins are Great for Small Spaces
I love my stacking recycling bins! They fit in the small kitchen in my apartment, have ample space for all my cardboard and comingled materials to recycle, and are easy to carry down the hall to my floor's trash room. I would highly recommend these to anyone--again, they are especially good for those with small kitchens and not a lot of storage.
April 6, 2013
Rated

5

out of

5
 by
Lena5474
For Home & Vacation Home
I bought several of these for my home & vacation home because they are so light weight and easy to pick up and load into my SUV to take to the store or recycling center in Sunriver!!! Love them because they are opaque and the lid removes for easy dumping.
March 27, 2013
Rated

5

out of

5
 by
NikEmanuele
Simply Neat
I live in a 12 unit condo where the main recycling bins fill up quickly which was causing me to have a lot of overflow in my makeshift cardboard box recycling bin. When I saw these online I thought that they were perfect for the cramped area I have for trash and recycling. I purchased one which I put all my paper goods in, within a bit of time I went and bought another one to put my cans and bottles in. These have been a real mess saver. They look great, they're stackable, and I don't have a cardboard box eyesore in my kitchen anymore!
March 18, 2013
Rated

5

out of

5
 by
laurainsac
Love these and only wish I bought them sooner!
I purchased these due to a limit of space in my new home. Now I'm able to sort my recycling so much easier. It makes taking it out also quick and much easier as everything is contained in the bin. The stacking is such a help with my limited space. I only wish I purchased these sooner as they are such a help!
March 18, 2013
Rated

5

out of

5
 by
DwellerOfSmallApartment
Excellent purchase...
I live in a very small apartment, and my town requires we sort out recycling. For a long time I kept it in a garbage can and hand sorted it when full,... ew. I bought 3 of these bins, and they fit perfectly next to my fridge. I stacked them on top of each other, they look super classy, it's easy to transport them downstairs, good price, superior quality. I have more recycling than garbage, and these were the perfect solution!
March 14, 2013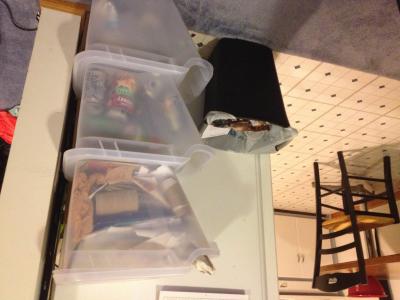 Rated

4

out of

5
 by
Pinecones
These bins are great!
We don't have trash pick-up in our town; we take our trash and recyclables to the transfer station. I was looking for a way to separate recyclables that would make that process easier and more tidy. I got two of these bins to replace my single, open blue recycle bin and I love them! They are sturdy and good looking; they stack well and it's easy to see what's in them. I saw them at another online store first, but both price and shipping were higher. It's just too bad I can only fit TWO of them in the space I have, because four would work better for the different types of recyclables (bottles, cans, paper, and plastic). Maybe I should build a whole new cabinet to keep them in?
July 12, 2012
Rated

4

out of

5
 by
Cindella
Great for School Recycling
Have had the Large bins for 3 years and small for 2 years. We stack them in a group of 4 with two smaller ones on top and pushed up against a wall for indoor use in the cafeteria. Only had a problem with a smaller one falling off and cracking the bottom. We do daily recycling of Terracycle collections : juice pouches, cookie bags, chip bags, yogurt cups, cereal bar wrappers... We have extra bins nested together which helps weight down the stack. Makes for easy removal of the full bin leaving an empty one for the next day. Bins are constantly in rotation this way. Transparent plastic makes it easy for the kids to see what goes where and the angled opening makes depositing collections easy.
June 11, 2012
Rated

2

out of

5
 by
GlitchMagnet
Handy size but not durable
These work well in my mud room sitting on a shelf that I built for them to collect all my recycling. However, they haven't faired well curbside. One drop on concrete and they shatter. Especially in the winter, but even in the summer. The lids also tend to just get in the way so I don't use them. Unfortunately, now that I have a shelf custom built for these, I'll have to buy more. So, plan on replacing these every 6 months or so.
May 1, 2012
Rated

2

out of

5
 by
RiRi
Tipsy
Logistically, these "bins" sounded great BUT, with two stacked, they kept toppling over. Every time we put a recycled material in the bottom bin, the top bin fell off. They are simply not solid/sturdy enough for stacking and are best put side by side. We kept them - maybe - one week before frustration set in and we donated them to a charitable thrift store.
April 27, 2012
Rated

5

out of

5
 by
BarbK
Love these!
I have been looking everywhere for just the right size of recycle bins. These bins are great and I love the fact that they stack. Very easy to put in my car and take to the recycling facility!
April 27, 2012
Rated

5

out of

5
 by
judarg
Good value, great space saver
These help clear out that recycling clutter, especially if you only have limited space. Stacking is great, price is very reasonable.
April 24, 2012
Rated

5

out of

5
 by
hohoperations
Problem Solver
Our Lost and Found bin was out of control. As a facility that has over 1400 children coming through during a week we acumulate a great deal of lost items. These Stacking Storage Bins along with a clothing rack made the unsightly mess that was the Lost and Found corner into something organized and easy to look through.
April 23, 2012
Rated

5

out of

5
 by
ebeth27
Best Recycling Bins Ever
These recycling bins are the best. I had searched everywhere locally to find something like these, but no other store even came close. I finally decided the shipping cost would be worth it and ordered these bins. I am BEYOND PLEASED with my purchase. First, the bins are semi-clear, which is essential if you are trying to encourage everyone in the household to participate in sorting recyclables into bins. Second, these bins hold a lot of stuff! I don't have to make trips to the recycle center as frequently because the contents of my bins are no longer spilling out onto the floor. Finally, the bins stack securely and give a very neat appearance. My recycle station is in a small laundry room. These bins stack so well that it actually gave me back some much-needed real estate in the room. I would recommend these bins for anyone who recycles faithfully. I purchased four bins: one for paper, one for glass, one for plastics and one for cans. I am considering ordering a fifth so that I can have one designated for Goodwill donations. Thank you Container Store for an excellent product!
April 23, 2012
Rated

5

out of

5
 by
Sarrita
Excellent...
Four years later in NYC, these bins are without a crack or chip and clean up beautifully. Hold a ton of stuff, too.
March 23, 2012
Rated

4

out of

5
 by
JJSteven
Good but smallish
The containers were great to get us in habit of sorting our trash from recycling because we kept the trash can on top of the recycle bin. Only problem, we can recycle a lot more than we thought so we recently upgraded to a larger bin. We'll find another use as it worked great because I could just hose it out and the bin was stable - never had the trash fall off of it.
March 23, 2012
Rated

5

out of

5
 by
JennInSoCal
Simple Recycling solution
These stacking bins were the perfect choice for my recycling needs. The tops come loose so you can easily empty the bins into a large bag without struggling to pour the items out of a small opening. I love that they are stackable and you can choose to have more or less containers.
March 20, 2012
Rated

4

out of

5
 by
messymom1
creative use for food
We purchased this for the extra dog food and wound up making it our main container. We can see the levels as it is used up and know when to purchase more. Fits in the mudroom and does not take up much room. Has an angle to get the food easily.
February 28, 2012