Rated

5

out of

5
 by
carolynk
It works!
This definitely does the job. It stops the bag from sliding down to the bottom of the can. So simple, and works perfectly. The pack includes several bands. I've used the same one for a few weeks, with almost daily changes, and the original band is holding up fine. No wear at all. So, it seems like the entire pack should last quite a long time. Great product!
November 23, 2015
Rated

5

out of

5
 by
DPW5
No more mess
These bands keep prevent the trash bags from being loose and slipping down into the trash can. The simple solution saves me from having to constantly refit the bags onto the trash can. Easy to use and so effective. I haven't been able to find them anywhere but the container store.
December 6, 2014
Rated

4

out of

5
 by
NinaB789
trash can essential
I love these bands to hold down the flaps of my trash bags. Then they don't hang out over the top of the outer can.
April 3, 2014
Rated

5

out of

5
 by
OrganizinginColorado
These little guys do the trick.
I have these on all of my trash cans now and love them. They really do keep the liners from falling into the can.
January 20, 2014
Rated

5

out of

5
 by
KristenR
Small thing, big difference
The smallest changes can make such a difference! I've been using one band repeatedly for the last month (going through 2 trash bags a week.) Thus, I feel these bands are a great deal for the cost. My Husband thought it was an odd purchase of mine, but is thankful that the trash bag doesn't fall in the can anymore!
November 27, 2013
Rated

5

out of

5
 by
JCProbst
Handy Dandy
Finally, something so easy to put on the outside of the trash bag to keep it from falling inside the can and causing a mess.
September 26, 2013
Rated

1

out of

5
 by
rickysgirl
NOT what I expected
My bad. I didn't read the entire description. I was looking for one of those round rubber tube bands. This was a package of large rubber bands. I can get those anywhere.
September 25, 2013
Rated

5

out of

5
 by
dancingshoppingcart
"Oh yeah you can Bandz"
Highly-stretchable bands for the small,, medium, large waste cans(up to 32 gallon) Holding bags in place. More gripping, less ripping.
July 31, 2013
Rated

5

out of

5
 by
JuliG
Works great.
Keeps the bag where it belongs. Makes my husband happy!
April 23, 2013
Rated

4

out of

5
 by
jessica19
i found these to work like extra large rubber bands. it works (obviously) best for the trash bags that must be tied shut. I use one band in the kitchen since my trash bags are not long enough and will sometimes sink into the trash can as it fills up.
February 28, 2013
Rated

5

out of

5
 by
shoppingmaven1
Can't live without them
I have used these can bands for years. I can only find them at Container Store. They do a great job of keeping the bag from slipping down into the trash can. Love them!
December 9, 2012
Rated

5

out of

5
 by
jlgclassof2000
great to use w/ cheap trash bags
These are great! Without them, those cheap extremely thin trash bags are useless! No more trash bag falling down in the can & having to dig it out. The only thing is that you have to be careful not to throw the band away by accident.
September 15, 2012
Rated

5

out of

5
 by
KBLTATER
LOVE THESE!
These are the perfect solution for my trash bags that are constantly slipping down once I get something heavy in the trash. I was using tape before, which didn't work that well. Now my trash bag never slips!
September 10, 2012
Rated

5

out of

5
 by
HDcowgirl
Love These_Need Bigger Ones
I absolutely love these. You don't have to go and buy the pricey garbage bags with the band in the bag. I only wish they came in bigger sizes.
July 15, 2012
Rated

5

out of

5
 by
mplanier
Another great item!
I'm so glad I stumbled across this item. Before I purchaed this product, I was constantly struggling with the trash bag in my trash can falling into the can. This became extremely annoying when I was trying to do yard work by myself. With only two hands it was hard to hold the trash bag on the can while filling it with debris at the same time - not anymore!
April 21, 2012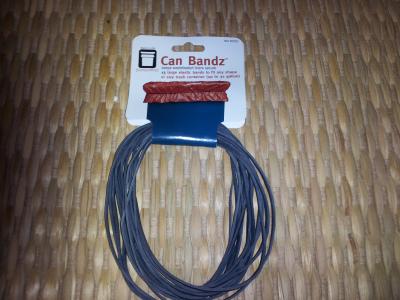 Rated

5

out of

5
 by
CajunScrapper
Love these
I am really glad that I found this product. I had a problem with my trash bags falling into the trash can on my tall kitchen plastic trash bin. These keep the bag up very well so I don't have to take those items that fell down between the trash bag and the can and put them in the trash on trash day. Yah! One less hassle in my life. Now if I could just work magic on my teenager.
March 19, 2012
Rated

5

out of

5
 by
ShellyD
Fit For All Cans
These are great when you forget to buy the garbage bags with the strechable top. They have a million uses, and don't seem to dry out like cheaper bands.
February 26, 2012
Rated

5

out of

5
 by
Beethoven
Oh, yeah . . . Good Stuff!
So good, this is my second order! They are perfect for their intended use (holding trash bags in place on my kitchen garbage can), but you'll find yourself grabbing them to secure other things, too (music, overstuffed lidded boxes).
February 18, 2012
Rated

5

out of

5
 by
rc816
Smartest Invention Ever Created
Fabulous. Perfect for all sizes of cans and keeps even heavy kitchen garbage bags up.
March 3, 2011
Rated

5

out of

5
 by
gloraya
I love these!
I love these bands. I use them on all my trash cans and more. I had lost some during my recent move and had to go online to order more. Yes, I ordered more. I really do love them. They are GREAT! I
February 15, 2011
Rated

5

out of

5
 by
redheadqt
Good for so many things
I love these can bandz because they are so versatile. Not only are they great for keeping the trash bags in place but you can use them for other things too. Most recently I used them to keep music in a choir folder for over 100 people.
October 29, 2010
Rated

5

out of

5
 by
Glasgow
Wonderful. Not able to find rubber bands of this size in the retail market.
September 26, 2010
Rated

3

out of

5
 by
mgb701
Liked the Band-It Outdoor Loop Better
I bought both the Can Bandz and the Band-It Outdoor Loop to see which one I liked better. The Band-It Outdoor Loop is a lot more durable and would fit over larger wastecans
August 26, 2010
Rated

5

out of

5
 by
AlPal
Who knew?
I didn't even know I wanted this until I saw it on the website, but it's cool. No more losing half the garbage bag down the trashcan. Now, I can push down garbage as far as possible, and the bag stays up, so I can use more of it and waste less.
May 29, 2010
Rated

5

out of

5
 by
Idahogal
These Have Saved My Life!
I've used these over a several year period and they make such a difference in my trash perspective.
May 23, 2010
Rated

5

out of

5
 by
ImContained
Many uses
These are great. We use them in our trash cans to hold in the trash bag. We also use them in the laundry baskets to keep the fabric liner in. It is also great to use on the kids coloring table to keep the paper held down.
May 23, 2010
Rated

5

out of

5
 by
Deirdre
Makes life simpler
I use these with our kitchen garbage can -- the swing lid can also sold by Container Store. They're sturdy and hold the bag tightly, even on a smaller trash can. And the piece of mind from not having to clean up food spilling into the can is absolutely worth the price!
May 17, 2010
Rated

5

out of

5
 by
wannabeorganizer
Love These!
Can Bandz are great for keeping the trash bags where they belong instead of at the bottom of the can. I also use them to hold up the fabric liner in the clothes hamper.
April 11, 2010
Rated

4

out of

5
 by
eeee
Why I never thought of this
This is so incredibly simple an idea, I should have thought of this a long time ago. Awesome idea, and awesome quality. They really work!
April 5, 2010
Rated

4

out of

5
 by
JRTFan
Works Great
We love to use these in our kitchen trash can. We have a round can and it seems like the trash bags were constantly falling until we purchased these. They work great and hold up for many uses!
January 31, 2010