Rated

5

out of

5
 by
Momoftwins
The cart to do cartwheels over!
I LOVE this versatile cart. The price is right, it cleans easily, and its uses are limited only by your imagination. Ours is still in great shape after many years. We first used it as an easy way to empty kitchen drawers and move things to another room when we were having our kitchen re-done. Then we used it to hold cans in the pantry. Then we used it for kids' papers and school supplies. Now it's in our lower level, and three of the baskets hold towels. We removed the fourth basket and placed it on our kitchen counter to go hold fruit and bread. This cart is great. Come to think of it, I think we'll buy another one!
April 28, 2012
Rated

5

out of

5
 by
vivi02
Worth every penny!
Storage in my kitchen is severely limited, and finding space for unrefrigerated produce was always a challenge. Your storage cart proved to be the ideal solution. The shelves pull out very easily, and are generously sized. I never have a problem finding space on the four shelves for my potatoes, onions, garlic, bananas, pineapple and more. Now, whenever I need an onion, all I have to do is reach out to the cart, pull out the shelf, and grab one! Unpacking the produce from the grocery store bags is a breeze! And when it's time to wash the floor, I just wheel the cart out to the next room, and wheel it back in when I'm done. We all love it!
March 18, 2012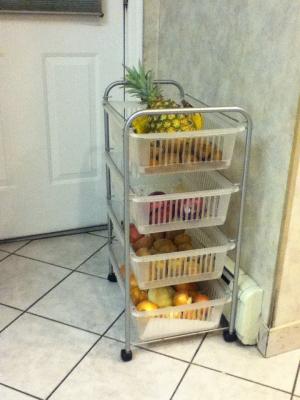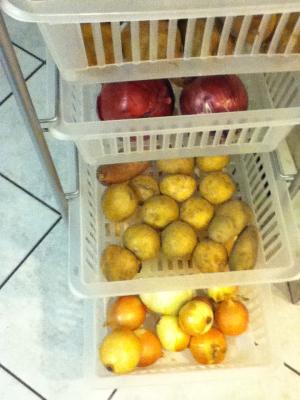 Rated

1

out of

5
 by
Bondo
Not Excited
The product was cheaply made for the price. There not much else to say about this item.
June 25, 2016
Rated

4

out of

5
 by
STEVIE1
GREAT ITEM
I use this in my closet for the small things you just want to grab and go. Works for what I need it for.
August 20, 2013
Rated

4

out of

5
 by
Shokate
Great storage baskets
I really like the size and design however one of the wheels broke right off of the bat.
June 5, 2013
Rated

1

out of

5
 by
twinkjeep
Shocked at quality
I saw this item in the store and thought it would be perfect for my classroom. I teach 4 periods a day and need 4 separate spaces to collect papers. I ordered online and picked up in store for a special promotion to receive 10% off. This cart rolled no more than a few yards in the parking lot at the Container Store, where it entered my boyfriend's car. Then, it rolled a few more yards from his car to mine, inside his parking deck. It remained there, untouched, overnight. I went to my car today to move it into my classroom. When I picked it up, one wheel had broken off. I was shocked! I love the Container Store and believe they carry quality items. I'm hoping that there just happened to be a weak wheel, or possibly a poorly constructed product. Regardless, I am returning it and will not get another one. If it breaks by that small amount of use, my 6th graders will demolish it in less than a week of school, no questions asked. This does not change my opinion about the Container Store and I will continue to shop there - but I would definitely not recommend this product to a friend (or enemy!).
July 30, 2012
Rated

4

out of

5
 by
frazierfour
see thru storage
This is nice and compact. The wheels roll nicely. You can see what is in the drawer before opening it. It can be used in many rooms for many things. I use it in my craft are to hold the items I need regularly, but do not want out on the desk such as 3 hole punch, tapes, different scissors etc.
April 27, 2012
Rated

5

out of

5
 by
peachy
Out of sight!
Wow! How handy can it be when you can store something , roll it away and bring it back another day.
April 17, 2012
Rated

5

out of

5
 by
Seden
Have cart; will move and store
I purchased this cart over 7 years ago because I needed more storage in my very tiny apartment. Since then, I've moved five times, and I ALWAYS take this cart with me. I've used it in the bedroom, bathroom, kitchen, and in several closets. One time I didn't need the cart, but removed the plastic baskets and used them in a large armoire and stored the cart in the garage. My latest move was three weeks ago and was so excited to finally unpack the box where I had packed the baskets and "assemble" the cart again.
March 20, 2012
Rated

5

out of

5
 by
Sunbird
Wonderful Purchase for storage
This is working great for me and as everything I buy at The Container Store, it is top quality.
March 13, 2012
Rated

5

out of

5
 by
mickeygirly
Great organizer for the kitchen
This is slim enough to fit into a tight place and the pull out shelves are easy to access items.
March 4, 2012
Rated

5

out of

5
 by
TCAR
Great utility cart!
This cart is perfect in my laundry room. It is very sturdy and it rolls easily over the tile floor. The drawers are very sturdy as well and hold a lot.
October 5, 2011
Rated

4

out of

5
 by
Eve92009
Functional lightweight and not too small
This cart has been exactly what I needed for teaching an art class. I've used it nonstop for about 8 years. The plastic baskets finally started to be brittle with age and basically just chipped and disintegrated with-in the last 2 months. 8 years isn't bad, nothing lasts forever but a better plastic would have been nice. The size and weight make it convenient, functional and can easily be loaded into a car if needed. I am buying another to replace it. I'm glad the Container Store still has them.
October 1, 2011
Rated

5

out of

5
 by
TerriD
Great Storage Cart!
I love this cart, I use it for storing my jewelry and cosmetics but it could be used for anything! The quality is exceptional! I love The Container Store!
September 1, 2011
Rated

5

out of

5
 by
Downsizer
Ideal Cart for Small Spaces
Because we recently moved to a condo and storage space is limited, this cart fits neatly in our pantry. Although it's small and light-weight, the cart offers plenty of convenient storage and rolls around easily with drawers that offer easy access. Like all of our purchases from The Container Store, this cart is a great addition to our home.
February 15, 2011
Rated

4

out of

5
 by
Katsch61
Nice Rolling Cart
This cart is very lightweight but seems well-constructed. I wouldn't put anything too heavy in it, but I use it to organize my son's art supplies and it is great. I only wish the drawers were a little longer to hold the larger art paper.
May 18, 2010
Rated

5

out of

5
 by
HAPPYSPENDER
Great Utility Cart
I use the cart to store my scrapbook supplies. Everything is organized and in plain view. Love the pull out basket and the whole thing is on wheels for mobility.
March 4, 2010
Rated

5

out of

5
 by
pignmick
Great item
I love this item. I purchased it to make room in a linen closet and it's been fantastic.
March 3, 2010