Rated

5

out of

5
 by
TDev
For son-in-law first adventure in home buying.
I'm hoping the gift recipient likes this for organizing his new home's garage and all the tools he obtained. I got this for all the small things like different size nails, screws, washers and all those little things that get mixed together never to be found again.
December 7, 2016
Rated

5

out of

5
 by
Nuronfire
Order out of Chaos
We have quite the LEGO collection, both of sets my DH had growing up, and new sets for our 4 boys. We were feeling overwhelmed by little bricks! We have tried different ways to sort and store, but he has really liked this cabinet. It helps with the small and unusual pieces. This one cabinet actually only held about one color (yes, that many bricks). We will be buying more of these as we get our bricks in order.
November 9, 2015
Rated

5

out of

5
 by
Emeltee
Great for sorting hair accessories
I've got two daughters, so I have hair accessories everywhere. The multi-drawer cabinets help me organize the accessories, so it's easy to find what we need when we are rushing around in the morning. I've used a labeler to label each drawer. I organized according to color and type. I'm going to eventually let my girls decorate the top and side with vinyl stickers.
April 26, 2013
Rated

5

out of

5
 by
Dbltbl
Jewelry's best friend
I purchased one of the large organizers for my jewelry. The smaller drawers are perfect for rings or earrings and the larger drawers are the right size for bracelets and bangles. I quickly filled up the first one I purchased and went back for a second organizer. They stack perfectly on each other in my closet and make it so simple to find the accessories I want for any outfit. I easily have over 200 pieces of jewelry stored in these containers. One of the best purchases I have ever made!! I hope you enjoy yours as much as I do mine!!
March 4, 2013
Rated

4

out of

5
 by
Jlep
Perfect Organizer for the Small & Loose
I use the 44-drawer for jewelry supplies, tools, and any loose small bits that I need to access quickly (screws, nails, etc.) to prevent having to dig through general drawers and toolboxes. Sturdily made & always useful.
May 6, 2012
Rated

5

out of

5
 by
KermitsBanjo
LEGO storage!
I bought this container to help sort and contain my son's ever-growing LEGO collection. It works so well!! We have sorted the big bricks by color in the bigger bottom drawers and the tiny pieces by type in the upper smaller drawers. It is a great system for my 5-year-old. On the floor, it is about as high as his waist and I love that the drawers cannot come all the way out easily (so baby brother is not dumping them out all over the floor!!!). Now the only thing that holds him back is his imagination. The only down-side is that it is almost full...but it will be worth the $$ to get a second one!!!
January 24, 2017
Rated

5

out of

5
 by
Leigh119
Great Product
Husband thinks this is terrific for his workbench. He can put all of his various sized parts, nuts, bolts, etc. in the drawers. Quite a clever cabinet!
December 17, 2016
Rated

5

out of

5
 by
TeamWright
Great for jewlery
I decided to purchase this to store my earrings! I paint the color on each bin so I know where the color earring go and when I need to find one to match my outfit! A lot easier to find and use my jewelry!!
March 16, 2015
Rated

5

out of

5
 by
rsg444
Excellent Product
I am an artist, making mixed media sculptures, which means there are a lot of supplies that desparately needed to be organized. I bought one of these to hold things like pins and needles, thread, trims, etc. I put a label on every drawer so that I can now easily find whatever I'm looking for. I wish I had bought two of these! I definitely will.
November 4, 2014
Rated

4

out of

5
 by
Heatherg
Mightily useful
These are the second and third units I've acquired. The latest ones are for alphabet and number storage for scrap booking. My only issue is that some of the wee front pegs have broken off ahead of me opening the package. So shake and listen for bits rattling before your purchase.
September 3, 2014
Rated

5

out of

5
 by
MegElizabethW
Awesome
I ordered this to use to create a Teacher's Toolbox and it's perfect. Wonderful size!
July 21, 2014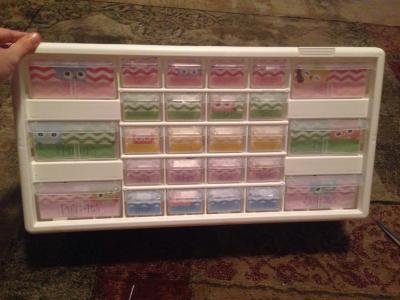 Rated

5

out of

5
 by
WhatsUpTeach
Exactly what I needed
I purchased this to make a teacher toolbox. I'm giving it 9 out of 10 because unbeknownst to me, a piece (not the detachable dividers in the back) broke off before I bought it, and I didn't notice it until I had finished painting and decorating and put the drawers back inside, and noticed that the bottom right drawer goes in further than the others.
June 30, 2014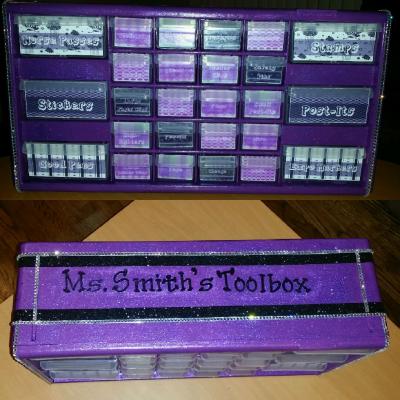 Rated

5

out of

5
 by
sly1too
Happy user
I do a lot of work with Legos and I found these to be very helpful in keeping my Legos organized in not only types an sizes but colors as well.
April 26, 2014
Rated

5

out of

5
 by
barb824
Can't live without them
I have several of these in various sizes and configurations in my art studio. Them keep my paints, brushes and misc. items organized. I simply love them.
April 25, 2014
Rated

5

out of

5
 by
Taymadmama
Holds alot
I have alot of buttons and other little embellishments. I bought this and was able to organize by color. The little drawers are deep and hold alot.
April 18, 2014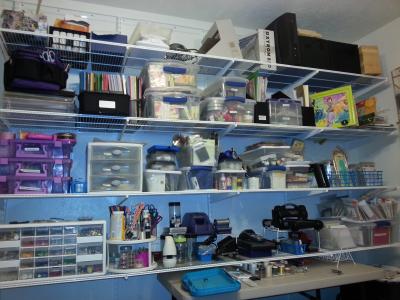 Rated

5

out of

5
 by
prncssbecky
Perfect!
I sell jewelry supplies and these drawers are perfect for my pendants and findings! I love how the drawer is clear so I can see before I dig through each drawer to find what I am looking for, they are also easy to stick and remove Dymo Label Tape for labeling. An all around great purchase, very pleased!
April 17, 2014
Rated

5

out of

5
 by
poopytulips
Versatile storage
I love this item! I use it to organize my finished jewelry. It is very sturdy and I love the multiple size drawers. You could probably find something cheaper but it wouldn't be this well made. I will definitely buy more!
April 13, 2014
Rated

5

out of

5
 by
Cecilly
Organization Rocks!
I love that I was able to store so many art materials in such an aesthetically pleasing way.
April 11, 2014
Rated

4

out of

5
 by
JenSap
Great for organizing screws/bolts
I'm using the small cabinet to organize all of our screws and bolts - which we used to just keep in an old pickle jar. The drawers don't come with labels, so I had to make shift that, but I did with just divider tab labels and double stick tape. But there are lots of compartments and finding the screws/bolts we need is much easier now.
April 9, 2014
Rated

5

out of

5
 by
ldfunk72
Awesome
Perfect size and shape. Fits well in my studio and holds a lot of my charms for my business. East to open drawers. Great product. Worth every penny.
April 8, 2014
Rated

5

out of

5
 by
ProOrg
Great Sorter
Perfect for crafts. Easy to use. Solid and sturdy. Dividers provided but may want more.
April 2, 2014
Rated

5

out of

5
 by
LJinPA76
Perfect for Crafts
I was searching for a cost-effective way to store all of my craft and sewing materials, and the smaller individual compartments on this are perfect!
April 1, 2014
Rated

5

out of

5
 by
FLgal
Great Organizer for little items
I use this for smalti mosaic tiles and millefiori. Keeps everything organized and you can pull out the drawers individually to dump the contents. Very handy!
March 29, 2014
Rated

5

out of

5
 by
neatandtidy13
great buy for organizing beads
Good space for all size beads and wire. Love the clear windows
February 26, 2014
Rated

5

out of

5
 by
Mayra
Multi-Drawer Cabinets
Love these drawers! Plenty of space for all all my accessories.
February 12, 2014
Rated

5

out of

5
 by
Legem
64 Drawers For Jewelry
I've use this 64 drawer organizer to store and organize my jewelry, it works great for this purpose.
September 25, 2013
Rated

4

out of

5
 by
SuziG
Nice product!
I DID like this product for what I purchased it for, but I do wish I had known you could only use one slide-in divider per drawer. I needed more "spaces" in each drawer. Still works, and appears it ill be durable!
June 27, 2013
Rated

5

out of

5
 by
Hare
Multi Drawer Cabinets Heaven
This is the best ever cabinet. I am reorganizing my craft room and it will great to have all my embellishments, brads, etc in one place and easy to see.
April 6, 2013
Rated

5

out of

5
 by
TheOrganizedMomof5
PERFECT Barbie Accessory Storage
This product has conquered the Barbie accessory mess in my daughter's room. I bought the large size and it has plenty of drawers to organize Barbie shoes and all of the small items that can easily get lost. For example, we have red shoes in one drawer, food items in another, pet items in another, etc. I was able to mount it easily on the wall. The drawers have stops, but are removable if needed. I plan on buying more to add storage for my son's lego collection.These would be great to store beads and other items as well.
April 4, 2013
Rated

5

out of

5
 by
NstantShimmr
Great for make-up "junkies"!!!
My sister is a make-up artist, and with an extensive make-up collection and a lack of space, I bought her one of these #26-drawer# for Christmas. It has been awesome for her. She went back and bought a second one! She has one that sits on her vanity and another that is mounted into the wall above the vanity. I loved the idea so much, I bought one for myself as well! Holds all sizes of make-up easily. Shelves pull out easily. Totally would recommend this for anyone with a need to organize!
March 19, 2013