Rated

5

out of

5
 by
Pampoozie
Practical and efficient
It's a great way to move things that are odd sized that you don't want to put in the box necessarily. I got two of them and they were very very useful to me.
July 10, 2016
Rated

5

out of

5
 by
catty
great product
love these bags. planning to get more.recomended for storage.
February 3, 2016
Rated

5

out of

5
 by
chanelgirl47
Super Duper Storage Cube
OMG...fabulous product, sturdy, roomy, easy to use! I know own four! One cube can hold a at least a queen sized comforter and a few throw pillows...you won't be disappointed! Totally ROCKS!
June 2, 2014
Rated

5

out of

5
 by
ShearBlessings
Useful for meal delivery!
We use these storage cubes each week when we deliver weekend meals to children at risk of going without. Because our food bags are assembled off campus, we need a way to organize and deliver them to specific classes once we arrive. These bags are PERFECT! We can load up to 20 weekend food bags in each one. They are so durable and easy to store since they collapse down into each other. We also wash them in the washing machine and they come our perfectly clean and amazing. Well worth the money. We have bags that have withstood packing and delivery for more than 50 weeks of delivery!
April 26, 2014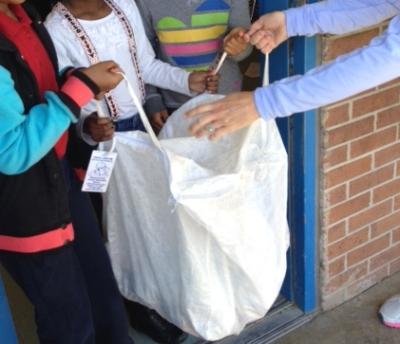 Rated

5

out of

5
 by
Spectrum8
This was a great purchase
I have a large number of quilts needed for visiting families. The storage cubes solved my problem. I was able to store multiple quilts in each bag and the handles made moving the bags a breeze.
April 25, 2014
Rated

5

out of

5
 by
tidycat
Awesome!
I have purchased a few of these. Very durable, easy to carry with handles and plenty of room!
August 6, 2013
Rated

5

out of

5
 by
ponkie
A simple solution
I only recently found these bags but I am already a fan. They hold a lot and the stitching has held up well so far. I use these for temporary storage so they get opened and closed quite a bit more frequently than their original intended purpose. There are a lot of options for these kinds of bags but I like these best because of the size. The 18" square is a standard shipping size so this fits into boxes perfectly when I'm mailing wholesale order for my business. They would be great to have on hand when moving. I love that they take up almost no space when emptied and I like that they are clear enough to see what is inside without opening them.
May 4, 2013
Rated

5

out of

5
 by
illy23
Excellent for holding bulky, soft items!
I have *a lot* of yarn. I was storing it in those rigid, plastic boxes for a while, and they started to take up way too much space. So, I looked to Container Store for another solution, and came up with these. They hold a ton, and when they're filled, they actually do stack up on top of each other, if they're placed against a wall/in a corner. Highly recommended, and a total space saver, especially for those not-so-frequently used items.
April 27, 2013
Rated

5

out of

5
 by
MEfromDUBAI
Can you ever have enough of these?
My cupboards are so organized and dust free now! I label them as well even though you can see in. Great idea and nice to have handles.
April 5, 2013
Rated

5

out of

5
 by
Biff
Works great!
Love these cubes for storing items and keeping them clean and easy to stack and store. Great idea and great size.
March 18, 2013
Rated

5

out of

5
 by
Proudof2
Great Purchase
As I was organizing my closet I had all the extra blankets stored in a plastic bin. Which actually took a lot of space. And being that it was stored up high it was a hassle trying to get it down because more than a couple of times, when falling the bin will hit me on the head or fall on my toes. Ouch! I purchased this storage cube for my blankets and I was able to fit all my blankets and it's great space storage. Bought a couple of more and sent them out of the country to my house. To store our blankets and towels and keep them protected from dust and insects. Great Purchase!
March 11, 2013
Rated

5

out of

5
 by
butchie
LOVE!
WOW.................what a great storage bag for the price. I ordered one for the 10 throw pillows that go with my screen porch furnitue, and they all fit into the one bag. I have already ordered more of them, to put so many more things into for the winter & then summer. Awesome product!!
October 20, 2012
Rated

5

out of

5
 by
jessica19
great purchase
i bought this storage cube in place of the clear PEVA extra large bag. This bag is very durable, high quality and fits a tiny bit more then the extra large bag. I fit a queen size comforter, two throw pillows, sham covers, a bedskirt and two curtains inside this bag. It zipped up very easily and the handles are secured to the bag. The bag isn't completely clear but is still see through enough to see what is inside. I would definitely buy this again in the future. I wish it had smaller sizes, though.
July 27, 2012
Rated

5

out of

5
 by
Fairbairn808
Fabulous!
Using for moving so that all the linens don't smell like cardboard!
May 3, 2012
Rated

5

out of

5
 by
Harley81
Simply awesome! I'm moving and these are great for blankets and clothes. Love them.
March 11, 2012
Rated

5

out of

5
 by
javaqyeeny
Great Storage Cube
I searched the internet for the perfect storage bag for my 6 deck chair cushions--this is it! This is well designed, the size fits the exact dimensions of my cushions, and the handles make this bag very transportable. The price was very reasonable as well. I definitely recommend this item.
February 28, 2012
Rated

5

out of

5
 by
delphinea
holds a lot
I have a huge collection of wool fabrics for making rugs and decided to try these rather than hard bins. Glad I did. These really hold a lot and stack up just fine. They are transluscent rather than transparent, so you don't see a lot through them. But, when not in use (hypothetically), they fold flat for storage. I really like them.
February 17, 2012
Rated

5

out of

5
 by
champ1
great storage
Great sturdy yet flexible storage - unlimited uses from Christmas decorations to outdoor cushions - worth every penny!
January 8, 2011
Rated

5

out of

5
 by
Becca1175
perfect
this fit a full fathertop mattress perfect and the handles are awesome. wish I had ordered more!!!
December 20, 2010
Rated

5

out of

5
 by
carria
the storage cube is quite strong and very big, can hold a lot of clothes
September 30, 2010
Rated

5

out of

5
 by
rosietunes
Storage cubes solved lots of problems!
These wonderfully well-made cubes have solved many storage issues for us. Mainly, they store out of season bedding, etc. Just perfect for that!
August 8, 2010
Rated

5

out of

5
 by
CollD
Holds a ton!
Got 2 of these for storing heavy comforters during the warm months - I wasn't sure if my King-size comforter was going to fit, but it did, with room left over! Very happy with these - time will tell if they hold up (material does seem a bit flimsy), but so far they are doing the job.
May 27, 2010
Rated

5

out of

5
 by
Norma
Great Product
Love the size of these - great for storing all sorts of bedding, pillows, etc.
April 19, 2010