Overview
Product Information
Available only at The Container Store, our Elfa Utility Bike Rack is the easy answer to bike storage. The Elfa Utility Track mounts directly to the wall with just a few screws. Once installed, use the included Vertical Bike Hooks and Accessory Hooks to store bikes in a garage or utility room. Each Bike Hook securely holds one bike (up to 50 pounds) by the front or rear tire to help save space. Hooks can also be mounted directly to a wall.
Elfa Utility Track requires three anchors for wall-mounting
Includes four steel Vertical Bike Hooks featuring a cushioned, non-slip coating and four steel Accessory Hooks
Each Vertical Bike Hook holds up to 50 pounds
Mounting hardware included
What's Included
1

Elfa Wood Screws Pkg/10

(#256735)

4

Elfa Utility Vertical Bike Hook Grey

(#10047347)

2

Elfa Drywall & Plaster Anchors White Pkg/5

(#10057116)
1

80" Elfa Top Track Platinum

(#10014645)

2

Elfa Utility Accessory Hooks Grey Pkg/3

(#10047361)
Community Q&A
If I only need to hang 2 bikes, what length would the track need to be?
That will depend a little on the bikes themselves, because you will at a minimum need enough space on either side for the handlebars, and if the bikes are identically configured, you won't be able to overlap the handlebars for each bike that faces the other. Bikes vary, a lot, but straight bars such as found on a hybrid might be as wide as 32" (though often less), so two bikes will require up to 64" of clearance for storage if the handlebars interfere. The track itself can be less than this of course. If you don't care about provisioning accessory storage (e.g. helmets as shown in the promotional photo), you could probably get away with a track only 32" wide (or maybe a bit longer to account for the width of the hanger itself). If space is really tight and the bike handlebars would otherwise interfere with each other, you could get two tracks and mount them one over the other, hanging one bike on each so that the handlebars can overlap, putting the bikes closer. Then the track could be very short, just long enough to accommodate at least one pair of mounting holes. Note, however, that a longer track with more mounting holes will be able to support more weight. Bottom line: the Elfa system offers a lot of customization options. If you can fit the items themselves that you want against the wall, your Container Store outlet can cut parts to the exact length you need. (Or if you're handy, you can cut the parts yourself...I've used a jigsaw with a coarse metal-cutting blade, but any suitable metal-cutting power tool should work. I wouldn't bother with a hacksaw; the Elfa pieces seem to be made of some kind of hardened steel and when I tried using a hacksaw on it, it was clear it was going to take forever to get through the material. As it is, it'll wear out your power tool cutting blade pretty quickly.)
Date published: 2020-07-04
What is the total load the utility track can hold? Can I add two more bike hooks for a total of 6?
Resources & Tips
Elfa Resources
---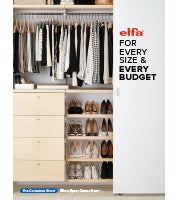 Shop directly from the virtual pages of our current catalogs by clicking on the images.
View catalog online
© 2021 The Container Store. Prices and availability are subject to change from the time and date you print this page 03/08/2021.