Rated

5

out of

5
 by
snowleopard
Goodwill will love this
I bought this great storage bin (which rolls so easily) to catch those items I decide to donate. Since that exercise occurs over time, I found I was using shopping bags and other containers which looked messy and were inefficient in keeping things contained and tidy. So - this container which has me a proud "organizer" each time I open the closet. Absolutely great, well constructed, light and so easy to roll around.
November 6, 2014
Rated

5

out of

5
 by
Voltloc
nice
just got this but it nice so far. Using in laundry room as hamper.
April 25, 2014
Rated

4

out of

5
 by
Stiefmutter
Convenient toy storage
I like that the mesh bin is see-through so we can see toys at the bottom of the pile. And it holds a lot of toys. My only complaint would be that the metal bent edges tend to catch on clothing. Overall I'm satisfied with the purchase.
April 7, 2014
Rated

4

out of

5
 by
mooreja
Great as a Clothes Hamper
Recently purchased it to be used at the base of a linen closet as a clothes hamper and it's perfect, though wheels sometimes won't roll on the slick laminate floor.
February 23, 2014
Rated

5

out of

5
 by
Melon29
Huge Mesh Cart
This is perfect for putting all my beach bags and duffle bags, and storing in my closet. Super smooth wheels. So glad I purchased.
February 22, 2014
Rated

5

out of

5
 by
DCmom40
Great Toy Storage
We originally bought one of these bins for our kids's large collection of balls, but after reorganizing the toy room, we went back and bought two more. One for stuffed animals and one for large trucks and cars. They are perfect and keep everything in place!
February 13, 2014
Rated

5

out of

5
 by
Longtimeshopper
Perfect for Yoga Mats!
This bin is the perfect size to store yoga mats and wedges (vertically). If you have more than two mats and blocks this is a great option. Its high enough that the mats don't make it fall over (which happened with other bins) and you can see all the contents and not fumble around (as you would in an opaque plastic).
January 25, 2014
Rated

4

out of

5
 by
Bronxhills
Game changer
Used this bin to store the extra toiletries and towels lining the top shelves of our closets. Now we store luggage and less frequently used items on top with space to spare due to high ceilings.
July 16, 2013
Rated

5

out of

5
 by
Melissa31
Sturdy and generously sized
My kids have one of those benches with three wicker baskets underneath they are supposed to store their shoes in when they get home from school, but now that their feet are getting so big they can't hold all their shoes in such small baskets (especially during boot season)! We started storing boots behind the couch in the living room but it always became a cluttered mess. I was thinking a large bin would work well but most of the ones I found were too small, and the plastic storage bins looked too junky. This metal mesh one was great but too expensive -- til I found one on clearance very cheap because it was missing the casters! Which was fine by me because I didn't need to wheel it around and actually preferred it to remain stationary anyway. This thing is soooo big it is very easy for the kids to just toss their boots & other shoes in, and the mesh makes it easy for them to find their pairs later. I figure I can always add a set of casters myself if needed in the future, but for right now it's perfect!
April 29, 2013
Rated

5

out of

5
 by
StefanieS
Great Laundry Hamper!
I purchased this Silver Mesh Rolling Bin to be my laundry hamper. It sits in my laundry room underneath the laundry chute opening and the clothes drop right into it. I didn't want the wire edges to mark my walls, so I used some foam piping covers to cover the edges all around. I LOVE IT!
April 4, 2013
Rated

5

out of

5
 by
tlcdvm
Fantastic for toys
This is the prefect size for ball, nerf guns and big toys. Love the rollers and easy for kids to store stuff in garage.
March 19, 2013
Rated

4

out of

5
 by
rentah
Silver Mesh Rolling Bins Fantastic for Kid's Rooms
I purchased 4 of the silver mesh rolling bins for my son's room. He has so many action figures, cars, and other toys that were all over the place. He was excited to actually organize them all! The bins and wheels were sturdy, which I liked, and aesthethically, they look good. I would purchase this item again if I needed more storage for his room.
March 19, 2013
Rated

4

out of

5
 by
court2
Love rolling feature
This is a great size and love the wheels. Just wish there was some way to avoid bending over to push it. Would order more if this could be addressed!
March 18, 2013
Rated

5

out of

5
 by
KYSM
Mesh Bins, great size
We bought 3 of these over 2 years ago. They have lasted with the exception of losing a wheel from so much movement. We used them to store pet food/supplies donations at our office and some volunteer drop-off points. We currently are using them to store t-shirts at the office. They look great enough to keep out. Highly recommend!
March 18, 2013
Rated

5

out of

5
 by
Tex1
Perfect for storing duvet and pillows for sofa bed
April 28, 2012
Rated

4

out of

5
 by
laina40
Works for what I needed it for.
I bought this cart to store small PE equipment in that needs to be easily moved around. It works great for that. I do constantly remind my kids "not" to lean on it since the wheels don't appear very sturdy and I don't want it to break, but so far so good.
April 27, 2012
Rated

5

out of

5
 by
HollyP
Organized laundry
This large mesh basket is excellent. I use it for dirty towels and sheets. It holds a ton of laundry, and allows for air flow. I have 3 smaller bins to for color sorting. They are the perfect sizes.
April 27, 2012
Rated

5

out of

5
 by
Babydolll
Great purchase
Great storage for anything! A wheel broke off due to kids over filling. Other wheels not available for replacement. Went to store & they found one in storage. What customer service! Thank you!
April 22, 2012
Rated

5

out of

5
 by
lmiccoli
Hampers...so good I bought 2!!
I tried all sorts of "hampers" for my kids, including the crunchdown type sold at CS. Nothing worked like these rolling bins. These fit under a column of shelves in the same width, are exceptionally large, hold two weeks worth of dirty clothes (this is also the downside...but not really...I just have to remind them to bring them to the laundry room!), and can be rolled to the laundry room. When clothes are washed, they are folded, put back into the bins, and rolled back to the rooms to be put away. Kids don't have to drag them down the hall! I plan on buying 2 more for a vacation home! I can only image all of the things these could be used for.
March 28, 2012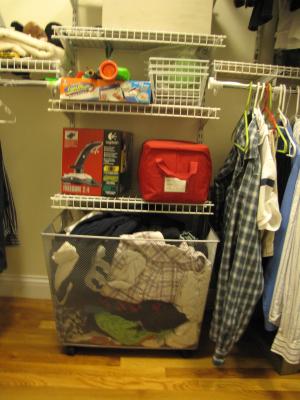 Rated

5

out of

5
 by
momof2andteacher
Perfect lunch tub at school!
I am a teacher and purchased this bin as a lunch tub for my classroom. It has worked out perfectly! It is the perfect size to hold lunch boxes. It rolls quietly down the hall and can easily be pushed by one student, even when it is full of lunch boxes. I have been using this bin for a few months now and it looks as good as the day I got it.
March 19, 2012
Rated

4

out of

5
 by
spags
good for hauling laundry
I have purchased two of these, great for pushing my never ending laundry to the laundry room in my apartment complex. My only problem is that both carts have issues with the wheels. they come loose, and with both of them, one wheel is unable to stay on because the washer and little screw thingy wont keep the wheel on anymore *sadface*
February 18, 2012
Rated

5

out of

5
 by
OrganizationJunkie
Using as a laundry basket
We have tried several laundry baskets and this one is more than worth the $40! I am not able to carry laundry baskets and most baskets with wheels don't roll very well, especially with clothes in them. This one rolls with ease and holds a lot of clothes. I love this product and plan to get more to use as a toy basket and to hold sports equipment.
August 22, 2011
Rated

5

out of

5
 by
Supers
Mesh Bin
I like the bin. I'm using it for a hamper and I like it. I'm not sure how it would be for balls but for clothes it's just right. Plus I can wheel it right into the laundry room.
June 26, 2011
Rated

5

out of

5
 by
hollylock
Excellent for big toy and sports storage!
These bins are excellent for storing large toys and sports equipment, plus they fit perfectly in a standard closet!
April 18, 2011
Rated

5

out of

5
 by
Creekgirl
Great Product
Love the product. I can see my laundry and sort it easily. Size and shape fits perfectly under my laundry chute and catches laundry without tipping over or rolling away. Lightweight, clean easy to move around due to wheels.
April 3, 2011
Rated

5

out of

5
 by
BusyMama
Exactly what I needed
I purchased this to use in my backyard to hold my kids toys. The mesh with no lid is great because when it rains, the water rolls right through and doesn't puddle at the bottom like every other toy bin I have used. Even containers with lids, the water still manages to get in and stay in. No rusting so far and the wheels are wonderful, my kids just roll around the bin and actually pick up their toys! I'm not sure how long that will last but when it stops I'm sure I'll enjoy wheeling around the cart to pick up the toys. Great product, very very high quality. And it holds a lot of toys.
March 4, 2011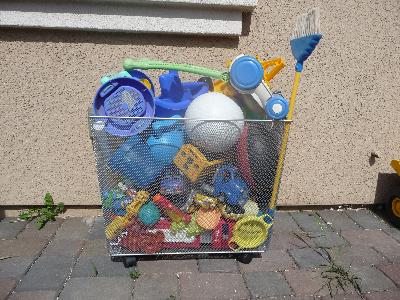 Rated

5

out of

5
 by
momincolorado
Love this basket!
I love this basket. I keep it in my laundry room and take clean clothes out of the dryer and into the basket. From there, I can roll the basket over to my folding table and get it done in one shot. I also designed an Elfa system for my laundry room using the platinum and birch - this basket looks great with it as well.
February 1, 2011
Rated

5

out of

5
 by
Nana2Nan1
Great Rolling Bin
I love this Bin!! It makes it so much easier going room to room after doing laundry , or just pushing things around that are too heavy for me to carry. I've got a bad back, so this is my lifesaver!!
January 13, 2011
Rated

5

out of

5
 by
jifarm
Mesh bin
I bought one of these for my grandson's room. It holds tons of toys so it makes cleaning a child's room a snap! It is very sturdy and easy to roll. I highly recommend it! As a retired teacher, I can think of the great uses for the bin in a classroom!
December 24, 2010
Rated

5

out of

5
 by
runningdeer
Classrom favorite
Last year I purchased this mesh cart to use as our "lunch pail basket" at school. It was perfect! Each morning the students put their lunch pails in the basket and 2 monitors pushed it out to our lunch tables at noon. The lunch pails were returned to the basket and wheeled back to the classroom at the end of lunchtime. The children loved pushing the cart! I have now purchased a second cart for our jump ropes, playground balls and P.E. equipment. The container is extremely sturdy and easy for a first grader to push. I would highly recommend it to any teacher.
July 21, 2010