Rated

5

out of

5
 by
MaxOr
Great Product
Easy to assemble and very sturdy. We stack 3 and use it for wine storage. They sit on the single base and are easily moved.
June 14, 2016
Rated

5

out of

5
 by
Chinda
Satisfied with Galvanized Steel Cube
This steel cube is beautiful and stable. I use it with a shelf to make better use of the space I have inside a large piece of storage furniture. I really like it, but it did take a surprisingly long time to put together, especially given that it was a single cube (and I'm fairly experienced in putting together pieces of furniture). The little plastic brackets where a bit tricky to line up just right in order to push them into place. I used some WD40, although I'm not sure if it made a difference in the end.
May 19, 2015
Rated

4

out of

5
 by
Laina
Durable; good if you move frequently; one negative
One negative feature: I wish there were instructions for wall mounting. I ended up using the Elfa wall mounting hardware (the nails and the drywall anchors that are listed alongside the elfa components), and I hope that holds up (otherwise we're in for a whole lot of renovation!). Considering the fact that some "popular combinations" of these cubes are wall-mounted, like some cabinets and bathroom storage combos, I find it weird that there are no instructions for wall-mounting. Cross your fingers for me and my wall! Otherwise, these cubes are amazing. Over the years, I've accumulated 18 of these total (wow, more than I expected before I counted). I have 2 of them under my super basic desk for storage, 10 of them as a media center/movie and game storage/TV stand -- 2 boxes tall and 5 wide, and now 4 in the kitchen as wall-mounted shelving. They are great. They are super durable, and what's also very important for me is that they are very easy to disassemble and pack flat for moving. When you first buy them, they come packed flat and disassembled with included hardware in a little baggie. When you want to put them away (to move, store, etc) all of those components can be disassembled back down to their component parts (4 walls, a back, 4 connector rods, and 4 plastic corner connectors), as long as you're careful with the plastic corner-connectors. I've had really good luck with these cubes. FYI if you are assembling a bunch of them at a time, I recommend wearing gloves, because I had tiny splinters in my fingers that I couldn't get out for like a day and a half (not sure if from the metal or from the plastic connectors).
September 22, 2014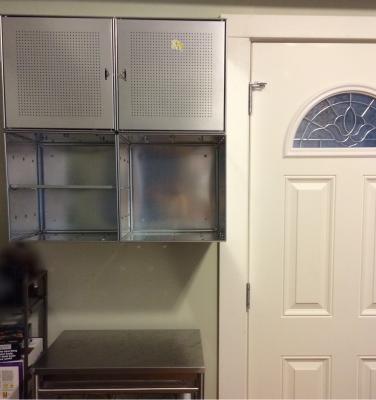 Rated

4

out of

5
 by
MyDesign
Useful & hip
Created 2cubes with a shelf & perforated door for college age son's room. All the computer stuff went on it or on it. Pretty cool looking, on wheels, doesn't take up much space.
March 2, 2014
Rated

4

out of

5
 by
kimmieJW
quality, stylish product
these galvanized steel cubes are quality-made and stylish. they look great in my office... i have three stacked on top of each other. they were easy to put together and are very sturdy. my only complaint would be the cost... they are pricey.
April 26, 2013
Rated

4

out of

5
 by
ShoeboxDweller
Qbo Junkie
My hubby and I love and depend on these. They have been a pricey investment for us but have served us well and continue to. We bought them knowing we'd move into another apartment eventually and would really find useful the modular aspect of it. We love the clean, modern styling and handy size. We can buy one component at a time and carry them without having to always use a taxi or zipcar (in NYC). Highly recommended if you can afford it. It pays off in the long run.
April 3, 2013
Rated

5

out of

5
 by
emmielou72
Great organizer
I purchased these to uses a shoe, hat, gloves etc organizer for my family. I put 3 wide 2 high in my open modern foyer. Its low to the ground so my kids put their stuff away and looks very nice.
March 9, 2013
Rated

4

out of

5
 by
KateB
Favorite Cubes
I love the way these look--they store everything from manila folders to records, to books. The fact that the Container Store carries them consistently is great for my budget--it means that I can add them one at a time to my collection. They can be restacked and rearranged as well.
March 1, 2013
Rated

5

out of

5
 by
LadyBug1977
Hide with pride!!!!!
Are you tired of the jokes from family and friends regarding your eclectic album collection? Do you even know what an album, aka, LP, aka 33 is? HINT: It is a 12⿝ (almost) diameter, virtually flat, usually, but not always black, vinyl disk, used in the old days to lay down tracks of music, and played on a record player, aka, turntable, at the shocking speed of 33rpm. This did spawn the scratching technique which in turn (pun intended), made careers for many DeeJays. Ahhh, memories⿦⿦ Well, this recovering hippie remembers, and it ain⿿t always a pretty sight! I⿿m not talking about my beloved Beatles or Mozart albums. Those don⿿t draw derisive comments, of course. But I do have a secret: my music taste is crazy off the charts (pun intended). Alongside The Police, Michael Jackson, and Queen, you⿿ll find The Partridge Family, Puff the Magic Dragon, Tom Jones, KC & The Sunshine Band, Barry White, and dare I say it; 16 All Time KFJZ Super Hits (does anyone even remember that Dallas station?)! Again, this recovering hippie does. But I digress. Container Store to the rescue! This galvanized cube is perfectly suited for album storage, and if your collection is outrageous, I highly recommend the metal door. Proof positive; there is hope for recovering hippies. This cube is stylish, sturdy, easy to assemble, and will no doubt outlast your collection. So round up your albums, calculate how many you will need, and head over to The Container Store. They have what need!!! Now, if they just made this product for 45s⿦⿦..and possibly those little yellow thingies that go in the middle. You know what I⿿m talking about ⿿ don⿿t fib!
April 28, 2012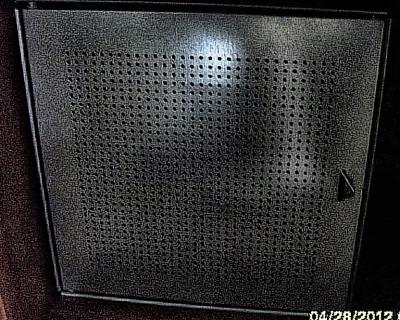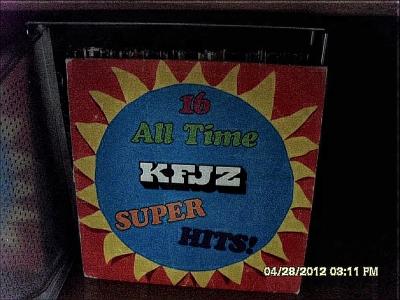 Rated

4

out of

5
 by
ashb
Great buy- but VERY deep
Love these shelf cubes. They were easy to put together and look great in my office. They are much deeper that I was expecting. Even though I measured what it said on the internet it felt a bit deeper in person that it did when I figured it visually.
April 27, 2012
Rated

5

out of

5
 by
Satine
Great Investment
The cubes may be a bit pricey but they stack beautifully AND have a great industrial look. They are great investment pieces for my office as, being modular, I know they can be relocated and repurposed at any time. The option to add doors and shelves allows for great flexibility.
March 19, 2012
Rated

5

out of

5
 by
professionalwoman
Easy to assemble
Despite other reviewers, I found this easy to assemble. I used the lubricant WD-40. You could probably use vaseline. It just slides together.
February 6, 2012
Rated

5

out of

5
 by
theboog
Awesome!
These bins are worth the price you pay for them. They are very strong and will probably outlast me. I love the clean stainless steel simple look...much better than any milk crate out there. I also love the fact that I can add a shelf or not. We purchased several-4 w/shelves is used in the hallway closet for scarfs, hats, running gear, etc. 4 regular bins are being used by my husband for his sweaters in his closet and I do plan on buying 4 more later for myself to store all my purses. If you want something stable and attractive buy these you won't regret it!!
July 11, 2011
Rated

4

out of

5
 by
Verified Reviewer
Simple, clean shelving system
These look better than I first imagined. The galvanized steel is clean and easy to put together. My 9 year old son and I had a great time working together on these. We bought six cubes and I would say it took about two hours to assemble the cubes with doors and shelves.
September 25, 2010
Rated

4

out of

5
 by
tiares
Customizing? Take Note!
The ordering instructions weren't clear that an extra shelf should be bought for EACH CUBE if you want a flat bottom. I got this for dishes and the bolts that joined tops to bottom cubes interfered with smooth use. Other than having to place a second order for shelves, I'm very satisfied with this purchase.
August 13, 2010
Rated

4

out of

5
 by
pn03
versatile shelving
I thought that the cubes were relatively easy to assemble. I found the corner braces on some cubes difficult to insert. Overall they seem fairly sturdy and able to provide storage for a wide variety and sizes of objects. I bought both galvanized steel cubes and the white enamel coated cubes. Some enamel scraped off during assembly of a few white cubes. Overall, I like the look of the cubes.
May 17, 2010
Rated

4

out of

5
 by
asterael
great versitility
I just moved to a smaller place with about half the storage space I'm used to. These cubes great because I can customize them to go anywhere!
March 20, 2010
Rated

4

out of

5
 by
nyjm
Handsome Steel Cubes with Plastic Corner Braces.
I'm very happy with my purchase of the Galvanized Storage Cubes. They look great. They were only moderately difficult to assemble. If you buy the doors for them, they will be the most difficult part of the assembly job. The only downside to them is the corner braces, which you can't see in stock photos on the site. I've uploaded one for you to see the corner braces close up. They are made of a clear hard plastic but I expected a strong, probably steel, brace. I put 48 cubes together without breaking any of the pieces of hard plastic, but there are no spares provided. Also the corner braces being plastic makes me fear they are not as sturdy as you would expect something made of "galvanized steel" to be. Also, the instructions mention a 'rubber ball bearing' of some sort that should sit between cubes when stacking them. There is no mention of this anywhere else on the Container Store site or other sites that sell them. Regardless, those are not included in your purchase. Seems like something they may have dropped from the manufacturing process but forgot to delete from the instruction sheet. Don't take the above as a warning not to buy these. I am happy with them. I just wish I knew about the plastic corners beforehand. I probably would have bought them anyway.
January 22, 2010