Rated

5

out of

5
 by
Persnickety1
Better than a carton!
Holds 14 large eggs. If refrigerator space is a premium, this is solid enough that you can stack other stuff on top of it.
May 23, 2016
Rated

5

out of

5
 by
SheriG
Egg Cartons that hold Jumbo Eggs
I love these stackable egg cartons especially since they hold the jumbo eggs. Highly recommend.
December 4, 2015
Rated

5

out of

5
 by
obxnc
Nicer than I thought it would be.
On line I did not notice it holds 14 eggs instead of just 12. The plastic is much thicker and protects the eggs from getting broken. The tray on top is sturdy enough to place items on it and not break the eggs.
April 12, 2015
Rated

4

out of

5
 by
RondaKB
Very nice
I love it. Doesn't take up much room but the top is a little hard to navigate.
April 9, 2015
Rated

4

out of

5
 by
cascabel
Great for eggs, not for dishwasher
We were happy to find this container as we have backyard chickens and really needed some reusable egg containers. They work great - fit eggs well, stackable, sturdy. But pay attention to the "handwash" recommendation. I didn't --- we have never had a problem with plastics and our dishwasher (a bosch with inline water heating) but when I put this in the top rack on a normal cycle it warped significantly!
March 8, 2015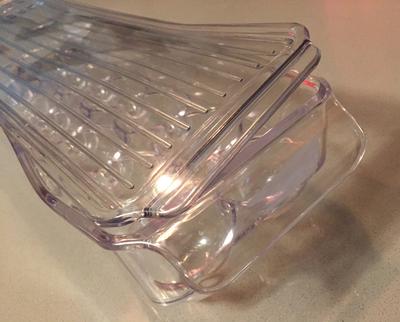 Rated

5

out of

5
 by
HLeRoux
Fantastic
Egg-xactely what I was looking for. Could not be happier.
November 11, 2014
Rated

5

out of

5
 by
Georji
Good Looking and Functional
Here's a product that lets you see how many eggs are left! It protects the eggs and looks good in your refrigerator. Made of heavy plastic.
June 25, 2014
Rated

5

out of

5
 by
Kathychris
Great Refer Storage
This egg holder is terrific. I like that I can see how many. Much sturdier than the cardboard carton the eggs come in the plastic cover keeps things from falling on the eggs and you can set something on top of that. I also like that it holds more than a dozen. I have now bought at least 4 refer storage containers, I love being able to find stuff in my refrigerator
June 21, 2014
Rated

5

out of

5
 by
Siimplcty
Good Investment.
Looks great and seems to be of good quality. Holds more than 12 eggs which is great. And the lid is flat so you can stack other suff on it. Great space and time saver, since you can see everything.
May 15, 2014
Rated

5

out of

5
 by
itsallgood
love my egg storage
the egg cartons were always bulky and in the way.. So We eat a lot of eggs always buy 18 per week, the carton took up to much room. I was shopping at container store and was introduced to the egg container. I knew I would love it, sure enough the eggs fit well and its pretty and clean. It doesnt take up a lot of room, and when I pick it up even just using one hand it doesnt flip, the top doesnt flip off its great. I love it!!!!
May 6, 2014
Rated

5

out of

5
 by
PittPenguinFan
I will never run out of eggs again!
What a great bin - I love that is holds 14 eggs. I also purchased the narrow deep bin that fits perfectly on top of this egg bin to store yogurt - no more loose containers to deal with and a great use of space in my refrigerator!
May 4, 2014
Rated

5

out of

5
 by
Lolita
Best product ever
Durable, clear and the best egg organizer for your fridge.
May 3, 2014
Rated

4

out of

5
 by
zkakskal
nice organizer
It is a nice organizer where you can keep all your eggs togather and see them through the organizer. It is easier to get to them compared to when they are in the original egg box that comes in with.
May 1, 2014
Rated

5

out of

5
 by
NeedCleanSpace
Great look
The Fridge Binz Organizer looks great in the fridge. I use a dozen every two weeks so the 14 spaces works perfectly. I know I need more when I see two eggs are left with out having 2 packages. The handle on the end makes it easy to pull out since I have little space between the two shelves it sit on.
May 1, 2014
Rated

5

out of

5
 by
Meg0580
Love using this! We're the family that tends to run out of eggs when one of us uses all but 1, and you glance in the fridge & see the egg carton so you don't buy more. Now we can see at a glance if we need them. Also love that it's stackable with the other products in the line.
April 28, 2014
Rated

5

out of

5
 by
TFsd
great product
love the low profile and how all of the items in this line are stackable. really makes fridge neat and eggs safe
April 27, 2014
Rated

5

out of

5
 by
patron2011
Egg storage masterpiece
This is exactly what the doctor orders fit storing fragile eggs in a crowded.fridgr. I can stack other items on top of needed and I can see product clearly also.
April 26, 2014
Rated

2

out of

5
 by
kaellis495
Oops
This is the only product I can truly say was a disaster. When you grab the eggs and pull them out, if you are not careful, you may wind up with your eggs on the floor. The lid should be designed to not come off so easily.
April 25, 2014
Rated

5

out of

5
 by
LBelleNM
Love this item - keeps eggs safe and visible (so no excuse for running out of eggs) and the extra two spaces are a bonus for adding a new dozen.
April 25, 2014
Rated

5

out of

5
 by
Gail112
Great Idea
I did not plan to purchase this item when I went to the store but I'm glad I did. Placing my eggs in this holder keeps them visible so I know when I'm running out and it is sturdy enough that I can place something on top of it but know my eggs are secure. I'm glad I purchased it.
April 19, 2014
Rated

5

out of

5
 by
jxmm
Great idea.
I love my egg binz fridge holder. It's convenient to see how many eggs I have left & know they're protected from damage while in my fridge. The container store has many innovative ideas & I always find something I didn't even know I needed.
April 17, 2014
Rated

5

out of

5
 by
BetsySTampa
Fantastic Purchase
We are able to take this container to the market with us to place our fresh eggs and know the eggs will survive our trip home. It's also a great space saver in the fridge because we can place misc. items on top.
April 15, 2014
Rated

5

out of

5
 by
Flytrap
Great purchase
I think this is a great product. You can easily see how many eggs you have left. It also easy to keep clean versus the questionable cleanliness of the store egg cartons. It fits easily in the refrigerator..
April 13, 2014
Rated

5

out of

5
 by
JakeTwiggy
Awesome Container
Love this container! It is easy to get in and out of fridge and dosent take up a lot of space!
April 3, 2014
Rated

5

out of

5
 by
Smiling
Perfect purchase!
Sturdy, clear, easy to wash. Stacks beautifully in the refrigerator! Love that it holds more than a dozen eggs and keeps them well protected. Very prompt delivery.
March 8, 2014
Rated

5

out of

5
 by
elinmn
prettiest egg holder
My husband thought I was crazy for buying this. The eggs already come in a container perfect for the fridge. Well this is not only much prettier looking in the fridge, but it holds 14 eggs, and that makes a huge difference. I know when we are down to only 2 or 3 eggs, or god forbid 1. Make a cake and, oops only one egg left because you looked in the fridge, saw the container, and thought you were good. Well this is clear and you can see exactly how many are left without opening up the container. And since it holds 14 eggs, you can buy more eggs and still fit them all in there.
March 8, 2014
Rated

5

out of

5
 by
MarylandGrandmom
Wonderful purchase
I bought these for my daughters as well as myself, and we all love them! They are great, because they keep your eggs safe and allow for stacking other items on top!
February 2, 2014
Rated

5

out of

5
 by
ajbd
Eggcellent
Love this! Keeps my refrigerator looking clean, crisp, an organized. Great fit!
December 12, 2013
Rated

5

out of

5
 by
Austin28
Purchased 2
Fridge Binz Egg Holder is great. Like that they hold 14 eggs and the fact that they stack. Don't think they are available anywhere other than the Container Store.
November 6, 2013
Rated

5

out of

5
 by
LBCD
Great storage for eggs
We are always concerned about sitting other things on an egg carton for fear of cracking the eggs inside. Also, we had to open the carton to see how many eggs we had. No longer with this handy bin. This is a nice clear and sturdy plastic, easy to clean and we can store something on top of the eggs if we need to.
August 25, 2013