Rated

5

out of

5
 by
SCMomof3
Multipurpose
I LOVE this drying rack, but as a bookshelf. As a teacher and mom of 3, we have A LOT of books at our house. I have been able to set up little "book nooks" using this drying rack. Not only that, but it looks great as well. I have found a similar book caddy on another website for a lot of $$. This one holds just as many, looks great, and a fraction of the cost!
June 18, 2016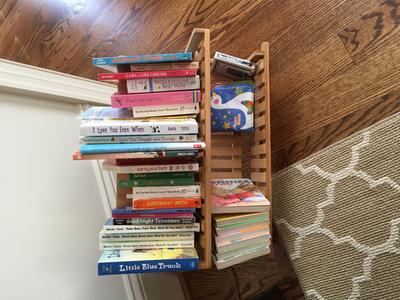 Rated

5

out of

5
 by
KSTwinMom
Great Book rack
I know its a dish rack but I'm using it as a kids book rack and it works perfectly! Adorable too!
February 26, 2016
Rated

5

out of

5
 by
Ksteyn
Just what I needed
This is sturdy, easy to store and just what I needed for my hand washed dishes
December 9, 2015
Rated

5

out of

5
 by
LisaJ22
Works well and looks nice
I love this dish rack. As another reviewer mentioned, it probably isn't best for big families as it doesn't hold a huge amount, but I live by myself and it works perfectly for me. I also think it looks nice on the counter so I don't usually fold it up and put it away. It doesn't take up a huge amount of counter space.
May 1, 2014
Rated

5

out of

5
 by
SunandSnow
Efficient & Attractive at the same time
This is the best dish drainer ever. It has sufficient room to hold a small load of dishes and is stylish enough to leave it out all the time.....which saves time.....this product gets an A+ in my book!
April 19, 2014
Rated

5

out of

5
 by
TArynM
Attractive and Useful!
I love this dish rack because it looks great if you keep it on the counter. It's sturdy and of good quality and holds a fair amount of dishes . I recommend the utensil holder to go with it. The design dries dishes fast . I would definitely buy again!
March 24, 2014
Rated

5

out of

5
 by
lb928
Functional and Looks Great
I bought this to replace our plastic baby bottle drying rack. We now have space to dry more items, and looks so much nicer on our counter.
March 10, 2014
Rated

5

out of

5
 by
Gr8fulinpdx
Highly recommend!
I have wanted a bamboo dish drainer for a long time, and this one meets my expectations. It is great! It is attractive and I am comfortable leaving it on the counter. Plus it works well. I also bought the utensil addition for my flatware. I like that too.
February 26, 2014
Rated

5

out of

5
 by
Edward5
Does the job!
Very easy to set up. Holds tons of dishes very well, especially plateware.
December 29, 2013
Rated

5

out of

5
 by
whiterose
handy, stylish & works great!
I like to wash as I work, and I placed this rack on a drying mat and it is handy and holds much more than the flat mat did. Sturdy, well balanced and effective. My plates won't stand up in it because they are "deeper" in rim than the ones in the picture, but the smaller plates will. Also my big plates would not fit in this rack under the cabinets - I would have to move it out from under them to put large plates in it. I didn't think of that before I bought, but I like the rack anyway and am glad I purchased it. Sturdier than similar racks at department stores.
September 30, 2013
Rated

5

out of

5
 by
rja00
great item for the kitchen
I love the country look, great for small kitchens . I
May 5, 2013
Rated

5

out of

5
 by
TamFromManhattan
Ultimate Dish Rack
This is the dish rack that I've been looking for my whole life! It fits the needs of every moderately small Manhattan apartment, and therefore it will work for any and every kitchen. It holds a ton of dishes, and with a drying mat underneath there is room to dry larger, clunkier dishware. It looks great in the kitchen, cleans easily, and you'll never get the rusty, wet build-up associated with metal dishracks. I'd recommend it to anyone. Though I only purchased mine recently, I can tell it is going to last a long, long time. P.S. Get the removable cutlery holder, also made of bamboo!
April 26, 2013
Rated

5

out of

5
 by
lovecooking
This is the one
Perfect size. Sturdy. Easy to clean. I've tried many different kinds, and this is the best!
April 7, 2013
Rated

5

out of

5
 by
librareeladee
My Favorite Dish Rack of All Time!
I had been looking at dish racks literally for several years and just could not find one I was happy with. When I saw this one, I knew it was the right one. I leave my dish rack out all the time and wanted something that would be functional yet look great at all times. This dish rack could not have made me happier! The bamboo makes it seem as though it should remain in view, like a wine rack for example. It does look that good!
April 6, 2013
Rated

5

out of

5
 by
MelanieTheArtist
OMG I LOVE THIS!!!
It's beautiful, functional, and foldable. What's not to love?? It's easy to store against the wall when you are not using it. I would recommend this item for a small household of 1-2 clean people. I would also recommend this for any sized household as a back up to a dish washer. You know, for those rare moments when the dish washer is full and you have to hand wash a few dishes. I don't think this item is meant for people who do not regularly clean dishes because this rack only holds a small amount once bowls get in the picture. It can only hold 3-4 cups on the bottom rack. It is also not meant for people who have a ton of dishes even if they clean regularly (i.e. large families). WARNING: For homes with bug issues... I would NOT recommend this product. To no fault of its own, it is a perfect haven for roaches and other small bugs. I had to put this away and save it for a day when I either live in an apartment with clean neighbors... :(
March 31, 2013
Rated

2

out of

5
 by
SimpleandFrugal
Developed mildew
We loved the look of this dish rack, but we had to throw it away after less than a year because mildew developed on the base of each leg. We used the dish rack on a nearly daily basis, so perhaps the wood didn't got a chance to fully dry before we added more wet dishes to it. We also live in a moist climate. I would recommend this product for occasional use but a metal dish rack is probably better for daily use. Currently we just let dishes dry on a cloth on the counter, and it works just fine!
March 25, 2013
Rated

4

out of

5
 by
Rasa
Very well built, would love to have a bigger size!
March 21, 2013
Rated

5

out of

5
 by
Verified Reviewer
Bamboo Dish Drainer
I love this product. My sister was so crazy about it, that she asked for it as her Christmas gift. If you would just get a store in Ft Smith, AR you would get a lot more purchases from my family in Ft Smith.
March 18, 2013
Rated

5

out of

5
 by
SLinan
Great product
Its nice, sturdy and easy to fold and put away. Great price for what you're getting.
March 4, 2013
Rated

5

out of

5
 by
apope91
Was a little skeptical at first...
I cannot verbally express how much I love this thing. I have spent my entire life leaving dishes to dry on kitchen towels, and I finally decided it was time to step it up and dry my dishes in a more adult manner. I chose this one because I feel it is aesthetically pleasing - not too industrial or plastic-y. I was a little nervous about it because it doesn't seem to have quite as much drying space as some of the other ones in the store, but once I brought it home and started using it i realized it is perfect for me. However if you have a large family you may need to invest in something a little larger. Seriously though, not a single complaint about it so far. I used a dish drying mat underneath it to absorb any excess water, and I also purchased the silverware caddy accessory. A++ would buy again!
February 23, 2013
Rated

3

out of

5
 by
Hunter
Nice rack, needs finish sanding
Got this rack with the silverware attachment for my girlfriend. It looks nice, folds up very small, and feels sturdy (haven't had a chance to use it yet). I was oiling it up before the first use and got a few splinters from the bamboo slats. The corners are rounded very nicely, but the edges need to be sanded better. After I sand the edges, this will be a 5-star product.
December 19, 2012
Rated

5

out of

5
 by
asparker
Perfect for my kitchen
This is the second bamboo dish rack I have had. The other lasted quite a long time and I was pleased with the way it looked in my kitchen. I looked all over for another one and found it online at the Container Store. Since a new store had opened in my area I went in to get it. Luckily that had one left. I got the one on display. I am sure they will get more.
November 6, 2012
Rated

4

out of

5
 by
sheryl169
Wonderful Product
I had one of these years ago and replaced it when I moved to a new home. I love the scale of the rack and I particularly love the multi-level design. The bamboo dries quickly and resists mildew and is very sturdy.
April 28, 2012
Rated

4

out of

5
 by
DishQueen
Artwork rack!
This is an ever evolving piece of art in the kitchen because you never know what dishes it will hold!
April 27, 2012
Rated

5

out of

5
 by
4travelbug
Easy and foldable
I love this rack and use it a lot! It's nice to pull out when I have my fine china that needs to be hand washed. Afterwards, it tucks neatly away.
April 26, 2012
Rated

5

out of

5
 by
KARENALEXIS
Dish Rack
Use this all of the time. Saves electricity by not using the dishwasher.
April 4, 2012
Rated

5

out of

5
 by
Dpickens
Great Purchase
Recently purchased this item and I love it! Fits perfect by the sink and is very sturdy. Great buy!
April 2, 2012
Rated

5

out of

5
 by
LilH
Great Item!!
This drying rack is THE BEST!! It is attractive enough to leave on your counter, which works for us since we do not have a dishwasher :) Holds plenty of plates and cups without a problem. A silverware attachment is also available.which completes this set up!
March 19, 2012
Rated

5

out of

5
 by
Whatev
Natural and neutral decor
Besides it's looks, this serves it's purpose and is durable.
March 19, 2012
Rated

5

out of

5
 by
beckz
MUCH better than plastic or metal dish rack
I am so happy that we finally ditched our old, metal dish rack for this one. Not only is the bamboo more aesthetically pleasing, but it freed up the whole other half of our sink, which used to hold our old dish rack.
March 19, 2012