Rated

5

out of

5
 by
MemphisCrafter
AMAZING!
This rack was an impulse purchase and I was a bit leery because of the price. Fast forward 10 years and I can tell you I absolutely love this rack! It folds up completely but when open, it holds more stuff than my old collapsible one! It doesn't seem all that big but it truly holds alot of stuff. Very sturdy and well made. Highly recommend.
April 14, 2015
Rated

5

out of

5
 by
SAHMandFreelanceWriter
Perfect for small spaces
This Fold-Away Drying Rack is a great solution for small laundry rooms like mine. I occasionally use it for clothes that are damp, but what I use it for most is to hang my kidsâ¿¿ clothes on as I pull them out of the dryer so I have less ironing to do! Between this, the Chrome Triple Laundry Bag Stand (pictured below it) & some sunny yellow paint, my tiny laundry room looks nice & is very functional. In fact, our realtor recommended leaving the drying rack extended because it shows prospective home buyers that, despite its small footprint, our laundry room has more workable space than they might expect otherwise.
April 27, 2014
Rated

5

out of

5
 by
Mary
ideal drying rack
I bought this drying rack because my husband was tired of hanging things on the towel bar in our bathroom. I'm glad I bought it. It was easy to install, it folds up for a stream-lined look and it pulls out when needed. Can dry a lot more items than my old towel bar. I would definitely purchase this item again. Go ahead, you won't be sorry.
February 1, 2010
Rated

4

out of

5
 by
dmmr
Great for laundry room - install info needs work
This is such a handy tool to have in a laundry room. Bought to replace one from another manufacturer which I used several times a week and finally after 20 years of good service, came apart. This is what I could find of similar design and so far so good for function. Easy to expand and retract. Folds up neatly to be inconspicuous when not in use. Issues with installation instructions. All graphic. no English instructions. Box was in all languages but English. Measures in graphic were mm for tool sizes but most American households use fractional inch measures for drill bits. Plugs included with item did not expand to anchor into sheetrock to allow screw to tighten against unit. Fortunately I have that stuff stocked in my garage, but if someone didn't they'd need a run to hardware store to make this install work. Heads up to plan ahead for necessary plugs.
November 7, 2016
Rated

5

out of

5
 by
jacquelineha
Very convenient and out of the way
Such a nice way to save your clothing from a harsh dryer. Saves energy as well.
March 18, 2016
Rated

5

out of

5
 by
uptowngirlnola
cool device
This rack is very cleverly engineered and quite practical. When folded. it is a chunky towel rack with a thin rod. Unobtrusive and pretty wide. Unfold it, and you have lots of drying space. It's not designed for hanging multiple thick, heavy items, though it is reasonably sturdy. Easy to install. Perfect for my compact utility room.
September 18, 2014
Rated

5

out of

5
 by
SahRN
Perfect
I have a large family so there is always lots of laundry. I needed something to hang and dry clothes. This is it! When opened it helps to hang baby clothes, bathing suits, lingerie, small items. When closed, it's sleek and out of the way. It has a towel bar which I use to hang small towels or hang my kids dresses. I wouldn't hang multiple heavy large items such as jackets or sweaters. This helps keep my laundry days organized!
July 16, 2014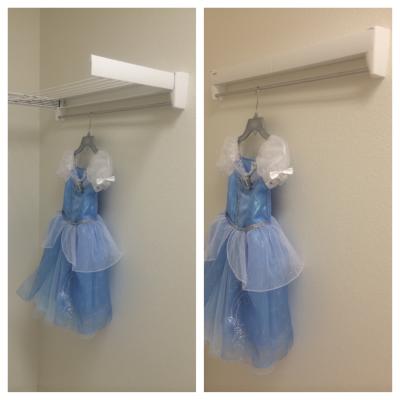 Rated

5

out of

5
 by
SHMN
Great space saver!
This is a great solution for drying clothes in a limited space. Easy to install and it's sleek design looks great in our laundry room.
April 23, 2014
Rated

5

out of

5
 by
Fixer
Fits our space
The rack with its fold away feature is just right for our small laundry room. Mounting it high so we can walk in under it when it is open, keeps it out of our way when we need to go into the small laundry space.
March 3, 2014
Rated

5

out of

5
 by
lyndyloo
Smart and sleek
I bought this to hang the small items that cannot go into the dryer but i did not want to notice it when not in use. This blends in when closed and holds much more than I thought it would. Awesome buy!
February 2, 2014
Rated

4

out of

5
 by
nacc
laundry room space saver
nice design and happy with functionality. Nice to have this available all the time rather than having to get drying rack out each time I need it.
October 25, 2013
Rated

4

out of

5
 by
CutieRepolinos
Looks fragile
I haven't used the rack yet, but it looks pretty fragile. I'm sure it can hold small pieces, but can't say the same about wet bath towels, for example. My real problem with it is that I had to come up with a gimmick in order to install it, as the distance between the screws does not match the distance between the studs in my house... So, you must be creative if you're living in the west coast.
October 17, 2013
Rated

5

out of

5
 by
Sam1111
Best Purchase Ever
This is the right tool for the right job. Easy to install, easy to use. It doesn't hold much weight but come on, use it for the right job and you won't have any problems. Great for undergarments and all your fine hand washables. Been searching for just the right tool to add to my laundry room and this fits the bill.
May 1, 2013
Rated

3

out of

5
 by
LongLegBlond
Helps with a not so fun chore...
Easy to install. Does not hold a lot of weight though. Handy to hang the smaller items to dry like tee shirts and bras.
April 28, 2013
Rated

4

out of

5
 by
Worv
Great
Really nice to have this fold away rack, no more hanging panty hose over the shower bar.
April 20, 2013
Rated

5

out of

5
 by
ItsAlwaysSomething99
Great helper
This drying rack is perfect for a small laundry room without much function. I have enough room for two side by side if I feel I need another one. I had to put it by an entry door and because you can fold it away it doesn't pose a danger to anyone that may walk into the room. It's attractive and hardly noticeable as opposed to the large accordion type. Seems to support weight well.
March 19, 2013
Rated

1

out of

5
 by
Vaishali
Not strong and won't last long
The concept is good, being able to fold it away completely and not have to see it. But the pulling mechanism is made of plastic and can easily break. Also pulling it and closing it was not smooth.
March 19, 2013
Rated

5

out of

5
 by
KMarie3
Best Laundry Room Addition
These are great! Seem sturdy, and love that they fold away. Bought two of these and have since eliminated the giant & unsightly rolling rack. Major space saver!
March 18, 2013
Rated

5

out of

5
 by
JeanM
perfect for laundry room
Like the fold-away design when not in use. Perfect for drying small items.
March 16, 2013
Rated

4

out of

5
 by
StacyJamie
Great product!
This is the perfect solution for smaller laundry rooms. Took me w Nile to find the hanging hardware (it was tucked in the back and you had to open everything before it fell out). Otherwise this is my favorite addition to my newly redone laundry room!
February 18, 2013
Rated

5

out of

5
 by
GInging
Laundry Room Perfected!
There when you need it and out of sight when you don't!
February 14, 2013
Rated

5

out of

5
 by
bellaa
LOVE
I LOVE this product. It is sleek and compact, and does exactly what it says. I hung it above the sink in my laundry room. Before this, I had a drying rack that was always getting in the way, falling down, etc. Now it is not taking up any walking space and the clothes drip-dry right into the sink! Only caution would be that the rack itself is not very long, so if you are looking to a lot of drip-drying this product may not be for you. We don't line dry that many clothes, so it works really well for us. It is easy to pull out and put back away. No complaints!! You can even hang a nice decorative towel on the rack when it's not pulled out.
October 29, 2012
Rated

5

out of

5
 by
stuboy
very satisfied
I purchased a fold away drying rack. Delivery was fast, just three or four days. The rack was better than we expected. Very pleased first time customer.
July 7, 2012
Rated

5

out of

5
 by
qr26
Compact, solid design
Good quality rack. Gives you plenty of space for hanging items for air drying. The installation is easy, although the wall anchors included were pretty cheap so I used my own, only two needed. The best feature is that it folds up out of the way against the wall. Its well made, with high quality plastic and looks good also, not cheap. I'll be buying another.
May 3, 2012
Rated

5

out of

5
 by
BStarkey
Love this product!
My laundry room is narrow so I didn't have a lot of room to hang up any drying racks or hanger bars. This product solved my problems. I fold it out to use it and then fold it right back in when I'm finished. It stays out of my way!
May 1, 2012
Rated

5

out of

5
 by
Queenvon
Perfect Addition to EVERY Laundry Room
Bought this nearly 2 years ago and use it nearly every load of laundry! Sleek, folds away, plenty of room for those things we do not put in the dryer and even comes with its own clips/clothes pins! Takes up virtually no space but can hold plenty. Great alternative to retractable clotheslines. Makes use of dead wall space and saves both delicate clothing and energy! A WIN-WIN solution!
April 27, 2012
Rated

5

out of

5
 by
Murk
Very handy and easy to open and close! Definitely recommend
April 15, 2012
Rated

5

out of

5
 by
fanatacat
Perfect Laundry Room Drying Rack
What's to complain about? Sleek design, functional, folds away so it's out of sight when not in use/not needed. I can't imagine a more perfect product.
March 22, 2012
Rated

5

out of

5
 by
Pheebie
Love it!
This is a great space saver & easily tucks away. I have had the product for about a year & have had no problems with it.
March 21, 2012
Rated

5

out of

5
 by
NancyP
Worth the money
Love this product! Perfect for drying items like delicates, installs easily, and looks great!
March 19, 2012