Rated

5

out of

5
 by
KevinP
My Perfect Mixing Desk
I'm an audio engineer and my needs are very specific. I designed and built my own solution from the Elfa desk top and solid shelving components. I've never been happier with my workstation aesthetically or ergonomically. And I had fun putting it together.
April 27, 2012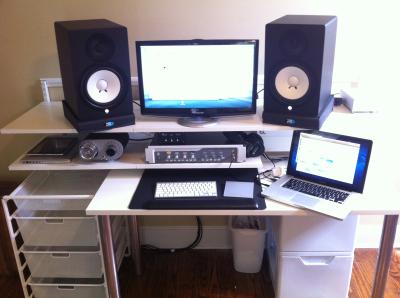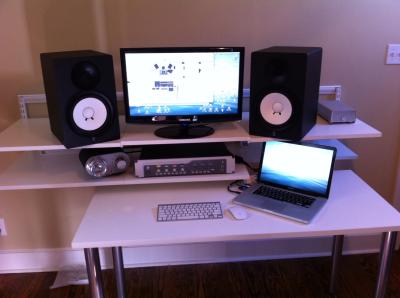 Rated

5

out of

5
 by
designer79
Sturdy construction beautiful surface
I purchased two table tops and the platinum desk legs to create my own workstation. The table tops arrived double-boxed, so there was no shipping damage. The table top is heavy and sturdy, and the driftwood color is beautiful. I haven't spilled anything on it yet so hopefully it would hold up to that. The desk top does not come with pre-drilled holes, so you have to be patient and take your time attaching the desk legs. (In my experience, pre-drilled holes usually result in a loose fit anyway.) Tip: Keep the desk top sitting in it's box while you are attaching the legs to the bottom, so you don't scratch the top surface.
September 16, 2011
Rated

4

out of

5
 by
playroom
Crafts contained
I used this across the top of three Elfa stacked drawers as shown in the mesh craft wall. The drawers hold a large amount of stuff and I was able to gather craft items from several locations and consolidate.The desk top makes a great work surface! I find the website a little challenging to navigate. I have to study it for a long time before placing an order. It seems like there might be some place on the website to actually list exactly what components go into each Elfa set up.
January 30, 2015
Rated

5

out of

5
 by
Celeste13
Great Deal
I purchased this as a way to make a small space useful, and it worked out great. This makes a small cubicle in my office a great place get some work done, at a great price!
May 2, 2014
Rated

5

out of

5
 by
skirunlove
Great Looking Desk
We have the Sycamore desk top and several shelves in the corner of our living room. The space serves as a workspace/computer area, but we didn't want it to look too much like an office. The desk is very low profile and ties in well with the shelves to look more like a shelving unit than a bulky office desk. It has a larger surface area and I love that it is totally adjustable/customizable.
April 27, 2014
Rated

5

out of

5
 by
SC04
New Desk = New Opportunities
Desk is just the right size to encourage organization and creativity within the same space. Easy to clean Professional grade
March 31, 2014
Rated

5

out of

5
 by
Balanese2001
Craft Room Table
Bought this to finish my craft room - when my daughter came home and saw it she was amazed and informed me when she goes to college she was taking the desk with her - bought in white with platnum legs. Extremely easy yo put together and very sturdy. Will be doing many crafted and homework on it. Thanks for making such a great product!
March 22, 2014
Rated

3

out of

5
 by
SusanConti
Relatively low cost table; difficult to assemble
This is the 2nd such table we have bought. One is being used as a laundry folding table and one in a home office. The metal legs and melamine top work well for these purposes; however the table legs are difficult to attach since they require drilling holes for the screws and there are NO markings on the table. Since the table top is not solid wood, any mistake could ruin the table. The Container Store should have markings added at a minimum or have pre-drilled holes on table before sale.
March 12, 2014
Rated

5

out of

5
 by
crenee
desk tops for my ELFA work station
love the clean smooth work area in my art studio..the top covers my elfa drawer units.
March 2, 2014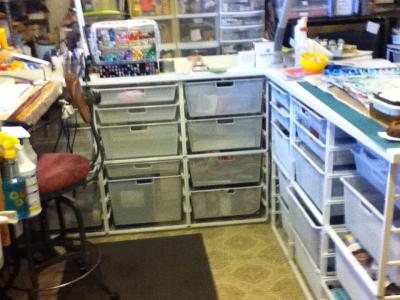 Rated

5

out of

5
 by
bev0509
great desk top
I love my new desk.. It looks great in my office. I bought another to provide extra desk space.
February 24, 2014
Rated

3

out of

5
 by
Chaoticpix93
Pretty, but that's about it...
There's a lot of complaint of the desk not having pre-drilled holes. That becomes a problem when the desk decides to chip. This stuff, is not the most durable particleboard I've seen. I have the veneer chip on the top as well. So I actually have a leg with one screw that wont fit in because it not only stripped the hole, but also took some of the particle board with it. Cosmetically it looks great, it's wobbly though, probably from the legs only having 3 points to stabilize from. If you move it, take care because the legs bend a bit with only 3 points of solder on it. However, it looks great, and despite the wobbly, chipping particle board veneer.
January 2, 2014
Rated

4

out of

5
 by
apartmentperson
Simple, sturdy desk
I was looking for a basic white desk, and this does the trick. I did panic at first when it arrived and I found it doesn't have predrilled holes for the screws. I was able to assemble the desk without a drill, using the supplied screws and a hammer to create pilot holes. A very helpful Container Store customer service rep helped with this. I assembled it by myself (one not-very-handy woman) and did fine. It is on the heavy side, so unless you've been going to the gym, probably better to have a second set of hands.
October 11, 2013
Rated

4

out of

5
 by
flintstonechick
Desk Top
I purchased this top in sycamore with the white legs to be used as a computer desk. Very sturdy though the top had some dings coming out of the box. Love the color, a good value for the price.
October 1, 2013
Rated

5

out of

5
 by
Love2BeOrganized
Elfa flexibility is always useful
Over several decades and 8 moves, I have mixed and matched the varied elfa parts for use in work and home situations. I delight in results of every new reconfiguation, as my need is always met. This new elfa Melamine Desk Top (white to coordinate with all my other elfa tops) and a pair of new elfa desk legs balanced by an old file cabinet on the other end and (by the legs) an old rolling elfa file cart all create a fantastically efficient working area with a tiny spatial footprint. With careful measurements and Container Store information, elfa never disappoints!
July 5, 2013
Rated

5

out of

5
 by
LSNB
Great desktop
Bought this white melamine item as a desktop to serve as a bridge over two short filing cabinets. It was well-packaged and despite some challenges to the packaging en route, the item inside was unhurt. It is sturdy and attractive. It took two of us to get it in the house, unpackage it, and place it. But, it is now planted and works great. It's a nice large surface for many uses.
May 19, 2013
Rated

5

out of

5
 by
Penny2001
Every great business starts with a great desk!
LOVE this "build-your-own desk" option! Setting up a home office on a budget was so easy. The desk options are high quality, clean, modern, easy to assemble, and very durable. They look great!
April 26, 2013
Rated

5

out of

5
 by
Cinnabon
Perfect Desk Top
The melamine desk top can be used on either side. Good, strong construction. Long enough to accommodate your laptop, printer and an assortment of desk accessories.
April 16, 2013
Rated

5

out of

5
 by
MLaGrand
Love it!
My husband and I each bought a zebra wood top and silver legs. It's a great desk. Sturdy and simple.
April 16, 2013
Rated

5

out of

5
 by
Verified Reviewer
Love It!
This is a very nice product, affordable, well made, packaged nicely and shipped fast.
April 1, 2013
Rated

5

out of

5
 by
mcerra
Love this desktop
I love the clean modern look of this desk. It is large and the price is excellent! Just what I was looking for.
March 22, 2013
Rated

5

out of

5
 by
Squirrely
Perfect!!
I bought this melamine desk top and legs because it is so simple looking with its clean lines. I liked it so much I went back and bought another to put right next to it. It is such a hugh work space and looks good, too!
March 18, 2013
Rated

4

out of

5
 by
Englishmc
nice desk
This is a nice desk, big, solid and clean. It is just what I was looking for. I also like that I can add accessories I need as my office grows. My only complaint is that we had to drill the holes for the legs.
February 24, 2013
Rated

5

out of

5
 by
devo13az
Functional and Clean Desk
I purchased an Elfa desktop system last year that also doubles as a book shelf. This desk has held up very well and provides ample work space.
December 24, 2012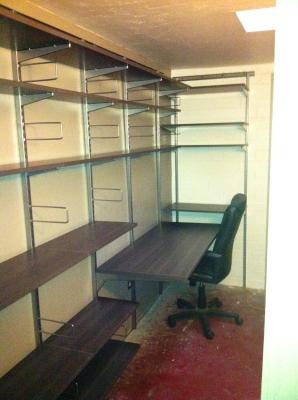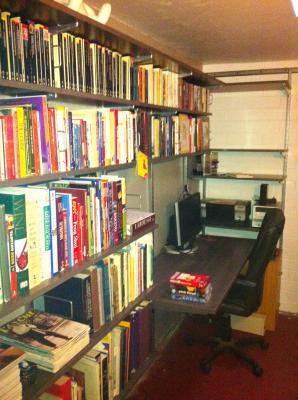 Rated

4

out of

5
 by
texasshopper
Great Family Desk
Absolutely great product. Heavy and substantial feeling. Only didn't give 5 stars because I had to drill pilot holes myself for the legs. Perhaps some people need the in tact top but would have been easier for me if either holes were there or CS offered to drill them for me before leaving the store,
September 24, 2012
Rated

5

out of

5
 by
Jody1952
Melamine Desktop
I absolutely love the desktop that I ordered from the Container store. My husband added what I needed and I bought two (2drawer) file cabinets for the legs and I have the right size desk I now need. Great idea to be able to choose your own pieces to make it the way you want it.
June 2, 2012
Rated

5

out of

5
 by
JenK
Love the versatility!!
I loved that I could mix-and-match the top, legs, drawers, etc to get the desk I really needed.
April 27, 2012
Rated

5

out of

5
 by
HeidiM
Great desk
I bought two of these to make a nine foot long desk with four legs and the mesh baskets in the middle. It looks great and was easy to assemble.
April 23, 2012
Rated

5

out of

5
 by
chaosfree
Great Purchase
So easy to configure anyway you like with this desk top. Legs, drawers, files........... Very versatile. Ordering the top and then picking up at the store was super easy.
April 23, 2012
Rated

5

out of

5
 by
myfavplace
Desk Top
I have had my Elfa desk for probably about 9 years and it's still in great condition. I love it so much, I have moved several times and it's been very easy to move. I have the white top and it's still in great shape that I won't allow myself to get the Zabra wood top though I'd love to I have to be practical. I moved back to my birthplace and there is no Container Store here. I miss it so much, I used to go in there once a week when I lived in Ft Worth!
April 13, 2012
Rated

5

out of

5
 by
CP3403
Perfect Solution
I used the Driftwood Melamine Desk Top to create more work surface in my home office. It made the perfect "bridge" between an existing file cabinet and storage cabinet, giving me more work surface without using more floor space. It looks great and is very, very solid and sturdy.
March 26, 2012