Rated

4

out of

5
 by
suburbanfather
a replacement for the same tool holder
I installed Elfa utility holders in my laundry room 8 years ago to keep the brooms organized. Recently the plastic clips that keep one of the holders attached to Elfa track broke. I bought a new holder to replace the broken one. I give this purchase 4 stars because the previous identical holder lasted 8 years with very little use (remove/install a broom twice a week on the average). Other holders that I installed at the same time are still fine.
October 19, 2016
Rated

5

out of

5
 by
nmcneill
tool holders are amazing
We love these!!! we can now find any shovel, rake, or tool so fast. the garage has never been so organized. really grips the tools.
September 27, 2016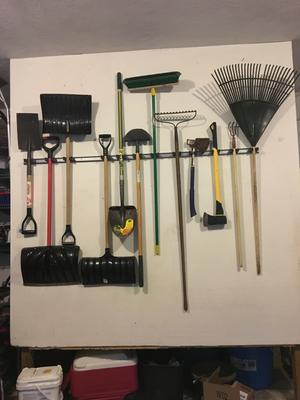 Rated

5

out of

5
 by
Tawneen
Garage organization
Used a rail that came with an earlier purchase that did not fit my space. Finally have an organized garage! If you have not used these products before you should use a professional installer or get advice from the Container Store.
August 21, 2016
Rated

5

out of

5
 by
Squaredaway
Awesome product
Great product, a little pricey, but very glad I made the purchase. I have purchased the grey elfa utility tool holders for our garage.
September 14, 2014
Rated

5

out of

5
 by
OragnizedInFlorida
Very Organized Closet
The elfa organizing system is the best money can buy. It is easy to put together and customize to your exact needs. The utility tool holders can hold just about anything you put in it. They hold swiffers, brooms, mops, and dusters. Although we have this in a storage closet this would be a great way to also organize a garage. Highly Recommended!
April 27, 2014

Rated

5

out of

5
 by
ColoradoGirl
Awesome Organization
I use these to organize my closet that has all my cleaning supplies. Makes everything so much more organized! I love these.
April 26, 2014
Rated

3

out of

5
 by
OrganizationByVal
Tool holders
OK for garage. Sometimes awkard for hammer to fit into the holder.
April 25, 2014
Rated

5

out of

5
 by
lindyhopperj
The coolest accessory ever
These tool holders are so cool! They actually grab and hold onto the handles of whatever you're holding in them, e.g., broom handle, mop handle, etc. I've never seen a holder do that before. Super cool, functional design.
March 23, 2014
Rated

5

out of

5
 by
ScrappyC
So cool!!
I am delighted at now well these hold my brooms and other handled items in my garage!! Love the whole Elfa system!!
March 12, 2014
Rated

5

out of

5
 by
miri
Very useful
A great item use it for sport equipment in hall closet gets things off the floor and untangled
March 3, 2014
Rated

4

out of

5
 by
SGB1
nice accessory
these are adorable little accessories and I love having some
February 24, 2014
Rated

5

out of

5
 by
Pegleg
Not What They're Made For... But Work Great
I needed clips to attach my titanium crutches to my hand-powered tricycle. They have to hold the crutches firmly, not scratch, and be easy to operate. I looked many places, but these are the BEST. They were easy to attach (zipties) and solidly made. Should last a long time. I imagine they'd be great for their original purpose!
February 8, 2014
Rated

5

out of

5
 by
OrganizedNurse
Great for laundry room organization
I bought these along with the elfa track, step ladder rack and the hooks to organize my broom, mop and other cleaning accessories in my laundry room. Looks great and makes my supplies much more accessible.
April 27, 2013
Rated

5

out of

5
 by
Handy09
Utility
I ordered this online and had it sent to me. It was here before I knew it! I love these utility holders, this one is going in a cabinet in my kitchen pantry area.
March 16, 2013
Rated

5

out of

5
 by
Maria5
love the versatility
After looking around for the perfect utility hook, I decided to do Elfa, and these little tool holders did the trick!
February 16, 2013
Rated

1

out of

5
 by
MrCrispOneDollarBill
These things won't hold up a broom or a rake
I bought these to use with the elfa track and they aren't working for me at all. They won't hold a broom or a rake. They start out working and hold the tool long enough for me to walk away, but when I come back some time later, the tool has fallend from them. An expensive failure.
January 1, 2013
Rated

5

out of

5
 by
scarpe5
Perfect Fit
These holders are perfect for my brooms / mops etc and my closet has never looked better. I started with 4 and now have 8 - didn't realize I could have them right next to each other and still fit the mops & brooms. These are great!
December 20, 2012
Rated

5

out of

5
 by
bagginit
Great for Garage Storage!
These are such a great way to organize brooms, mops, swiffers, etc. in your garage or utility closet.
October 11, 2012
Rated

5

out of

5
 by
maddigirlsgigi
Clutter off of the floor!
These work wonderfully! They accomodate a variety of sized items and are a cinch to hang up your tools. Press in and out easily and keeps things hung securely. It is more expensive than some of the other items like this but worth the extra cost. My husband talked me into getting these, a very good choice!
September 9, 2012
Rated

5

out of

5
 by
Caralyn
Nifty little gadget
These holders are a life saver. I have a small shed with a lot of things in it. I'm using these holders for the shovels and other yard tools to keep them organized and out of the way. I use them with the elfa track and standards shelving system that I installed this winter. Why didn't I think of this sooner!
April 28, 2012
Rated

5

out of

5
 by
Verified Reviewer
very good for the price
very durable, I use without track and screw in direct to the wall
March 26, 2012
Rated

5

out of

5
 by
BrettT
Great accessories
This item compliments the other utility products and works very well for hanging up long pole devices. I have hung so far a pole trimmer and an 18' painting pole.
March 19, 2012
Rated

5

out of

5
 by
Ryan
Kept coming back to buy more
Originally bought a set of elfa utility tool holders for a section of our garage. Liked them so much, had to buy more for other rooms throughout the house.
February 24, 2012