Rated

5

out of

5
 by
MinnieBoo
Easy to install... easy to organize!
I used these rails, along with utility shelving, to organize my outdoor shed. It was super-easy... I did the install all by myself! :) The shed is so much easier to use now... I can see & find everything I need! See attached before/after pics... just don't judge me on the original mess... ha!
January 9, 2017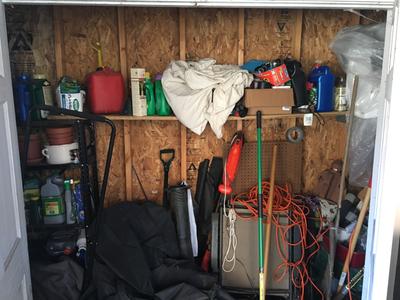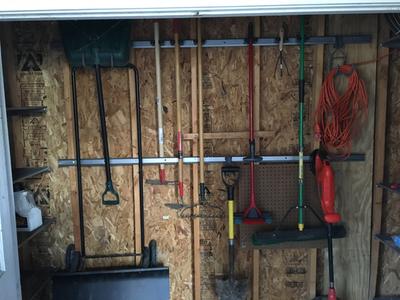 Rated

5

out of

5
 by
dmavin
Elfa user and fan
Elfa storage is clever and creative. I used it to organize different parts of my house. I keep adding components to expand and customize my storage.
September 1, 2016
Rated

5

out of

5
 by
Champaign
Both Elfa and the Container Store are EXCELLENT.
I've just installed Elfa shelving in my pantry and my garage. The quality of the shelving is outstanding...a real delight to work with. Even more importantly, the staff at three different Container Stores were amazingly helpful and courteous. I was always so pleased to go to all of these stores. I want to particularly applaud the on-line store ordering for in-store pick-up. This system worked beautifully so that each time I arrived my order was all ready to go, the large items wrapped in plastic wrap; the smaller ones in special red bags. Plus everything was delivered to my car!
February 8, 2015
Rated

5

out of

5
 by
Harpersage
Easy to use
The elfa system is well worth the money, and I caught it on sale. Going to use it in kitchen, too
June 30, 2014
Rated

5

out of

5
 by
lindyhopperj
Great
Easy to install. Love the multiple possibilities for hook accessories. We used this in our laundry room to hold our step stool, brooms, and mops.
March 23, 2014
Rated

4

out of

5
 by
HippoToo
Versatile and sturdy
This product can be used as an addition to an existing Elfa setup or it can be used as a stand alone item
February 16, 2014
Rated

5

out of

5
 by
junglejim
Works very well
The rack is strong and the multiple types of brackets makes nice custom systems.
April 15, 2013
Rated

5

out of

5
 by
ElfaNewbie
Most versatile system
This system is extremely versatile. It can be rearranged and additions can be made as needed. Would highly recommend. If you take your garage measurements and a list of items that you need to organize to the Container Store, one of their helpful staff members will draw out plans and help you with you storage system. They will ensure that you receive all of the items you need from mounting screws to the holder for your rake.
March 18, 2013
Rated

5

out of

5
 by
mbat
Works great in garage
Holds bikes & tools equally well without the need to bolt into wall, so you can re-configure as things in garage change. Great for creating space to open car doors, as all hangs flat against wall.
March 18, 2013
Rated

5

out of

5
 by
Karew
Elfa Utility Track is Best Purchase Ever
This is a very versatile track system. We invested in an expensive set of cookware ( All Clad LTD)and I was hesitant to put in drawers or shelves where they could get scratched. Since our kitchen is stainless and black and our pots and pans are stainless with black , we decided to use them as pieces of art and display them. Using the Utility Track in white, we attached the brackets and hung up the pots and pans. Much better than the usual peg board and they look great!!!
March 8, 2013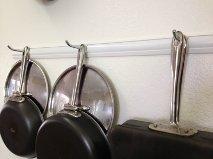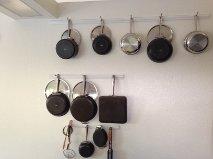 Rated

1

out of

5
 by
RoverRoss
Great Concept; Failed Execution
I had high expectations when I purchased ~$300 worth of Elfa organizational accessories for my garage, but after 6 months of use- I'm pulling it off. Two major design flaws keep this system from being an ideal organizational product for the garage- limited track bar mounting options, and poor accessory hinge durability. The track bar itself is a well made piece- it's construction is solid with a durable coating. However, there are limited mounting options due to single, standard stud spaced screw holes. There is no doubt that Elfa had aesthetics on the mind with this decision, but the single mounting holes are not strong enough to securely fasten the track to the wall studs. The weight from a small ladder and a leaf blower are enough to overwhelm the track bar, causing the top of it to pry away from the wall, and pull out over time. There should be two mounting holes per stud! The hole spacing is ideal for a conventional stud layout, but as seen in a previous review- this can be a severe limitation if a stud anomaly exists. A better option would be to have additional mounting holes placed to the left and right of the standard, for flexible mounting options. The Elfa Accessories are cheaply manufactured. The concepts are terrific, and they are beautifully designed, but the quality is unforgivable. I purchased a wide array of them to meet the needs of my garage, and I've had ~40% of them break over the past few months. The mounting brackets that connect the accessory to the track bar are ALL made of cheap plastic- doesn't matter if it's the "Utility Lawn Equipment" accessory, or the small "Tool Holder"; the same bracket is used. The plastic brackets have been broken from very light use, and this is the case for both heavy items and light items alike; it's not a design flaw- it's a quality flaw. For these reasons, I cannot recommend the Elfa track mount system for purchase.
August 17, 2012
Rated

4

out of

5
 by
KJH1
Cool, but first know how it works on Open Studs
If you're installing this on open studs (like in your garage), read this first. I got a handful of these tracks along with the Track Fittings (part # 10047359) so that I could hang these on standards that I mounted directly on open studs in my garage. I discovered to my great disappointment that when you add the Track Fittings, the track itself is recessed too far and if there's a stud in between your 2 standards, it won't fit/work. You should be able to see this in the photo where I just used a wood screw to attach the track directly to the middle stud. Unfortunately, with just 1 screw, it's not strong enough to hold up some of the heavier tools I want to hang and it swivels a bit. I'm now tempted to chisel out enough wood from my studs to accommodate the track...
August 3, 2012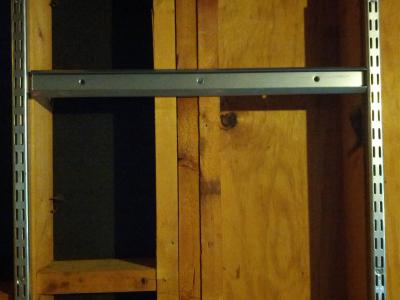 Rated

5

out of

5
 by
Verified Reviewer
Makes Organization SOOO Easy!
Our garage was more of a storage room than a garage. The floor was completely covered with "stuff" except for a path from the door to the house. We could never find or get to anything you normally use in a garage. We had the Elfa system installed from floor to ceiling on all three walls of the garage... even over the windows. We put in several areas of utility track with every kind of hook Elfa offers. We have a track holding barbecue equipment, another holding the lawn tools including the blower and weed eater, another holding the garden tools, one holding the 8' ladder and another two holding the 12' foot ladder horizontally under the shelves, one housing the power tools, another holding the lawn chairs, another with the brooms and dustpans. There was some space left at the end of the 12' ladder... so we installed another utility track and put short, hand-held garden tools on it. That's the beauty of Elfa. You can use every square inch of your wall for storage. There is so much versatility and so many options with Elfa components. It truly is the best system ever!!
April 24, 2012
Rated

5

out of

5
 by
Shollis55
Great product
this track is strong and easy to use. The hooks snap in and are very secure.
March 19, 2012
Rated

5

out of

5
 by
BrettT
Great for garden accessories
I used this to create a second level of hang track to hang tools and other small items. Installation could not have been easier and the flexibility to move the item was such a plus
March 4, 2012
Rated

5

out of

5
 by
Ryan
Just right for small laundry room
As described, the elfa utility track fits between two elfa standards or in a tight space like our laundry room. Be aware that you can hang the elfa utility hooks on the longer easy hang top tracks as well.
February 24, 2012