Rated

5

out of

5
 by
RSB56
Anchors Away
I got an email from The Container Store asking me to write a review for these wall anchors. Really? A review for wall anchors? I mean, they either work or they don't -- what's to say? These worked. God, I would hope so -- that's what they're designed to do. But I'm writing the review anyway because I continue to be so pleased and impressed with the Elfa components we've purchased and the service I've received from The Container Store in designing my closets and coming up with great solutions. Six years down the road they still had my original plans on file and were able to help me with modifications when I moved and took my Elfa closets with them. So let's hear it for the wall anchors!
June 16, 2014
Rated

5

out of

5
 by
stewartdee
Best Anchors on the Market
As a professional organizer, I use these whenever I install Elfa shelving. I also use them any other time I need an anchor. I've never had an issue or problem and never had one come out.
April 19, 2014
Rated

5

out of

5
 by
David2014
Shockingly sturdy drywall anchors
These anchors are impressive: I have a couple hundred pounds of books and rolls of photographic paper for my office that is all supported by an Elfa track that hit only one stud and the other eight spots are all Elfa anchors. My walls are 5/8" drywall, so I cannot speak to the reviewers with negative experiences in plaster. For drywall, I have faith that these are just as good as having hit a stud. You need to have a 3/8" drill bit, and sometimes the hole needs to be rounded out a bit more. I simply used a hammer instead of the advised plastic mallet to tap the anchor into the hole. My theory being that gentle taps of a hammer are essentially equivalent: I think Elfa was convinced people would really "swing" a hammer and do more damage than good, hence the suggestion for a mallet. Your mileage may vary. I will say that the only real negative is that each anchor does take a while to install if done according to the directions: I start each one with an electric screwdriver and then switch to a hand screwdriver....but I feel like I am turning and turning for an eternity. Finally, just when my hand starts to give out, the screw won't turn any more (voila, the anchor is in place.) I suppose I am just superstitious enough about their directions that I have not chanced going further with the electric screwdriver. I have found that these are useful anchors to have on hand for other projects. When placing a 60" television on the wall (80 pounds), the bracket hit two studs: one on the extreme left end, one in the center. I wanted something to support the rightmost end of the bracket, so I popped in an Elfa anchor. The TV is still on the wall!
April 15, 2014
Rated

1

out of

5
 by
ElfaAddict321
My worst fears came true
I purchased this product even after reading a few of the negative reviews about how fragile the plastic anchors are and how giant the holes have to be. Turns out, they were definitely right. 3/8 drill bit wasn't big enough, so we tried to round the holes out a little more. Worked for a couple holes, but the last hole ended up being too big and the screw spun freely. We destroyed several of the plastic achors by testing to see if the holes were finally big enough. Now I am afraid to try backing them all out to fix the final hole that needs to be redone. The worst part was how fragile the achors were. Even with soft drywall and gentle tapping, they would not go in without breaking and twisting too soon. Not a quality product. Now we have an unfinished project, lots of big holes in the wall, and we will need to look for a different set of plastic anchors from another company. If we ever needed to paint this room, we would probably have to redo the shelf completely because the achors won't withstand backing the screws out and screwing them back in again. Once this shelf is up, it better be up forever. Very disappointing.
March 20, 2016
Rated

1

out of

5
 by
WorkAtHomeMom99
Not easy to install
Bought these to go with my Elfa office solution, which I love, but they were not easy to use - my wall is drywall to brick. Ended up going to the hardware store and getting a different anchor.
April 21, 2014
Rated

5

out of

5
 by
1csj
Best Invention!
Holy cow! Where the heck have I been? Where the heck have these wall anchors been? This product made the job super simple! So, you drill the hole in the wall using the small drill bit. If it hit a stud, great, you are good. If it didn't, use these wall anchors, and feel just as secure and confidant about the job! Amazing! you WILL use these for other projects -whether Container Store related, or not! If I can do it - ANYONE can! Container Store is my new favorite place to shop!
April 1, 2014
Rated

1

out of

5
 by
brandismom
pretty whimpy
We have a 100 year old home with 100 year old plaster walls. The grittier, hairier interior texture of these walls simply tear up these anchors
March 23, 2014
Rated

5

out of

5
 by
lindyhopperj
Work so far
These were pretty easy to install once we got the hole size large enough. I'd never seen an anchor like this before--very unique design. So far, the shelf seems to be holding up well. Time will tell how well the anchors hold. One thing that was curious was that after tightening to a certain point, the screw just appeared to spin freely after that. The top track seemed like it was well secured, though. Maybe that's just the nature of the design.
March 23, 2014
Rated

4

out of

5
 by
FamilyOfFour
Good quality anchors
Overall, these are worth the price just knowing that you have them when you go to do this project. Good quality.
March 15, 2014
Rated

5

out of

5
 by
OrganizationByVal
Drywall screws
These worked great because the installer used them with no problem. I recommend using Container store's installation service because they are experienced and have the right equipment to install the Elfa systems.
March 13, 2014
Rated

5

out of

5
 by
CarpMaster2
Quality and good engineering
I have installed several brands of shelving/closet systems over the past several years. Elfa is by far the best, especially for a nice, finished look. The quality of the materials and excellent quality control make the installation smooth and straightforward. The Container Store staff is second to none! Their knowledge and expertise is demonstrated from the design to packaging the products after checkout. They are always so patient with us when entering and editing a design!
March 6, 2014
Rated

1

out of

5
 by
rcoryw
Terrible Product
I have used every kind of drywall anchor available and never found one so difficult to use/install. I tried several times to get this unit to "set" and eventually it broke and I reverted back to standard toggle bolt anchors.
February 26, 2014
Rated

5

out of

5
 by
shelbo
elfa drywall & plaster anchors
I have used elfa drywall and plaster anchors before and find they are strong, reliable and easy to install. I would recommend these to anyone looking for a strong and secure way of hanging shelves. Enjoy!!!
February 22, 2014
Rated

5

out of

5
 by
McLean
Love these anchors!
The Elfa Drywall & Plaster Anchors are an exceptional product. They work wonderfully in an Elfa system, of course, but we have also used them for a variety of other projects -- such as hanging curtain rods. We keep several on hand and are always glad that we do.
February 18, 2014
Rated

5

out of

5
 by
mrueschman
Solid Anchors
As an aspiring DIYer, I have found these drywall/plaster anchors to be extremely helpful and easy to use in my elfa installations and other non-elfa projects. The installation is straightforward enough and they seem to provide a great foothold in the wall.
February 18, 2014
Rated

1

out of

5
 by
Will3
Very difficult to install.
3/8 bit too small. Broke all five trying to hammer in despite trying to enlargen hole. 10mm is needed I guess. Very frustrating.
October 18, 2013
Rated

4

out of

5
 by
dbak94
Seriously heavy duty drywall anchors
I installed some fixed elfa standards for shelves with some of these anchors. I filled the shelves with heavy reference books and, they held up perfectly. The only problem I had with these anchors was when I tried removing them - some of them would absolutely not come out of my plaster walls.
April 11, 2013
Rated

5

out of

5
 by
windprince
Sturdiest anchors I have EVER used
These things could probably hold a tank to the wall. They are VERY well designed and work perfectly!
March 18, 2013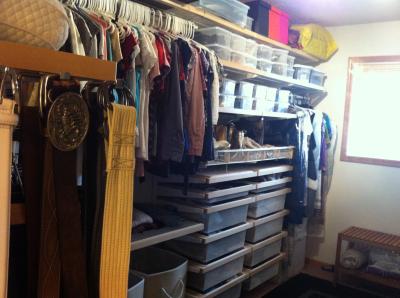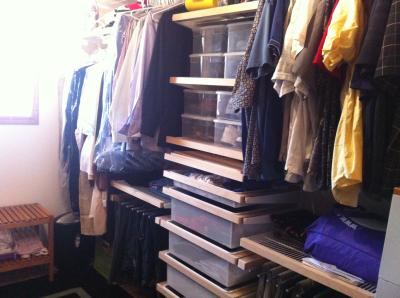 Rated

5

out of

5
 by
WeDIY
Good hardware for the job
Have installed 6 Elfa systems and count on the mounting hardware to be solid. These anchors really do the job. Highly recommend following the directions, having correct drill bit size and a good power drill/driver. I set the drill driver tension to "3" (low) on my Dewalt cordless driver to avoid over-tightening or stripping the anchor.
March 1, 2013
Rated

4

out of

5
 by
ankurbs
Good anchors with one flaw
We just bought our first elfa system for our nursery and I consider myself a do-it-your self type of person, so I was confident I could handle installing this entire system after reading all the directions and watching all the videos. Measuring the location of the holes was easy enough and drilling the holes a bit larger did make getting these anchors into the walls much easier as I did feel hammering them into the wall would break them, however, when it came time to tightening them up, that is where the trouble started. The directions say to use a power screw driver for 20 seconds and it should start getting tight. For the first one, it did, however, as I did the next 6, i could barely get 10 seconds in when the anchor and bolt would start popping out of the hole. it was almost like the bolt was not catching in the anchor even though i initially started tightening the anchor with a hand screw driver. in just about every case, I had to hand tighten all 6 of the remaining anchors. These anchors do work and i am very confident they will hold up my system quite well, but I have never had such a difficult time getting the bolt started and finished.
September 10, 2012
Rated

5

out of

5
 by
CoffeeAndElfa
Great sheetrock anchors
I became acquainted with the elfa drywall anchors when I installed elfa shelving in our home office. They work so well that now I use the elfa anchors whenever I need a good anchor to be used in a sheetrock wall for any purpose. Don't waste time with the cylindrical metal wall anchors that you can get in a hardware store, just use these elfa wall anchors instead. They are much less likely to turn and damage the sheetrock when you are 'setting' the anchor.
August 11, 2012
Rated

5

out of

5
 by
jopritch
Do Their Job Well
These do their job as described. They seem to be a very solid hold, and were easy to install.
April 27, 2012
Rated

5

out of

5
 by
SusyQ
Great Anchors
I have thick plaster with drywall on top, and usually have trouble mounting things. These were a breeze to install and don't even appear to budge! A great, solid product! Leave the mollies at the hardware store.
March 19, 2012
Rated

5

out of

5
 by
BrettT
Great improvement to good anchors
I have used this product for 5 years now and love it. It says to drill with a 3/8" drill bit, and the bolt is actually a tad bit larger. I use the drill bit generously and it slips right in. Better to be tight then loose, so I do not consider this a negative. The anchors seem different than prior years and feel better than the old ones. I had both for my last project so I was able to compare them non scientifically.
March 4, 2012
Rated

4

out of

5
 by
Guenthecat
Excellent, but needed a tweak
I have thick drywall where I installed my Elfa system, but it is also Notorious for breaking down and dropping wall shelves onto the floor. These anchors fix that problem. However, please note that the recommendation of using a 3/4 drill bit for the holes is a little off. The anchors don't quite fit with that bit. I hammered away at them to see if they'd go in, but they just wouldn't. So what I did was set the bit back into the hole and drill while rotating around in a circle to give just a teeny bit more space. The anchors went right in and all was well. Be careful not to make the hole too big. It took some trial and error, but it worked.
February 27, 2012
Rated

4

out of

5
 by
AJCola
Drywalll anchors
Pretty good little anchors, if you can get them into the wall. Had to re-drill the hole several times. They are a bit flimsy and would bend or break when hammering in. Yes I used the recommended drill bit size. Once in though, they seem to do their job fairly well. I purchased more than I actually needed so I had enough even though a few broke.
January 17, 2012