Rated

5

out of

5
 by
justwhelmed2
great elfa hooks
purchased a few packs after elfa system was installed. these will never fall off because they click into place.
December 13, 2016
Rated

5

out of

5
 by
gramatana
SUPER Hooks
These hooks are the best! They clip on & off easily and work on either the front or back of the shelf. Thin items like belts & scarves can hang behind clothes hangers at the back of the shelf. Hooks on the front of the shelf can hold bulkier items and will even hold a couple hangers. I hang my "already been worn" jeans on one-the curve on the front of the hook keeps pants from slipping off. No more clothes slipping to the floor! I have several clips at the back of my laundry shelves to hold small cleaning brushes, etc. Everything is tidy and easily reached.
March 1, 2012
Rated

5

out of

5
 by
Parrotopia
gotta have them
These hooks are great! I have them throughout my shelving. I hang utelsils, pots, towels to dry and they are even handy to hang coats on.
May 17, 2010
Rated

5

out of

5
 by
Lenna
So handy!
These hooks are such a clever invention! After purchasing one pack of 3 and discovering so many more places that they'd be so handy, I've gotten several more packs. I use one for each family member's robe in closets, one or two on closet shelves to hold the "wear this outfit today" items (great for kids to pick clothes the night before!), and several in the laundry room to hang drip-dry items. Can't wait to update the hall coat closet or mudroom to corral jackets and schoolbags! I especially like that I can move the placement of these hooks whenever my needs change.
February 25, 2016
Rated

3

out of

5
 by
KeyLimePie
Good idea that could be so much better
Handy hooks to hang at the back of your ventilated elfa shelves behind your hanging clothes in order to store a few belts, necklaces or wristlets in wasted space. They click onto shelves securely. However the hook part itself is very shallow! Thus you can only reliably hang two belts per hook, before they tend to fall off. I can't imagine why they didn't make the hooks curve up further so you could stack more items per hook.
May 19, 2015
Rated

4

out of

5
 by
MISSCHARM
GREAT HELP AFTER FULL INSTALL
Hooks work well and are easy to place in small wasted space to make it usable. Just think they are a little over priced compared to the rest of the components
July 12, 2014
Rated

5

out of

5
 by
Ilovebeingamama
Awesome accompaniment to elfa Door & Wall Racks!
We have elfa Door & Wall Racks in both of our linen closets. I didn't want to use up valuable basket space but needed a place to hang extra bath poufies (net sponges used for bathing). Found these awesome hooks and they are perfect! You can easily move them around as needed. I think I'll buy more for the elfa door & wall rack in our daughter's closet. She can hang belts, hats or pocketbooks on them! Perfection!
April 29, 2014
Rated

5

out of

5
 by
queenofelfa
Very handy!!
Love these. Not only do they hook perfectly on elfa ventilated shelving, but also on the door rack systems' baskets. In my utility closet I hung some from the bottom of the basket and then hung dusters and a hand broom from them. In my pantry I hung my apron from one. In the master closet I have one next to the valet rod so that I can hang a belt or necklace that will go with the planned outfit. I even used one to hang from a basket in my corner pole shelves in the shower, so I'd have somewhere to hang the back brush.
April 12, 2014
Rated

5

out of

5
 by
NS01
so versatile, so useful!
I bought these to use on the elfa that I put in my laundry closet so that I will have a place to hang clothes as I take them out of the dryer. I am finding hundreds of other uses for them not just here but in all my closets.
March 23, 2014
Rated

5

out of

5
 by
txfdlr2b
Sturdy and useful!
We've had Elfa for many years and these hooks are constantly in use for different purposes! I love that they are sturdy enough for heavy coats and robes, but low profile and easy to move from place to place. Add one near your shoes to hang a shoe-horn for easy access! They're also great for hanging belts, purses, hats, scarves, and jewelry. In the garage, use for hanging gardening tools. In the craft room, put 2 or more in a row, and set a dowel across them for holding ribbon spools.
March 11, 2014
Rated

5

out of

5
 by
StorageSolutions
Shelf Hooks
Very useful. Can only be used on the front of the wire shelf or baskets.
March 8, 2014
Rated

4

out of

5
 by
MOmelanuk
Its a Hook
We have an elfa shelf system that we like very much. We needed a few more hooks. This is the hooks for the system - they work. Container Store wanted a a review. This is it. Merry Christmas!
December 12, 2013
Rated

5

out of

5
 by
Curiouscattts
Problem solver
I used these hooks to hang baskets in my closet. But the best use was to hold back the cord to my rechargeable hand vac. I keep it plugged and ready in my closet, but the cord was always getting tangled around clothes. This little hook solved the problem.
November 5, 2013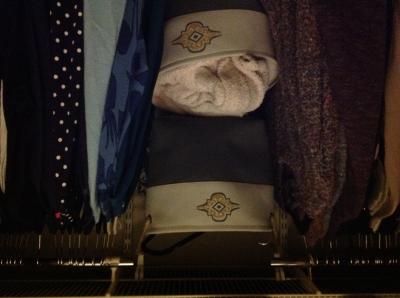 Rated

5

out of

5
 by
WorkinLady
Love these hooks
I use these on my elfa shelves in my garage. I probably have at least 10 by now. They hold all of my lighter weight items: dog leashes, cat carriers, sun hat, dog crate, & garden tools. (Vs. the heavier weight items like the extension cords that require a different elfa hook thing.)
June 21, 2013
Rated

5

out of

5
 by
SDMom
GREAT addition to any elfa system
LOVE these - I can't seem to get enough of them. They've been a great addition to my garage elfa system...they hold backpacks, rollerskates, helmuts, etc. The possibilities are endless.
March 25, 2013
Rated

4

out of

5
 by
ShelvingNewbie
Best hooks added to my Elfa system
Picked up these hooks for my sons' new Elfa closets - perfect for hanging up their robes, hoodies, or fleece. Love that they can be moved around to fit bulky or light items.
March 18, 2013
Rated

5

out of

5
 by
mrprtt
Great addition to elfa shelves
We redid our closets with elfa shelving and love it! My husband had some hooks he liked to use but they were sacrificed in the renovation. We found these and they are perfect to slip over the fronts of the shelves. He can hang his clothes on hooks again and he can move the hooks around to wherever he wants them.
February 19, 2013
Rated

5

out of

5
 by
NeatNicole
Handy for a variety of uses
I love these little hooks as much I love the whole Elfa system. I use them in my coat closet for scarves. In my laundry room I have a high 5 ft by 12 inch shelf about 16 inches from the ceiling. I use the shelf for bins containing indoor garden supplies, disposable dinnerware and water bottles/thermos. I use these hooks under the high shelf to hold a canvas hanging hamper (for rags) and a large reusable bag holding other reusable bags. I hate items on the floor and these hooks were a budget friendly way to keep my floors tidy and less holes out of my walls. Invest in Elfa.... it's a wonderful and well made product.
February 19, 2013
Rated

5

out of

5
 by
Whittyone13
Great Solution
This is a great solution for a belt rack in a small closet. Attaches directly to the shelving unit so there are no holes to drill in the wall and it has a lot of hooks so it holds a lot of belts. I really like it.
January 31, 2013
Rated

5

out of

5
 by
SteveH
The tool for the job when you need them
When you need these you need them. These things work great on Elfa shelves, of course, and they are very versatile. I hang clothes, tools, work bags, and any number of things. Great product but pricey for the quantity you will want/need
September 26, 2012
Rated

5

out of

5
 by
Honeydoer
Good Product
Great quality, strong, easy, flexible installation options.
July 16, 2012
Rated

5

out of

5
 by
KJH1
Functional, useful
Nice accessory, good value. It can be moved around easily as you change your mind. One warning - you can't place it on the front of a shelf if you're also going to install decor fascia as well. The fascia snaps onto the shelf too snugly and there is not enough room for this hook to sit under it.
April 7, 2012
Rated

5

out of

5
 by
onelilypad
Great for way to hang your clothes while you're trying to put together your outfit. I also use it to hang the few belts I have without hammering.
March 27, 2012
Rated

3

out of

5
 by
Andree
Could be a little bigger in the hook part
I love these, but if the hook were a little deeper/wider it could hold a couple totes/purses instead of just one (anything with a wide handle will barely fit on the hook). Even better would be if there were two hooks, one on each side. That said, they definitely help with the organizing.
March 20, 2012
Rated

5

out of

5
 by
SusyQ
Great hooks
Great hooks for belts, purses, and other stuff. If you have an elfa system, these are a MUST have accessory. They snap out easily and can be moved around.
March 19, 2012
Rated

5

out of

5
 by
FeelingOrnery
Great little add-on for Elfa
I bought several of these to clip onto my Elfa shelves in order to hang my handbags. They are sturdy, are easy to clip on and take off if you need to re-arrange them, and they hold the weight of a handbag well. They make seeing my handbags mush easier in my deep closet.
February 15, 2012
Rated

5

out of

5
 by
Elfamaven
Great product
Very easy to attach. Perfect to hang caps & belts. Great to adjust to any place in your elfa closet!
February 15, 2012
Rated

5

out of

5
 by
MNScrapper
Great Accessory
These are great to use with the ventilated shelving. I put them on the top ventilated shelving in my scrapbook room and I hang my scissors, small craft projects, and my Cricut cutting mat on them.
September 11, 2011
Rated

5

out of

5
 by
LFinPescadero
Such a simple thing. Such a big help!
These simple little hooks fit on the front of any Elfa wire shelf and provide additional hanging space for odd items. I use them in my closet to hang a bathrobes, jeans or anything I'm too lazy to put on a hanger. Works great!
February 15, 2011
Rated

5

out of

5
 by
fanofelfa
perfect for hanging kid coats in the mud closet which we set up with Elfa
February 15, 2011