Rated

5

out of

5
 by
TBQuilts
Elfa Closet Components
Best system ever. I've created 10 very involved closets, one garage and one basement workshop. The Container Store brick and mortar and online shopping are both wonderful experiences.
June 23, 2016
Rated

5

out of

5
 by
SGuenther
Closet Rod Holder
Very quick and easy to install. It easily pops into the Elfa shelf arm.
May 6, 2014
Rated

4

out of

5
 by
Titanator
Rod Holder Option
I actually used this directly in the track system and created rods that come out from the wall about 2 inches and used the wasted space behind my closet door to create a Scarf Wall. The rods are pulled into the holders and this allows the closet door to open as the shelf is set above the door.
April 25, 2014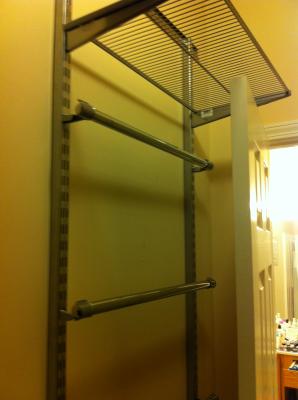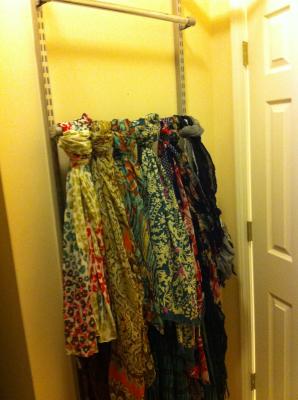 Rated

5

out of

5
 by
Gmaine
Should have purchsed 2 years ago
My new Elfa looks amazing and my Closet Rod Holder's blend in with the decor of the closet and doen't look like ugly hardware.
April 24, 2014
Rated

5

out of

5
 by
LolaAbby
The Container Store is my new best friend!
I actually had TCS design and install a closet system in a small walk in closet and they were phenomenal every step of the way. Designing was fun, quick, easy and totally professional. They delivered right on time and the Installer came the next day. He did a great job! I am thrilled with the final result and the fact that I can change things in it as my needs change. It looks great and the price was incredible. Thrilled, thrilled, thrilled!!
April 7, 2014
Rated

3

out of

5
 by
FamilyOfFour
Closet Rod Holder
These holders do the job, but I do wish they had a "thinner" version so they did not take up that space (the width) of the holder itself on longer shelves.
March 15, 2014
Rated

5

out of

5
 by
haole
I have fine tuned my elfa closet
Baby room took over my closet, so now I have to share with the wife. It's limited space, so I keep fine tuning. Removed a few shelves recently for more hanging space. It is so easy to reconfigure yourself once you are setup. I just measured a custom length, got it cut to fit, and opening the box took longer then setting it all up. My only issue is I'm starting to have lots of left over parts since I keep reconfiguring, but maybe I will save them up for a garage elfa setup?
February 25, 2014
Rated

5

out of

5
 by
Jave
Sturdy Component
This rod holder helps to expand the use of the shelving quite simply and is very sturdy and easy to assemble. Great design concept.
May 4, 2013
Rated

5

out of

5
 by
cdarlingone
Easy to Install
This item is a must for hanger rods, very easy to install as all you have to do is connect it to the Elfa bracket and that's it!
March 27, 2013
Rated

3

out of

5
 by
CuLaytAh
elfa
The product is great and you can add any section you want any time.
March 14, 2013
Rated

5

out of

5
 by
Legolady
Super!
Was ready to install a different system in my closet when I stumbled upon The Container Store while visiting my sister (no stores in my state). While the other components seemed similar to me, this bracket was such better design and quality than the one available for the other system, that I decided to use the Elfa instead. Despite having to order every piece at once and delaying my project due to shipping time, rather than just running down the street for parts, this system was worth the wait! Surprise! - once I received and installed the system, I discovered that all the other parts are better designed and higher quality than what I was originally going to use too!
March 5, 2013
Rated

4

out of

5
 by
ftzdomino
Works well, but they should be shorter
These are very durable and seem to be well made. However, if they were just slightly shorter, you could use them in two shelf supports stacked immediately on top of each other, allowing much more flexibility in configuration.
January 7, 2013
Rated

5

out of

5
 by
MollyGracePhotography
Wonderful!
Super easy to install and use. Elfa is great for that. I can't get enough of it.
April 27, 2012
Rated

5

out of

5
 by
jopritch
Secure Hold
These securely hold the closet rod in place. They don't allow the hangers to glide past (I use Huggable Hangers), but since I only have one in the middle, this is not a big deal for me.
April 25, 2012
Rated

5

out of

5
 by
SusyQ
Sturdy holders
I thought this would be flimsy when installed... not at all, the rod doesn't even budge. Heavy gauge metal. Looks great installed.
March 19, 2012
Rated

5

out of

5
 by
NurseKJ
easy to install, very sturdy
I have installed these in a master closet. I had all hanging and no shelving prior to installing my ELFA closet. I have a lot of clothes, some quite heavy and have had no problems with the hanging system.
February 20, 2012
Rated

5

out of

5
 by
MadtownMom
I was surprised at how easily these hooks are to use. They clip into the elfa shelf bracket easily and the rod clips into the hook nicely. Cool tool.
November 20, 2010
Rated

4

out of

5
 by
gmcb
Elfa closet rod holder
It does its job; however, I have some of the older closet rod holders and prefer those ... the old ones are more narrow, which gives me more room on the rod. Also, though the holders I purchased say that the hangers can slid past them, that's not the case, at least for the hangers I use.
April 30, 2010
Rated

5

out of

5
 by
Knit
Rod Holder
These were very easy to install, I love how the bracket is designed to put them in the middle of the shelf. Very sturdy.
March 21, 2010
Rated

5

out of

5
 by
medoitmyself
great purchase
These rod holders install very easily and are very durable!
March 17, 2010
Rated

5

out of

5
 by
Dawn
Lots of clothes, no problem!
In each of two different closets we have two shelving/hanging organizers because we have a lot of clothes! These rod holders have been able to take everything we could hang from them - with ease!
March 3, 2010