Rated

5

out of

5
 by
Verified Reviewer
Not Just for Ties!
I recently renovated my closet with Elfa. I put 3 of these tie and belt racks in for hanging my jewelry - one for gold tones, one for silver tones, and one for color pieces. Anything on a strand is in a jewelry box, but the pieces on chains are hanging on this gliding rack. It glides out when I need to choose a piece, and stays tucked in out of the way the rest of the time. They are all in plain sight and easy to get to! I highly recommend this for storing jewelry!
April 24, 2012
Rated

5

out of

5
 by
DreaZ
Happy Place
We recently installed the Elfa closet system and added the gliding belt/tie rack! It takes me to my happy place when my husband's ties and belts are hung so nicely and not strewn all over without a home!
January 9, 2017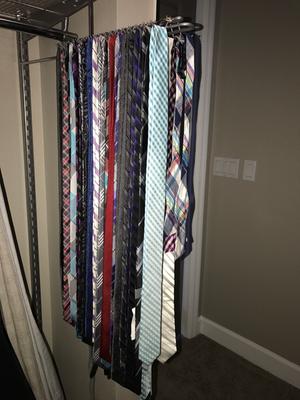 Rated

5

out of

5
 by
kmalexandria
Best. Thing. Ever.
I use this to hang my large assortment of camisoles and tank tops. The camis and tanks take up more space than ties or belts would, but I love being able to pull out the rack and pluck my cami of choice off the rack in a second. That is so much easier than the special camisole hangers I have tried. It also makes putting freshly laundered camis away faster as there is no folding, no messing with multiple hanger hooks, etc. I love it!
January 14, 2016
Rated

4

out of

5
 by
jeweldog
A tie collector's dream!
Great glide-out tie rack...all your ties at your finger-tips. So easy to install!
May 13, 2015
Rated

5

out of

5
 by
Lbcade
Belt rack
Only 5 seconds to install and slides out nicely, a great elfa accessory!
August 9, 2014
Rated

4

out of

5
 by
JNHK
Gliding Tie and Belt Rack
We initially bought this gliding rack to hold both the husband's ties and belts. The rack holds the ties nicely; however, the belts were a little too long and were hitting the shelf underneath. But that was okay, because we ended up buying the 5-hook rack for his belts. We love how smoothly this rack glides out, and it's a lovely addition to our elfa closet. If you would like to use this gliding rack to hold both your ties and belts, I would recommend placing it in the "long hang" area of your closet, so the belts won't hit a lower shelf.
April 30, 2014
Rated

5

out of

5
 by
queenofelfa
oooooh, hubby is happy
These are just great. Ties and belts fit well and the pull-out feature makes it so convenient. I was concerned about the amount of hanging space it would use up, but my husband said it's well worth it.
April 12, 2014
Rated

5

out of

5
 by
Boosh
Great For My Wife's Jewelry
I purchased one of these for my ties, my wife needed something for her jewelry though. I read a review on here that said she put her necklaces on one of these. Great idea!
March 30, 2014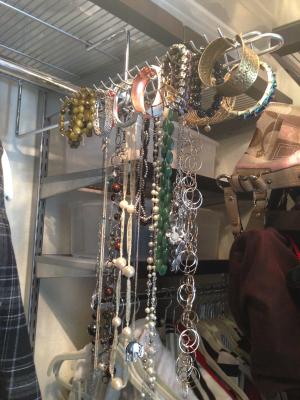 Rated

5

out of

5
 by
AlmostThere
He loves it!!
Recently my BF moved in with me. Combining 2 households is hard enough but added with the fact that my house is small with little storage...well, let's just say it was a huge challenge! I got an ELFA closet makeover for my master closet. This tie/belt rack was an afterthought but it was something he really needed. He's happy, I'm happy...that's all that matters!!
March 18, 2014
Rated

5

out of

5
 by
Natt
Bought two!
My boyfriend loves his first tie rack. I bought him another one. If his tie collection grows, we will add these to our Elfa system.
March 17, 2014
Rated

5

out of

5
 by
MBarnes
I do not wear Ties
So I am a female with a fun jewels collection. This tie & belt rack is GREAT for necklaces!!!!
March 5, 2014
Rated

4

out of

5
 by
Daz725
Very nice, but could use additional configurations
This is a very handy component of the elfa system. It holds a lot of ties and is not obtrusive like other tie storage options. However, it only comes in one configuration - for a 16" shelf. Because we chose to go with 12" shelves on higher levels for ease of access, we had to move the tie rack down from its planned location to a lower 16" shelf intended for pants. Not a big deal, but it would have been nice to the option of a 12" version.
March 5, 2014
Rated

4

out of

5
 by
daisygirl5
Great solution
This tie rack replaced a bulky, motorized one that didn't work very well, was noisy and required 4 D batteries. This works well, holds all of my husband's ties, has a low profile, is quiet to boot and integrates with our existing elfa closet system.
February 23, 2014
Rated

5

out of

5
 by
organizedoldhouse
From ties to necklaces
After my husbands job went to business casual he didn't have a need for his Elfa tie rack. i quickly took it over and found it to be a great place to hang long necklaces. I love it. it pulls out for easy viewing and keeps my necklaces well organized.
February 22, 2014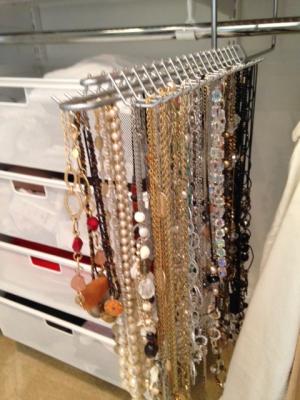 Rated

5

out of

5
 by
Elfbuddy
Ties and more ties
Works like a champ and took about 20 seconds to install. Buy two or double your ties on each rung. Easy to manage your wearing cycle.
February 14, 2014
Rated

5

out of

5
 by
DETD
Love the Gliding Tie/Belt Rack
It's all the little components that make me love the Elfa system so much. The Gliding Tie/Belt Rack is fabulous and one of our favorite components! We've used ours just for belts. It makes getting to your belts so easy and aids in keeping them organized!
February 12, 2014
Rated

5

out of

5
 by
NMSC
Keeps Ties Easily Accessible
I got this for my husband as we already had the ELFA system in our closet. He was using one of those hangers that you can put a lot of ties on and this is infinitely better. It pulls out so you can see every tie that you have. It keeps them in good order, which is nice because you don't want expensive ties getting ruined.
April 13, 2013
Rated

5

out of

5
 by
ChipStone
Neat and Practical
Purchased the gliding belt rack to organize belts. It is awesome! Much better than the coat hanger I was using. Neat, tidy, stores out of the way but easily accessible. A must have for anyone's clothes closet!
March 28, 2013
Rated

2

out of

5
 by
wshaas
Great Component - Size Options Needed
This is a great potential component to an elfa closet, however, it should not be limited to 16" ventilated shelving. A 12" option would be ideal.
March 24, 2013
Rated

4

out of

5
 by
windprince
Great product idea, but a little sticky movement
I was able to take ALL my ties from the ONE hanger they were on and give each a nice new home :-) The rack works great, but it sticks sometimes and the motion isn't smooth.
March 18, 2013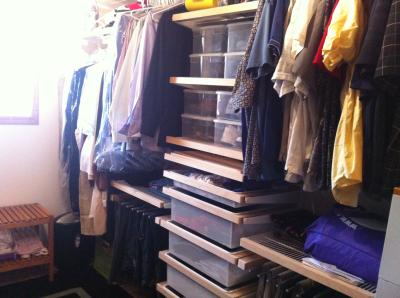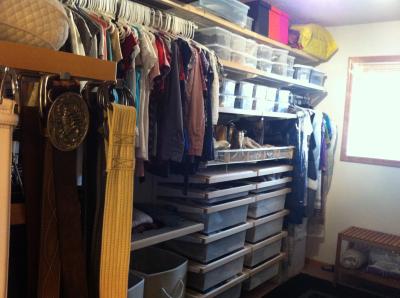 Rated

5

out of

5
 by
Grma
Much better than I expected
I wanted to buy my husband something to get him started on organizing his side of the closet. WHAT A GREAT CHOICE! Not only does he LOVE the tie rack, but he wanted the rest of the closet just as organized. WIN WIN FOR EVERYONE!
March 7, 2013
Rated

4

out of

5
 by
ibex
other uses
I bought this for my belts. 36 hooks is more than enough. I ended up buying 2 more. One for all my slips short and long. One for all my tanks. Its so much easier to find what I am looking for instead of a messy drawer.
February 27, 2013
Rated

5

out of

5
 by
OrganizedMom13
Best tie solution ever
My husband's ties and belts were always falling all over the closet. While I wasn't sure I wanted to spend this much on a tie rack - after installing it - it is definitely worth it. The ties stay secure, and there is plenty of room for all his ties and belts.
February 19, 2013
Rated

5

out of

5
 by
RainMaker
Best Tie Rack Ever
Ties are always difficult to store in an accessible organized way. This is the first tie rack that I've every had that actually works. It takes minimal space and slides out for easy access. The slide mechanism is of high quality and the spacing of the tie spikes is perfect to hold the maximum number of ties in the smallest space. Installation is extremely simple but you do have to have elfa shelving. I now have two.
September 10, 2012
Rated

5

out of

5
 by
brownthunder
Great accessory to arrange your ties and belts.holds a lot. love the telescopic feature which believe is key to preventing a mess. The only con is these come only for the 16⿝ shelves, i wish they would make one for the 12⿝ shelves as well.
July 17, 2012
Rated

5

out of

5
 by
CTmiami
Perfect accessory
I am so happy my husband's ties are finally all in one place and not falling every time he picks one. he is very happy about it too!
April 28, 2012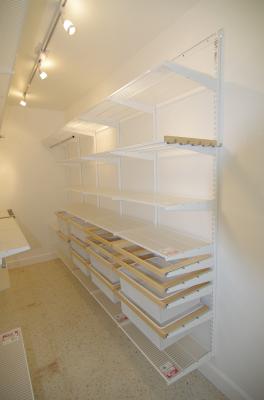 Rated

5

out of

5
 by
angelp
Tons of storage
My husband loves this tie rack. He was able to fit all of his ties on it easily and since it slides in and out he is able to hide his ties away so that they do not have to always be on display.
April 16, 2012
Rated

5

out of

5
 by
Yogaracer
Easy to Access, Easy to Organize
I bought this for my new closet system and it is great. Before I had my ties on a rack on a wall away from my closet. The old rack did not hold all my ties and it was out in plain sight. This rack keeps my ties straight and in the closet.
February 26, 2012
Rated

5

out of

5
 by
STLfamily
GREAT tie rack - nothing falls off!
Easy to install! Ties and belts hang well! Recommend!
February 24, 2012
Rated

5

out of

5
 by
Ninjinsky
Enormous number of ties stored in compact space
This little gliding rack will easily accommodate your entire collection of ties. It can be installed pretty much anywhere on a ventilated shelf including shelves with hanging rods attached. It glides smoothly under the rod (if you have any) and it is super easy to install.
February 22, 2012