Rated

5

out of

5
 by
WishIwasMoreOrganized
Smooth Closet Rods
These rods are smooth, won't catch your clothes. I needed them cut to 28 inches and people in the store did that while I waited, excellent service.
June 29, 2014
Rated

5

out of

5
 by
Dawn
no noise!
As long as we've had our shelving, we have noticed no bowing or signs of compromise. There is also none of that awful noise sometimes created while moving hangers around.
March 3, 2010
Rated

5

out of

5
 by
SLewis
I Love the whole elfa system, it's easy to set up and you can interchange the parts.
September 25, 2016
Rated

1

out of

5
 by
gp22
49.1 inches!!
Note that this closet rod is not actually four feet, which would be 48 inches. It is 49 1/8 inch for some reason. Be sure you measure carefully and measure each item!!!
August 28, 2015
Rated

5

out of

5
 by
Wingcruzin
Excellent product
This pole has a nice chrome finish and is very sturdy.
January 9, 2015
Rated

3

out of

5
 by
gogreen12
Good but....
The closet rods are strong and fit the rod brackets perfectly. BUT...they are never longer than 4 feet. So if you have a closet with walls not in 4 foot increments, you have a problem. Since the rod brackets do not allow hangers to slide past them, just putting sections together do not work smoothly.
March 24, 2014
Rated

5

out of

5
 by
FamilyOfFour
Love my new Elfa closet system
Rating the platinum closet rods - these rods (with the end caps) are fantastic rods compared to what I had previously in my closet. The hangars move easily across them. Great quality.
March 15, 2014
Rated

5

out of

5
 by
gramatana
Great Quality
These closet rods are strong and really smooth, allowing all types of hangers to glide easily. The end caps give a nice clean finish. They work well in the laundry as a "drying rod" for placemats and other such items when there isn't ample flat surface for drying. The rod is large enough in diameter to not leave a crease in the piece being dried.
March 7, 2014
Rated

5

out of

5
 by
Hangingez
Elfa is (Pretty) easy to hang with!
We are just finishing 5 closets! We had a pro hang the top racks but completed the rest...ourselves. Best tip is to install the shelves on the top first , work top down and really watch your spacing. If you are adding fascia, they can be great spacers. Measure every time as hang standards can shift. We easily cut shelves with short metal blades, be super careful! Results are more than we ever expected! We are extremely pleased with the results and love the Container Store's staff for all their assistance!
February 17, 2014
Rated

5

out of

5
 by
LMD1
Excellent!
These are the best rods, they don't dent or scratch and never need cleaning to sparkle in your closet and make your hangers look clean and professional!
April 17, 2013
Rated

5

out of

5
 by
angkatbolt
Smooth gliding. My hangers never get stuck. This was a great solution in my closet!
April 3, 2013
Rated

5

out of

5
 by
cdarlingone
Love these rods
I bought this hanger rods and found them very useful.
March 27, 2013
Rated

5

out of

5
 by
tj2012
love my closet, but....
i recently did my walk-in closet in platinum elfa. i love it. the components were extremely easy to install and are extremely durable. the only issue i had with the elfa components was with the 2 ft closet rods. they are shown on the website as 2 ft rods without any additional measurements. i needed one a bit smaller so i ordered a custom cut rod at 23 inches. it was too short. the 2 ft closet rods are actually 25 inches. the container store is a great company, but they should put exact measurements on their items. they did send me a replacement 2 ft rod, custom cut to 24 inches.
November 23, 2012
Rated

5

out of

5
 by
jopritch
Hangers Slide Easily
Hangers slide easily across this closet rod. Looks sleek, too.
April 27, 2012
Rated

5

out of

5
 by
MollyGracePhotography
I love Elfa!
We use Elfa shelving in our home office closet. I am a photographer and use the closet rod to hold the tissue paper we use for packaging. It keeps the paper from getting wrinkled and makes it easy to grab a sheet or two. Elfa shelving is great. I'd love to put it in every room of my house.
April 27, 2012
Rated

4

out of

5
 by
amuhlou82
Not just for closets
This item, along with rod holder brackets were a finishing touch to my recent kitchen upgrade. I used the bar as a paper towel holder , custom cut to the same specifications as our ventilated shelves. It has been fun creating a custom solution that fits our space needs perfectly.
March 30, 2012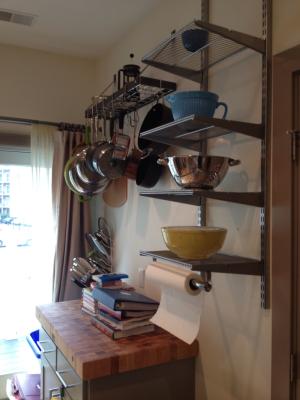 Rated

5

out of

5
 by
SusyQ
Nice quality
Great rod compared to many other brands. Very strong, yet can be cut with a metal hack saw. Does not appear scratched after a year of use.
March 19, 2012
Rated

5

out of

5
 by
AuntieMaim
Finishing Touch
While the extremely cost-conscious might find these unnecessary, they do give the visible ends of the elfa closet rods a nicely finished look. They're made well and they fit nicely into the closet rods too.
May 2, 2011
Rated

4

out of

5
 by
jlmm
best for laundry room!
bought whole elfa customized system for my laundry room- ilove the additional hanging room & storage it gave me!
December 28, 2010
Rated

5

out of

5
 by
Alexandra
Closet Rods
These are fine; the end caps, not so much, because one is loose in the closet rod, which means that either the end cap was too small or the rod was too big. Quite annoying as the other cap went in with a satisfying snugness. .
December 18, 2010
Rated

5

out of

5
 by
MadtownMom
Sturdy, sylish rod that works perfectly with the elfa closet systems. Hangers slide easily on it.
November 20, 2010
Rated

3

out of

5
 by
handyguy
recommend with reservations
This is the only item that can be used as a closet rod for elfa so by default you have to recommend it for that, but beware of the following gotchas..... I put in 36" shelves and ordered 36" rods. Rods are actually 37" to fit the holders properly when you're installing only ONE 36" section. For a run of two or more sections, the end rods need to be cut down by 3/4" and the middle sections by 1-1/2" for everything to fit properly. This isn't taken into account by their onsite design software. If you're ordering online you are unable to specify partial inch measurements. I had to make return trips with specific instructions to trim. Also note (this is minor) that the labels on these rods leave the most residue of any. Have plenty of goo gone on hand.
September 14, 2010
Rated

5

out of

5
 by
stemathis
LOVE IT!!!
The closet rods are great looking and you can customize the size also!
May 24, 2010
Rated

4

out of

5
 by
CleaningTherapy
Versatile
Great quality, versatility, and sturdy. The store will cut to any requested length.
April 20, 2010
Rated

5

out of

5
 by
KarenP
Looks great and is strong too
I wish I did not wait as long as I did to upgrade the closets two down and two more to go. Container Store here I come.
April 7, 2010
Rated

4

out of

5
 by
freedml
good but tricky
great to be able to put a rod under any shelf. The new holders need the rod 1" longer than before to look right.
April 6, 2010
Rated

5

out of

5
 by
Knit
Closet Rods
I loved the end peices, they just finished off the rod. Very easy to snap in place.
March 21, 2010
Rated

5

out of

5
 by
holliston01746
So Easy to Install
I purchased an elfa system for my tiny bedroom closet. It was incredibly easy to install... that most difficult part of the job was removing the old shelves. Couldn't be happier with this purchase.
March 4, 2010