Rated

5

out of

5
 by
Kelly2016
Multifunctional
Not only do these really help keep the books on the shelf, but I also just bought a couple more so that I can have somewhere to put my katanas. They can hold around 2 or 3 of the swords easy. Gets them off the floor :)
March 18, 2016
Rated

5

out of

5
 by
romille
great for capping end of shelves
I didn't use these as book ends, I got the other solid shelf book end solution for that. These I use to keep things from accidentally sliding off the end of the shelf. They work perfectly and are easy to install. You just squeeze them together, stick the ends in the slots on the standard, and let go.
March 2, 2015
Rated

5

out of

5
 by
Pathe
A real necessity for Elfa Bookshelves
If you own an Elfa shelving system these are very much needed to keep books and the like from falling off the shelf ends. I am very glad that the girl who helped me design my Elfa shelf system thought of this and included them in my order. Can be placed on every vertical standard in an Elfa system to give even more support to books.
July 12, 2014
Rated

5

out of

5
 by
queenofelfa
Genius!
Installed the 10" x 2' shelves in my pantry for cookbooks. These bookends slipped right into the standards at each end so they don't fall off. So easy, so secure. See my pic!
April 12, 2014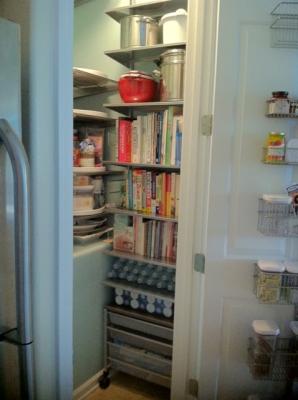 Rated

5

out of

5
 by
Boosh
Great For My Wife's Purses
My wife has a shelf in our elfa closet with her purses on them, I bought these "bookends" to keep her purses on the shelves without falling off. They make shelf dividers for ventilated shelves, but we have the shelf liners; this was the perfect solution to the issue.
March 30, 2014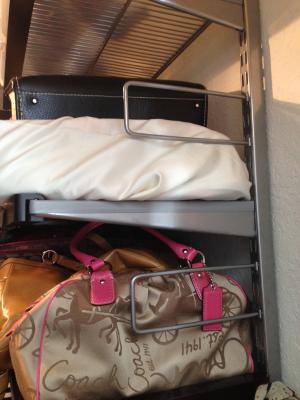 Rated

5

out of

5
 by
msheaf1
Worked great
Worked great and were easy to install. Would use the product again.
February 27, 2014
Rated

4

out of

5
 by
joycez
helpful ends for shelves; quality and good price
These are sturdy and slim and do the job. The items on my shelves no loner slide off the shelves.
January 9, 2014
Rated

5

out of

5
 by
SCNYC
Highly Recommended
What good are shelves without bookends? What I love about this product is its simplicity and sturdiness. Plus they look great, too. A must-have if your shelves hold books.
December 6, 2013
Rated

5

out of

5
 by
fancyskipette
Keep stuff on the shelf, looks good!
I have a standalone elfa closet system with a couple shelves. I also have too many t-shirts -- these bookends keep my piles on the shelf rather than on the floor. Match perfectly with my Platinum Elfa closet.
April 30, 2013
Rated

5

out of

5
 by
Davonia
Perfect
They are low key and don't take up a lot of space, but allow me to fit as many books on my shelves are possible.
April 8, 2013
Rated

5

out of

5
 by
bluemountainmama
A usefu addition to your Elfa bookshelves
We use these as bookends on our Elfa shelves. They are great for holding up books and DVDs. I like that you can adjust the height. I like to have them wherever there is a hanging standard.
March 19, 2013
Rated

5

out of

5
 by
SouthernCook
A must have to allow use of entire shelf
I love that these bookends allow use of the entire width of solid shelving without fear of books falling off of the ends. Easy to install.
March 8, 2013
Rated

5

out of

5
 by
olga0adriana
Great Solution
Great solution to keep books in place and give the shelving finished look.
March 3, 2013
Rated

5

out of

5
 by
mkamyl
A necessity!
Like all elfa, so easy to install! Keeps our CDs in place. So glad we tossed these in th order!
February 18, 2013
Rated

5

out of

5
 by
greatspacemaker
Works as advertised
These are easy to use and work great to keep items from falling off the ends of shelves. Love them!
October 27, 2012
Rated

5

out of

5
 by
PeachyDawg
Elfa Clip bookends- winner!
Sleek, easy, effective, reasonable price. Makes the shelf system more finished
September 15, 2012
Rated

5

out of

5
 by
BrettT
Great for non-books
I have used these as bookends, but my favorite usage is on shelves where I might pile items on and want to ensure they do not slip off the end. They are easy to attach, look consisent with the shelves and do the trick.
March 4, 2012
Rated

5

out of

5
 by
Lanie
They're as good as everyone says
Ever been UNDER a bunch of big books that decided to slide off the end of a shelf? No more! I have a lot of awkwardly large paperback art and design books, class notebooks, and software manuals that just won't stand up properly with regular bookends. These Elfa clip bookends are genius. You wouldn't guess by looking at them, but they work so much better than the strongest 'standard style" metal bookends from an office supply store. My books don't slide down into a pile any more, and they can't tip this bookend off the end of the shelf onto the floor with their weight. I'm buying 5 more pairs! They keep your stuff safer -- I promise.
February 8, 2012
Rated

5

out of

5
 by
kelpen
Great product
Really like these. They are very strong and do a great job holding heavy books. I also like that they can be put in place even when the shelf is already assembled on the wall. (This in contrast to the shelf dividers.)
July 13, 2011
Rated

5

out of

5
 by
Blondiemouse
Great Product
These bookends are great. They're super easy to install, are low profile and keep books and other items from falling off your shelves.
February 15, 2011
Rated

5

out of

5
 by
Pipsi
You won't know how you've lived without these!
Stylish, simple to use, easy to adjust. The coolest bookends in town.
February 14, 2011
Rated

5

out of

5
 by
Hopie
Great addition to Elfa Bookcases
Build a 10' wall of Elfa for a home office. These are perfect for supporting reference books, magazines, etc. Very sturdy and easy to install.
December 23, 2010
Rated

5

out of

5
 by
farmhouse
Don't slide!
I am so happy with these. I've had my elfa system desk for about eight years, and i love the clip-in bookends because they don't slide under the weight of a heavy book, and they almost disappear on the shelves once they're full of my stuff. I love elfa. I'll never go back.
December 18, 2010
Rated

5

out of

5
 by
ColorfulCC
Great Decision
Great accessory for the elfa shelving unit! Initially, I was not going to purchase these bookend and just use the regular bookends you would use on a bookself but I am glad that I did include them with my unit. I converted my closet to a "library" storage place and it looks wonderful. The bookends were an excellent addition!
September 19, 2010
Rated

5

out of

5
 by
Renovator
One of those things you think you won't need,
but it really came in handing when loading up the Elfa system in my kitchen. Helps keep certain things from flopping over or falling off the edge of the shelf. Just get them and you'll find a use for them.
September 18, 2010
Rated

5

out of

5
 by
rabbit4U
Excellent product
I was pleasantly surprised that it was the perfect fit to complete my placement of books.
September 17, 2010
Rated

5

out of

5
 by
smileygirl
Greal bookends
They are very sturdy and look good on the book shelf.
September 1, 2010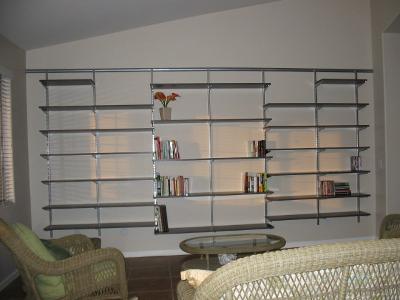 Rated

5

out of

5
 by
SuperOrganized
Great Product!
It's Very useful, and does the job! I highly recommend this product!! :)
June 11, 2010
Rated

5

out of

5
 by
lovethisstore
Great bookends
Love these! Best way to keep things from toppling off the end of shelves!
May 19, 2010
Rated

5

out of

5
 by
MNJen
Useful and a good value
I have been looking for book ends for my children's books for what feel like forever and these are a great price and they work really well. I wasn't sure how durable they would be but they are very solid and hold the books up well.
May 17, 2010