Related Items
Reviews
White Elfa Mesh Drawer Dividers
is rated out of
5
by
12
.
Rated

5

out of

5
by
robill
from
Nice drawer addition
if you are a little OCD, this divider is great. I enjoy keeping things divided. helps to keep things a little more organized
Date published: 2018-09-14
Rated

4

out of

5
by
PaigeMH
from
Read the fine print!!
The products themselves are quality, as expected from elfa. However, what wasn't clear to me (an oversight on my end), was that the drawer frames DO NOT work with the divider's hooks, and the divider did not fit the other way, either. I'd purchased a set for a wide 2-runner drawer in a frame - it fit side-to-side (before putting it into the frame), but not front-to-back (falling just short of the length I'd need to make it work). It is disappointing that there aren't similar divider options for the frames. Sadly, I had to return mine.
Date published: 2018-08-22
Rated

5

out of

5
by
Jump
from
Love it!!
I love these baskets, started out with 2 and went back to store and got another one with the dividers. They really help me keep things organized in my pantry. I want more, but haven't figured out where to put them yet.
Date published: 2018-08-19
Rated

5

out of

5
by
Shell016
from
Very happy
These dividers are great. I wish I had thought to look for these sooner. I've had my Elfa shelving for years. This is a perfect add to my closets to make them more functional
Date published: 2018-07-20
Rated

4

out of

5
by
DCCompass
from
Nicely supports my obsessive tendencies ...
These dividers are a great addition to the mesh drawers. The installation is simple enough and like others have stated, it is nice to be able to get the divider in place and then slide it from side to side to get it to the right spot. I have at least 5 packs of these dividers in use in our utility closet and I only have one con to report. The bottom of the dividers rather swings in the wind and offers little resistance to keep things from shifting at the bottom of the drawer. So, are they perfect, no. However, I have found them to be a great option overall and will continue to use them in future.
Date published: 2018-01-02
Rated

5

out of

5
by
Declutter123
from
Great Addition
Makes organizing drawers even easier! Perfect finishing touch to an Elfa Closet with drawers.
Date published: 2017-10-25
Rated

3

out of

5
by
Shelbert
from
Doesn't stay put and makes it hard to close drawer
These are a great idea, and very sturdily made. I only have one qualm with them: it is not easy to close the drawer into the frame with these installed. They are low profile, but still need a bit of finagling to stay put, especially when there is any sort of weight in the drawer. Inevitably, they move around as you try to close it, and you have to hold them divider in place and move the drawer at a slight angle to get it in. Perhaps a small spike on the bottom of the divider would help it anchor in place in a mesh drawer?
Date published: 2016-12-27
Rated

5

out of

5
by
ajeant
from
love!
These add great functionality to my mesh drawers. Easy to install. Love that Container Store keeps adding to the Elfa line, my closet systems just get better and better!
Date published: 2016-09-13
Community Q&A
Can I put 6 of these mesh dividers in 1 drawer? If so, will I still be able to pull the drawer open all the way?
It would be nice if you had a video showing how you install them. hint hint.
yes you CAN, but I would not recommend it. Depends on the depth of your drawers and what you want to separate. I think probably 2-3 would be the max I'd do myself.
Date published: 2017-01-18
Wire drawers
Can these be used in the elfa wire drawers?
YES they absolutely can be used in the elfa wire drawers. I own the wire drawers and (both shallow and medium depth) and the mesh dividers fit PERFECTLY. It is so nice to have my wire drawers divided now. Hopefully they will delete the Container Store associate's incorrect answer, because customers need to know that these are totally compatible.
Date published: 2018-09-03
Can the drawer dividers be used with the mesh easy glider drawers?
They can be used, but will make the drawers hard to open and close. The clips catch on the frame and move the divider.
Date published: 2018-04-28
How wide are these dividers? Which drawers will they fit in?
I got the ones that fit the mesh 2 runners. They fit exactly into those medium drawers. If you have the large one (deepest) or the shallow one (mesh 1 runner) then these won't work. Good luck!
Date published: 2017-01-18
These won't fit the wide mesh drawers
I bought several of these not realizing they will NOT fit the wide mesh drawers, of which I have 20 of in my closet. Such a bummer! Will you be making them for the wide drawers in the future?
It states they are for medium 1 and 2 runner sized mesh drawers. The title of the product should be Medium Mesh drawer dividers....it would clear up any misconceptions on universal sizing.
Date published: 2018-06-16
Dividers in white?
The dividers are all listed in platinum. Do you offer them in white to match the white mesh baskets/drawers?
Are available. There is a separate listing here on the website. You can also find them in store, or call and have them delivered to your house.
Date published: 2017-06-03
Will these fit in the cabinet sized elfa drawers? Thanks.
Yes, our elfa Mesh Drawer Dividers will work in Cabinet-Sized elfa Medium 1- or 2-Runner Mesh Drawers that are not in an elfa Drawer Frame.
Date published: 2017-03-04
Work with elfa Medium Mesh Closet Drawers White SKU#: 10033961?
Will these work with elfa Medium Mesh Closet Drawers White SKU#: 10033961?
No, these will not work with elfa Drawers in a drawer frame.
Date published: 2018-08-13
Resources & Tips
Elfa Resources
---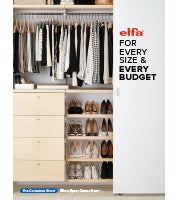 Shop directly from the virtual pages of our current catalogs by clicking on the images.
View catalog online
© 2018 The Container Store. Prices and availability are subject to change from the time and date you print this page 11/15/2018.