Rated

5

out of

5
 by
Travatoguy
Solution to small space.
Found the perfect fit for closet area in my new 2016 Winnebago Travato. I used 3 small mesh draws and 1 medium size draw,The top used as extra shelf.Still had room to hang 2 light jackets. Excellent choice for motor home owners out there.Easy to assemble,took no time at all. You can mix the size of drawer to fit an individuals need.You hit a home run with this product. Motor home crowd should be all over this. A+++++
June 14, 2016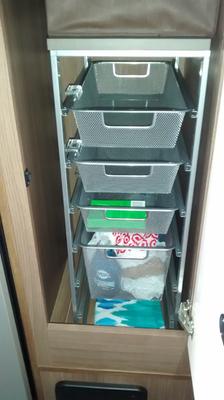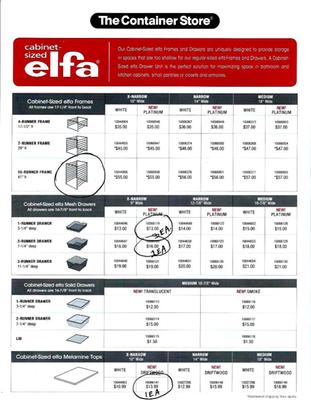 Rated

5

out of

5
 by
Stevendotson68
Elfa who would of thought?
When I first walked into the container store I was looking for some type of storage solution that would fit in a limited space beside my sofa. After casing the store several times going from stackables to nightstands I stumbled into the Elfa section. The white cabinet frames with slide out drawers grabbed my attention. The frames came in three different sizes for what I wanted and could be purchased or arranged in several sizes and shapes to suit the location in my home. That was icing on the cake as the sturdy design and the good pricing had already sold me. The only thing that puzzled me was how you assembled it? Was it done at the store or did you do it yourself? After a brief discussion with a very helpful sales associate I found my answer. Either or Both! I decided to buy all the parts with the help of my sales person and do it myself, you have to pay a little extra I found out to have it assembled for you. I got it home and opened up the easy to follow directions and remembering what was said at the store, easily put together my new storage piece in less than 15 minutes without any tools. I was impressed. The drawers I bought were three different sizes and I can interchange them as needed. I love this piece of furniture and I am going back to the store to buy a wooden hard top that is made to go on the very top of the drawers to serve as a counter top. Nice! Here is a picture of it without the top. I hope this review helps with that decision that frustrated me!
September 18, 2016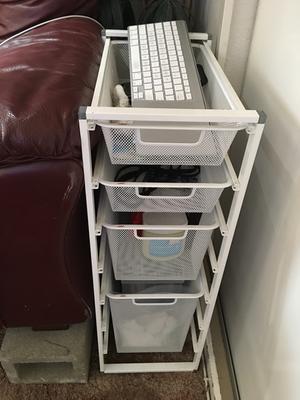 Rated

5

out of

5
 by
LeimomiHouston
Laundry room organization
I replaced a rolling hamper with 2 cabinet-sized drawer systems, on casters. It's the perfect solution for organizing the laundry room. I use the melamine top for folding clothes and the drawers for laundry detergent, extra hangers, paper towels, bottled water, sodas. I can use the drawers for laundry but I tend to use it for storage. It's the perfect solution instead of the clothes hamper.
September 18, 2016
Rated

5

out of

5
 by
Niya
Best Carts I Ever Had
I've had these carts for over 5 years. They haven't warped or changed shape in the slightest. They are extremely sturdy, clean-looking and are great for storage. Because of their versatility, I have used them in literally every room of my house. I will never purchase plastic storage drawers again!
January 16, 2016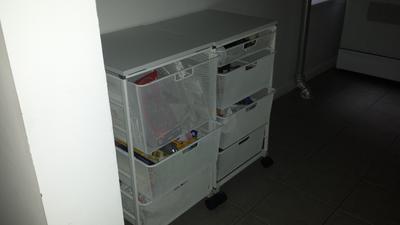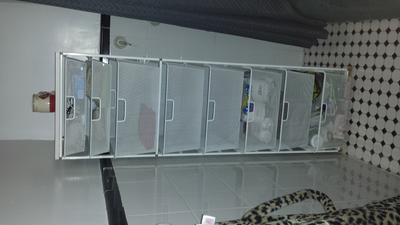 Rated

5

out of

5
 by
rocen
Great utility drawer
Bought 1 to organize my tech tools and it works wonderfully. Easy to install.
March 16, 2015
Rated

5

out of

5
 by
Padw
Another perfect solution
I have so many of the Elfa cabinet storage shelves, so when I decided I needed some drawers for the cabinet in the guest bath because it is severely lacking room for guests to store their toiletries when visiting, I knew exactly what to do. And, mission accomplished! Now our guests can conveniently store their toiletries in the under-cabinet drawers, and I gained additional storage as well.
March 12, 2015
Rated

3

out of

5
 by
Juani
Not as Easy to Put Together
The steps are simple and well explained in the instructions, but you have to hammer for hours for those things to fit in the holes correctly. Otherwise, finished product looks fine and serves its purpose very well.
October 13, 2014
Rated

5

out of

5
 by
LeWi
Excellent Toiletries Organizer
Bought these drawers for use in a guest bathroom that will be frequently used by family and is limited on storage space. Each person has a drawer to leave bulky toiletries in and there is an extra drawer to store extra toilet paper. It makes it much nicer for our guests!
April 4, 2014
Rated

5

out of

5
 by
Jlovescats
Elfa cabinet solutions
Love these because so versatile. Work in any room and especially in my closet. I hang the baskets and hooks and I have so much added space.
March 15, 2014
Rated

5

out of

5
 by
Case13
Doubles Space/Organizes
Placed these under my bathroom sinks. Love the ability to pull out the drawers instead of having to bend over and look for what I need under the cabinet! Helps to find smaller items too. Make sure you measure the depth if you have any plumbing under your sink--I can only fit them on one side of my cabinet due to the sink plumbing.
March 9, 2014
Rated

5

out of

5
 by
imsewn
Perfect Fit
This Elfa cabinet sized unit fits perfectly next to my sewing machine table. Just what I needed! Good quality, and excellent customer service, too.
March 1, 2014
Rated

5

out of

5
 by
Pelmay
great for small townhouse utility room
love these so much that I went back to add more on top of what we already had
July 31, 2013
Rated

5

out of

5
 by
Sally2
Love it
Love it, Love it...what more can I say. Sturdy, versatile and easy to assemble. I am slowly organizing each room in my house with Elfa products.
April 29, 2013
Rated

5

out of

5
 by
whatevname
Great organizer
Very sturdy frame and mesh baskets. My husband can be rough on things and we used this under the bathroom sink to hold all his shaving stuff. It's held up extremely well and still looks great.
April 26, 2013
Rated

5

out of

5
 by
RedBaron530
Under Bathroom Sink
I got one of these for under the bathroom sink. This is so much nicer then the plastic ones I've had for years. I like that you can pick and choose the bin sizes. My husband even wanted one for his side!
April 21, 2013
Rated

4

out of

5
 by
ALC65
I'm Hooked!
My kitchen pantry was in need of some serious organization. I had some space near the floor and I had tried wicker baskets and the wobbly plastic drawers and didn't like any of it. I had seen these drawers before but I figured it would be too expensive for my budget. I am amazed at all of the many configurations there are and you can really customize them to fit your space and needs. I got three of the shorter frames and they are awesome! No more digging through baskets to try to find the plastic wrap or an onion! A plus is the tops that are on top of the units make another shelf to hold more stuff. I gave 4 stars because I had a hard time getting one of the frames level and had to take it apart and then work with it to get it so it wouldn't wobble. These are sturdy and strong and I know they will hold up to many years of use.
April 16, 2013
Rated

5

out of

5
 by
Designer6
Perfect for Samples
As Interior Designers, we accumulate multiple samples of fabrics, stones and tiles. We were looking for a way to organize heavy pieces of stones into storage bins that would be able to slide in and out easily making sample organizing / selections as easy as possible. These drawer frames with various sized drawers have been a perfect addition to our sample room. Not only are they easy to use, they have helped alleviated the misplacement of samples by having the ability to see exactly what is in each drawer They have completely transformed the area for a clean and professional look. They were extremely easy to put together and are very sturdy.
April 4, 2013
Rated

5

out of

5
 by
Otterishly
Elfa--not just for closets anymore!
I have my van set up for camping trips, with a kitchen in the back. For years, I had a thrown-together "system" of plywood and milk crates. Everything was jumbled together and hard to locate. Now look! Separate areas for food, garbage, and dishes--and with the extra room that all this efficiency created, I now have room for a wash basin (in one of the drawers), which makes things much more pleasant and convenient. Elfa was the only brand I found that offered a suitably-sized option for this application--way more options than any other brand.
April 3, 2013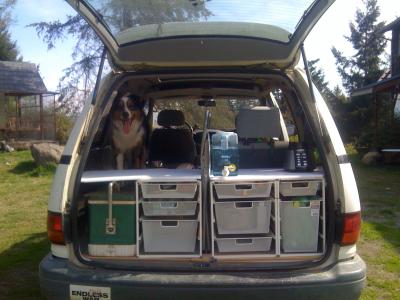 Rated

5

out of

5
 by
Trevan741
Solved my problem!
I moved into a new house, and the bathroom was a completely different configuration from my old one (read... no built-in vanity drawers). I purchased two of the Xtra-narrow frames and they fit PERFECTLY in the vanity cabinet, providing me with more drawer space than I actually needed! I love the fact that when I close the cabinet doors they are completely out of sight, leaving both the vanity top and the inside of the cabinets clean and uncluttered. This was my first ELFA purchase, but I know I will be back for more.
March 26, 2013
Rated

5

out of

5
 by
MarciaC
Works well in my closet built-ins
I have a custom built-in closet but as I have lived with the new closet, I realized I needed more drawer space. Due to the depth of the built-ins I chose the Cabinet sized drawer units but because there are feet on the bottom of the frames, I had to install a board on top of the built-in base - I needed about 1/2" more depth. I chose not to have the wall hanging Elfa units as I would have had less drawer space due to the pre-existing floor-ceiling dividers of the builtins. The various widths of the cabinet-sized elfa Drawer Frames allowed me to maximize the space I had and these work great!
March 24, 2013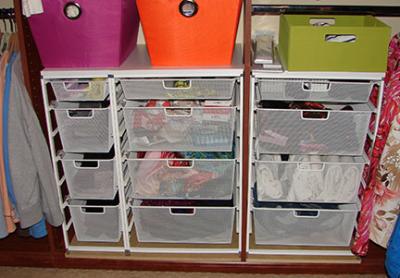 Rated

4

out of

5
 by
suZen
It's a keeper!
I don't know if I am the only one that had this problem, but I had a lot of difficulty assembling the frame with a mallet. Did I miss something in the instructions? I finally decided to apply some WD40 and the problem was solved. Just need to be careful that you do not get the WD40 on anything else. The unit adds convenient drawer storage to a plain cabinet.
March 18, 2013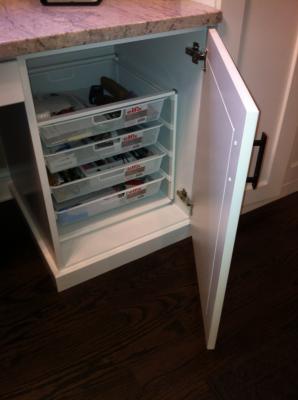 Rated

5

out of

5
 by
Busybrain
Adaptable system!
I bought two of these to create a table for my daughter's doll house and the drawers are great for small toys and accessories. We topped it with an 18" wide piece of wood panel shelving and it has worked out well. The Elfa components are high quality, easy to put together, and versatile. I like the way they can be recombined later for other uses as our daughter grows!
March 1, 2013
Rated

5

out of

5
 by
4girlsmom
Clothing Storage Problem SOLVED!
With four girls and a small house, clothing storage is always a problem. When my twins turned eight, they asked for "a bigger room" as their's is the smallest bedroom in the house. I couldn't change the size of the room, but I did give them more space! I bought two of the Medium size (tall) drawer frames in a wide width. Each frame got four drawers to go with it. We put the drawers side by side in their closet, allowing for us to remove their large and poorly utilized dresser from their room. We doubled the drawer space, removed a big and bulky dresser, and introduced a sense of individuality to the twins where now they have their OWN drawers instead of sharing the dresser. Best birthday gift ever! Thanks!!
February 18, 2013
Rated

5

out of

5
 by
Chrissie
Perfect!
This was the perfect size and tool to use to organize my bathroom cabinet. I have two of the 1-runner drawers and 1 of the 2-runner drawers and I still can't believe how much space it has saved me!
February 14, 2013
Rated

5

out of

5
 by
elfa
Extremely satisfied
Much better and sturdier than I expected. Very high quality.
January 27, 2013
Rated

5

out of

5
 by
Barrayaran
Perfect
We actually needed this to put next to a cupboard, not inside one. It's perfect, and really sturdy considering how small it is.
May 4, 2012
Rated

4

out of

5
 by
AmaznContainer
Generally very solid, attractive
Since I've had this shelf frame, it's served well. The superstructure of the frame is pretty sturdy, though it is a bit bendy if you force it (or bump into it hard). The rails also could be a bit stiffer. But overall, a fine piece of work and worthy of recommendation.
April 30, 2012
Rated

4

out of

5
 by
ciara
great product!!
this shelving unit is lightweight but sturdy!! its functionalbe for multiple purposes and easy to assemble
April 23, 2012
Rated

4

out of

5
 by
Felice
Perfect shelves!
My new apartment's bedroom closet had a narrow jog. Wondering what to do, I searched online for shelves that would fit. Nothing. Then while at the Container Store designing two new closets, I saw the Elfa shelves. After careful measuring, I bought the tallest unit with the mesh drawers and they are perfect. They fit all my undergarments and more. And they match perfectly.
April 1, 2012
Rated

5

out of

5
 by
DeniseR
Great organizing tool!
I have put together several of these units for organizing my sewing room and fabric collection. They are easy to put together by yourself and hold a large amount of fabric in a way that is easy to see what you have when you need to find something!
March 24, 2012