Rated

5

out of

5
 by
Melody
Excellent for Kids Drop & Go Area
I have two of these drawer systems side by side. My children have an area behind the front door where they like to "drop" their things. Their bathroom is located on the other side, which leaves a nook in between the entry way and bathroom. Their system is side by side. The 7 drawers are used for (#1 - large) dirty laundry (#2 - medium) seasonal - swimsuits, goggles, sunscreen OR hats, gloves, scarves, winter socks (#3 medium) beach towels. The second set is for (#4 - small) hair ribbons, bands, bobby pins (#5 - medium) flat iron, brushes, curling iron (#6 - medium) belts (#7 - medium) flip-flops. Hooks on the side hold book bags and lunch bags. This is an extra. Put this on before you attach the counter top. The top holds a small fish tank, pens, and a few collectibles of my daughter's. I highly recommend buying the drawer stops if you only need access from one side. This keeps the drawers from being pushed in too far and hitting the wall. Perfect size for kids. I absolutely love this product and plan to add some more to my laundry room. It would be great in any room!!! Plus, as a professional organizer that works with many different personalities and styles, I found that the visibility, yet privacy of mesh drawers works well with everyone I introduce this to.
March 15, 2010
Rated

5

out of

5
 by
RoboWarrior
Great product for college Students
First of all I have to note that I created the elfa drawer system using the Custom Drawer Planner, so I don't have the exact drawer system shown above. I am a college student living in the ever so popular college dorm and this product has been my bed side table for the past year. I would have to say that as of right now I could not live without it in my dorm room. They quality of the material is excellent, it is able to hold numerous heavy textbooks with no problem. Also I have found out the it work great to stand on in order to reach high places in my dorm room, so i would have to say that it is pretty strong as well. My only complaint with the product is that it is a bit hard to take down or break apart when moving the shelf from place to place or house to dorm room.
September 18, 2016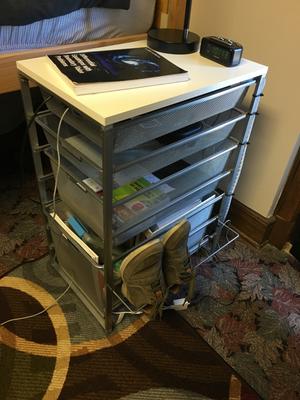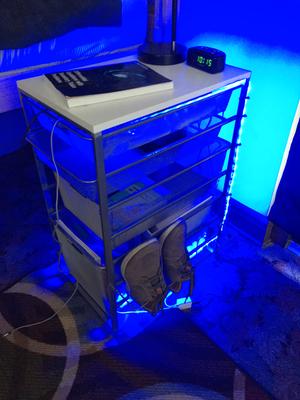 Rated

5

out of

5
 by
JBug4
Perfect storage for my small closet!!
These were so easy to assemble & install. I bought a set of these drawers a couple of days ago. I always had a hard time with storage & organization in my small closet. I could never access the sides of the closet since they were behind part of the wall. I turned the shelves, so the drawers can pull out sideways for easy access. It worked so great, that I bought 2 more sets to stack, and now my closet is organized, and easily accessible. The drawers are great, hold a lot of stuff, and look nice inside my closet. These are the best solution I could have hoped for, and fit perfectly in my space! Now I have them on both sides of my closet. They made my previously inaccessible space, better than ever :)
January 8, 2016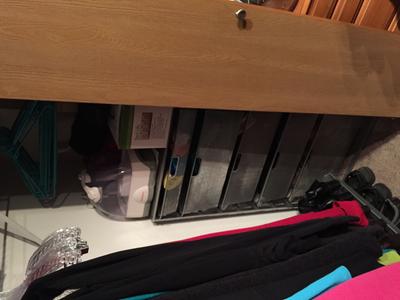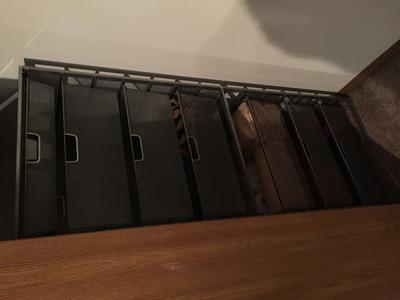 Rated

5

out of

5
 by
TXnCutie82
Will buy again
I love the quality and ease of this product. The instructions weren't the best (some vague pictures on a box), but I made do quite easily (but note, if assembling, you'll want to add the nail-looking things [drawer stops] prior to putting the top on). I will definitely be buying buying another one as I got rid of my dresser when I moved into an apartment with a huge closet. I haven't quite been able to get the wooden top attached to the frame, but I'll figure it out one day.
December 21, 2015
Rated

5

out of

5
 by
MadsyP
Great closet addition!
We just two of these closet drawers in our son's closet and they are PERFECT for all the bits and pieces that need to be organized. In his case, extra sheets, two pairs of cleats, baseball pants, soccer gloves and off season shorts
December 10, 2015
Rated

4

out of

5
 by
real
best purchase
It looks and fits so nice in my closet. very organized and useful product.
November 13, 2015
Rated

4

out of

5
 by
TravelTheWorld
Good, but experienced some fit issues
Once assembled, the height is good, the drawers are useful sizes and the drawers slide in and out with ease. The problem I ran into however, was getting the top L-crossbars to fit into the side panels. The fit seemed to be off - one of the two were either too big or too small. Despite my husband and I hammering away at it with a rubber mallet for 30 minutes, we could never get one of the crossbars to fit into the side panel. Bringing everything back to the store would have been a hassle, so we made do. We had purchased two of these units and both of them seemed to have the same fit issue.
May 31, 2015
Rated

5

out of

5
 by
Dcshults
Love Elfa Closet Drawers
Love, Love my Elfa closet drawers! I have one to two in every closet. Fabulous! Very sturdy. They last forever! I have three that have endured three college students.
March 2, 2015
Rated

5

out of

5
 by
lady123
FABULOUS CLOSET ACCESSORY
The platinum mesh drawers are perfect for use holding dirty clothes in a walk- in closet. It fits nicely under the upper rack holding the shirts. I also like that the mesh is tightly woven so you can't see the contents. The three large drawers are the perfect size and can hold bulkier items like jeans. The three drawers allow you to sort the clothes: whites, colored and bulky items.The thinner drawer at the top is perfect for a man to throw his wallet, watch, spare change and whatever else he has in his pockets along with room for holding clean handkerchiefs. The drawers remove easily to take to the laundry room. I have used another brand of closet organizer but after discovering elfa, I would never go back. The quality, the look and the accessories that are available make it a far superior product line.
May 3, 2014
Rated

5

out of

5
 by
Nikal
Worth the price
I bought two of these 7 years ago and stacked them in a big closet and they are indestructible! They make everything look neat, they take heavy loads (in one I had all my household tools) and they don't age. I moved to a new apartment and put them side by side in the new space, and they look like new.
April 25, 2014
Rated

5

out of

5
 by
Ruppansy
Excellent quality purchase and easy to assemble
I love these drawers. They are easy to purchase, just as easy to assemble and come in a perfect range of sizes. I bought 4 sets of different sizes 7 years ago. They are still in great shape and I recently bought 3 more to fit into a new space. Highly recommend!
April 4, 2014
Rated

1

out of

5
 by
765987
Disappointed
Drawers do not stay on track. I've remounted them (all 6) over and over, but they don't stay on track. They were professionally installed, too.
March 3, 2014
Rated

5

out of

5
 by
crenee
fabulous art work area.
love how these units go together and form a large work area, for me to paint..the drawer hold a huge amount of supplies, ease to access.
March 2, 2014
Rated

5

out of

5
 by
BigSpenderIA
Sturdy drawer unit
Got the Elfa drawer system with 5 drawers on sale for my closet. Very nice quality and very sturdy. Well made melamine top and mesh drawers, will last for a long time. Lots of clothing and accessories now fit in my closet thanks to this one drawer unit. Was hesitant to order without having a store near us - but saw it in some organizing videos online and really felt confident ordering off of the website and getting it shipped to me.
January 27, 2014
Rated

5

out of

5
 by
Rleigh
Love it!!
This is my favorite piece in the closet. Drawers slide effortlessly. Spacious and see through so you don't have to search blindly.
April 26, 2013
Rated

5

out of

5
 by
Jenny5
Best fix for closet organization
I absolutely love this product! This is the way to maximize your closet space with doing almost no work! I never knew what to do with the smaller things - they always seem to get lost in a sea of things in my drawers. These differently sized units allow me to locate my things in instant and stay organized!
April 26, 2013
Rated

5

out of

5
 by
ElizS
Best drawer systems!
The Elfa closet drawers are the perfect tool for anybody to get clothing and other items organized in a closet. Whether you are new to getting organized and need as much help as you can get, or if you are an organizing queen like me, this is the perfect tool. Drawers come in a variety of sizes for every possible use, the mesh is a perfect solution to getting a handle on small items and keeping them in place, and this is attractive stuff. I love it and have it in every closet.
April 26, 2013
Rated

5

out of

5
 by
WASB
The best storage system yet!,,
Purchased the White elfa Mesh Closet Drawers for additional storage in my large bathroom. Pretty. Functional and expandable. Love it!,
April 26, 2013
Rated

5

out of

5
 by
Bobbey34
Terrific storage
The elfa Mesh Closet Drawers have been the answer to our storage. After buying the first set, we purchased 2 more sets. elfa products are sturdy, can be purchased in different sizes and fit perfectly in closets. The melamine top creates another shelf. The mesh prevents items from falling through and the different sized drawers make the sets very usable. The sets are worth the price. I have used drawer sets made of plastic hat do not stand up under weight and usage. elfa products are made of quality materials. We made a few mistakes in assembling the framework. need to really pay attention to the very clear directions in the booklet.
March 26, 2013
Rated

5

out of

5
 by
MamaK
Nothing compares to Elfa!
I love the elfa drawer systems. I first bought them when rehabbing my kitchen to store everything that was in my cabinets during the transition. It was great having it on wheels to roll around during construction. Afterwards, we repurposed the drawers and used them in the garage. Now my husband loves them too. From there our desire for more elfa drawers grew! We have several more in the garage now, and I have elfa drawers in all my closets. They are great for deep closets - you never lose things in the back of the closet. I think my favorite is storing all my shoes in 5 elfa 2-drawer systems that line the bottom of my closet. No more digging for shoes, and it never gets messed up! Elfa is light weight - even I can assemble, but very strong and durable so it works in the garage too. Elfa has made my life easier and saves me time by keeping things organized. My favorite! It's the first place I go when looking for storage options. I've looked for comparable products at the big hardware stores, but it doesn't exist. Now I don't waist my time - I just buy elfa.
March 24, 2013
Rated

5

out of

5
 by
AliciaB
Making Life Easy!
I LOVE elfa drawers! They have maximized the vertical space in my closet allowing me to easily access the treasures stored in my closet. I forgot some of the things I had back in the corner, but now I see them everyday when I pull out the drawer. My only wish is that my closet was bigger so I could have more elfa!
March 24, 2013
Rated

5

out of

5
 by
Midge1963
Best solution for all of my husband's t-shirts!
My husband has a ton of colored t-shirts that he wears under v-neck sweaters. They were stacked in his closet and when he would select one the entire pile would fall over causing a mess and making it difficult for him to find the shirt he wanted (and making me annoyed with the mess created!) I found an amazing solution with elfa. I customized this drawer unit with seven drawers. I then rolled each t-shirt, putting them in the drawers in a single layer in color order. My husband now can pull open a drawer, and take out the exact shirt he wants without disturbing the rest. My husband, who is not someone who normally cares about organizing the way I do, was very impressed with this solution. Elfa solved a problem for us and I highly recommend it for any of those annoying areas around the house that you need to organize. I have elfa in my garage, my laundry room, bathrooms, pantry and our closets. I love this product and its versatility!
March 23, 2013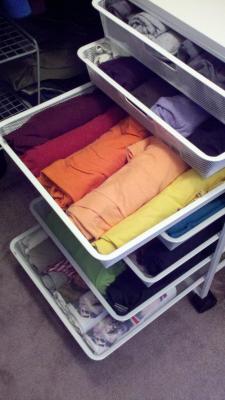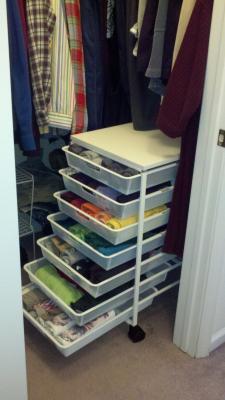 Rated

5

out of

5
 by
Jen333
Great option to use closet space well
I have this drawer set and put it in my closet to sit under my hanging shirts that are on a bar - it fits perfectly and allows so much extra storage space in the small closet for folded items like sweaters and PJs. Really helped me make the most out of the space!
March 23, 2013
Rated

5

out of

5
 by
MyOrganizedSelf
Coming Back for More
I will definitely invest in more of these drawers!
March 18, 2013
Rated

5

out of

5
 by
Laura2
Platinum elfa Mesh Closet Drawers-4 drawer
My husband and I bought four of these for our master bedroom closet. Originally, I made a mistake and bought the wrong size - I bought the taller version of these drawers and they wouldn't fit in our closet under our clothes. That was my fault for not measuring correctly. The container store customer service staff were excellent! They helped me return the items and get the correct sizes that I needed. The staff was excellent. I love these drawers...we put them on rollers so I can roll them out and clean the hardwood floors underneath when necessary. Great buy!
March 18, 2013
Rated

5

out of

5
 by
catsandroses
Have been using these for 30+ years!!!!!
I started with Elfa as a single gal in my first condo in the late 70's. Then I moved to MA, got married and kept adding systems.. I can't even remember the first store I got these at but later added them from a now closed store that was in Concord, Newton and Wellesley. I still have the original ones! They are now in all the kids closets (I always hated dressers) as well as the master bedroom closet. I have one small one in my front hall for the holiday christmas tree and all my candle holders and candles.. These are incorporated into the total Elpha closet systems designed by wonderful people at the Container store. One in the basement holds all the wrapping supplies and two in the workshop hold all the tools. Over time I have replaced some of the baskets for the mesh style but there are occasions where the wire works better than the mesh. We are moving this year and guess what? all my Elpha baskets are coming with me. They may have new locations and uses but I know their functionality will still be exactly as good as it's been since I was 26 and I"m now 60.
March 18, 2013
Rated

5

out of

5
 by
MelissaM
Great for the Pantry
These drawer towers are very convenient for keeping potatoes and onions and other root veggies. Since the top has a nice flat sturdy surface, I can also keep my cutting boards, knife stand and griddle to conserve space. Love Elfa....love it!
March 18, 2013
Rated

5

out of

5
 by
skny0104
Perfect item for narrow kitchen pantry closet
I purchased an Elfa Drawer system for our narrow kitchen pantry cabinet. Prior to purchasing this item, closet was very unorganized and it was difficult to access items - I would sometimes have to remove several items in order to use an item on the back of shelf. Also the drawers were not built deep enough, thus creating a lot of wasted space. I was able to build an Elfa system and able to utilize the space more efficiently. The different size drawers were perfect for organizing, small, medium, and large items. Best of all, I can pull out a drawer and see everything on a drawer easily vs. not being able to see anything without taking several items out. This is easily one of the best purchases we've made in a while, and wish we did it sooner. I am considering adding other drawers like this to improve storage/functionality of kitchen. This was very easy to put together and customer service was readily available to assist when I had a question.
March 17, 2013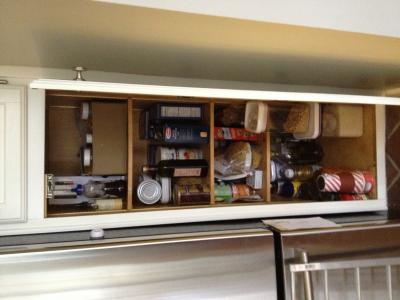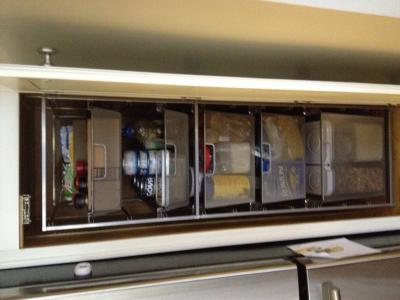 Rated

5

out of

5
 by
CynR
Best purchase ever
Perfect for my needs. I created a wall of storage.
March 13, 2013
Rated

5

out of

5
 by
Lipchees
Makes Organization FUN
I've been eyeing these elfa drawers for some time now. I don't know why I waited so long - they are very effective organizers, easy to assemble, and incredibly functional! I needed drawers to hold those not so easy items in your closet - primarily wallets, writstlets, evening bags and small purses. I ordered this shelf as shown (ie one 1-runner shelft and three 2-runner mesh drawers) and guess what? Problem solved!!
March 11, 2013