Rated

5

out of

5
 by
Saulty
Merely the greatest laundry basket ever
I needed to replace all of my ancient, crumbling laundry baskets, so did a lot of...some would say too much...online research about baskets. This was the winner. Nice size, nice handles, nice price, amazing stackability. I was surprised to find this is the only place you can get these. They were packed beautifully when shipped, are very sturdy, have comfortable handles, and were great on their first run to the laundromat. Some may find them too small: I say why screw up your back carrying too much laundry? Stack 'em high in your bedroom and do a load once full. One basket = 1 load, really. My only complaint is that this should be available to everyone, everywhere. Laundry basket Nirvana has been reached: share the wealth!
July 18, 2015
Rated

5

out of

5
 by
lucymae
Works great for small spaces
I bought five of these for keeping laundry sorted before washing. These work great, small but adequate for a full load of laundry, and small footprint. Just enough space between when stacked to fit a full size towel, pair of jeans or sweatshirt into the basket. Works great for small kids to teach sorting colors.
July 15, 2015
Rated

5

out of

5
 by
Rhapsody
Love these!!
I absolutely love these baskets! They are sturdy and great for saving space. I have 4, but they only take up the space of 1. Even though they're stacked I can still add clothes to the baskets because they have a handy curved side for easy access.
March 21, 2015
Rated

2

out of

5
 by
FrogJ
Miss for me
These baskets don't have much space to sort clothes once they are stacked. I just purchased them, and I have already ordered something else. :.( 2 stars for staying stacked.
October 12, 2016
Rated

5

out of

5
 by
Kindra
Great for Sorting Folded Laundry
I have been using Four of these laundry baskets for three months now. I love them. My purpose was not to use as a hamper/sorter but for folded laundry. I have one for each member of my family when I fold laundry. I stack them and each person can grab their own basket to take to their room and put away. I used to carry a basket or two of folded laundry upstairs but then ended up traveling from room to room to put away clothing, or else the piles of folded clothes just stayed on the island or the sofa for days. At least if we don't deal with them right away, they can stay stacked in a corner of the room out of the way. Sometimes I fold multiple loads of laundry over the course of a couple of days and just leave the baskets spread out, adding to them as I go. It is more efficient than having to constantly rearrange my piles. I regularly stack four full baskets. The handles have handled the weight with no problem. They are comfortable to carry either with the handles or on my hip.
September 26, 2016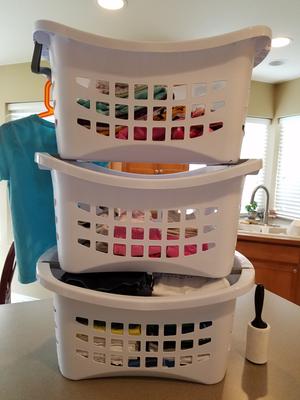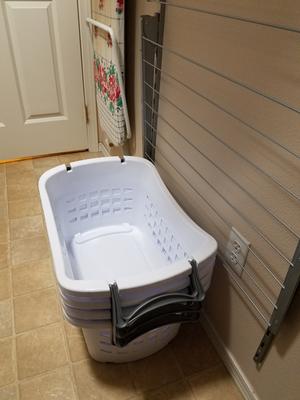 Rated

5

out of

5
 by
Meg99
Organization for the organizationally ill
Perfect for my boyfriend who is allergic to folding and putting away his clothes. Now the clothes are off the floor and sorted, roughly speaking. Was going to make a rack for hampers, but these are a perfect, ready-to-use alternative.
September 1, 2016
Rated

1

out of

5
 by
raquellie
Confused on the high reviews
I bought these with confidence after reading so many positive reviews and liking the general design. I can't believe the ratings when the handles constantly fall off. I bought two and it happens with both. Only way to get around this would be to only store with the handles inverted, but I don't want to have to remember to do this when there are options that don't have this issue.
August 3, 2016
Rated

4

out of

5
 by
bnes
Just watch out for those handles
We like them, but there is one bummer. The bottom of each basket is not flat, due to an indent for the handle. The area seems to accumulate lint and dirt and thus these stark white baskets always seem a bit dirty.
July 24, 2016
Rated

5

out of

5
 by
mongeshannon
Great Product
We have limited space in our laundry area in the garage so these have worked out perfect! I love that they stack together so nicely. Very happy with this product
July 18, 2016
Rated

5

out of

5
 by
Betheny
Love Them
I love these laundry baskets, Not too big, Not too small. They stack nicely and keep the laundry room organized. Also with the ovaled (for a lack of a better word) edge, They fit perfectly under the doors of the HE washer and dryers.
July 12, 2016
Rated

5

out of

5
 by
Dennise
Sturdy and Practical!
Got these baskets to save space and it worked! They are sturdy too and a good size. Very happy with the product and price.
May 25, 2016
Rated

4

out of

5
 by
Riva
Great multipurpose
As a city dweller for the past 9 years, space efficiency has always been a priority in my apartment. I love that these double as an organizing hamper, as well as sturdy, comfortably handled laundry baskets. I own four; three are always stacked as a hamper, while the fourth is either nestled in the top basket for storage, or being the active basket to transport clean clothes. If I'm doing a lot of laundry at once, I can always steal another basket from the stack as they empty. I agree with another review that I wouldn't mind if they were a little larger, and/or if the lip was a little more open for a little more ease in placing larger items in the middle and bottom bin. But until that exists, this is definitely the best option out there.
May 20, 2016
Rated

5

out of

5
 by
Katie206
Excellent
I love my stacking laundry baskets. They work just the way they are supposed to and I'm very happy with my purchase.
March 23, 2016
Rated

4

out of

5
 by
Aegle
Perfect for storing
This basket stacks SO well, my cats have not yet managed to topple over my stack of 3. It also fits perfectly well in the back corner of my closet, where the two shelves on different walls overlap. It hides beneath with enough clearance to fit past the rod for the lower half, and has the perfect width/depth to remain nicely tucked under the shelf. There's enough space to put my clothes in each basket, so I just pre-sort all my laundry in this now. It's so darn perfect! When the basket is full, I can just unstack real quick, grab the basket I need by the super convenient handles, and take it to be washed. Of course, the return trip is just as easy. The only thing I marked it down for is that the capacity it holds doesn't do justice for the large washer and dryers on the market right now. I would gladly sacrifice the "perfect tucking" quality I mentioned earlier to have the increased capacity. That way, I don't get all excited about a full basket meaning laundry day, then realize my washer is only 2/3 full.
November 21, 2015
Rated

5

out of

5
 by
catloverd
Best Laundry Baskets Ever!
These are a lot sturdier than I expected for $9! Love that they stack, takes up less space, and there's a wide enough gap in between that I can drop things in lower baskets. I know other reviewers said they weren't wide enough, but I have small hands, so to me they are big enough.
June 11, 2015
Rated

5

out of

5
 by
Kittyssn
Very nice!
Extremely sturdy basket, easy to carry & stackable. This is the best laundry basket I've ever had. Glad that I ordered several of them.
November 23, 2014
Rated

5

out of

5
 by
Ronelle
Really love these!
Space savers for sure. Stack of three perfect height for no bending necessary at my front loading machines.
September 29, 2014
Rated

5

out of

5
 by
BoardUser
Stacking Baskets right tool for this job
I needed baskets to store accumulated laundry in our basement but flexible enough to be carried around the house. I wasn't able to find these in any other store so it seems the Container Store corners the market on these handy baskets. I've only had them a week so I can't speak to the durability, but so far so good. I've carried them around the house with no problems and the stacking feature works perfectly.
July 2, 2014
Rated

5

out of

5
 by
StephanieK
Great Baskets - LOVE the stacking!
I bought 8 of these to try and organize my laundry room. I was worried that they would be too small, but they aren't. I have an oversized washer, so I also have oversized baskets currently. These are smaller than my huge baskets, but I'd say they're about the size of an average basket. If I have a really full load, I may need two baskets to pull it out of the dryer, but works for me because they STACK! I was also worried the handles wouldn't be able to hold all of the full baskets stacked on top of each other. I've been stacking them 4-5 high and they're fine. The handles seem very strong. The main reason I wanted these was to bring my laundry up to a height where I could reach it for folding at the counter. Done! Great purchase. Highly recommend.
May 27, 2014
Rated

5

out of

5
 by
Unclerobmac
Seriously Good Laundry Basket
This is a very good basket. Well made. The Stacking Handle Feature works well. I separate Whites, Dark, Socks and Underwear. Makes a stacking bureau.if need be.
May 8, 2014
Rated

5

out of

5
 by
FabulousBB
Stacking Laundry Baskets
Love the idea of these baskets! I read about them in a magazine and decided to give them a try as an organizing idea for by two boys' never ending laundry. Each kiddo has his own basket, labeled with his name, and then when the basket is full, they know it's time to do their laundry. If I'm doing the laundry, everything is already sorted, and as an added bonus, the handles make it easier to carry the baskets. I was pleasantly surprised that they baskets were only $10 each as well.
April 21, 2014
Rated

5

out of

5
 by
Dmum
Makes laundry easy
Great idea. Everyone in the family has one & puts their own laundry away. Several friends have asked where I bought these from, so they could purchase too!
March 27, 2014
Rated

5

out of

5
 by
FarmFamilyMama
Sturdy and Attractive
I have six kids which translates into lots of laundry. I needed a better laundry system and I had been looking at all the laundry basket shelving on Pinterest. However, my laundry room is so tiny there is barely room to open the washer and dryer doors, much less install shelving to hold laundry baskets. I decided to try stacking baskets instead, and so far I am pleased. With the handles folded in, the basket supports a laundry basket sitting on top of it. The handles seem very sturdy and are comfortable to hold when carrying the basket full of laundry. I usually stack the baskets 3 high, and they seem very stable. I am also pleased with the looks of these baskets. The baskets are attractive and a stack of baskets looks way better in my laundry room than a long row of baskets taking up all the floor space.
March 21, 2014
Rated

5

out of

5
 by
kjgoad
Greatest Basket!
Even my husband loved it! I can stack them on top of each other WITHOUT getting dirt on clean clothes, and can put them on the steel shelves between the washer and dryer! They fit perfectly everywhere. My youngest even uses one for under her bed (which is pretty high) to store shoes in. We actually ordered 2 more!
March 6, 2014
Rated

5

out of

5
 by
mctima
Super Convenient
I love these laundry baskets and have one for each family member. It is very convenient that they stack so you can keep the laundry of each child separate and carry more than one basket upstairs at a time. When the baskets aren't full they fit inside of each other which saves space.
March 2, 2014
Rated

4

out of

5
 by
Dezirdgodess
Serves purpose albeit small
I purchased 6 of these baskets to use in my newly organized laundry room. They are smaller than typical laundry baskets and don't hold as many cloths as is like. Also, the handles slept falling off but were easy to reattach. Stacks easily and does what they are supposed to do.
February 28, 2014
Rated

5

out of

5
 by
Meliie
Melissa H. Shockley
Great product. Great size. Love the fact that they stack.
February 24, 2014
Rated

5

out of

5
 by
GrammyRHB
Space saving laundry solution
Purchased this at my daughter's suggestion for her small apartment. Perfect remedy for sorting overflowing laundry into 3 types without using a lot of floor space. 3 baskets stack neatly with small space to drop dirty laundry into proper section.
January 21, 2014
Rated

5

out of

5
 by
TheBeforeman
Best laundry basket, though mine doesn't sit flat
This is just a fantastic, well-built basket. The rotating handles seem extremely sturdy and the way they're molded makes it very easy to carry a big load of laundry, particularly if you have to take it up or down any flights of stairs. Although I had sort of hoped the basket would fit more clothes, it seems to be about perfectly sized to hold one solid load of laundry, making it highly unlikely for you to overload your washing machine or dryer. The basket is also well-ventilated enough to allow your clothes to dry. It did have a plasticky smell (no surprise there) right out of the box, so I recommend you air it out for a day first. However, the basket kind of wobbles a bit on the floor, which is a little disappointing but is by no means a deal-breaker.
January 17, 2014
Rated

5

out of

5
 by
JillinMT
Love these
I got these to try to tame my disorganized laundry room and try to keep my 12 yo son's clean clothes from coming back in the dirty hamper still folded. He saw his basket when he walked in the door last night thought it was really cool and into his bedroom with it he went and put all the clothes away in there. I just hope it continues. They are a great size and I love how they stack. They will be wonderful in my small laundry room.
November 5, 2013