Rated

5

out of

5
 by
TurtleMania
Holds so much!
I'm thrilled at how many big bottles fit in these 3 baskets! Our family is so thankful that big bottles no longer fall on our heads from the shower bar or slip into the tub from narrow ledges. I wish I'd had these years ago!!
September 23, 2016
Rated

5

out of

5
 by
MrsCabral
Great for Large Shampoo Bottles (35 oz)
This is the first shower caddy I've seen that my large shampoo and conditioner bottles don't fall out of. I've been looking for something like this for years.
April 25, 2016
Rated

4

out of

5
 by
Ororo
Unexpectedly perfect for shower enclosure
Fits snugly over glass wall unlike other over-the-door caddies.
April 23, 2016
Rated

5

out of

5
 by
specialk20
What I have been looking for
The shower caddy was something I have been looking for a long time. I have limited space in my bathroom/shower and it fits perfectly. It holds all of my items with no problem. I
March 11, 2016
Rated

5

out of

5
 by
storagelvr
Large and Drainage is Great
This shower caddy is amazing. Even tho i knew the size i was surprised how much each basket can contain. I think it would work for any shower decor. It seems to flow when you look at the hanging baskets. The drainage is plentiful so the soap (expensive soap) doesn't melt away. Well, that is if the dog doesn't eat it first!
September 30, 2014
Rated

1

out of

5
 by
FSUMom
not sturdy
bought this for my daughter's dorm room shower and the chains broke within the first week. returned it to store for another and the second broke as well. she probably stored more than the two bottles shown in the picture online but certainly nothing that would be so heavy it should break. she had it hanging on suction cup hooks that stayed in place but the chains broke.
September 18, 2014
Rated

5

out of

5
 by
ALBA
Just what I've been looking for.
We needed more storage for shower items, and have tried lots of different products. We didn't want something hanging from the showerhead itself. We finally found this at the Container Store. It's three sections store just what we need, drain well, and doesn't get rusty, like some other options.
June 15, 2014
Rated

5

out of

5
 by
sgraviano
Very Versatile!
I needed a container to plant some lavender to hang outside my back door and I was having a really tough time finding something that was slim yet sturdy and good looking to fit into the small hanging space available. The Container Store came through for me with the Umbra Bask Shower Caddy. Not only is it very sturdy and slim enough for the hanging spot by the door, but in classic Container Store fashion, it is elegantly simple yet perfect for the job. The attached chains make the 3 containers very easy to hang and the drainage holes are perfect for the plants drainage needs. I couldn't have bought a better hanging planter anywhere else.
May 29, 2014
Rated

5

out of

5
 by
neavg
great!
this is great! i looked and looked for something to work in our shower stall which has odd nozzle layout--this was the answer! the chain has rusted after months of use --but its an easy fix by trimming and putting different links in the holes.
April 25, 2014
Rated

5

out of

5
 by
pilldoc
Awesome!!!
This is an awesome product. After trying numerous other models which end up using a lot of prime shower real estate, I came upon this product. This one hangs beautifully over the curtain rod with minimal, if any, invasion into the shower space. Even hanging on the curtain rod, the curtain molds around it to keep water in. Still have tons of shower space and easy access to the shower essentials!!!
April 25, 2014
Rated

4

out of

5
 by
DSATX
I don't have much space in the shower and because of the showerhead I cannot use a standard shower caddy. These baskets fit perfectly on the small railing that is installed and do not take up much room.
April 22, 2014
Rated

5

out of

5
 by
akatx
Excellent shower caddy
We just moved into a new apartment and needed a shower caddy that could hook onto a shelf at the back of the shower opposite the shower head. It wasn't easy finding something that worked with the set-up but this bask shower caddy fit the bill. It's perfect! There's also enough space between the baskets to fit my tall shampoo and conditioner bottles. I'm hoping the chain won't eventually rust...we'll see, though it would be easy to replace it if it does. Overall, great find; it works perfectly for my needs.
April 17, 2014
Rated

5

out of

5
 by
Teacher2001
Best shower caddy!
This shower caddy is roomy for all your big bottles and has the ability to hang or suction to the wall. After several caddies that I bought broke due to falling off the wall, the hanging option is the best for me. Now I no longer have tons of bottles sitting on the floor of the shower.
April 1, 2014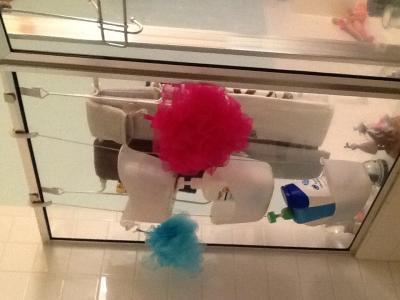 Rated

5

out of

5
 by
binkyboo8
Love it!
Let's just say I have mine cram packed with my shower stuff. It holds up to heavy use. Drains easily.
March 24, 2014
Rated

5

out of

5
 by
Jenniferld672
Best Shower Invention
I LOVE THIS CADDY! I have 5 kids ages ranging from 24yrs to 5 yrs, the three older sons have their own shampoos and body washes, I have my own and my two younger kids have their own, I am talking about 5 shampoo bottles, 1 conditioner bottle and 5 body wash bottles all in one shower. Thats 11 bottles in the corners of my tub, falling every time you take a shower or bath, it was aggravating. Didnt like having these items in in the cabinet under the sink because would get in the shower and be like oh great forgot the shampoo in the cabinet, have to get out wet, end up cold, just wanted a better solution....but then I saw this in the store and thought, WOW that would be perfect. Easy to put on the bar, filled it, done, so easy and so much more room in the shower, nothing falling...Best $20 I have ever spent!!!!!!
March 21, 2014
Rated

4

out of

5
 by
MessyBath
Great shower product!
My daughter has loads of hair products, razors, face cleansers, etc. that had taken over every corner in the tub and the floor around it. This caddy made the room much neater and the tub easier to keep clean.
February 16, 2014
Rated

5

out of

5
 by
SNBooks
I do not have any shelves in my shower, so I got this caddy. It hangs over my shower door so that it will not get wet all the time. Very nice.
February 12, 2014
Rated

5

out of

5
 by
Jo123
shower caddy
this is great. I have stone tile in the shower so the litte suction cups do not stick....however you do not need them. This hangs from an existing corner shelf and works perfectly for all the extras that don't fit on the shelf.
November 25, 2013
Rated

5

out of

5
 by
Gotnotime
Great shower helper
Stopped the need to op0en shower curtain to get products so no more water on floor!!!!
November 18, 2013
Rated

4

out of

5
 by
WineGirlRach
cute shower basket caddy
I think this hanging caddy is as cute as can be. While hanging from the shower curtain rod or the shower head fixture didnt work for my needs, a cute hanging hook keeps my shower clean and roomy. Completely happy.
September 20, 2013
Rated

5

out of

5
 by
paulinam1231
Bear Claw Tub
I have a bear claw tub and it has been so difficult to find a caddy that really worked. THIS ONE DOES! IT'S PERFECT!! I hung it from the rods over our heads and it's not in the way or taking up extra room. GENIUS IDEA for this tub.
August 6, 2013
Rated

4

out of

5
 by
cleanit
Keeps tub area free
Really nice keeps tube area clear and easy to clean. Larger capacity thn other shower caddys.
May 21, 2013
Rated

5

out of

5
 by
QuartzsiteGrandma
Just What We Needed
I had three containers in the shower to hold the body washes, shampoos and such. The suction cups would not keep the containers on the wall so I set them on the corner shelf. They did not fit very well. I originally asked if this shower caddy would hang on a shower wall but was told it would not. I ordered it out of desperation, figuring I could somehow make it work. The information I was given was incorrect, There is a hook at the top of each chain. It hangs over the shower wall perfectly. I should tell you that the shower stall is in an RV and the wall is a glass partition, Could not use a pole-type set of shelves. I am a very happy RVer.
May 18, 2013
Rated

4

out of

5
 by
Jova
Cast Iron tub solution!
If you have an old cast iron tub with the plumbing that is suspended (not attached to a wall) then you know that finding a tub caddy is near impossible. This was like Superman, it saved the day. It's deceptively roomier than one would think and I'm a girl so I have my products in there!! No rusting on the chain! You have many options of where and how to hang this little nugget. Obviously I have it over my shower curtain bar and it's perfect. I would recommend it if you are having a tough time trying to find something that will fit your space.
April 26, 2013
Rated

5

out of

5
 by
AudreyH
Great for glass showers!
Awesome!! Love this product. We didn't have much room in our master bath shower. It got everything up off the floor and doesn't take up much room. Loves how it has hooks and suction cups, stays in place.
April 16, 2013
Rated

4

out of

5
 by
tigerlily2068
great product
I love that there is a lot of room and can be cleaned easily and you don't have to worry about things falling out the back like with a lot of other caddies. this is closed it and that makes it a really great product.
April 4, 2013
Rated

5

out of

5
 by
tkess
Ideal for a two people household
I bought this for my roommate and myself a while ago and waited to see how it holds up. It's GREAT. each of us has her space, it doesn't rust on the shower head or slips. I love it.
April 3, 2013
Rated

5

out of

5
 by
austinorg
Great Solution
This is the perfect solution for bathroom storage if you have an older bathroom with one of those random towel bars on the back side of your bath tub. I never use that towel bar because the towels always get wet when we shower. Hooked this caddy on there and viola! no more products cluttering the sides of the bath tub!
March 19, 2013
Rated

5

out of

5
 by
DeboraM
Perfect for our space!!
Since we don't have much space inside the shower, I bought this bask only to have an option but put the items on the floor. The product fits perfectly because can be hung on our curved shower curtain rod.
March 18, 2013
Rated

4

out of

5
 by
EthelMae
The plastic of the baskets aren't as heavy duty as I expected, but they do the job and don't look cheap hanging in the shower. The suction cups on the back keep the baskets from knocking around against the wall. Good value for the money.
March 12, 2013