Rated

5

out of

5
 by
Nancu
Happy together.
How can such a small product save so much laundry time? I keep a jar filled with these little guys by my laundry basket and washing machine and use them to hook up my socks. No more spending time looking for the other sock and no more wearing mismatched ones either. My socks stay together!
January 21, 2017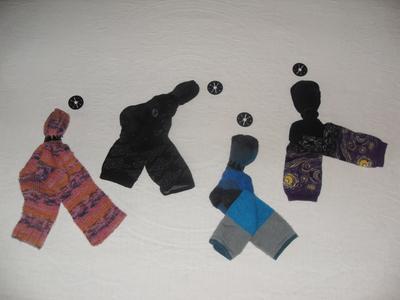 Rated

5

out of

5
 by
NANA7
Great sock loops!
These save time, aggravation, and single socks from mysteriously disappearing in the dryer!! I love these!!!
March 2, 2015
Rated

5

out of

5
 by
Dibabe
No more single socks!!!!
Best product ever!!!!! Socks stay matched from washer to dryer to drawer!!!! Availability of multiple colors great for large families and many different styles of socks. Have recommended to family and friends!!
April 28, 2014
Rated

5

out of

5
 by
HappyReader
Great Problem Solver
No more lost socks!! It only takes a few seconds to pull a pair of socks through a clip and it saves the hunt for the missing sock at the end of the dryer cycle.
April 22, 2014
Rated

5

out of

5
 by
Napo
Save time sorting laundry.
The men in my house all wear black socks. Using these sock clips means no more piles of socks waiting to be paired up. They won't catch on your other laundry like some of the clips out there.
April 4, 2014
Rated

4

out of

5
 by
snowflakemom
sock mates
Helps keep socks corralled. Nice b/c the soft rubber doesn't knock in the dryer. A bit difficult to pull larger, thicker socks through. Good product for the price!
March 13, 2014
Rated

1

out of

5
 by
MDMiller
Not good for tube socks
These work fine on thin dress socks, but I tried them on my thick tube socks and I can't get the pair into the little opening. I got one sock in but there is not enough room for 2 socks to make a matched pair.
February 28, 2014
Rated

5

out of

5
 by
grannie03
solved my brother's missing sock problem
I gave these to my brother as a stocking stuffer. He goes to the laundromat and like many, loses socks (where do they go?). However what's neat about these is, you can insert your socks before you go the laundromat so you know that you have pairs. I'm getting some more for him and for me. Actually they would make a great gift for next Christmas too :)
December 29, 2013
Rated

5

out of

5
 by
Jax1984
No more sock monster!
This eliminates the sock monster problem in our home. For whatever reason my husband always comes up short with socks, probably because he has too many to keep track of. I can put these on, they go thru the wash and dryer and still stay together! No more going on a never ending treasure hunt! I like that they're a little more durable than the sock cop ones. Though I wish they made bigger packages.
December 7, 2013
Rated

5

out of

5
 by
Verified Reviewer
Sock Pro Clips
I love this item. It works great! i'm about to buy several more to handle my husbands socks as well!
April 26, 2013
Rated

5

out of

5
 by
JanieMac
Morning Helpers
My bedroom has very dim lighting, and I struggled to find matching socks in the morning. Unless I went to another room with better lighting, I would end up with a blue sock on one foot and black on the other. I use different color Sock Clips for my black pairs, my blue & my brown. So, they not only help on laundry day, but everyday!
March 25, 2013
Rated

5

out of

5
 by
TLuc
Mind Saver!
Forget about the fact that these little miracles save you time and money, they really help you maintain sanity. I know, I for one, constantly searched the house, washer, dryer vent, etc. for missing socks. I shook my fist at the dryer gnomes who were forever stealiing my socks. Well these little doodads have restored my sanity and I am forever grateful.
March 22, 2013
Rated

5

out of

5
 by
Joaniebaloney
Time Saver
Great time saver. Hook the socks together when they go into the laundry basket. Then they will go through the washer and dryer together and save you all the time of matching socks.
March 18, 2013
Rated

5

out of

5
 by
rockinoldie
Great time saver
I now spend much less time matching socks and looking for lost socks. These have been embraced by our family. Different colors can be used for different people. Take a pair out of the drawer, take the sock clip off. Wear the socks. Put the sock clip back on when you put the socks in the clothes hamper. Wash and dry socks with the clip. Put the socks back in the sock drawer. Great product. It would be a great stocking stuffer.
February 23, 2013
Rated

5

out of

5
 by
interimgeezer
sock pro sock clips
Call me fussyl but sock clips are the best way to organize socks. Color coded clips help to differentiate black and blue socks early in the morning.
October 11, 2012
Rated

4

out of

5
 by
Lolalove
Stop the Dryer Sock Monster!
Great product and simple to use! Bought for my husband to stop the sock monster and it has worked every time!
April 2, 2012
Rated

5

out of

5
 by
MavisJ
Love these! Between wearing, hamper, and laundry day, my socks always lose their mate. These will definitely help, provided I use them :) Based on a couple of uses, they work perfectly.
February 15, 2012
Rated

5

out of

5
 by
happymommy
GREAT PRODUCT -END OF NON-MATCHING SOCKS
I LOVED THIS PRODUCT. IT ENDED THE MYSTERY OF NON-MATCHING SOCKS IN MY HOUSE. I RECOMMEND IT.
March 1, 2011
Rated

5

out of

5
 by
LooneyLars
Time Saver
I love these. They make folding easier. More even wear on socks.
January 22, 2011
Rated

5

out of

5
 by
lawdame
better than the competition
These are necessities around my house and these are better quality than the others I've found over the years. They are sturdy, they are easy to use, and the little flaps don't get brittle and/or break like some of the ones I've had.
September 24, 2010
Rated

2

out of

5
 by
Baskininthesun
Second best
I thought I was going to love these. That was until I started having holes in my socks from these. They also leaves terrible bunches and creases in the socks.
August 5, 2010
Rated

5

out of

5
 by
DebbieN
Little Laundry and Time Savers
I no longer have the basket of missing socks, these little clips are perfect time and money savers. I have a set of colors for each of my children. My older daughter matches hers up when she puts her socks in the laundry and I do the younger ones for now. No more missing socks, they still come out as clean as if seperate and I shave minutes off of folding and sorting time! Great little invention!
May 18, 2010
Rated

5

out of

5
 by
artthedime
Beat the Sock Eater
At last! You can defeat the Sock Eater, the ;aundry monster who always eats one sock of a pair, leaving you with a drawer full of unmatched socks. Put your pair of socks into one of these simple, inexpensive (but priceless) plastic rings, and throw them into the washing machine, then the dryer, then the sock drawer. The pair will still be together when you are ready to put them on.
March 21, 2010
Rated

4

out of

5
 by
OrganizedNMS
I don't want to wash socks without these again!!!
I have had my eye on these for a while and finally purchased them. I usually NEVER match my socks up after doing laundry....but, these clips can go from wash to dry and then the socks are already with their mates. Great for busy people like me who also HATE to fold laundry. Only gave them 4 stars because you can't pick your colors. I ordered three sets and got three different colors. Container Store please let us pick our own colors on these!
March 3, 2010