Rated

3

out of

5
 by
fixthis
PEVA Blanket Bag
Nice bag roomy. But for this price should have been heavier duty, or cheaper. Not as heavy of plastic and zipper as most of the bags that come with bedding sets.
February 11, 2016
Rated

5

out of

5
 by
Kaeli
Great for Comforters
Love this bag for storing comforters during off-season; holds the goose-down duvet during summer & the quilt during the colder winter months. Fits a twin duvet & knit blanket with room to spare, or a cali king size by itself. Will be buying more for the guest bedroom.
August 12, 2014
Rated

4

out of

5
 by
FMB0427
Much better than expected
I purchased the PEVA Blanket Bag to store comforters. I actually bought two Blanket Bags because I had two comforters to store, and I had not found anything that fit both; I had even tried the Jumbo Clear Storage Box from The Container Store. I was pleasantly surprised to discover that both comforters fit in one Blanket Bag. I feel comfortable moving the comforters into the attic now that they are protected.
April 24, 2014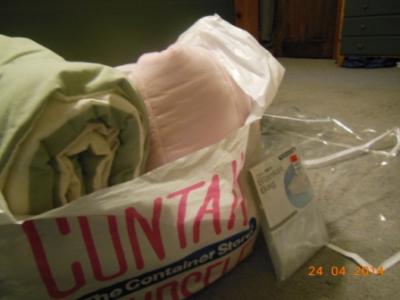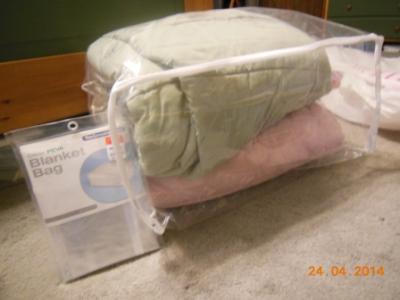 Rated

5

out of

5
 by
KT181823
Great storage bag
Holds maybe three pillows or maybe three large blankets. Roomy and perfect for closet storage. Very happy with purchase.
April 15, 2014
Rated

5

out of

5
 by
mpears
Great for putting blankets away once the weather gets warmer!
April 28, 2013
Rated

1

out of

5
 by
peepthischica
flimsy & ineffective
the zipper on this bag broke before i could zip the bag 6 inches. i returned it for something a bit sturdier.
March 18, 2013
Rated

3

out of

5
 by
LemonMeringue
Too big
The material was as expected but it was too large for one comforter. I was actually able to fit a comforter and a throw blanket in there. I liked the shape though - good for stacking.
March 1, 2013
Rated

5

out of

5
 by
1981
Great storage
It can fit a large comforter and because it's flexible, it can be squeezed easily under the bed
January 26, 2013
Rated

5

out of

5
 by
lmdja
Great storage
I was able to get two king sized pillows and a twin quilt into this big bag. The plastic isn't heavy but for storage it doesn't need to be. The zipper opens three sides of the bag making it easy to access.
December 13, 2012
Rated

5

out of

5
 by
Spanky1225
Another Smart Purchase
This blanket and comforter bag is strong and well-made. I managed to get three full-sized quilts in here, with a little extra room left over. The zipper is extensive, and goes around the length of the bag. The PEVA is strong, and you can see exactly what you've put in there. Think of it as storage for other items as well: sweaters, small rugs, towels, etc. It's extremely versatile.
May 21, 2012
Rated

5

out of

5
 by
MiraIssa10
Just what I needed to store my winter comforter
The bag was perfect to store my queen size comforter and there was even more space for a few extra linens. The bag was also on SALE...and you can never beat a sale item and suits what you needed!
April 27, 2012
Rated

5

out of

5
 by
1LUVDSUN
GREAT STORAGE BAG
Worked perfectly for the quilt we needed to store!
April 13, 2012
Rated

5

out of

5
 by
LadyTan
Great buy!
The comforter bags are well made and very durable. The handles are great. I like the variety of sizes they offer. Great product.
March 30, 2012
Rated

4

out of

5
 by
Chrysanthemum
Pest solution
This bag was the solution to my pest problem. I couldn't fathom the idea of leaving my dirty laundry out in the open. The zipper made it easy to put items in and take out and it kept the pests out.
March 24, 2012
Rated

3

out of

5
 by
cchu04
Great way to store blankets/comforters
This is a great bag to store comforters and duvets. However, I grabbed mine in a weird way where I punched a hole with my fingernails. This was somewhat a bummer that the bag was easily able to be puncher. However, it was my fault and I still recommend the bag!
March 19, 2012
Rated

5

out of

5
 by
Brigitta
Great Bag!
It fits my winter quilt perfectly. A great way to store my quilts. I will buy more.
October 28, 2011
Rated

5

out of

5
 by
rezina
So Roomy!
I purchased this product for my daughter to help better organize her closet space. My daughter calls me the "Mad Organizer" because I'always find ways to help organize her apt whenever I visit her in Denver. I couldn't believe how much room this container can hold, especially for king-size bedding. I just wish a Container Store would be built close to Park City, Utah.
August 22, 2011
Rated

5

out of

5
 by
Dolly
Great Buy!
Like magic, the PEVA blanket and comforter bag unfolded into a roomy, tidy, and manageable container for my queen puffy comforter, bed skirt and matching shams, with plenty of room to add other things when I want to. I will buy the other sizes for my blankets and company linens.
July 24, 2011
Rated

4

out of

5
 by
Suzf
Was exactly what was promised
Good size and flexible. Zipper works great and is easy to use
July 2, 2011
Rated

3

out of

5
 by
AuntieMaim
Meh...
This isn't any more durable than the plastic bags that some comforters already come in. If that's what you're looking for, then go for it. I returned the one I bought.
June 14, 2011
Rated

5

out of

5
 by
ShannonD
Buy Online and Pick up In Store
I got this on sale and picked up in store. Very easy purchase and it easily fits my thick down queen size comforter with duvet on.
May 9, 2011
Rated

5

out of

5
 by
silverfox
Great Size
I bought two of these and one has two pillows, a set of sheets and two blankets and the other has a king size comforter and a king blanket. It's easy to see what is in them, one of them is on a top shelf in a closet making it easy to store away. I would not try and pick these up by the zipper but if you are careful with them they should last several years and well worth the money to keep things neat, clean and out of the way.
March 12, 2011
Rated

4

out of

5
 by
Homeowner
These bags are definitely roomy. It can hold two king sized pillows or one king size comforter. The plastic isn't very thick so I would imagine that it would split easily if overstuffed although it would be tough to overstuff considering the size. Perfect for storing extra linens and towels.
October 10, 2010
Rated

5

out of

5
 by
PeterLou
Perfect Storage Bag
I used these blanket bags for storing pillows. I can get 3 pillows in one bag. I also used them for storing quilts. Excellent product. I will be buying more.
September 12, 2010
Rated

5

out of

5
 by
KACY
Good Investment
Great storage for blankets, sheets, comforters. Keeps moisture out , no need to use cedar and easy to store. More room in the bag than you would think by looking at it. Plan on buying more in different sizes.
July 27, 2010
Rated

5

out of

5
 by
Rhoboat
Great size!
Wow! Fit a full size down comforter, two standard pillows and a set of fullsized bedding into one of these to store our guest bedding, and there is some room leftover! Used another for our California King down comforter and it works out wonderfully.
July 6, 2010
Rated

1

out of

5
 by
rtree
low quality
I purchased several of these storage bags because we have a problem with Brown Recluse spiders in OKC. One split within minutes of removing it from the shipping box. The replacement lasted slightly longer. I was able to fill it up, and store it on a shelf, but the first time I unzipped it, the bag opened along the seam rather than along the zipper. Maybe I will use duct tape to seal the seams or maybe I will continue to use these boxes for blanket storage without completely closing them. They seemed like a great idea, but the quality is exceptional poor. Definitely not a good idea for protection from moths.
March 6, 2010