Rated

5

out of

5
 by
Gailzie
Like-It Modular Bins
Perfect items to keep my husbands sweaters & sweatshirts organized in our closet.
August 17, 2014
Rated

5

out of

5
 by
jkpscrap
Best Dead Space Storage Ever!
These modular pieces fit in all sorts of nooks and crannies to hold all the things that don't fit elsewhere. They are especially good at holding 12x12 scrapbook paper upright and cost less than the wooden boxes. I used casters on mine and they move very easily. It's a terrific product!
April 27, 2014
Rated

5

out of

5
 by
Trying1
Modular Bins
These bins are inexpensive easy to stack. They stay put and do not wave side to side. I am using them to store wine in a closet. The bins come in several sizes and the ones we have fit our closet space. As I was looking at the bins a clerk came by to assist me and he was very helpful and courteous!
October 8, 2013
Rated

5

out of

5
 by
Tink20
Fits in my CPU cabinet
These work great in my office in the spot where I used to have a CPU. Adds another storage option where there used to be an empty hole.
November 30, 2016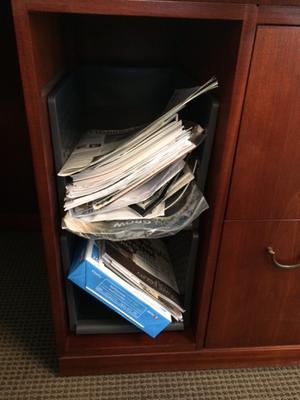 Rated

1

out of

5
 by
dorothyc
instructions in Chinese
the casters, listed with the bins DO NOT FIT the bins. OR....if they do, I don't know how to follow the only instructions are in CHINESE
January 22, 2015
Rated

5

out of

5
 by
randomgirl2242
They fit well in my closet and are helpful for organizing my purses.
July 18, 2014
Rated

5

out of

5
 by
superdisorganized
great for what I needed!
I purchased the Like it narrow tall bin, because I had a ton of pads of paper and a few canvases lying around that I wanted out of the way. Now they're all stacked against the wall with the support of the bin, out of the way! And it doesn't look too bad either. I wish there was a better way to store various sizes of paper pads (ranging up to 24x36) but for now, this works perfectly fine.
April 16, 2014
Rated

5

out of

5
 by
OnlineGMa
Exactly what I needed. . .
Looking for bins for upper shelf in closet by the entrance for small umbrellas, gloves, pet leashes, etc. Problem solved!
February 26, 2014
Rated

5

out of

5
 by
MIAMIMARI
GREAT
ALSO BOUGHT THE CASTERS, GREAT SOLUTION FOR THE BLIND SPOT UNDER THE SINK TO SLIDE IN AND OUT - ALL DIFFERENT SIZES 2 GREAT COLORS TRULY MAGNIFICENT
January 6, 2014
Rated

5

out of

5
 by
Violet99
Good quality
Sturdy, nicely made bins, able to hold some weight. Exactly what I was looking for to organize my shelves with paperwork, brochures, etc.
January 5, 2014
Rated

5

out of

5
 by
TypeABusyOrganizer
I bought the Tall Medium bins and I actually use it to store gym equipment in - I actually have about 30 pounds of weight plates in a bottom bin without any issues. I love that these bins are deep, thus I can push to the back of my shelves with no wasted space. The are sturdy and stack very well.
April 27, 2012
Rated

5

out of

5
 by
kamo
Brilliant Item
I have this small section between washer and laundry tub and I just had a couple small boxes of dried powder on a brick ( in case there was ever a leak) and I bought a Like-It Short Narrow Drawer and a Like-It Tall Narrow Bin to go on top and they are great!! The drawer holds the two boxes of dried detergent and the bin holds the few odd items that don't quite make a load but keeps them there until you have enough for a load. Not regular clothes, but the something that you don't come across very often, (doggy blanket or towel, etc.) and keeps them out of sight vs sitting on top of the dryer like before. Very happy, thank you.
February 21, 2012
Rated

5

out of

5
 by
CoreCorp
Fabulous modular bins
These bins are sturdy, functional and aesthetically pleasing. We used these to organize our office supply closet. The fact that the bins are stackable is a plus. For larger size bins you can purchase wheels so you can move the larger bins with ease, once they are full. The one negative is that these bins do not have a backstop or any type of clip to hold the stackable bins in place, as such, when you move the stacked bins the top bins fall off.
October 22, 2011
Rated

5

out of

5
 by
PinataParty
Great stacking bin
I use the short wide bin for the top of a stack of tall wide bins. At first I thought I wanted something with a flat top, but I actually stack diapers and cloths on it, so it is sort of helpful to have the sides and back to keep items from falling off. I think this is a well-made and excellent product. The only thing I dislike is sometimes the bins will slide forward or backward (staggered). There aren't any stops to keep them from doing that.
February 15, 2011
Rated

5

out of

5
 by
westsidemom
Excellent, I Like-It a lot
I bought the largest type of the bins - 10 inch high open bins. I use these bins to organize toys, crafts, books inside my large closets. I bought 8 of these and they are fantastic for organizing my child's swim stuff: flippers, goggles, water guns, to numerous balls/skip-ropes, to books, crafts, beads, paint stuff, and more books. Now I can access and tidy just the things contained in the individual bin instead of knocking things over constantly. You still have to trim your stuff once in a while and tidy up, but this makes it so much easier. I like the sturdiness of these plastic bins which are also easy to clean. I think they should come out with different bright color bins of the same, because when these bins arrived in the mail, my 4 year old wanted to stack them and start putting her toys in them and put them in her own room. If the colors were not simply white, I may consider it.
July 27, 2010
Rated

5

out of

5
 by
manthas24
If you try them, you will LOVE them (and your kids
These are perfect for sorting and organizing kids rooms and helping kids KEEP them that way! Stack 'em wherever you have room and designate the items that go there. Cleaning the kids room is a snap and they will even do it themselves. WOW!
May 29, 2010