Rated

1

out of

5
 by
kidkong
Does not fit well on the cabinet door
This did not fit well on my kitchen cabinet doors, causing the door to not close properly. Thus, I had to return this purchase.
March 9, 2014
Rated

5

out of

5
 by
MartyRock
Nice product, does the job
Works well over our cabinets, helps to keep the counters clear of towels. Definitely recommend!
February 18, 2014
Rated

4

out of

5
 by
Jessika
Good hand towel holder, but slips off easily
Installation is very easy, you just slide it on the cabinet door. But...it slides off the door very easily, as well. I'm thinking of placing some putty to keep it in place, hopefully that will do the trick!
October 10, 2013
Rated

4

out of

5
 by
sail2sunset
Easy dish towel solution
Where do you need a dish towel? At the kitchen sink of course. This over-cabinet towel bar serves that need. It hangs on my regular-sized cabinet door and makes it easy to dry my hands while working in the kitchen. Highly recommended.
July 15, 2013
Rated

2

out of

5
 by
myalkalik
disappointed
This is a beautiful towel bar and it seems very high quality.. Unfortunately I had to return this because the cabinet door doesn't close with it on there.
May 27, 2013
Rated

5

out of

5
 by
Alibeth
Perfect towel bar
I love this product simply because it provides something that I didn't have before- a towel bar/hook. My kitchen is very small and this helps with the organization! Love it!
March 27, 2013
Rated

5

out of

5
 by
trtl
fits the shallow thickness of cabinet doors, and can hang inside or outside the door
March 18, 2013
Rated

5

out of

5
 by
Cintia
Great towel bar
I use this towel bar on my top cabinet, instead of the bottom cabinet because I have two toddlers that love to get hold of the towel and play with it. The great thing about this product is how easy it is to relocate. I have the same one on my bathroom cabinets.
February 20, 2013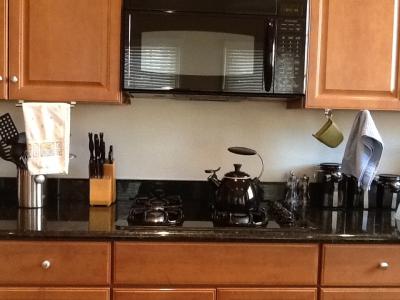 Rated

5

out of

5
 by
PinataParty
Useful and Attractive
This works well and has a modern aesthetic. I had to fold my dish towel in thirds for it fit without it crowding the bar. I can see this being handy in bathrooms as well for hanging hand towels lower so children can reach them easily.
April 3, 2012
Rated

5

out of

5
 by
MonaP
Love it
This is a great item. Keeps my kitchen rag off of the sink and looks very stylish
February 24, 2012
Rated

5

out of

5
 by
skirk94
Towel Solution - Found!
This Overcabinet Towel Bar is terrific in the kitchen for under sink cabinets. Outstanding for thicker towels and they dry faster with the wider bar instead of a hook. I did use some museum putty to keep the bar in place. My husband tends to pull the towel out to use it, so the bar sometimes would fly off the door. Now, it stays put and my husband (who finds anything hanging over the door to be cheap and ineffective) raves about it.
September 28, 2011
Rated

5

out of

5
 by
AngelinWA
Fix idea for the frequent fall off
I bought this because I loved the idea, but i haven't used it yet. I just read the reviews about it frequently falling off and was considering just returning it. Instead of returning it, I think I'll put some double-sided puffy tape or maybe even some velcro with adhesive (if it's loose enough) on the part that contacts the back of the cabinet door. I think either of these solutions will keep it in place. I'll update again after I've tried it out for a little bit and let you know how it works out.
July 20, 2011
Rated

1

out of

5
 by
MomSeeksValue
It broke so easily
If you're in a hurry, are clumsy, or have man hands, this item slips too easily off of the cabinet door. The soldering came undone on one side within 3 months of using it. I'll never buy this again.
June 28, 2011
Rated

5

out of

5
 by
organizedmomma13
Finally can have my towel close to the sink!
My kitchen sink is on an island, so my usual places of hanging the hand towel (fridge handle, oven handle) won't work. This put the towel right below the sink. Even my husband likes it!
May 22, 2011
Rated

3

out of

5
 by
lv654321
Not perfect, but it fulfills a need
I needed a place to keep a towel in both the kitchen and the bathroom and this works. It does slip off the door if you aren't super gentle so if you're in a hurry or just accidentally grab it wrong it falls off. It's kind-of annoying, but it is what it is.
March 7, 2011
Rated

1

out of

5
 by
spills
Not functional
I'm very disappointed with this purchase. I bought two for my kitchen cabinets and when you grab the towel the whole thing comes off the door b/c the hooks aren't long enough to hold it on the door. Very frustrating. I hope to find my receipt to take it back. Unfortunately I tossed the packaging so I'm not sure they will return it.
February 22, 2011
Rated

5

out of

5
 by
Scout
Clever and convenient
Keeps my towel right where I need it when cooking!
February 15, 2011
Rated

5

out of

5
 by
Petiteredgirl
Great for Kitchen
I needed place to hang dish cloth and towel. There is no wall in my kitchen to put a hanger on. The overdoor cabinet towel bar was exactly what I needed. Now the dish cloth can dry properly and not be in the way.
November 28, 2010
Rated

5

out of

5
 by
queenmb
Great towel bar
I purchased 4 of these over door towel bars for the cabinets in my small apartment kitchen. They are great for holding the towels, but also give a sleek modern look to my unadorned cabinet doors. I have no issue with them coming off when removing the towels because you can simply tighten the part that clamps onto the door to secure it if its loose. The bars on all 4 of my doors look like fancy stainless steel door pulls. I love them!
October 9, 2010
Rated

3

out of

5
 by
Berta
Great for a small kitchen
I bought this towel holder for my daughter to use in her extremely small apartment kitchen. This product is not something that I was able to purchase locally. Of all of the catalogues that I perused only the Container Store had the best price. She is happy and so am I>
August 26, 2010
Rated

4

out of

5
 by
Mach3
Mixed
The towel rack hangs easily and looks nice, but falls off frequently when I go to use the towel which gets annoying.
July 9, 2010
Rated

4

out of

5
 by
Deirdre
Works fine
I used this in my bathroom, for the hand towel, to tide us over until I reconfigured the various towel bars. It looked nice, but rattled around an awful lot when I would pull the towel up and out of the bar.
May 17, 2010
Rated

5

out of

5
 by
grannyfanny
great space saver
this rack gives me much needed towel space. no more damp towels.
May 17, 2010
Rated

5

out of

5
 by
Tidykitchen
Great purchase Alternative Use
I love this overdoor cabinet towel bar. Even though the description is for using it with towels I use it for my dishwashing rubber gloves. I turn it around so the rack hangs on the inside of my kitchen door below the sink. When I'm done I just hang the gloves up to dry, shut the door and leave my sink and countertop looking tidy. This is also great because I used to lay my gloves on the edge of the sink and they were forever falling in the sink. With kids around they wouldn't pay attention and run the water so when I put my gloves on they would be wet inside. Yuk! Now I have dry clean hands. Thanks Container Store for making my life easier!!
March 3, 2010
Rated

3

out of

5
 by
newlib
Mixed feelings
I purchased this towel bar over a year ago and I still have mixed feelings about it. It's great when you don't have much space to hang a towel by the sink, but when you try to remove the towel from the bar, about half the time it falls off and clangs on the floor. I wish the hook were more snug to my cabinet so that this wouldn't happen.
March 3, 2010
Rated

5

out of

5
 by
gamommy
Before I bought the towel bars, I was always loosing my hand towels. Now they are easy and accessable. This is a great buy!
February 27, 2010