Rated

5

out of

5
 by
Bethienyc
Great necklace display
My necklaces would always get tangled in my jewelry box. Now that I have them hanging in the necklace keeper, I don't have any more knots! The display is nice and I like that I can see every piece hanging. Catches the light nicely, too!
September 18, 2016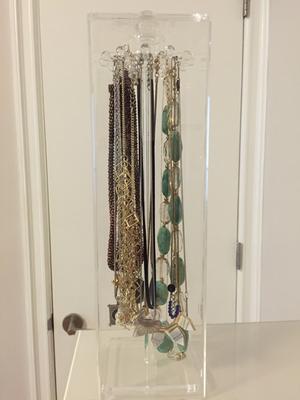 Rated

3

out of

5
 by
lorkay
Nice but cumbersome
I own three of these, and though you can see what you have, the necklaces do get tangled up, especially the long ones. If you have lots of necklaces, as I do, you have to double and triple up and that's a problem. Trying to get necklaces off the pegs causes adjacent ones to fall to the bottom. Then you have to lift the inside piece out and try to get your hand to the bottom to find the necklace that fell. Pulling up on the hangar to get a necklace is cumbersome. It would have been better if the item had a front door which would have provided easier access to the necklaces, rather than the pulling up on the inside piece. I'm not recommending it because of the inconvenience of getting necklaces out if you have lots of them.
February 11, 2016
Rated

5

out of

5
 by
jewelryobscessed
organizational perfection
I already had 6 of these and due to expanding jewelry collection needed another. I am able to organize necklaces by color and they are visible for quick selection. No tangles due to hanging.
May 9, 2015
Rated

5

out of

5
 by
Marg36
Very Useful
My necklaces had been in a clutter in a drawer. it is nice to be able to see all of them and be able to choose one without picking up a handful.
March 2, 2015
Rated

3

out of

5
 by
Lizzie6
Great to display jewelry, but not functional. It's nice that there are lots of hooks however, longer necklaces get stuck when trying to close the display. Not great for large chunky jewelry.
March 4, 2014
Rated

5

out of

5
 by
ChloeGirl
Love this necklace holder !!
I have three of these, which I use for my delicate necklaces, one for gold, one for silver, and another for pearls. I absolutely love them. They are not made for bulky or heavy necklaces, but are perfect for the delicate ones.
January 10, 2014
Rated

3

out of

5
 by
classicstyle
Great idea in theory
I thought this was going to be a great purchase. I found it to be rather unstable. It is not heavy acrylic. It wasn't good for long necklaces or statement necklaces. You have to pull the top up and twist it to get to a particular necklace. I love so many things from The Container Store but this is not one of them.
August 16, 2013
Rated

5

out of

5
 by
Safetychic
Pretty and Practical
Great Idea, this keeps my necklaces in full view, tangle free and keeps silver from tarnishing. Love it.
April 29, 2013
Rated

5

out of

5
 by
LadyInVT
Covenient and cute
I was looking for way to store/see my chains and necklaces and as always Container Store had solution. I like this one a lot! It is perfect for short and medium length necklaces - easy to choose, no tangling and looking very good on my dresser along with folding screen for earrings and bracelet holder. As for long necklaces - I found the little black dress, which I recommend too.
April 26, 2013
Rated

5

out of

5
 by
redconniek
Best jewelry storage ever
I have 3 of these! They are closed so the dust stays out and they hang so they are tangle free. I can see each necklace because the acrylic is clear so I just turn the necklace keeper until I find the one I want to wear, lift the top and grab my necklace. Super easy! Very cool!
March 19, 2013
Rated

5

out of

5
 by
lumel0906
Acrylic Necklace Keeper
Love this product & many of the other items I have purchased! Great quality & perfect stuff for all my home storage & decorating needs. There are so many more things I want to buy! I always tell everyone about The Container Store, specially when they see what I have they always ask!
March 18, 2013
Rated

5

out of

5
 by
Clarson7
Great for necklaces!
I absolutely love this necklace holder. It's cute and keeps my jewelry organized while showing it off. I love how none of my necklaces get tangled together anymore because of this product!
March 18, 2013
Rated

5

out of

5
 by
Sumz
Helpful Organizing Tool
Such a great product!! All of my necklaces were tangled and messy and I had no where to put them, but after using this they look great!
February 21, 2013
Rated

1

out of

5
 by
PPweb
Terribly Flawed Design
I wasn't sure what to make of the other reviews so I took a chance. Two major flaws for this product: 1] the top does not spin despite having a spinner handle. this means that you need to turn the entire box to see what's on the other side of the hanger. 2] the top lifts UP, meaning you need to pull the entire hanging part up and out of the box to access your necklaces. If any chains were longer than the box, they fall below the base panel which is no longer flush with the bottom- and the chains get stuck between the piece of acrylic forming the base and the sides of the box. When you push the central hanger back down it jams your chains/necklaces between the base piece and the sides. Absolutely bizarre that this is on the shelf. It's useless.
October 1, 2012
Rated

5

out of

5
 by
jennyA
Best way to organize necklaces! I have 4 of these!
September 6, 2012
Rated

5

out of

5
 by
lakelady
Best I've tried!
This keeps necklaces untangled, viewable and best of all, for me, dustfree! I have 5 of these and I love them and they are like artwork on my dresser.
June 15, 2012
Rated

5

out of

5
 by
serenadedreamer
Great product!
I love how the necklaces don't tangle when I put them into the acrylic holder. It's better than putting necklaces in a bag and later being all tangled up! Very easy to lift, take the necklace and wear without tangling!
April 27, 2012
Rated

5

out of

5
 by
bedrestmom
Finally!
No more tangled necklaces! My jewelry box only had space for a few necklaces, so I always doubled up. This created so many tangles and knots. I have wanted one of these for so long, and finally decided to try it. It is expensive for an acrylic box, but I am really happy I bought it.
March 8, 2012
Rated

4

out of

5
 by
kminchi
Great product!
These handy little necklace keepers came in VERY handy when we moved cross-country! One tip: tape them shut! They will open quite easily.
March 1, 2012
Rated

4

out of

5
 by
smbryson
Inexpensive solution
I keep this on my bathroom counter to hold my most frequently used necklaces. Looks nice and does the job protecting my necklaces from wandering parrots. Wish it turned like a carousel though.
February 17, 2012
Rated

5

out of

5
 by
OrganizeQueen
Nice Product
It looks attractive on my dresser while keeping my necklaces out of my toddler's reach. It is sturdy construction and holds lots of necklaces keeping them tangle-free.
January 17, 2012
Rated

5

out of

5
 by
HFloyd
Just what I was looking for!
This organizes and protects necklaces on my dresser. It is compact and tidy-looking. I do "double-up" some necklaces, but they are still easy to access. The only cautions I have: 1. Longer chains will need to be looped, or they pool in the bottom and have a tendency to get caught when opening the case. 2. When you lift out the center section, you need to have a place to rest it while selecting your necklace. The hooks aren't very deep, so if it tips over, your necklaces are likely to fall off and tangle.
February 7, 2011
Rated

5

out of

5
 by
CharmGirl
Well made, excellent Product!
This necklace keeper is very well made, lots of hooks and tall enough for most lengths of necklace chains. Being clear makes it easier to see what you have. The top pulls out to retrieve your necklace. It appears that the hooks turn while in the case, but they do not, but you can clearly see what you have in the case from any angle. This product is well worth the price.
October 28, 2010
Rated

5

out of

5
 by
jlg35
The Best Neckace Organizer Ever Made!
I love how I don't have to dig through a big pile of tangled necklaces to figure out what I want to wear.
May 17, 2010
Rated

5

out of

5
 by
ClosetGirl
Works like a wonder!
At first I was worried that these acrylic keepers would cheapen the look in our new, professionally-done master closet. Was I wrong! I can easily find everything now....they're protected from dust and the elements....and my jewelry glistens through the keeper looking like a piece of art! Went back and bought a few more for the pieces that wouldn't fit in the first one I bought!
March 3, 2010
Rated

5

out of

5
 by
lme22
Excellent Necklace Organizer!
I am thrilled with this necklace hanger. There are 12 hooks, but I have about 3 times as many necklaces. I used each hook multiple times and it still keeps them all hanging neatly. WELL worth the purchase. I will wear my things more often now that I can actually see them! The container itself looks really nice asthetically, even though it is only plastic. I highly recommend this product.
January 30, 2010