Rated

5

out of

5
 by
Nicole1028shmily
Great Storage option
I bought this for a small utility closet I have and it keeps my tools/pet items and other small things contained and off the floor. Great product for the price, easy to put together.
January 30, 2017
Rated

5

out of

5
 by
Rhumba
An All-Time Favorite!
This product is one of my favorite purchases of all time! Assembly is practically automatic and requires no tools, strength, or dexterity, and it is really sturdy, and easily moved b/c it's on wheels that work w/o sticking or causing topplling over. It's really slim so it hardly sticks out of the wall and it's never in the way. The shelves can accommodate tall toiletry bottles and they hold TONS of bottles, jars, cans, etc. Plus, the unit looks smart and is well-priced. I haven't one negative thing to say about it! I may just get myself another one to give as a gift.
September 27, 2016
Rated

5

out of

5
 by
Kenyette
Space saving storage solution
This was a great buy!! At only $30, it's a very useful storage solution. Instead of using it to store laundry detergent, I am using it to store my numerous hair supplies. It is well suited for that purpose.
September 20, 2016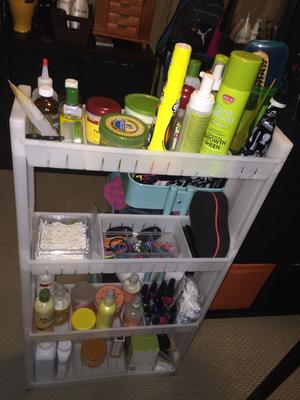 Rated

5

out of

5
 by
Uncovrme
Great Buy
This is a great product for the money. It's a perfect fit and holds multiple items. The dividers are not really needed.
May 27, 2016
Rated

4

out of

5
 by
dsgreening
Wish I'd bought this sooner!
I've nearly purchased this cart several times and always talked myself out of it. Sure wish I'd purchased it sooner. It fits nicely, slides in/out nicely, and has really helped with organizing the laundry room. Freed up a bunch of shelf space (where detergent etc used to live) and extra storage is always a good thing.
May 10, 2016
Rated

5

out of

5
 by
Jessr
Great cart! Sturdy
I just bought this cart at the store after finding it online. I needed a cart to fit between my dryer and wall and only had about 7 inches. This fit perfectly! It rolls out good and fits all my laundry soaps on it. I have 2 96 oz bottles on it and a smaller one and much more. Glad i found this and this size.
April 6, 2016
Rated

4

out of

5
 by
Fairwinds
Convenient and Easy to put together
In an apartment there is limited cabinet space and storage, especially for pantry items. Putting them in deep cabinets means you will forget them and they will go bad before you get to use them. This solves the problem by using the wasted space next to the refrigerator allowing you to roll it out and see everything. It snapped together in less than 5 minutes. It's not meant for really heavy items. Keep it light to keep it stable and easy to roll in and out.
February 8, 2016
Rated

4

out of

5
 by
cm234
Great Purchase
Very nice and easy to put together. I plan to order another very soon.
December 24, 2015
Rated

5

out of

5
 by
PenguinCook
Very pleased
Fits between washer & dryer. Tall and sturdy enough for 92 oz. detergent bottles, 11 inch high spray bottles, bags of kitten food. Wheels are small & low but not a problem on tile floor -- probably more stable because they are low. Easy to assemble -- snaps together -- and seems very secure.
November 14, 2015
Rated

5

out of

5
 by
BLTM
Great as mini pantry!
I purchased this for my daughter's small NYC apartment when she complained of having no storage. She uses it to store cereal boxes, teas and other cooking condiments. Perfect for her as she doesn't cook that much anyway! Easy to assemble and sturdy. The cereal boxes would only fit on the top shelf so she had to shuffle some items around. Overall good investment!
November 14, 2015
Rated

5

out of

5
 by
Feisty2013
LOVE the 4-Tier Slim Cart!
I live in an older home where the previous owner made creative use of every available space, to include a narrow-width, long-length linen closet in the bathroom. The 4-Tier Slim Cart fits PERFECTLY in the closet! I am able to organize so many linen closet items on the 4-Tier Slim Cart and can pull it out easily to retrieve them. I did not think I would find anything to fit in this narrow-width closet, but The Container Store had the solution I needed.
November 7, 2015
Rated

5

out of

5
 by
Denista
Just what I was looking for
I have a small house and try to maxima every tiny inch,Mathis little gem is just what I needed to store laundry essentials. I was pleasantly surprised at how sturdy it is,a another great find at my adult toy store.
August 2, 2015
Rated

4

out of

5
 by
bkl9678
Love this thing
I have a very small house with minimal storage options. I was using a hall closet for a lot of items to store but had everything sitting on the floor. This thing gets everything off the floor and is so slim that it doesn't take up much space at all. It holds a lot of stuff. I was very surprised. I like that it is on wheels and can be rolled around. The only con that I can see is that it is made out of plastic so when fully loaded it should be moved carefully; not because I think it can't hold the weight of the stuff I put on it, but because I am afraid it might tip over. However, I don't need to move it; it is in the closet against the wall and that is where it will stay. If anyone needs slim profile storage this is it.
June 6, 2015
Rated

5

out of

5
 by
KimN
Absolutely Love this Product!
Fits perfect between a top loading washer and dryer in my laundry room, loved it so much, I got my sister and mom one for their houses too!
April 1, 2015
Rated

5

out of

5
 by
MomOf12
Great Storage Solution For Small Laundry Space
This is a great wheeled shelf for the slim space next to my washer/dryer. It's easy to assemble and is made of thick, study, plastic.
March 17, 2015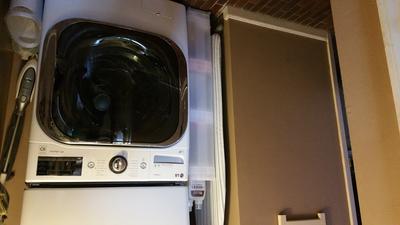 Rated

4

out of

5
 by
ATD74
4-Tier Slim Cart fits perfectly in small spaces
I only had 7 inches b/w the wall and the washer to work with. Since the width of this was 6.75 inches, I figured it should fit and I'm so glad it did! I like to be organized and most of the stuff that I now have in the cart had been lined up on the floor. I love that it has 4 tiers. It fit everything that I use most often. There's no instructions on how to put it together, but it wasn't difficult to figure out. The quality is pretty good. I keep my heavier items at the bottom to make it more stable. I am very happy with this product!
December 25, 2014
Rated

5

out of

5
 by
tcup22
4-tier slim cart
This has been wonderful and freed up space in the cabinets in our laundry room. I use vinegar as a softener for our laundry and the large plastic jugs of vinegar will fit on these shelves as will the large Allen's Naturally laundry soap containers. This is perfect and I'm so glad I found it.
November 19, 2014
Rated

5

out of

5
 by
yogamom13
great space saver
easy to assemble, fits perfectly between dryer & wall. Holds larger containers like detergent, softener, etc. I also have the Elfa wall storage unit behind the door and laundry basket as well. Thanks Container Store for great products at very reasonable prices.
October 8, 2014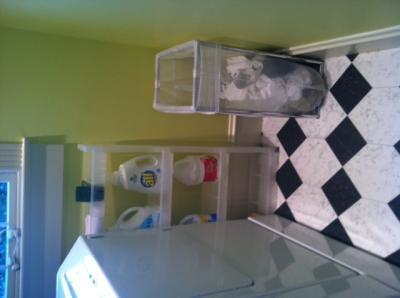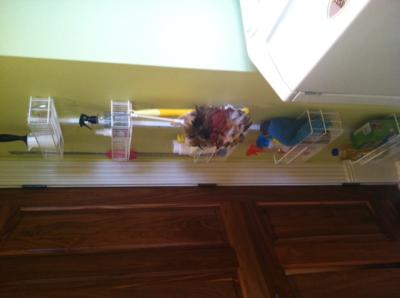 Rated

4

out of

5
 by
Cera
This small cart does exactly what it said it would. It fits nicely between the washer and dryer and rolls out nice and smooth. It was easy to put together. For the price it is a good deal.
September 8, 2014
Rated

5

out of

5
 by
Petra100
4-tier skim cart
Love the little sliding cart. It fits perfectly between my washer and dryer. Instantly gets rid of clutter in the laundry room. Good price, and arrived as promised.
August 28, 2014
Rated

5

out of

5
 by
midwesthelper
Excellent organization
I have a small kitchen, and have it on the side of my washer. If you don't have a good organization system for your cans, this is perfect. Two cans will fit width wise, so you can fit a lot of them. Cart is sturdy, easy to put together, and well worth the money.
July 15, 2014
Rated

5

out of

5
 by
Sweaky
Slim Cart
This was perfect to fit in the space between a kitchen wall and my fridge. I put paper towels, can opener, and even my smoothie juicer on it (among other things). It was simple to assemble. No tools needed, everything pops in place.
June 24, 2014
Rated

3

out of

5
 by
myfirefly
tiny wheels
While this cart seems fairly sturdy the wheels are a ridiculous size. This size wheel makes it very difficult to wheel cart without it tipping
June 17, 2014
Rated

5

out of

5
 by
stazia
Very good quality
I purchased two of them. The quality is very good, as is the appearance. It is wider than those which are placed between washers and dryers. I use one for soaps. The sections are tall enough to accommodate tall bottles. I use the other for holiday decorations.
May 31, 2014
Rated

5

out of

5
 by
Daisyflower
Great item, priced right!
I bought 2 and set them up in my coat/linen closet (live in small apt) to hold toiletries and bathroom cleaning supplies, Tpaper and the like. They are simple to snap together, lightweight but strong enough for what they are intended and best part, on wheels for easy handling and access.
May 29, 2014
Rated

4

out of

5
 by
Craig1
No instructions
This cart comes in 14 pieces. There are no instructions included. That said, it is pretty self-evident how it snaps together (No screws or bolts, no tools required) I'm pretty handy and I had a difficult time getting the pieces to fit inside one another. A flat screwdriver helps hold sections open to slide in connecting pieces. Mom is happy with it.
May 27, 2014
Rated

5

out of

5
 by
GPNU
Perfect for that wasted space next to my dryer
This cart is slim and fits easily in the otherwise wasted space next to my dryer, but it holds a lot! I was pleasantly surprised that it even held a large bottle of detergent easily. It was so easy to put together (no tools needed), and seems very sturdy. The wheels roll nicely. I love the moveable dividers on each shelf, too. I read the good reviews on here which convinced me to try it, and I'm even more happy with this purchase that I thought I would be.
May 27, 2014
Rated

5

out of

5
 by
akalambkin
Great sturdy cart
I am using this cart in-between my washing machine and dryer. It is sturdy and holds everything nicely. Only wish it was a bit wider, but would definitely recommend this cart.
May 13, 2014
Rated

4

out of

5
 by
Tianah31
Not just a 4 tier!
This cart is amazing! You can choose how tall you want it can be. It can be 3, 2, or 1 tier if you really wanted it to be. Putting it together is really simple and easy. I use this as what I call my "pampering/beauty station". All my beauty products, make-up, nail care, and everything else fits so nicely in this cart. Plus, I really love the dividers that come with it!
May 12, 2014
Rated

5

out of

5
 by
HoyaE
Great, slim design! It was very easy to put together.
May 1, 2014