Rated

5

out of

5
 by
pennythehairlessdogsmom
Fantastic organizer for small spaces!
I live in an incredibly small one-bedroom apartment in a major city, and organizers like this one help me keep my tight space neat and tidy. I especially like this organizer because it's compact enough to fit inside my medicine cabinet, but the compartments come in a wide variety of sizes. Within my fingertips I have all my everyday makeup essentials-- lipstick, brushes, foundation, eyeshadow, powders, etc. I definitely recommend this product to anyone who's looking for an efficient but capacious organizer for their cosmetics.
January 10, 2017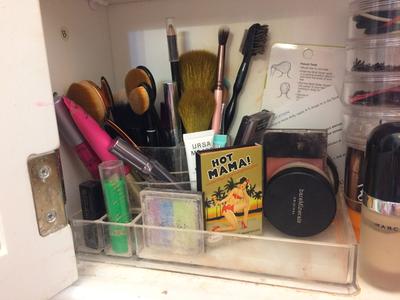 Rated

5

out of

5
 by
dempc
Love it!
It's so nice to have all my makeup so organized!!! There is a place for everything!
March 17, 2015
Rated

5

out of

5
 by
ErinP
Great
Works well and fits in my bathroom drawer. Enough space for the essentials.
April 13, 2014
Rated

5

out of

5
 by
Dixon
Perfect Size!
I love this for my bathroom. It is not too big, and not too small. I highly recommend this item!
February 19, 2014
Rated

5

out of

5
 by
gcmimi
good stuff...
i ordered 8 boxes from container store..huge boxes..had to open them outside...and every single item was absolute perfection. great store, great service and great stuff. THANKS CONTAINER STORE !!!!!!
January 19, 2014
Rated

5

out of

5
 by
Mrvsmom
Great organization tool!
I'm not the most organized person, but I'd like to be...and this cosmetic organizer makes it so easy. I wanted to de-clutter our countertop and keep the items I need on a daily basis all in one place-this is the perfect size to fit essentials. It's also nice and easy when packing for trips because I know that all my toiletries are right there and I can easily transfer them into a cosmetic carrying case. I'd definitely recommend this product!
December 3, 2013
Rated

5

out of

5
 by
Makeupcrazy
In love with the product
Great value ! Is very resistant and keeps my daily makeup organized and neat with this product my only doubt was if i wanted a bigger one because is such a great idea no more mess over my dresser over all is beyond great is perfect !!!
October 2, 2013
Rated

5

out of

5
 by
Verified Reviewer
A Fantastic Buy
I recently redid my bath and wanted to keep a clutter free countertop but have handy those items I use daily. This cosmetic organizer serves that need perfectly. I bought an attractive rectangular open basket that fits on top of the toilet. I put the organizer in the basket so now I have my needed items close at hand, but the countertop is neat and uncluttered.
March 29, 2013
Rated

5

out of

5
 by
ceohello
Great for my vanity
I bought this for on top of my vanity to hold makeup products I use on a daily bases and it is awesome! I had a previous acrylic organizer from the container store that I liked but I just wanted a change and I like this one much more.
March 15, 2013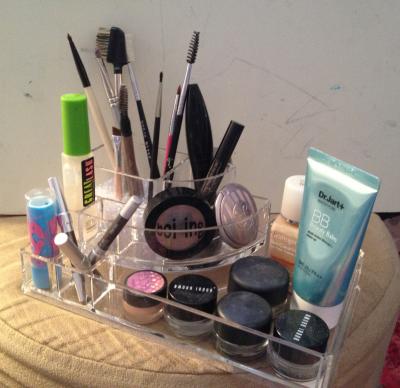 Rated

4

out of

5
 by
KaysMommy
It's Nice
I was extremely excited to get this product, but it fell a little short of my expectations. I wasn't sure what exactly I wanted to put in it since I ordered some other containers. Currently it houses my lip glosses, pencils and blushes. I think I need something bigger but its definitely a great product if you don't have tons of makeup.
May 17, 2012
Rated

5

out of

5
 by
bitsybitsybitsy
My Makeup at my Fingertips
I have kept my makeup in a bag for as long as I can remember. I would never know exactly what was in there. When I am in a rush, it is impossible to find just the thing I'm looking for. And so many times, as I was fishing for something, a number of other things would fall out. So, I bought this organizer and it was the best thing I could have done for myself. It is so sturdy and well made. It's got the perfect compartments and space for every makeup item and brush. It takes me no time at all to find what I need which saves me a lot of time in the morning rush. It is also very compact so it is easy to store.
May 3, 2012
Rated

5

out of

5
 by
tj1954
Great Purchase
I have a small counter in the bathroom and needed a great organizer. This one fits perfectly and holds so many things. Very happy with the quality and design. Love it!!!!!!
April 28, 2012
Rated

5

out of

5
 by
Snowcone
A nice display
It looks a bit small in person but I was still able to fit quite a bit in there. I was able to fit all of the NYX jumbo pencils in the back and the Urban Decay Primers were able to fit nicely in the front compartments. The tray stacked nicely on top of the muji drawer with some space in the front so you can add more cosmetics. I think you can fill the big compartment with your everyday makeup and your drawers with the makeup that you don't use quite often.
April 15, 2012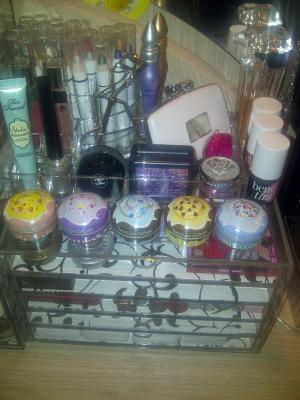 Rated

4

out of

5
 by
keeg30
Great item
I purchased this item to organize my make up and have been happy with the purchase. It's attractive and sturdy.
March 20, 2012
Rated

5

out of

5
 by
mam123
Perfect organization
This is a very sturdy cosmetics organizer. It will be easy to clean when it gets dusty and holds a lot of product.
February 27, 2012
Rated

5

out of

5
 by
gatorgirl
Great organizer!
This is the perfect size to hold my every day make-up without taking up too much space on my countertop. There is plenty of room for all of the basics and it looks nice too.
January 26, 2012
Rated

4

out of

5
 by
Belgre
Nice Quality
Very nice organizer. It has quite a few compartments which works well for the location space.
January 16, 2012
Rated

5

out of

5
 by
DandyDee
Useful and Sturdy
I keep all of my countertop cosmetics and lotions in acrylic drawers and organizers, and this one stacked neatly on top of an acrylic chest I already owned. It is sturdy and has multiple tiered compartments for holding various items.
December 18, 2011