Rated

4

out of

5
 by
TXnCutie82
not all rolls fit, but it's great for what does
longer rolls won't fit, but I like that this can keep bows, ribbons, normal rolls of paper, and tags all in one happy little location.
December 7, 2015
Rated

5

out of

5
 by
Wampascat
Fantastic!
I had gift wrap stashed all over the house. I had gift bags tucked in cupboards, bows in drawers, tissue and rolls of paper in different closets. This system is great. I gathered everything and it fit so perfectly in this box! And I had a lot of wrapping stuff! Now, I won't be buying things I don't need. It's all in one place. It stores neatly under the bed. I also ordered the card keeper!
April 18, 2015
Rated

5

out of

5
 by
myocdmakesmeorganize
Beyond love it!
I bought this product out of desperation, I was so tired of all my wrapping paper getting destroyed (even though i had a cloth "wrapping paper storage bag".) I am so pleased with how everything fit perfectly! I did swap out one of the accessory boxes and added another shoe box. it's absolutely perfect!! This was also my first time going to an actual Container Store. What i thought would be a quick purchase turned into a 45 minute excursion, I literally walked up and down every isle. I can't wait to go back and buy some more things to organize my life!!
March 26, 2015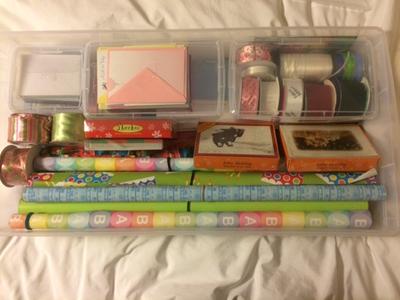 Rated

5

out of

5
 by
UTDMom
Excellent product
I needed a gift wrap organizer that would fit under our new bed, and this one fit the bill just perfectly. I ordered it online for in-store pickup; it was ready well in advance of the time I selected, and the store clerk (like all I have encountered at The Container Store) was quick to greet me and knowledgeable about both the process and product.
October 6, 2014
Rated

4

out of

5
 by
LoveThisStuff
perfect
Fits even the super-size paper roll, sturdy construction, secure lid, clear construction is great.
February 25, 2014
Rated

5

out of

5
 by
Francoise
Great Gift!
This is a good, sturdy box that holds lots of paper and gift bags. The boxes are great for tape, gift cards, ribbon. I filled this up as a birthday present for my mother and she loves it, especially since it fits under the bed and is tucked away out of site.
April 26, 2013
Rated

3

out of

5
 by
SEW84
Awesome, but....
This is a great product but I have a few long rolls of wrapping paper that do not fit in this container. I was so disappointed!
March 26, 2013
Rated

5

out of

5
 by
TamiInTexas
Awesome
This product is great! Not only does it house everything, with plenty of room, but it is super sturdy too!!
March 18, 2013
Rated

5

out of

5
 by
TahoeMom
Makes gift wrapping a breeze
This makes gift wrapping so quick and easy. I often wait till the last minute to purchase gifts for my kid's friends birthday parties. It's so nice to know that all the items I will need are together and I won't have to go searching around the house for scissors or tape.
April 29, 2012
Rated

4

out of

5
 by
KimG
Great Christmas gift storage
This is a really handy storage container that has ample room for gift wrap, bows, tags, ribbons, etc. The only thing that the lid stayed on better. It snaps in place, but doesn't lock in place, so it comes loose relatively easily.
April 27, 2012
Rated

5

out of

5
 by
Grammyof4
Greatest Item
I purchased this item and am so happy I did. It's the best for organizing all my Xmas wrapping paper, tags, ribbons, tape, etc. Everything in one place when I need it. Going to purchase another for every day wrapping paper ~ Birthdays, Baby, Anniversary, etc. I just love this item!
April 13, 2012
Rated

5

out of

5
 by
organizedteacher1
My gift wrap has always stressed me out. This organizer makes my life so much easier. I can store everything in one place and pull out one container when I need to wrap. Everything is together and has its own place.
April 4, 2012
Rated

5

out of

5
 by
MississippiDrea
I love it
I have such a hard time finding anywhere to put my wrapping supplies and my paper rolls get crumpled in my closet, this holds most of my wrapping paper and fits under the bed, love it!
March 20, 2012
Rated

5

out of

5
 by
Marie116
Great Organizer!
We have a pretty small house and space is at a premium. This was the perfect solution for storing our wrapping paper, bows and ribbons!
March 3, 2012
Rated

5

out of

5
 by
alyrey
Its sturdy, and fits most anywhere. Just what I need!
February 25, 2012
Rated

5

out of

5
 by
cleanjean
great organizer
I found this very useful to hold all those random wrapping supplies all over the house and then neatly store under my bed. Now they are super handy and saves me alot of time when I have to wrap a gift.
February 21, 2012
Rated

4

out of

5
 by
alexandra76
Wish it had room for gift boxes and bags
I like it. It holds a bunch of wrapping paper and that will save us money bc we always are buying the stuff only to discover we have 10 rolls around the house propped in various closets. Plenty of space for ribbon etc. Wish it could accommodate gift bags and boxes. Right now I just lay those on top of everything so I have to pull them out every time I get into the box. No regrets buying it though. It's not like I have a gazillion ribbons or anything but I love having everything in one place.
February 15, 2012
Rated

5

out of

5
 by
marycath06
Had to Have it!
A friend told me about the awesome gift wrap organizer from the Container Store, so I had to go online to check it out! As soon as I saw the kit, I knew I had to have it. I have a junk closet I am trying to straighten out and this greatly helped the wrapping paper situation! Now I have a place to keep all the gift wrapping essentials and I can keep them out of the closet in an easily accessible space under the bed. Genius :)
September 29, 2011
Rated

4

out of

5
 by
notsoorganized
Great organizer!
I have tried many ways to organize wrapping paper, bags, bows & tags, this storage bin is the best. I stash it under my bed. Everything is flat, nothing gets damaged. Sturdy, lightweight, holds a lot of stuff!
August 21, 2011
Rated

4

out of

5
 by
melnpod
Love the organization
Great wrapping paper organizer- however, other reviews are correct, it will not hold the longer christmas wrapping paper rolls.
May 17, 2011
Rated

4

out of

5
 by
GoodGrammy
I enjoy being organized!
I purchased the customized gift wrap center after Christmas so I could put all my wrapping needs in one place. I was worried about it fitting under my bed frame as it said the box was 61/4 inches tall and I measured my bed frame to floor as 61/2 inches. I am happy to report it fits just perfectly. My main complaint (as noted by several other people, too) is that it only holds regular size rolls of wrapping paper, not the longer ones you find at Christmas. I am pleased that I was able to fit all my wrapping paper, bows, etc, etc, not just the Christmas stuff, into the gift wrap center. Thanks!
February 15, 2011
Rated

5

out of

5
 by
daddysgirl77
Perfect for all your Wrapping Needs!
I love this set! It is replacing another wrapping box that recently broke. This has all the little compartments for the odds and ends needed to wrap gifts.
February 15, 2011
Rated

5

out of

5
 by
oneandtrips
Perfect for everyday wrap
Perfect for everyday wrap. Fits well underbed. Extra boxes keep bows and other smaller items organized.
February 14, 2011
Rated

4

out of

5
 by
1OrganizingMom
Contain the chaos
My wrapping supplies had gotten out of control so I sought this out in the store. If you buy it in the store, you have to buy each piece separately (underbed box, 3 accessories boxes, and a shoe box). I agree with the reviewer who said the box should be longer to accommodate longer rolls of wrapping paper (esp. those that are sold at Christmas since they tend to be longer).
December 31, 2010
Rated

5

out of

5
 by
PadmeSkywalker
Good Value, Great Product
The Customized Grift Wrap Center is perfect for storing wrapping paper, bows, ribbon, bags, tissue paper, boxes, etc and it fits well under my bed. It keeps everything neatly in it's own closed box, which is better than many other types of these organizers because I don't have to worry about my bows shifting into other parts of the container. The fact that it lays flat is also a huge benefit. I've seen the stand-up ones and things (like bags or ribbon) fall to the bottom and you have to empty the whole thing to get it out. The price is also lower than many similar containers. I would absolutely recommmend this product.
December 12, 2010
Rated

4

out of

5
 by
Daisygurl4
Great way to stay organized!
I have been looking for a way to keep my every day, year round wrapping paper organized and easily accessible. Previously we had been storing it with our Christmas wrapping paper in the back of a closet and it was difficult to get to it when I needed it. My only complaint about this product is that I wish that there was a way to secure the smaller bins in place without having to create a DIY project (we purchased additional Velcro and it seems to be doing ok so far but I wish I didn't have to purchase an additional product. Due to space issues, we have to store this upright in a closet and as we don't have enough wrapping paper in it to keep the bins in place, they move around a lot. Also - anyone that goes into the store to buy this, you should know it is not already put together. It is actually made up of the under bed storage box and smaller organizer boxes. An associate had to look it up in the system and then put it together for me.
October 4, 2010
Rated

5

out of

5
 by
julesh
Great Buy!
I am glad I finally purchased this - it holds several rolls of paper and all my ribbon. I also like how compact it is, I can store it under the bed or on a shelf with minimal space. I have a stand-up gift wrap holder as well and I like the extra storage boxes with this better - more room for accessories. The big box came broken, but customer service was excellent and they sent out a new one immediately.
June 26, 2010
Rated

3

out of

5
 by
blair
Not Quite Long Enough
The design of the product is nice; I like that the containers are clear, allowing me to see what I have without rifling through everything. I also like the inclusion of separate compartments with lids to organize all of my supplies. I take issue with only one aspect of the product, but it is a big issue for me. The box is not long enough to hold long rolls of wrapping paper, such as those available at Christmas time. I would love it if my new wrapping paper box would actually hold all of my wrapping paper.
June 6, 2010
Rated

4

out of

5
 by
LLLL
Gift Wrap
This is great for organizing ribbons, cards, tape, scissors, etc. Fits multiple rolls of wrapping paper.
May 17, 2010
Rated

5

out of

5
 by
themobileassistant
Love the Small Boxes Inside
This is excellent mostly because it fits my longest rolls without being overly long. I have quite the collection of gift wrap and I love the clear boxes so I can see what ribbon and tags I have to match my paper.
May 17, 2010