Rated

1

out of

5
 by
OregonBrown
A disapointment
I bought 4 of the boxes about a month ago and all 4 have already broken. 2 of the outside clips have broken and 2 of the inside (sandwich part) clips have broken. They did not break due to hard use. The first outside clip broke the first time I opened it to use it. I would return them, but I live 3.5 hours away from the closest Container store. They would be perfect (size-wise) if they would stay closed, but I'm having to use rubber bands when closing and transporting them.
January 26, 2016
Rated

5

out of

5
 by
HMac
Love this snack pack
No excuse not to do food prep now! I hate ziploc containers and having a million boxes and bags for my lunch not to mention snacks at work. Problems solved now! There's plenty of room for snacks and lunch in this and it allows me to still be healthy at work while not spending a fortune at the break room each day.
June 10, 2015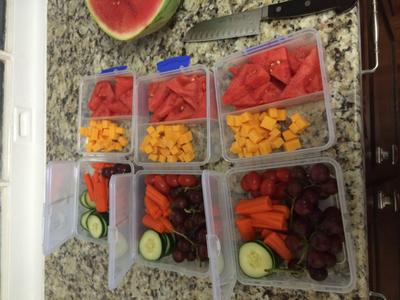 Rated

5

out of

5
 by
Susiehomemaker
Colorful Klip-it Lunch Cube to-Go
These are so cool, I love them! Now I can pack chips and pickles or olives without having everything soak together! Lots of room in each separate slot so you can get a lot in these. The clips keep everything inside with no chance of spills! Again...I love them and will probably get more as gifts! Thanks Container Store for once again making my life easier!
April 22, 2015
Rated

5

out of

5
 by
LisaN1
Great lunch keeper
I have a high school age son. This container works very well for him. I can make him 2 sandwiches (on sandwich white, larger slices are a tighter fit but doable), a snack, and a few cookies. If you like a thicker sandwich with more fillings you will only have room for one. I like that I am no longer buying the individual wrap chips and cookies, and have even ditched the brown paper lunch bags. They are not liquid safe, so you will need to put an additional container if you want to include a dip or hummus. Container store does sell a small 4pc round set that fits, you do have to search for one that is not too tall if you want to put it inside the container itself.
March 19, 2015
Rated

5

out of

5
 by
ashmana
Great for Lunch
I love the compartments. Its helpful for packing my lunch, seals good and isn't too bulky in size. Also, its easy to clean.
March 17, 2015
Rated

3

out of

5
 by
Summerlover
Decent lunchbox
This is a good lunchbox if you're going to put dry food in there. But if you're not, this isn't leakproof. Watery fruits will leak and it will get messy.
March 7, 2015
Rated

2

out of

5
 by
LASB
Great for about 2 weeks...
I thought these were the solution if been looking for... And they were, kind of, fur about 2 weeks. Cute as can be, and good sized but not too big are the pros. They are far outweighed by the cons. These leak. You can't put in any juicy fruit of you have a yucky mess. Also after about 1 week the hinge broke on my son's. I blamed him for being hard on things. By week 2, the hinge was done on my kindergarten daughter's. Back to the drawing board!
July 15, 2014
Rated

5

out of

5
 by
3kidsmom
We all use them! Going on 2 years
Love the colors & functionality. They fit well kids' lunch boxes well (Pottery Barn, Hanna Andersson) & have held up great.
May 2, 2014
Rated

4

out of

5
 by
LeslieV
Great for Lunchboxes
These are great for Lunch Boxes! We had such a hard time finding a multi compartmental lunch box insert for our child. These are now the only ones we use. It fits just what you need. The only complaint I have is if you open it the wrong way all your food on the one side will fall out. To fix this problem with our child we marked a happy face on the top and told him to look for the happy face before opening. So far its almost been a whole school year with no problems! Love these!
April 25, 2014
Rated

2

out of

5
 by
Emmac
Not worth it
The concept is ok but the seal isn't very tight so you still need to put food items in plastic baggies. It is difficult to clean and the the hinge broke after two uses. I bought this for my two year old to take to preschool. I am still on the lookout for a better option to replace this.
September 20, 2013
Rated

5

out of

5
 by
Merry1
Just what we needed
Like another commenter stated, I too was looking to decrease the number of plastic bags and containers I was using. I liked that this had multiple compartments and is all one piece. It is also very easy for my first grader to open. One thing I've been doing for him is making homemade Lunchables, putting meat and cheese in one of the small compartments and crackers in the other. The flip side gets a treat and some fruit. He loves it! And I can control the quality of the food and especially, the salt. I would definitely recommend this product.
September 4, 2013
Rated

5

out of

5
 by
Mamaofthree
Use everyday
The kids use this every day, we do a bento style of lunch most of the time. This meets sandwiches, an other finger foods for lunch. Portable in their bags, will leak if you have liquids (which its not designed for).
August 29, 2013
Rated

5

out of

5
 by
DawnF
handy, works great!
perfect size for my son's school lunch. easy to fill, close and toss in the lunch bag. good construction.
April 26, 2013
Rated

1

out of

5
 by
JBMom3
Disappointed
This looked like a great lunch item. I have three sons and was attempting to buy something for each child for lunches. I couldn't pick the color, and ended up with "hot pink". I ended up using this item. The lid on the 1/2 side doesn't seal the food, so when I bring a salad the items in the other half of the compartment get salad oil on them. I now bring salad dressing separately. When we washed this in the top shelf of the dishwasher it warped. I now wash this by hand.
April 5, 2013
Rated

5

out of

5
 by
Mellie89
Colorful Klip-it great purchase
Love these containers. They are easy to use and keep the food separated nicely. It is nice to have my lunch in one container, instead of several little ones.
April 4, 2013
Rated

5

out of

5
 by
fernif
Great for kids lunches
I searched a long time to find a good system for my kids' lunches. One was starting kindergarten and the other preschool. I had a few goals in mind: 1. Minimize the number of containers in my kids' lunch boxes to make it easy on them and so they don't loose any 2. Minimize any potential spills 3. Easy for them to open 4. Enough space for a main and a couple of sides This cube does all of the above- it's perfect! I bought four of them so when two were drying after being used, I could pack the other two for the next day. It's a great size for kids and adults alike. A full size sandwich can fit in the large compartment and the two smaller compartments are great for anything. I've put cut up fruit in one and it didn't leak into the other compartments. I have nothing bad to say about this product- it is great!
April 2, 2013
Rated

4

out of

5
 by
organizinggirl
Convenient and colorful!
I like these containers for packing my kids' school lunches. There are a few cons though; awkward to clean (takes up alot of space in dishwasher so I hand wash but that's awkward too) and the plastic hinge that connects the two larger pieces breaks after a few months. I'd suggest the hinge be made stronger (though that might making keeping it open to wash more awkward) and that one of the half-size spaces be made into two smaller compartments.
April 2, 2013
Rated

5

out of

5
 by
Leianne
Best Purchase Ever
No move squished bread of soggy chips from the grapes leaking
March 21, 2013
Rated

5

out of

5
 by
Breanne
Great Lunch Container
This is a great container for lunches. It keeps your sandwich from getting smashed and has plenty of room for snacks and fruit, too. I use it as a bento box - crackers in the large part, cheese and fruit in the smaller compartments. I love it as I can stick in my bag or purse and not worry about it unlatching or any of the food getting wrecked.
March 18, 2013
Rated

5

out of

5
 by
happyChef76
It's mine now!
This is a great all-in-one lunch & snack keeper. You can get a decent sized sandwich (not just a super-flat PB&J) in it & still have seperate spaces for veges, fruit, cookies, whatever! It's great & it's pretty! The only downside is you don't get to choose the color they send you. Originally I bought this for my son & they sent the pink one . . . he's open-minded but he's also in Middle School & that just wouldn't fly!
March 18, 2013
Rated

5

out of

5
 by
SugarP
Dependable like no other
We've been using these boxes all school year. They're the only things having to do with lunch that don't leak, crack, or break. The compartments are sized just right for a variety of foods. Each kid has their color of box, so it's super easy to pack and grab.
March 6, 2013
Rated

5

out of

5
 by
TheBadGoGo
So Handy
I recently returned to the work force after a long medical hiatus, and was looking for something to make healthy lunch-packing clean and easy. I really like the lunch cube's design. The sandwich compartment has a hinged separator which seals lightly, keeping its contents from commingling with the others. The whole cube seals tightly, keeping your foods smells well-contained and not permeating the communal fridge. Easy cleaning and storing. I pack 5 at a time so I can just grab a Cube and go in the morning.
February 16, 2013
Rated

5

out of

5
 by
Loveyangel9
LOVE LOVE LOVE this product
The lunch cube is PERFECT for my kids, husband, and myself. It fits nicely in lunch boxes and holds a lot more than I thought it would. Also my kids love to show it off at school!
December 9, 2012
Rated

1

out of

5
 by
Spicy
Assorted colors is a risky business
I purchased three of these for my school age children. I was hoping that since I ordered three of them there might be a chance they would send one of each color. No such luck, I have two boys and one girl in school and of course I received two pink and one blue container. So, all three of them had to be sent back and I am again at square one trying to solve the daily transport of food to school struggle. Not worth the time and hassle and my shipping money to have them select the colors for you. I will not buy anything that is listed as assorted colors anymore. More gender nutral colors would solve the whole dilemma, green, yellow, blue or orange would have been super handy for our mixed group. So dissappointed.
October 12, 2012
Rated

5

out of

5
 by
Alexbear670
I love it
I'm a college student and I'm always trying to find a way to bring a good lunch with me. This works great. It fits nicely in my backpack. I wash it by hand because it does really fit in the dishwasher. It's easy to clean though.
September 30, 2012
Rated

3

out of

5
 by
Sandra6
Lunch Cube
I ordered this and it split down the seam that holds the two sides together. The customer service was FANTASTIC. They sent me out a new one right away. So I give Customer Service FIVE STARS for sure. But as far as the lunch cube goes- I don't hold out hope that this new one will last either without splitting in half. the plastic is to thin and it's a hard plastic so it cracks. Great idea- they just need to make it stronger.
September 27, 2012
Rated

5

out of

5
 by
cgforeman
Perfect for School Lunches
Similar to it's boring clear counterpart, this works perfectly to separate and protect food in a lunch box and my kids like the cool colors. It's just a little difficult to fit in the dishwasher.
September 9, 2012
Rated

5

out of

5
 by
tggrhockey
Cool design
This is a great lunch container and the picture online speaks for itself. Divided sections and a sandwich spot are just right for a kid sized lunch. Make sure you set it the right direction so the stuff does not spill out when you open it up.
September 4, 2012
Rated

5

out of

5
 by
NativeTXn
Perfect lunchbox for daily use
I got this for my husband who usually works though lunch so he takes his lunch. I love the tri-compartments so I can separate different things for him. It cuts down on plastic baggies and it helps me see how to best balance his food for the day. He likes that it is tough and can handle being thrown in his back seat on his way home and that we can reuse it everyday. I have washed it in the dishwasher (top rack) with no problems - so that is another bonus! I am actually about to order a second one since we love it so much!
August 22, 2012
Rated

5

out of

5
 by
Kaohn
Great product!
I bought this for my Kindergartner to take in his lunch, paired with the Snack Time. Both products are wonderful and fit perfectly in his standard size lunch box. It's easy for him to open, although it would be nice to have something on it that distinguishes the top from the bottom. We practiced opening it a lot so his food wouldn't go all over the place. I don't know about leaking, because I put his fruit in the bottom cup of the Snack Time. I put a cracker mix and his vegetable in the seperated containers. It would be nice if the seperator was adjustable or came out altogether, though. Great product! Highly recommend!
August 17, 2012