Rated

5

out of

5
 by
Clay64
Perfect size kit
I needed something to put my pottery tools in to tote to class. This fit the bill perfectly. Just the right size. Roomy enough for all my odd shaped tools with room to add a few more, too. Love it. Also a big fan of the curb side pickup!
January 26, 2017
Rated

5

out of

5
 by
JPMusician
Great quality - Terrific value
This little hobby case is exactly what I was looking for. For my specific needs as a musician, I needed a small "toolbox-like" case with compartments that wasn't heavy. I had seen other similar plastic boxes but the quality was very cheap. The quality of the plastic is sturdy and it closes and latches very well. I love how the lid opens a complete 180 degrees and rests on the table. I would definitely recommend this to anyone looking for a similar product.
March 3, 2016
Rated

5

out of

5
 by
fizziepop
Great aid
I love this hobby case. It has room for bigger things,smaller things, etc. I can finally find all of my knitting needs, pencils, remotes, etc. It blends in with everything around it. I bought 2 or these and I use another one for my make up. Really a great purchase!!!!
January 24, 2016
Rated

5

out of

5
 by
LynnC
This case worked out perfectly for our Math-u-See block set. Really enjoying our purchase.
June 21, 2015
Rated

4

out of

5
 by
Wifey0429
Kid's Art Bin
I used this to organize my daughter's art supplies. Before they were in a large caddy, which got messy quick. This way they are tucked away and she can carry them around easily. I do wish there were more larger compartments, but it has proven to work well so far.
August 9, 2014
Rated

5

out of

5
 by
Chesco90
Perfect for art students
This case is perfect for art students on the go. It's extremely sturdy, can carry some weight and is seriously compact. I use it for all my classes and it has space for all my needs. Definitely get this without hesitation.
April 27, 2014
Rated

5

out of

5
 by
KB14
Great for Art Supplies
I am amazed at how much this small hobby case holds. I travel back and forth between my home and my daughter's home, and wanted something to hold supplies for my art journaling. This holds pens, brushes, acrylic paints, small watercolor and colored pencil sets as well as a small ruler, pair of scissors, erasers, and more. It was just what I wanted!
April 22, 2014
Rated

5

out of

5
 by
Dperry
Great little organization box
I bought this box to organize my son's base 10 block set for school. I absolutely love it!! It has the perfect amount of space for all the counters and it is neatly separated for convenience. He can open the box by himself and tote it around if necessary. Also looks great!
March 24, 2014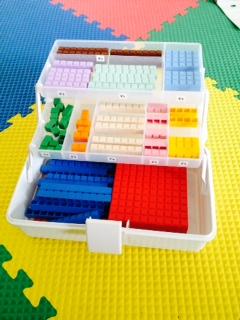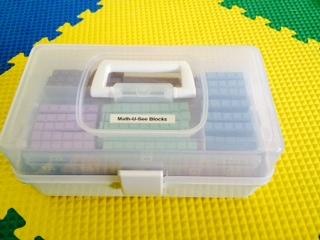 Rated

5

out of

5
 by
ContrainerStoreFan
Great for Makeup
These are like fishing tackle boxes and work great for makeup and nail care products.
February 16, 2014
Rated

4

out of

5
 by
ToddH
Not long enough for our need
My daughter has a "billion" rubberbands for her new hobby (bracelet loom). We were looking to condense and organize them into an easy to carry hobby kit. Unfortunately, the loom was an inch longer than this case would carry, so we returned it. We wound up buying a different solution at another retailer because, surprisingly, the solutions at Container Store didn't really meet the need in terms of size and use for a 7-yr-old. It should be noted that local "craft stores" did not have a suitable solution either (even though they sell the rubber band loom and supplies). We wound up buying a solution at a hardware store.
January 13, 2014
Rated

5

out of

5
 by
Babeof1
Love it!
Great for organizing my makeup! Very satisfied with the quality....it's better than other options I had been considering. I just may purchase more to hold other items...the possibilities are endless!
December 27, 2013
Rated

4

out of

5
 by
MessyMomster
Great for toys
I bought these to store little toys. There is enough storage and dividers to put the tiny Disney Princess figurine magiclip clothes, tiny accessories/shoes/etc. It does not have enough space for my child's dolls, but at least it has enough organized space for all the accessories and dresses.
December 13, 2013
Rated

5

out of

5
 by
AngelaUF
MUS blocks and more!
Fits all of my Math-U-See blocks perfectly! I am planning to purchase another one to hold all of my homeschool desk supplies. I love that it is clear so I can see what's in the different levels easily. This box should be included on any homeschooler's supply list.
September 14, 2013
Rated

5

out of

5
 by
MathUSeeMom
Small Hobby Case is Great for Math U See Blocks!
We bought three of these cases - two for our Math U See sets (regular plus completer sets for each child) plus one for our Cuisenaire Rods. The cases are the perfect size for the blocks. They are sturdy yet still easy to carry, and even fully loaded, they are not too heavy. Having the cases to organize the blocks makes math so much easier. We LOVE these cases! :)
April 20, 2013
Rated

5

out of

5
 by
info1039
If Your Hobby is Makeup...
...think out of the box. This is a great solution for all of those containers, tubes, and brushes. Wish it came in different colors!
March 31, 2013
Rated

5

out of

5
 by
Sugarchick
Good. Great for craft, sewing, art tools
Great product. Well designed. I use mine for my sewing kit. Holds quite a bit. Easy to clean.
March 18, 2013
Rated

5

out of

5
 by
LynnKaye
Great For Math U See!!!
I bought this after seeing another mom use it to organize her child's Math U See manipulatives. It holds all of the starter set *and* the completer set with the exception of only a few 100's blocks which I stashed in the back of a drawer. It is a sturdy box, much more solid than I expected. The clasp stays put and the handle doesn't bend when you pick it up. It fits much better on a shelf than my wooden boxes that I bought from MUS about 4 years ago and keeps everything in one spot (rather than needing 2 trays from MUS).
March 18, 2013
Rated

5

out of

5
 by
sparklinggem
Perfect for sewing supplies!
I bought the hobby case to organize my sewing supplies (needles, thread, scissors, etc.), as I was getting frustrated with keeping all those items in a small box all jumbled together. The case is perfect, and my supplies fit nicely in all it's little compartments, making it easy for me to find what I need.
December 8, 2012
Rated

5

out of

5
 by
julesverne
Awesome Little box
Great box for my Math U See manipulatives. Now I can also continue to teach my children to take care of their stuff and to be clean and tidy with their school work. They are very well build and sturdy. I almost did not purchase because of the price. Being a mother of four children 6 and under with a budget has its limits but nothing else was working in my area for storage. I think more people would purchase this if it was a little bit cheaper. Love the box.
June 15, 2012
Rated

5

out of

5
 by
PinataParty
Useful for Many Things
I have two of these - one for small office supplies and another for sewing supplies. I only had trouble because sometimes I'd put items in that were too high, so the shelves couldn't close on one another so that the lid could close. This was mostly a problem with the bottom bin because it looks like a lot of space, but the shelves actually nest inside a bit.
April 12, 2012
Rated

4

out of

5
 by
lovarev
Great organizer
We use this for MUS manipulatives...I love it...we can continue schooling while on trips much easier with this.....
March 29, 2012
Rated

5

out of

5
 by
maryg
Very convenient
You can hold so many items neatly. I bought several and they stack well.
March 29, 2012
Rated

5

out of

5
 by
HomeschoolMOMof2
Great little case!
We use this case to store math manipulatives and love it! It's portable and very simple to use, with LOTS of little storage compartments.
March 27, 2012
Rated

5

out of

5
 by
mushu19
Exactly what I was looking for
I researched a bunch of different organizers to hold my non-every day makeup, and I like the toolbox approach with the tray on top and open space underneath. I found a few options in all different sizes and ended up going with this one. It's a little bigger than what I was expecting, but having two trays with divided parts was awesome and now I have room to grow! The top portion and shelves are see through, the top shelf has room for items taller than the shelf as long as it doesnt get in the way of the handle, the clip on the front is sturdy, and everything is so organized and easily accessible!
March 21, 2012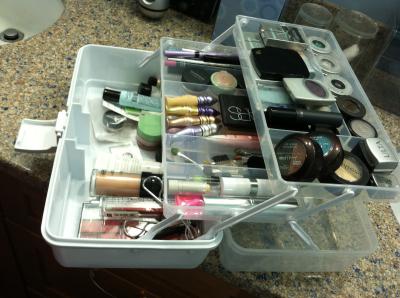 Rated

4

out of

5
 by
KMJ1
great for sewing kit
I use this for a sewing kit. could be a tad larger, but overall for a non-seamstress like myself, this is fine.
March 19, 2012
Rated

5

out of

5
 by
becknjoesmom
Math U See: Unit Block Organizer
We love this hobby case. It's great for organizing our Math U See Unit blocks for homeschooling. I have actually thought of buying another one to use for our son's legos.
January 25, 2012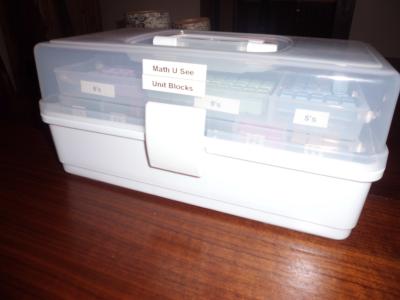 Rated

4

out of

5
 by
justbcos
Good way to corral little craft things
I bought this for my daughter, who likes to do craft projects, and this works great for keeping all of her things together - it's easy for her to use, she thinks it's fun, and now we have less stuff laying around the house! Mission accomplished.
January 15, 2012
Rated

4

out of

5
 by
laced
Perfect Fit, But a Counter-Hog When Opened
I bought this case to house my collection of (mostly) Bare Escentuals cosmetics and brushes. The case is the perfect size for the job. The space between the shelves offers enough clearance for items that are just slightly taller than the dividers, and the bottom of the case easily holds anything that doesn't fit in the shelves. The see-through shelves help me identify the contents quickly, too. When opening the case, it does not feel as sturdy as I expected (the sides fold open somewhat independently so you have to pull very even-handedly), but it's not flimsy either. The biggest drawback is that, contrary to the picture shown, the box does not have a catch for the lid -- it must be opened completely flat unless you hold the lid with your hand or prop it against something. That means that you have to have enough counter/desk/table space to accomodate twice the size of the closed case if you want to leave it open while you access what's inside. Overall, this case is just what I needed to organize a much-neglected part of my morning routine.
April 28, 2011
Rated

5

out of

5
 by
Dutchgirl
Great for Mineral Makeup Storage
I needed an inexpensive case to store my mineral makeup. This keeps all of my powdered makeup from being shaken and getting everywhere. Any messes are easily cleaned. There's also plenty of room for my tools (brushes, eyelash curler). No digging through a makeup bag; it's all there. I open the box and have everything at my fingertips in three tiers.
December 12, 2010
Rated

5

out of

5
 by
California
Great Product for Math Manipulatives/Blocks
We read about using this hobby case to hold our small math blocks from some homeschooling websites, and it works very well! The box is sturdy and has stood up to the frequent opening and closing of my kids (7 yrs. old and younger). It's also got a nice carrying handle easy for even small hands to grip. Best of all, we've been able to organize and sort out those little math blocks that tend to get lost or thrown into a big baggie, which takes time for my kids to dig through & find the right piece. With this box, everything's in full view and quickly found. The price was even more reasonable when we used an online coupon. Great buy overall!
March 3, 2010