Rated

3

out of

5
 by
G8RFAN
Good storage
I used the boxes to organize my CD collection. They were more than adequate for this task. The outside box is sturdy but the dividers were flimsy and don't lock into place which means unless the box is mostly full, the dividers slide and consequently, the CDs slide inside the box. Also the lid doesn't snap on as tightly as I would like. They do stack nicely.
March 10, 2016
Rated

5

out of

5
 by
Akpulido
Organize DVDs
My dad bought these boxes to keep his movies organized. He was looking everywhere for the perfect box and I suggested The Container Store. Since I spent $100 in November and received $20 to spend in December, I decided to buy two more boxes for my dad. They are the perfect fit for DVDs
January 13, 2016
Rated

5

out of

5
 by
Flowblue
Media
Great organization. Will order again,. Can see all titles. Good quality
September 1, 2014
Rated

5

out of

5
 by
OrganizationJunkieToo
Perfect fit
I am a greeting card maker & always looking for a perfect organizational tool to store my sample cards & believe I have found it. The media box is that tool. It is large enough to handle many of my card samples, in an "reach in & grab" system & can store those various sizes too. It is clear, sturdy & love that it has a clear top too, to protect from the environmental elements of water, dust, bugs, etc. Thank you Container Store for carrying great organizational tools for any project need!
May 4, 2014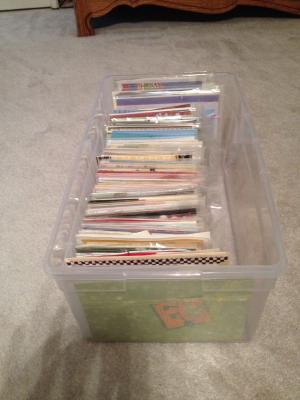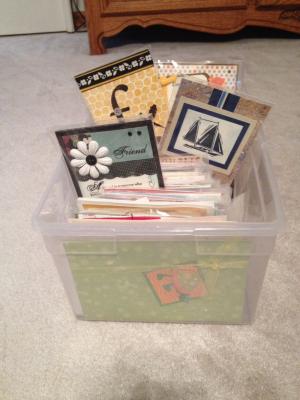 Rated

5

out of

5
 by
Lovetoorganizefreak
SUHWEET!
I love this product so much! I have several DVDs and VHS, I am so satisfied with this because it is fun and clear, visable! I highly recommend this!
April 25, 2014
Rated

4

out of

5
 by
Kar66
Good CD Storage
The Media Boxes worked well to organize, label and store my extensive CD collection. I recommend this product and returned to the store to buy more.
April 4, 2014
Rated

5

out of

5
 by
organizenow
Instructions for closing the box properly
There seems to be a general problem with closing this box properly. It does, in fact, stay securely closed if you make sure to push on the lid on each of the short sides of the box until you hear or feel it click. It is a little tricky at first, but not hard once you know what to expect.
March 1, 2014
Rated

5

out of

5
 by
dpw1970
Great idea for storage of dvd, blurays
I finally finished organizing ALL my dvd, tv dvd, bluray, tv bluray and storing them in a secure way. All in all it took about 36 of these boxes. They are very strong, and great for storage. I highly recommend these and they are made in the USA.
February 27, 2014
Rated

2

out of

5
 by
neicyk
OK
The size of the box is great to fit several Translucent Photo Cases or different types of media but I am very disappointed with the seal of the box. I love the Container Store but I would not buy this product again.
February 18, 2014
Rated

3

out of

5
 by
schaz
Great idea, but weight shifts the bin too much
Holds a good amount of CDs (my use for them). It is a clean and organized look. Only real issue is that the weight of a full bin makes the body of it too flimsy. The lid easily falls off. If your intent, like mine, is to mainly store media and not access it often, then it is fine. If you access your media often, the flimsiness may become annoying.
January 13, 2014
Rated

5

out of

5
 by
SafetyFast
Great Storage Solution
I bought 5 of these to house my CD collection. I looked at other solutions, but I wanted one that would allow me to preserve the jewel case inserts (front and back) with the discs. These media boxes are a great solution for me. They are small enough that they are not too heavy to handle when full. They are designed to stack well, and they do. Although they are described as "clear" there is a slight milkiness to their appearance. Not a problem for me - you can still see the contents easily. I foresee buying more of these in the future when (if?) I get around to organizing my DVDs.
December 27, 2013
Rated

5

out of

5
 by
Stampergrandma
Stampin Up Storage
I am a Stampin Up addict. This year I have been organizing my craft are and found that this media box, not only is made in the USA; but it is the perfect size for storing the clear stamp cases from Stampin Up. I have started on my 8th box.
November 16, 2013
Rated

4

out of

5
 by
exdeavor
Almost perfect
I have 20 or more of these boxes to store DVDs and VHS tapes and they have held up well. When you fill them up by lining the boxes on their sides there is still room at the top for a few extra video boxes lying on their sides. This helps when you categorize your videos and there is one or two extra boxes that wouldn't otherwise fit in the box.. See-through boxes are a must for me because I tend to forget what is in them if I can't immediately see through the sides. I tend not to use the dividers that come with the boxes. The dividers do not 'snap' or 'click' into place even though they appear to be designed to do that -- so they are often a nuisance because they move or fall out. I have a pile of them that I should throw out. The lids fit well but do not expect the lids to 'lock' into place. They will stay in place but may come off if you jostle the contents while moving or tipping the boxes. The boxes stack very well; I stack mine 6-7 boxes high. None of my boxes have cracked or split but they can occasionally bulge out along the longitudinal side if they are slightly abused. Trying to remove the product sticker from the end is problematic. Sometimes it will peel off clean but many times the sticker tears and sticsk -- and it takes some time to get the sticker completely removed. Primarily I like the size. Larger versions of these clear boxes are too large to move and store.
September 22, 2013
Rated

5

out of

5
 by
Penzula
Media Box
These containers are fabulous. I use them for music CDs and all of my rubber stamps that are stored in CD and DVD cases. Love them.
August 25, 2013
Rated

5

out of

5
 by
textech72
Media Storage
I have music CD's all over the place and wanted to have them organized in one place. I wanted something not so expensive as some storage boxes I have seen. This box allows me to store my cd's by categories and make them easy to locate.
July 21, 2013
Rated

5

out of

5
 by
Labuttl
Perfect DVD Storage
These bins helped organize our DVDs perfectly. Now we don't knock over the entire stack to try and find what we are looking for.
July 2, 2013
Rated

5

out of

5
 by
FaeFe
Gets the Job Done
Just right to hold all the computer software I need to store.
April 1, 2013
Rated

4

out of

5
 by
PolarNettles
Great for CD sleeve storage
As others have mentioned, the dividers don't stay in place unless you have stuff packed on both sides of them. And while the lids do have latches, they barely latch on at all and will pop out anytime you lift the box. Nevertheless, they are the perfect size for storing CDs. I just got rid of all my jewel cases and put the CDs into sleeves. The dividers do keep them aligned and the boxes appear to be sturdy enough to support the extra weight (since the density of CD+sleeve is higher than CD+jewel case), unlike the cheaper boxes that would flex considerably.
March 31, 2013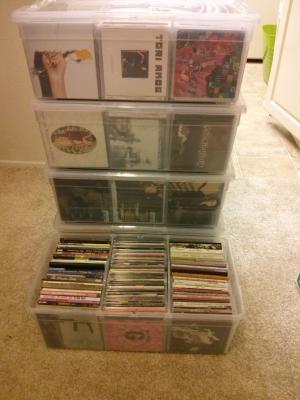 Rated

4

out of

5
 by
Mutter
You can store multiple things
I store my facial creams, make up items and use both dividers available with box which splits my stuff into 3 even sections. I only gave it 4 stars b/c these dividers do not always stay put. However, it not unmanageable to use. Either way, it does what it's supposed to do. Happy with purchase and may buy it again.
March 18, 2013
Rated

5

out of

5
 by
Maddikins
Perfect case
Love this media boxes for storing our DVDs. Keeps them dust free and they're perfectly stackable.
March 18, 2013
Rated

5

out of

5
 by
kidmin
Just what I was looking for!
I love the fact that they stack and because they're clear, you can find exactly what you're looking for! Great product!
March 18, 2013
Rated

5

out of

5
 by
PamG
Great for DVD's
I really like that I could divide according to size of the cases. I wasn't looking for flashy but functional and this is perfect.
March 3, 2013
Rated

1

out of

5
 by
mivuckovic
Does not close
The lid only rests on top of the box -- it doesn't close. This storage box would be great if the lid sealed. Am returning the product and will need to find another storage solution for dvds and cds.
December 22, 2012
Rated

5

out of

5
 by
Monika66
Perfect Organization
This product works awesome to help contain and protect your DVD's.
November 10, 2012
Rated

5

out of

5
 by
ChiBabs
Neat and tidy
Provides calm in the storm of chaotic media stashing. Stackable, easy to organize and view contents.
September 8, 2012
Rated

3

out of

5
 by
ldr1995
Okay for some collections
Not thrilled with how the lid connects to the box, it doesn't snap or fasten tightly so when carrying or moving the box it easily comes loose. Like that it's clear so contents are easily viewable.
June 13, 2012
Rated

5

out of

5
 by
ARCshopper
practical storage at lake
Excellent DVD and VHS storage for use at lake cottage. Plastic ideal for protecting against moisture as well as handling by young children fingers. Semi-transparency allows for easy visibility of media titles without opening box . Stack well in entertainment center as well as closet shelves. Price was super.
May 5, 2012
Rated

5

out of

5
 by
julsy
more than media
This box actually works great to store...GREETING CARDS! I'm sure it's great for CD's DVD's etc...but I line up greeting cards in it and they fit perfectly!
April 27, 2012
Rated

5

out of

5
 by
BonnieW
Excellent DVD Storage
I used for my DVD's for a more orginzed look in the closet. They work fabulously. They also store box sets of DVD's very well. I highly recomment this product. I'm ordering more for some VHS tapes I still have as they also fit very well. I like the clear plastic because you can easily see what is in the box. I haven't found any negatives yet. Great product!!!
February 17, 2012
Rated

1

out of

5
 by
luckymomoftwokids
Returned
Have purchased many things from containerstore.com and have been very pleased. This product, however, was returned the next day. It was flimsy and the dividers did not stay in place. Did not work for my needs. They were wonderful in expediting my return.
February 16, 2012