Rated

4

out of

5
 by
KGart
Wish I could buy extra magnets
Love the Mighty Magnetic Strips, but I really, really, really wish the Container Store would sell just the magnets separately so I can have some extras (the exact same ones that come with the strip, not the larger/thicker mighty magnets).
July 25, 2015
Rated

5

out of

5
 by
Sewlady
Love the magnet strip
Makes it so easy to put important notes right in front of me without taking up desk space or having paper piles that stuff gets lost in. Love it!
March 21, 2015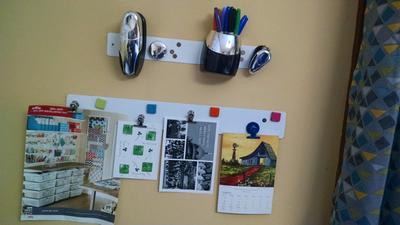 Rated

5

out of

5
 by
101waystoorganize
Artist Gallery
We were looking for something to place on a pallet in our house. These were the perfect addition that still showcased the wall and allowed us to hang our daughter's art. They add a nice pop and are super easy to use with strong magnets.
March 17, 2015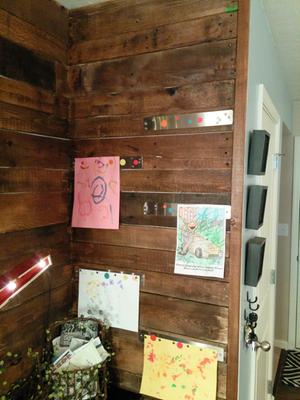 Rated

5

out of

5
 by
ProfP
The perfect solution
I love these magnetic strips. My husband of 30+ years has given me numerous artistic cards over the years with lovely sentimental messages. I wanted a way to display them and as you can see, the magnetic strips were the perfect solution. They are easy to install, work great and I love the look. Now I can enjoy the cards over and over again every day as I work at my desk!
May 1, 2014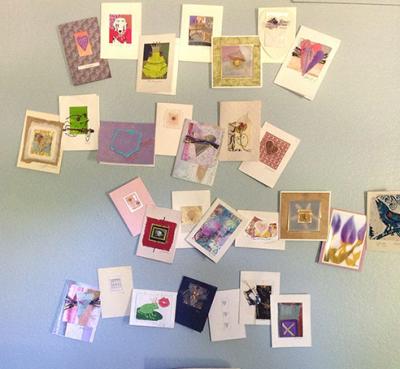 Rated

4

out of

5
 by
DiCO
Magnets
The magnets were a great size for adding something to personalize for kids but I wish the magnets had more power to them
April 28, 2014
Rated

4

out of

5
 by
taly
Very good product
Very easy to install , I use it for pic and i like the way it hold them.
March 30, 2014
Rated

4

out of

5
 by
KennyKenny
Magnetic Strip
Would be a bit more user friendly if the strip could be secured by adhesives rather than nail/tacks/screws
March 28, 2014
Rated

5

out of

5
 by
SteffD
Nice and Simple
Works great for holding our keys! Very easy to install and decent price too.
March 22, 2014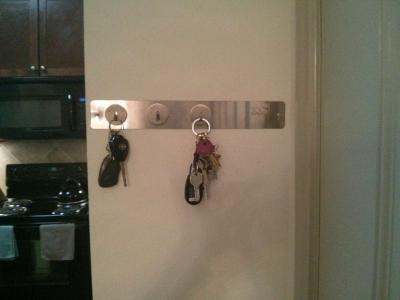 Rated

5

out of

5
 by
dana5646
Great Purchase
This worked perfect for our office set up. We have numerious charts we display each month. Easy to remove and replace papers each month.
March 10, 2014
Rated

4

out of

5
 by
Thistledu
Office Organization
The Mighty Magnetic Strips have helped reduce the clutter on my desk. They make it easy to glance up at a drawing or note I need without having to shuffle through several papers or notebooks. When I'm finished with those drawings or notes, they can easily be removed and the next batch put up. They were a little pricey, but they do get the job done and were delivered quickly. Thanks!
February 20, 2014
Rated

5

out of

5
 by
virginia7521
So clean and simple!
Love the silver strip above my desk! It's great because it places my important memos right where I want them without becoming the focal point of my office. The only con is its magnets. They're very strong (which is good), but they're very flat. It's really hard to get them off the strip to stick anything. I switched them out with my own magnets, but they also sell other ones at the store. Love it though!
January 16, 2014
Rated

5

out of

5
 by
Memato4
Great space saver
This product replaced my old cork bulletin board and saved a lot of space in my den. Magnets are strong and hold papers well.
October 25, 2013
Rated

4

out of

5
 by
jmsia
Super strong strip
These strips are awesome although I ended up returning the long ones in favor of the shorter. The width had a more streamlined look for what I was trying to do. Super strong and are able to be screw mounted - a huge plus. A four start rating because two short ones are only $10 whereas this one is $13 for the same length. I saved a lot using the shorter ones and they were a little thinner than these which I liked.
October 23, 2013
Rated

5

out of

5
 by
NikkiS
Great for notes and important papers
I have one of these in my kitchen and one in my office - perfect for organizing those small pieces of paper that tend to get lost. I also use them to post my kids school and sports schedules.
April 26, 2013
Rated

5

out of

5
 by
Worv
Awesome
I put this inside my pantry and placed my chip clips on it. Very easy way to keep them organized and handy.
April 20, 2013
Rated

5

out of

5
 by
Girlorganized
Excellent Product
Perfect in so many rooms, this magnetic strip is small enough to hang anywhere, but big enough to hold lots. I use it in my craft room to hold containers of small embellishments, but it would work equally well in a kitchen for spices, a playroom to showcase children's art, etc. . . Buy one, you won't regret it!
March 18, 2013
Rated

5

out of

5
 by
docmom
Good for family arts and crafts room
I got this to use in my family's arts and crafts room. It works great to hang up their daily masterpieces! The magnets are really strong!
March 18, 2013
Rated

4

out of

5
 by
vivianh
Excellent purchase
Mighty magnetic strips are fun way to display my son's many art projects. They are more functional than putting up a big cork board. When used the Command adhesive strips, I did not have to poke any holes on my wall.
March 18, 2013
Rated

5

out of

5
 by
MKelly
A Must for Craft Room Organization!
These are perfect for small sections of wall! I use these in my craft room to organize all my paper flowers and other small craft supplies by color. And because the strip itself is magnetic, I can just attach the metal containers that a lot of supplies come in directly to the strip!
March 13, 2013
Rated

5

out of

5
 by
Java27
Cute and strong
Perfect in my gift wrap closet! Holds a birthday list and little containers of gift tags.
March 2, 2013
Rated

4

out of

5
 by
Organization4Mama
Great for Any Room
These magnetic strips are great. I got them to use in my office to keep papers and notes off of my desk. But I actually ended up taking one of the two that I bought and put iti in our family information center where we have a dry erase board, calendar and cork board....it is great for the kids to hang up birthday invitations or information for school that makes the fridge look like chaos.
February 22, 2013
Rated

5

out of

5
 by
KAVA
Great for Hanging Kids' Artwork!
I bought two of these to create a display area for my kids' artwork. I can hang 3-4 sheets of paper on each strip, and the magnets don't damage the paper. It looks adorable, and I actually just installed it using pushpins. Win-win!
February 15, 2013
Rated

5

out of

5
 by
craftgal
Very Good!
I am very happy over this purchase. It was easy to hang and I found some magnetic clothespin clips the tiny ones at officemax. They were only 1.00 for 15 so it was great and I mixed them with the mighty magnetics so I have both now. I hung up little cards and things it is adorable and yet very modern and lends a statement to being organized.
July 27, 2012
Rated

5

out of

5
 by
Wrigley
Magnetic Makeup Board Success!
I love this board. I don't have any drawers in my bathroom, so I mounted it using command strips onto the side of my mirror, and I put magnets on the lids of all my makeup. I also bought magnetic pencil holders so I can put my brushes and eyeliner/mascara in those - one on top, one on bottom (hung vertically). It's wonderful!
March 19, 2012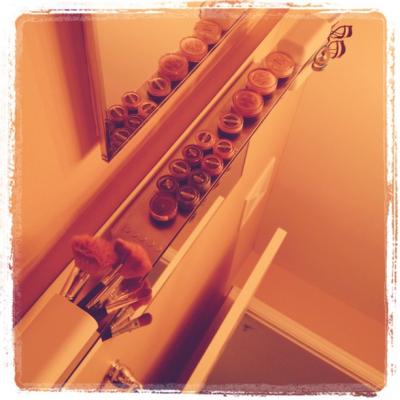 Rated

4

out of

5
 by
OhSoNeat
Functional decor
I prefer this over those full magnetic dry erase boards. Much more decorative! Perfect for photos, papers, etc. Used the mini one to hold magnetic containers for paper clips and such (putting these on the wall gave me more drawer space and helped declutter the desktop). Magnets were ok size, but a little too flat. Works good for items you dont plan to move or rearrange much like photos or something. I would recommend buying stronger magnets to hold thicker items. Overall, it was a nice addition to my workspace.
March 9, 2012
Rated

2

out of

5
 by
officenut
Maybe, but not so
I found that the Mighty Magnetic Strip has troublesome adhesives on it's mounting side; it's best to tear them off and use your own adhesives, and they are weak and fall from the wall (along with everything you stick to the bar). Super cute, but if you're going to stick items heavier than paper to the bar, get a wider width strip. More surface area means better stick AND magnetic strength.
March 3, 2012
Rated

5

out of

5
 by
JazzyGal999
Perfect Addition
At the old apartment I hung it next to the tv to keep track of wii fit exercise, at the new place it's in the office. Perfect anywhere!
March 2, 2012
Rated

4

out of

5
 by
Thor
magnetic strip
I just moved into a very small space for my home office and I knew immediately I wanted this magnetic strip but I couldn't find one at any store. Sure enough it was at the container store but I had to order it on line since I don't have a store anywhere near me. I love the strip but I was disappointed it took so long for the delivery and that it was so expensive. I think I would have to think twice about ordering more products just because of this. I think if the shipping charges are that high I should have received it in half the time.
August 15, 2011
Rated

5

out of

5
 by
Lewis
Great Purchase
Purchased this to be hung on the wall above the desk for pics and miscellaneous items. It looks great! The only thing I don't like is the magnets that come with it are flat and hard to remove from the strip. Otherwise great product.
March 8, 2011
Rated

5

out of

5
 by
klhughes2366
Love it
Making my work space much more user friendly and efficient
February 11, 2011