Rated

5

out of

5
 by
Minnie1
Solved our DVD problem.
This product is small and holds only the disks which is what we wanted. If fits in our small space perfectly. Because it is a full box we could put something on top of it. The drawer slides in and out very easily.
January 8, 2017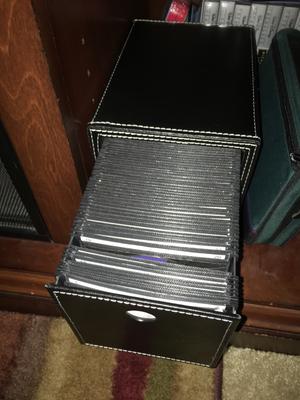 Rated

5

out of

5
 by
Cookiekit
Super space saver
I am using these to store all my dvd's. We have so many that they took up much needed wall space and now they fit nicely on two shelves.
August 13, 2016
Rated

5

out of

5
 by
Misseliss
Awesome
Love them! I have bought four. They look sleek and nice. Easy pick up!
July 10, 2016
Rated

5

out of

5
 by
cap217
The best DVD organizer
I love this box. A few years ago, I found a somewhat similar media box and have spent years looking for something like it to no avail until I discovered the Portofino box. These boxes are a fantastic way to organize and store my DVD's created by me of my old favorite show. The drawer works great and it is a compact way to store lots of DVD's. I will be buying a few more now that they are in stock again. Yay!
December 17, 2014
Rated

4

out of

5
 by
CWHsp
Great Product
At first, we bought only one of these. It worked so well in reducing storage space needed that we went back and purchased three more. Great quality and effective space saver. I agree with other reviewers that they are over-priced, but I have not found anything else comparable in quality.
June 6, 2014
Rated

1

out of

5
 by
Maegirl
Great Quality and looks, poor function
It holds 100 CDs or DVDs... With barely enough room to do so. It it high quality, and very nice looking, but I cannot stand trying to get the DVDs out. It is a pain since you cannot see the tabs at the top meant to help organize it. If there were more room at the top of the outside container and maybe there were tabs on the top of the filing sleeves, it would be a whole lot easier to look for and retrieve the discs.
March 31, 2014
Rated

5

out of

5
 by
LUVstorage
Don't know why I waited so long.
Bought the file box a while ago and it took me forever to get my DVD's into it. Now that I have, I went back and bought additional sleeves and plan to buy another box for more movies and CD's. Very useful, very easy to use, smooth sliding drawer, and looks so much better sitting out than a pile of DVD cases.
March 14, 2014
Rated

5

out of

5
 by
JoeinHSV
Portofino CD Box
I own 16 of these CD Boxes. They are well made, sturdy, attractive and not made of cheap material. Well worth the price. I would recommend these CD boxes for all your CD storage needs.
March 5, 2014
Rated

5

out of

5
 by
LadyAnne
Fantastic disc storage
I have over 800 DVDs and BluRay (oh yeah and CDs for music). These are good for the discs and an immense savings on space. I love these.
August 25, 2013
Rated

5

out of

5
 by
CHUZE
Great Purchase
I recently converted all my old family tapes and videos to DVD and needed a storage unit to put them in. Wanted something nice and something that would keep dust out. This file box was perfect and can be kept in the family area so that we can take out any DVD and see what the kids looked like when they were young and revisit some family vacations.
March 1, 2013
Rated

5

out of

5
 by
DallasDarling
Love this file box!
I love this file box. I actually have two, one for cd's and one for dvd's, because I love it so much. It's chic, unobtrusive, and keeps all of my dvd's and cd's easily accessible. I bought my first one before I left for college and it made transporting my dvd collection during move in and move out a lot easier. I honestly can't say enough good things about this filing system. I love it!!
February 21, 2013
Rated

4

out of

5
 by
Mom2Three
Saves tons of space
We were able to put three bags of bulky cases in the recycling bin and free up a bunch of space in our living room with this bin. The only thing I wasn't totally happy about is that the little edges that hang each pocket don't grip very well and the pockets tend to fall off (and down into the box) when I am looking for something.
March 6, 2011
Rated

4

out of

5
 by
Peracorave
Space-freeing
I needed something to streamline my DVD collection and free up some space on my shelves for books while fitting in with my decor. I only bought one to make sure it was worth the money. I guess considering the amount of CDs or DVDs it stores, its design appeal and sturdy construction, I will eventually buy another one or two. It certainly freed up a lot of shelf space for me. Sturdy and smooth slide mechanism; able to support weight of DVDs. Hanging file sleeves of good quality with ability to label contents. Price was a stretch for me, but I am glad I went with this DVD storage solution.
September 11, 2010
Rated

5

out of

5
 by
Rissa
Portofino CD File Box
This is a stylish solution to cd/dvd clutter. I like the provided list. I wish there was a label holder outside. I like grouping by genre.
July 12, 2010
Rated

4

out of

5
 by
edogg
Nice but expensive
The build quality of these CD boxes is very good. They're weighted on the back so that they don't tip when you slide the drawer out. They're really nice boxes. Writing the CD/DVD titles on each of the labels seemed to be really time consuming so we skipped that. But it's a good way to easily find what you're looking for. However, they're pretty expensive. We own a ton of CDs and DVDs and needed 9 of these boxes so the cost really added up. Had we only needed a couple of them, it wouldn't have been so bad. Also, it would be nice if there was a spot for labels on the outside so that we could label each box with the contents (A - C, D - F, etc). Thankfully we have a label maker and hopefully the adhesive will stick to the leather. Had they been closer to $15-17 each with a label on the drawer, this would have been a 5 star product. But because of these two cons, I'm docking a star.
June 16, 2010
Rated

5

out of

5
 by
kabb
Great CD/DVD organizer
Well made, holds a lot of disks, used them to organize all my DVD's and CD's, take up very little space
May 3, 2010
Rated

5

out of

5
 by
Beck11
Attractive & Useful
I purchased two of these for the storage of our dvd collection. What a space-saver! We were then able to toss the cumbersome dvd cases & condense our collection, saving valuable shelf space. The somewhat modern appearance is actually unobtrusive & basic, so they'd blend into any type of decor. Definitely a good purchase!
March 3, 2010
Rated

5

out of

5
 by
JulieK
Perfect to organize all my digital files.
This box is great. It looks nice sitting on my desk, and I think it looks nicer because it is not see-through. It holds 100 cds in safety sleeves. It is very simple to organize as you make one master list then refer to the numbered slot to retrieve the particular cd. I even bought different colored cds to organize into categories. I wouldn't use this for music, but it is perfect for all my project archive. It does get heavy though!
March 3, 2010
Rated

5

out of

5
 by
pixies1
Beautiful high-capacity storage for CDs/DVDs
I searched high and low for an attractive, space-saving solution to my growing DVD collection. The dark leather and contrast stitching is high-quality, and the single pull out drawer makes it easy to flip through the DVDs to get to the title you're looking for. It also comes with an indexing sheet and labels for each DVD sleeve. Very reasonable price for all the storage you get. Highly recommended!
March 3, 2010