Rated

5

out of

5
 by
Grannmarie
Garage transformation!
Our garage was messy and cluttered, cheap plastic drawers had contents falling everywhere! This system is fantastic!!!
March 19, 2014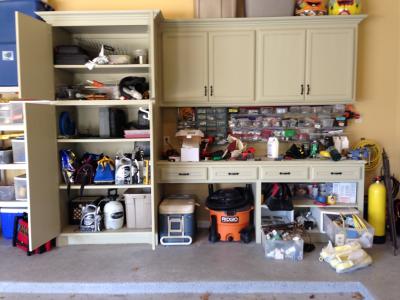 Rated

5

out of

5
 by
Katydid
Perfect Portable Space-Saver
I love elfa and this expandable drawer set fits almost anywhere - inside a closet for more storage space or anywhere you need additional drawers. It's easy to put together and quite portable to move from room to room or from one house to another. We now own two and they complement the elfa we used to expand our closet space.
August 25, 2010
Rated

5

out of

5
 by
dfwinorder157
Get a Minimalist Look
If you like your bedroom to have that minimalist look that magazines have - try these drawers in your closet area. They hold more than they look and keep things neat and organized. They can elimate the need for a dresser. I have been using these for about 10 years.
March 3, 2010
Rated

5

out of

5
 by
GG123
Love it
I purchased this unit for my small business that shares a space in my walk in closet. I'm definitely ordering at least 3 more to use for business and 1-2 for my daughters bedroom. I ordered white....very clean look. I purchased a rubber mallet but it wasn't working........so I used an old rag (it will put a hole in whatever you use) and a hammer. I finished my setup process a lot faster an when I used the mallet. I would recommend to a friend. Try to purchase during the aunnal elfa sale but if not it's still worth it!
January 28, 2017
Rated

5

out of

5
 by
J0728
Very useful
I have two of these and this is my third. I love them for organizing!
January 7, 2017
Rated

5

out of

5
 by
Sheridan
Best Tool For Organization
The elfa start-a-stack is the perfect tool for additional drawer space. It is small enough to not clutter a room and it provides a great amount of drawers and enough space inside to fit anything you need! I use mine in my college dorm room to provide extra drawer space for my clothing and towels. It has been a life saver! Especially since the university doesn't provide a lot of drawers for students. It is also small and doesn't take up a lot of space which is great for a small area like a dorm room. Best purchase I've ever made!
September 18, 2016
Rated

5

out of

5
 by
Luv2OrganizeEverything
Love these!!
I initially bought two of these to use in our closet and, upon assembling them, saw you could stack them. So I stacked them and right away ordered two more for the other side of our closet. They work great for underclothes, pajamas purses, etc. Definitely recommend!
June 10, 2016
Rated

5

out of

5
 by
Flaca
Great organizer!
I purchased this to organize a tangle of odds and ends underneath a staircase closet. It is at an odd angle, but was able to customize the fit with the various dimensions available in the elfa system. I had duffel bags, snorkel equipment, sewing fabric all piled atop each other. I ordered this elfa system: two 2 runner drawers, two 3 runner drawers and the top. Fantastic! the drawers are nice and deep; everything fit very nicely. I purchased the labels. Very organized. Love elfa!
January 16, 2016
Rated

5

out of

5
 by
TexasSunshine12
Fantastic
I bought these to help organize our master closet. Wish I had purchased years ago! They assembled easily, are sturdy, and hold a TON of clothes. After this experience I will be adding elfa to my cabinets, pantry, and many of our other closets.
January 15, 2016
Rated

5

out of

5
 by
Bdyer
elfa stacked drawers did the job!
I used four of these in my office closet along with other elfa shelves and products. It is so nice to go into the closet to get something and not have to move several items to get to the one I need. I can't wait to create more unique storage spaces with elfa in my home.
March 28, 2015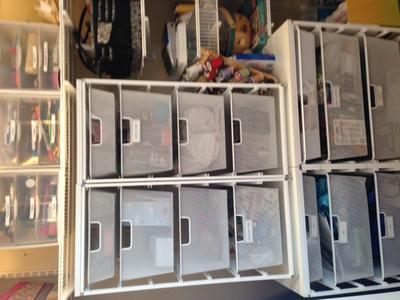 Rated

4

out of

5
 by
Realtor
Great Gift for College Student
My daughter won the Platinum Mesh Start-a-Stack at your college night event. We purchased the sliding file attachment so she could keep her files organized and in reach. The drawers storage can be used for various items.
March 23, 2015
Rated

5

out of

5
 by
marionb
Awesome drawers
I have a very small bathroom vanity. I purchased a narrow 3 drawer Elfa unit and it fits perfectly on one side of my little vanity. Easy slide and keeps all my items tidy and organized.
March 21, 2015
Rated

5

out of

5
 by
Daysunshine24
Great product
I love this mesh drawer. It can easily be assembled, stacked, and has countless uses. I have four so far.
March 20, 2015
Rated

5

out of

5
 by
Katiep12
Great Storage Solutions!
I have 2 of these in different sizes and wish I had a couple more. They are incredibly sturdy, come in a variety of sizes to fit any space, and they really are everything all the reviews say they are and more. Easy to put together (don't be intimidated, it's not as hard as it looks# and you can get different size baskets to fit your needs. Wouldn't recommend getting the short baskets unless you have a specific idea in mind for using them #works good for scarves) because they really aren't tall enough for many uses. One hint--make sure you use the back stops because otherwise when you shut the basket, it goes flying out the back side. I recommend getting the top for it as well so that you actually have a table top to use and it can withstand a lot of weight. Wheels are great on these and it rolls easily. Worth the money,and if you get it on sale, it's even better!
March 16, 2015
Rated

5

out of

5
 by
Wsfld
great option
My walk-in closet is pretty basic- couple of bars for hanging clothes and a shelf above them. However I needed a drawer option to store work-out clothes and utilize the space beneath my shorter hanging stuff. I shopped around and found other options not as nice, but still pretty pricey (for what I'd expect to pay#. I got this on sale and it fits the bill perfectly. It was easy for my husband to put together #although he is pretty handy, but I could have done it myself if I had to). The drawers slide well and I appreciate the draw stays so I'm not accidentally yanking the drawers out. Feels like a high quality product. I like the mesh to let the clothes breath, but nice enough that things won't get snagged. Highly recommend.
February 3, 2015
Rated

5

out of

5
 by
angel1999
Unique use of old technology storage space
My husband surprised me by placing a stack of Elfa mesh drawers in my desk cabinet where the tower of my old computer used to be stored. Now I can use the pullout keyboard tray for my laptop computer and still have access to all my middle drawer desk supplies (the keyboard tray blocks this drawer when it is out) while working on my laptop! :-)
May 3, 2014
Rated

5

out of

5
 by
daziemae
My closet
The previous drawers in my closet were extremely difficult to operate. My husband surprised me by replacing them all with your easy to construct mesh drawers. I now have a totally complete Elfa closet that is the envy of all my friends. I would highly recommend Elfa to everyone.
March 29, 2014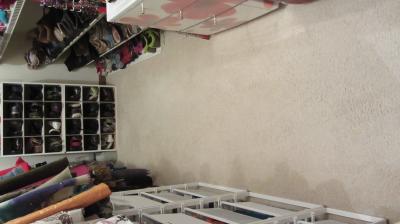 Rated

5

out of

5
 by
MagicHat
Great product
Ordered this as a 7 drawer in silver for my craft punches that are very heavy... fits great under my work space and items are visible and drawers are sturdy. I can pull a drawer out and use the punches easily and efficiently. Love this product!!
March 28, 2014
Rated

5

out of

5
 by
sunsetbuddy
Sleek and reliable
elfa drawers are the perfect addition to our closets - adding much needed drawer space. The start-a-stack was easy to pick up and install.
March 24, 2014
Rated

5

out of

5
 by
Visions
I finally have an organize office everything has its own place thanks to container store next project is my closet. The customer service is awesome you tell them what you want and they help you figure it out I will be returning.
March 12, 2014
Rated

5

out of

5
 by
dal6353
easy to assemble
This is the first elfa product I've purchased and I love it. Not only was the box light enough to carry it was so easy to assemble. My 6 yr old grandson did most of it.
March 12, 2014
Rated

5

out of

5
 by
crenee
sewing room.
we designed these units for my sewing room..LOVE being able to see all my fabric, with out having to pull down a storage tote, and unloading it to see what fabric goes with with my projects. ...they hold a large amount of fabric. love the versatility of these great units.
March 2, 2014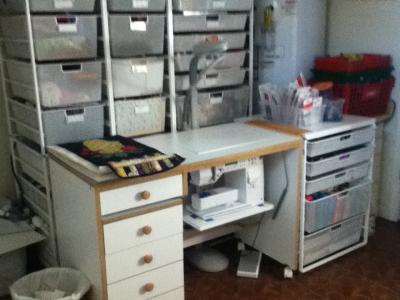 Rated

5

out of

5
 by
Homegoddess
Nice !
This is the second stacking shelf unit I have purchased made by ELFA. It is well designed. It looks great too. I just wish that the little white pegs were more substantial. They have a habit of getting lost over time.
March 1, 2014
Rated

5

out of

5
 by
bubbarick
Great storage option!
Easy to assemble, quality construction, may purchase another unit!
February 25, 2014
Rated

5

out of

5
 by
Kathy13
awesome product!
I moved into a new house in Aug and for months have been trying to find a solution to my pantry. The 4 shelves were too deep and difficult to see what I had in them. I called Shelf Genie to come in and put in sliding shelves but they were going to charge me almost $2000 for 5 shelves. I could not justify the cost so I kept looking. But I did not want to put bottom mount sliding shelves on the already warping shelves in my pantry and I could not find the right size side mount shelves. Then on a whim I decided to see what I could find at container store and the mesh start a stack shelves were perfect! I love the ways these shelves fit. They are nearly impossible to tip over and they are very sturdy. One drawer is even full of cans and it holds them just fine. This $180 unit saved me a ton of money and Iâ¿¿m really happy with it.
February 21, 2014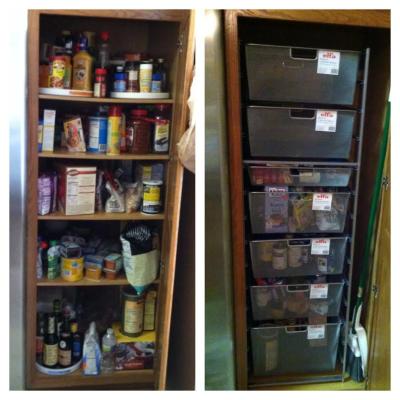 Rated

5

out of

5
 by
Neice
Pantry Solution
We ended our pantry nightmare by adding two stacked sets of the Platinum elfa Mesh drawers to our pantry. Because our pantry has a bi fold door, we were unable to store items and have access to them on either side of the pantry. We were able to put a set of the drawers on each side of the pantry under the original shelving which allows us to pull out the drawers giving us access to our stored items. This also gave us more room on the original pantry shelves to store more items.
February 20, 2014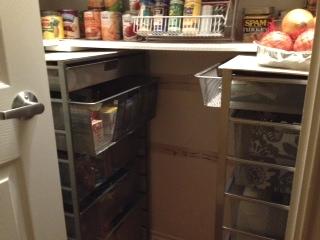 Rated

4

out of

5
 by
Love2loveya
Nice addition to my elfa closet
Bought this item to go inside a reach in closet fitted with ELFA closet design. Of course it fits perfectly ( i made sure when measuring) but I was more than pleasantly surprised at how much it held. I attached the melamine top which allows me to stack things on top of my stack. Very good addition, may get another one.
February 20, 2014
Rated

5

out of

5
 by
NeedToOrganize
Love This for My Office
While there are shorter "stacks" available, and one in particular for office, this one was best for me! We added a table and wheels and I have it on my left side to use so I can just grab what I need when I need it. The table allows me to put the items I need to work on right there. Did I mention that I LOVE this item?
February 13, 2014
Rated

5

out of

5
 by
Aidee
Just what I needed!
We just moved into a home where the previous owner had installed shelving around the top perimeter of the two walk-in closets in the master bdrm. However, nothing was installed on the bottom portion of the closets leaving a great deal of waisted space. Working on a limited budget, we purchased several start-a-stack units to fill in the space and they are just what we needed! We are now able to accommodate sweaters and knit/jersey tops, leaving more hanging space available for our other clothing items. We also found installing the draws "in/out stops" kept us from pulling out the draws too far, preventing the contents from spilling out onto the floor. My husband chose the platinum mesh frame with walnut top shelves giving his room a sleek masculine look. I chose the white mesh frame with the white top, and love how it coordinates with the already installed shelving. Having just purchased our home, we were on a very tight budget. The sales associate's recommendation to purchase several start-a-stacks and stacking them was very helpful in keeping us within our budget. We would definitely recommend the start-a-stack for durability, versatility, esthetics, and price point!
February 13, 2014
Rated

5

out of

5
 by
pupmom
Easy Access
Easily assembled. Drawers slide readily open and closed.
January 30, 2014