Rated

5

out of

5
 by
Aztex
I love this box!
I got this over a year ago. As soon as I saw it at the store, I had to have one. As the description says, it has clear sleeves inside for your cd's. And each drawer has a sleeve with a place to write what cd you have in each sleeve. It is not designed to hold cd cases, thin or regular size. And personally, I keep my cds in their own paper sleeves before putting them in the box. That way I print a list of what songs are on the cd and tape it to the colored paper sleeves. And that is the only downside IMHO. It's best used for music you have burned to a cd. if you don't want to throw away all of your cd cases. I have hard poly containers for my cds in their cases, which I also bought the same day. Plus, my friends really think it's cool when I just push the button, and the drawer smoothly slides open.
November 19, 2016
Rated

4

out of

5
 by
Bsknees
Until it's time to go digital
Best storage option for discs and personal dvds. Stackable and efficient.
October 16, 2016
Rated

5

out of

5
 by
WorkingMom30
Weekend Well Spent!
I am a DVD hoarder - can't help myself! Officially ran out of storage space and wanted to streamline my office area (which subsequently sits in my dining room very visible from the living room). Spent a full 8 hours over a weekend sorting all my DVDs into genres and then alphabetizing each genre, and filed them into this box. It's super small, easy to use, I can quickly scan what I'd be interested in watching and pull it quickly from the neatly pre-labeled numbers. I plan on buying two more to finish the job - which subsequently still does not take up as much space as the rows and rows of DVD cases did. I love how I could easily stack them on top of each other if I chose. I took a picture of the finished project next to the box of empty DVD cases which went off to be recycled.
January 26, 2016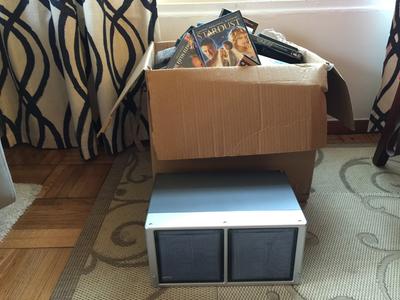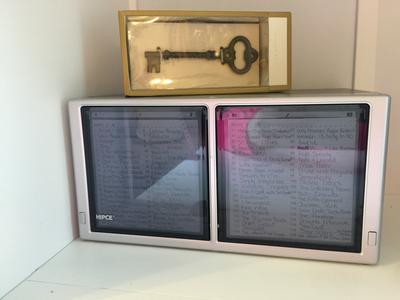 Rated

4

out of

5
 by
Librarygal
Time Saver
The library has over 1000 DVD's that were stored in file containers. It is so much easier to get the DVD for the case with the push button drawers especially when you are retrieving or returning 40 to 50 DVD's a day. Staff loves them. Wish the file holder inside were not numbered.
December 2, 2015
Rated

5

out of

5
 by
DavidS
A Must Buy!
Imagine getting rid of 160 DVD cases and putting all of that (about a huge garbage bag full) inside this box... not only that, it's well made and a great quality for either display or storing in a shelving unit/cabinet. Without a doubt the best purchase I've made in ages... HIGHLY RECOMMENDED.
May 28, 2015
Rated

5

out of

5
 by
sherpadog
Another mess solved
This is the best CD/DVD storage device I have seen. I'm still working on sorting through my disks but it already looks like I can put all of my huge collection of computer disks into this device.
June 22, 2014
Rated

5

out of

5
 by
TrailTrekker
Great Storage Idea
This product solved my CD storage problem. I wanted to get rid of the jewel cases but still have easy access to my CDs. I was able to store my CDs in a much small area which saved shelf space.
May 5, 2014
Rated

5

out of

5
 by
Soupy
Great storage option!
We bought one of these to store our massive dvd/blu-ray collection that was getting out-of-hand previously stored in 4 separate zippered cases. This worked great, we fit 160 films in the container which fits on our bookshelf next to the TV. We like it so much we purchased a second unit for the next 160 movies. Highly recommended.
March 16, 2014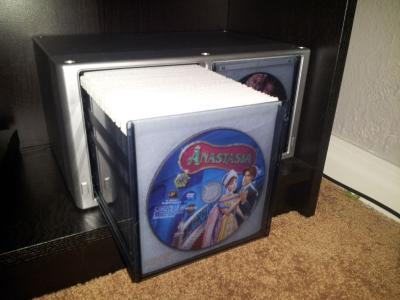 Rated

5

out of

5
 by
airedalelover
Terrific product!
I was surprised at the quality of this product and the fact that it already had the hanging file sleeves included. All of my CDs take up much more space than this product does, and I'm tired of looking through a lot of CDs to find the one I want. This product makes it easy to find the CD I want and takes up much less space in doing so!
May 3, 2013
Rated

5

out of

5
 by
Kat5
Great for small spaces
This is such a great way to store A LOT of DVD's or CD's without it taking up a lot of space. I live in a small studio apartment and space is limited. I have a large DVD/CD collection and these boxes work perfectly!
March 18, 2013
Rated

5

out of

5
 by
Raye
Perfect
I saw this CD storage box on a DIY show and knew I had to have it. I love it! It is easy to use and easy to store away. My mother has now bought one and my sister is planning to purchase one, also.
October 7, 2012
Rated

5

out of

5
 by
JMSpine
Great Item
I purchased this item for one of my physicians to organize his MRI CDs. It is very sturdy, easy to use, and looks nice in the offce. Now all of my docs want them!
July 2, 2012
Rated

5

out of

5
 by
Ponyo
Consolidate, Organize & Archive CD's
Snap open the plastic CD box, remove the paper jacket. Cut the "artist/album" name strips on either side. Use one for the the top back of the plastic sleeve & the other for the front.(I took out the metal hanging rod first to do one side then used it as a guide for inserting the same labeling technique on the other side. Slip the CD in one pocket & the marketing booklet and/or song listing in reverse pocket. Alphabetize the box. This looks so professional, & you can add albums in the exact order you want them. We are on itunes so basically this is an archive for us. I made it as a Father's Day gift for my husband. He loved it & and was impressed. Our towers of CD's are going out the door.( If you eliminate the booklets you can get full capacity of storage, but I didn't want to.)
June 15, 2012
Rated

5

out of

5
 by
ADoman
An organized musician! Can you believe it?
My husband has thousands of CDs. With the help of the 160-CD One Touch Box, the clutter in our home has dropped down DRAMATICALLY. I actually have a kitchen table now and if that isn't enough to convince you, this product has numbered sleeves which you could name albums and has room for cd inserts!
April 28, 2012
Rated

5

out of

5
 by
Pattycakes
Great for photo storage
Thanks goodness I got the last one in the store, since I can't over to Houston as often as I would like. Being a stock photographer I need CD storage that is organizable and easy to find quickly. This fits the bill.
March 20, 2012
Rated

5

out of

5
 by
rcjetskier
Getting Organized!!
I love these CD boxes, they are very nice looking and very easy to insert all of my DVDs. I have over 400 movies I wanted to store easier then leaving them in their original boxes collecting dust and taking up too much space, I was able to get all of my movies into two of these boxes and I'm extremely happy with the end results!!
January 18, 2012
Rated

4

out of

5
 by
georgesgang
Love this item small and compact and looks great
We wanted to have something that could sit in a shelf. That didn't take up a ton of space for our dvds! Love these
October 2, 2011